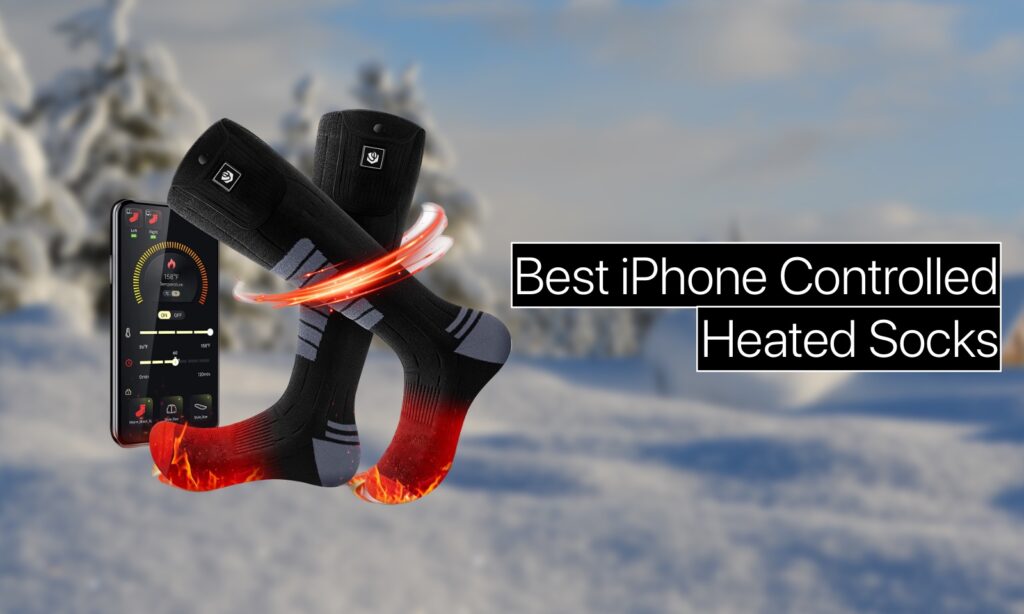 Do you need a boost of warmth for your feet on the coldest days? Our ears perked up. The addition of the best heated socks to your winter wardrobe is a luxury for most people. If extra-cozy feet are what you're after, we've got you covered.
We have compiled a list of the best iPhone-controlled heated socks keeping ease of use, heating, comfort, design, and affordability in mind.
Best Heated Socks That You Can Control With iPhone
Here are the best heated socks that can be controlled with the help of a dedicated iPhone or Android app.
1. OmobolanleUpgraded Thermal Socks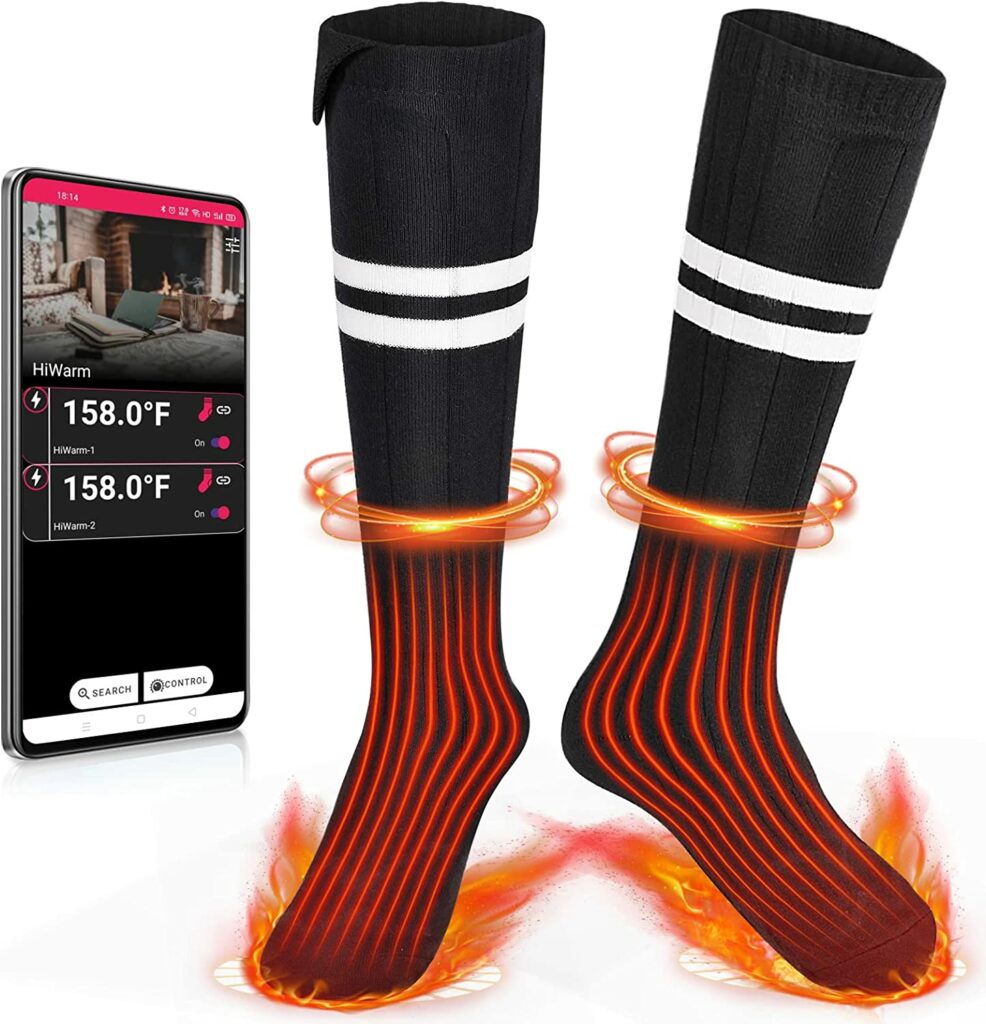 It comes with a Bluetooth module that allows you to adjust the temperature within a range, set the timing, and turn on/off without having to remove your socks.
These electric socks feature 2 pcs of rechargeable lithium polymer batteries that are 5V 2A with a 5000mAh capacity. You can warm your feet within seconds, and the socks can heat for up to 3-8 hours.
There are four heating systems in the heated socks, which are suitable for a variety of weather conditions, including:
low temperature(95-104⁰F),
medium temperature(104-122⁰F),
high temperature(122-140⁰F),
flash heating(140-158⁰F).
To ensure that your feet are heated evenly and quickly, the socks use a ring-shaped heating element. It takes only 30 seconds for your feet to feel the temperature, which stimulates circulation and makes them feel warmer.
Buy Omobolanle Upgraded Thermal Socks for $48.99 here
2. WASOTO Battery Operated Heating Socks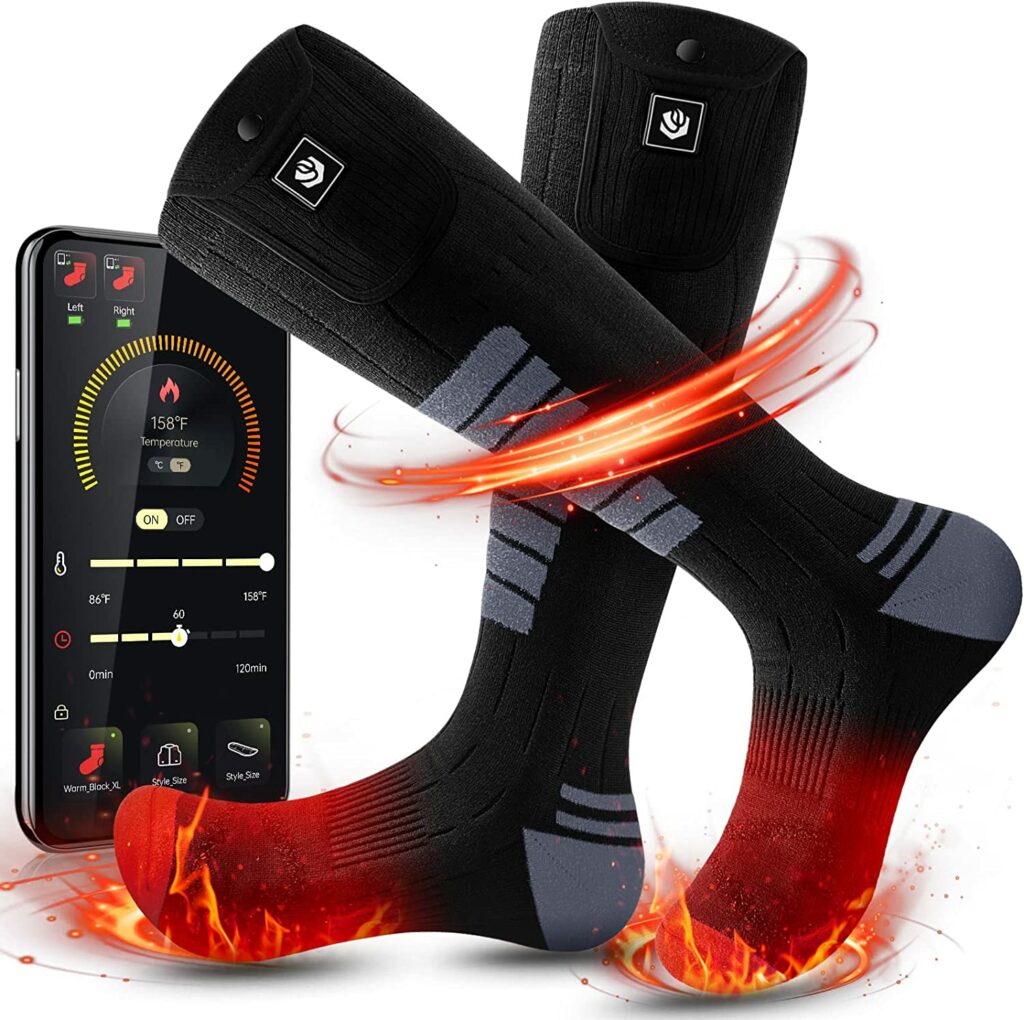 In comparison with other heated socks, Wasoto heated socks are thicker, longer, and have wider barrels.
It offers evenly distributed heat, eliminates foot burns, and promotes blood circulation. Outdoor enthusiasts, people who fear the cold, and those with arthritis and Raynaud's syndrome will find these socks an invaluable resource.
Having a 7.4V voltage output allows the rechargeable socks to heat up faster, more efficiently, and perform better in low-temperature environments. You can keep your feet warm continuously for up to 10 hours.
Due to the delicate battery pocket and button, it is difficult to pull the battery out of the pocket. There is a snap design at the battery pocket that prevents the wires from running around and tearing. An S-shaped power cord provides comfort without the sensation of a foreign body on the wearer.
Buy WASOTO Battery Operated Heating Socks for $79.99 here
3. PMUYBHF Heated Socks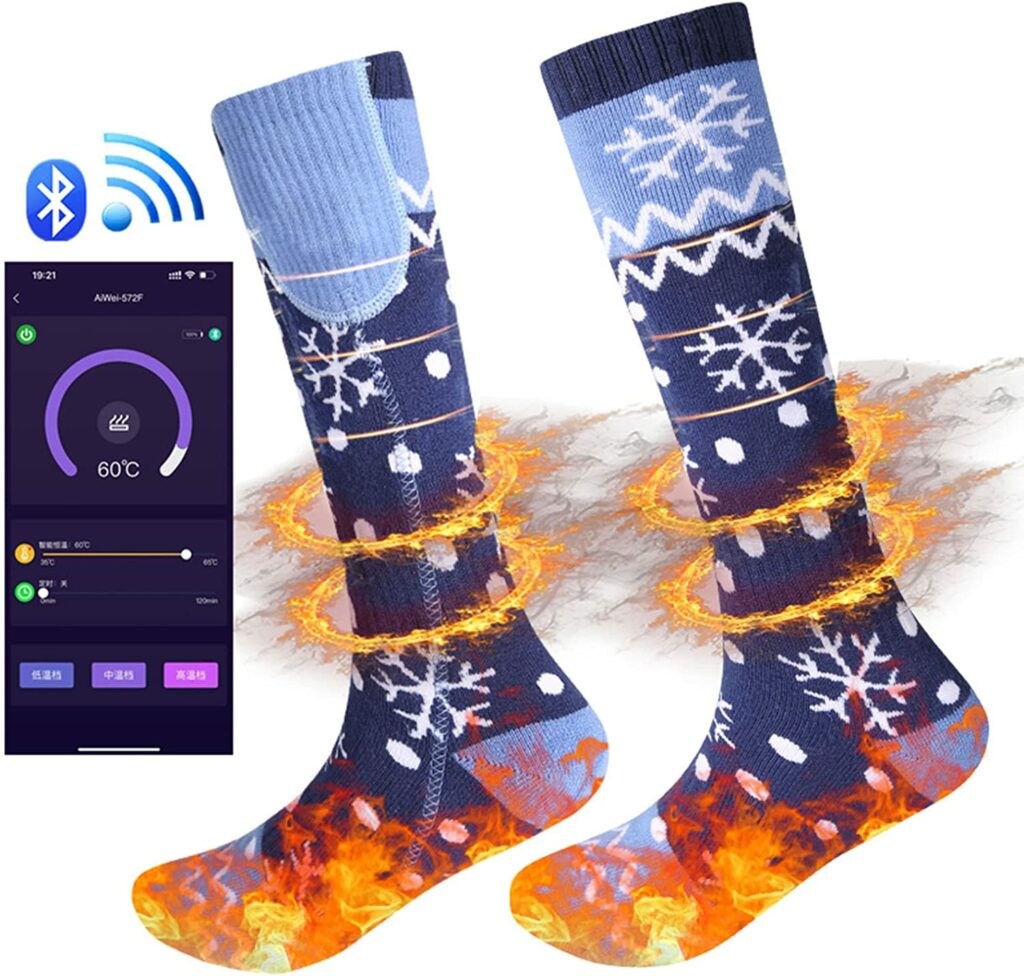 Most heated socks are controlled by a battery pack on the sock itself, but these heated socks come with app control by phone, so you can turn it on or off and change heat settings without having to access your sock—especially useful when you are on the move and your socks are covered by or bulky boots.
These electric heated socks come with two 5000mah 5v lithium batteries that can warm your feet in less than 30 seconds. Use the built-in controller or the remote control to select from 3 heat settings – high heat, medium heat, and low heat – anytime anywhere without embarrassment.
There are two large-capacity lithium-ion batteries included in these heated socks, which can heat up for 3.5-11 hours. It takes about four hours to fully charge the battery. Suitable for outdoor winter activities and keeps you warm at all times.
Buy PMUYBHF Heated Socks for $39.99 here
4. MATKAO Heated Socks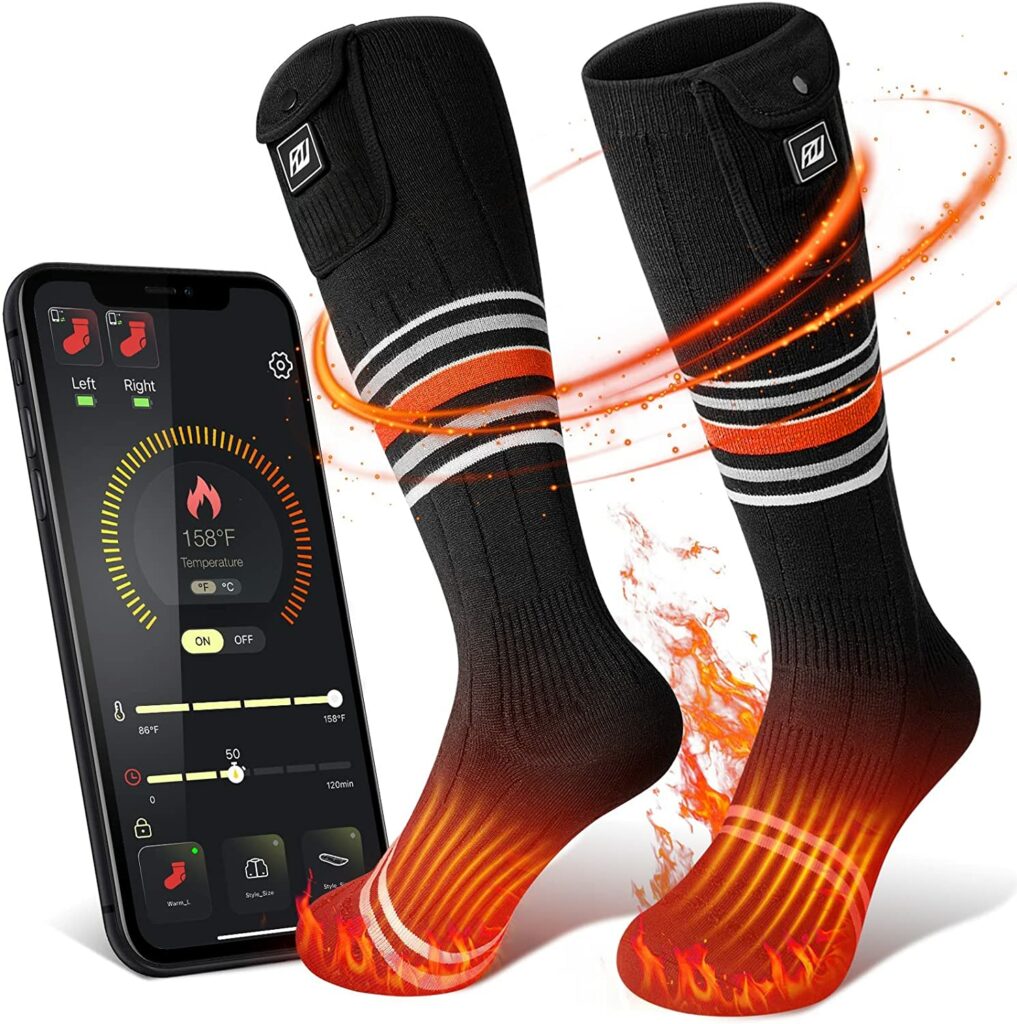 Matkao heated socks come with an exclusive APP, which allows precise temperature adjustments, timing function, and real-time power display.
The heated socks are powered by 7.4V rechargeable batteries. Depending on the temperature, the battery discharge time can reach 6-8 hours. The battery life will likely be reduced to some extent when the temperature is low. Keeping spare batteries on hand is a smart idea if you plan to spend long hours outdoors.
These socks have a heating wire that surrounds the forefoot, toes, and forefoot parts, unlike other rechargeable electric socks. Integrated into the sock, the heating wire promotes blood circulation by distributing heat evenly to the toes and forefoot.
Buy MATKAO Heated Socks for $79.99 here
5. PBOX Rechargeable Electric Heating Socks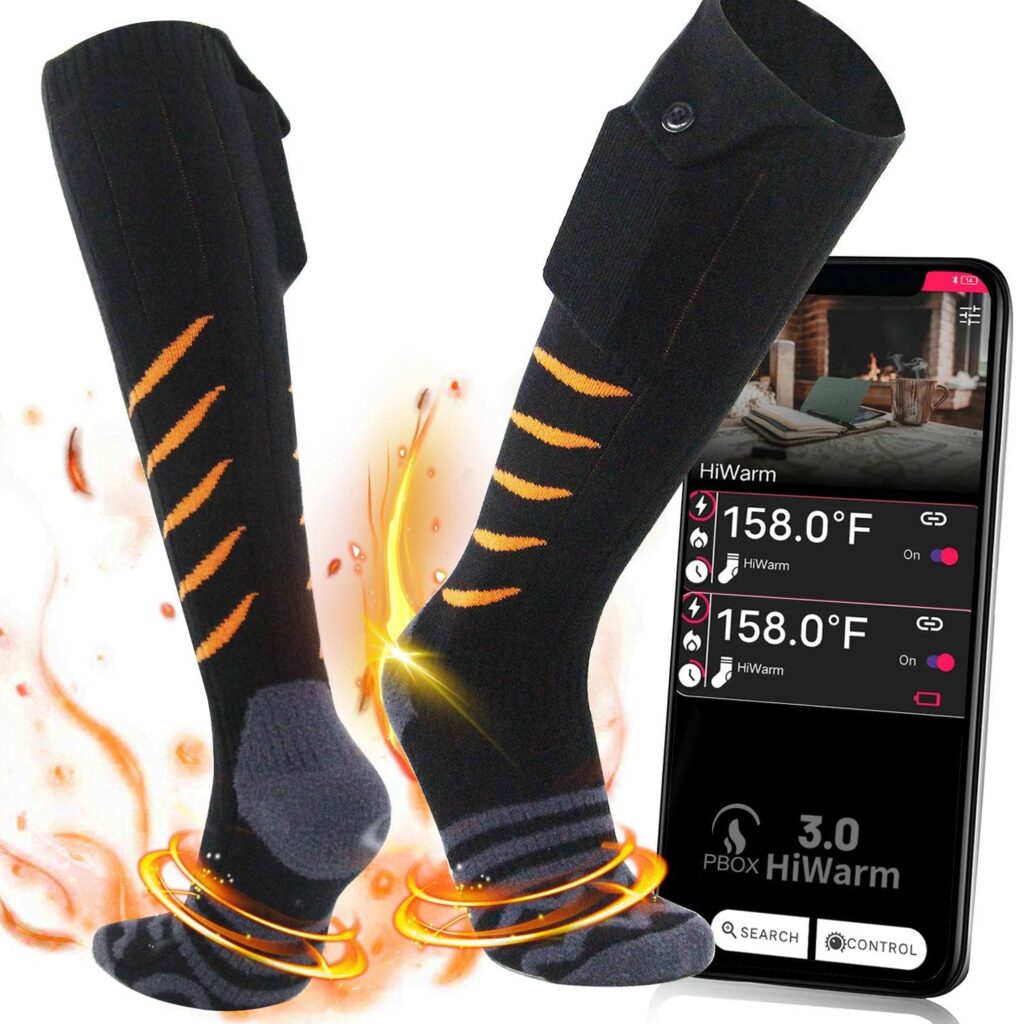 It is possible to control the temperature, set a timer for heating, turn it on/off, and control left and right socks separately through the app.
Furthermore, you can precisely control the desired temperature instead of simply setting a high, medium, or low gear. The range of temperature is 95°F to 167°F, which is ideal for meeting the needs of most people, such as skiing and home offices for the elderly, winter sports for the young, and different Reynolds groups.
You can set the heating time to automatically turn off, which can prevent low-temperature burns, blisters, and other phenomena caused by long-term heating.
Socks are made up of 3 layers of fabric, and hidden heating wires are woven into the fabric. These wires are integrated with socks to cover the entire toe area, so you cannot feel it.
Buy PBOX Rechargeable Electric Heating Socks for $69.99 here
Stay Warm This Winter!
In the winter, you don't need to worry about your feet getting cold. Although it may be cold outside, phone-controlled heated socks can still keep you warm.
Make sure to check out the above socks if you love the outdoors but are tired of freezing feet. There is a pair for every budget and need.
May you find one that fits you perfectly!
Completely off-topic BUT would you rather have hot chocolate or a mug of mocha this winter season? Let us know in the comments section.