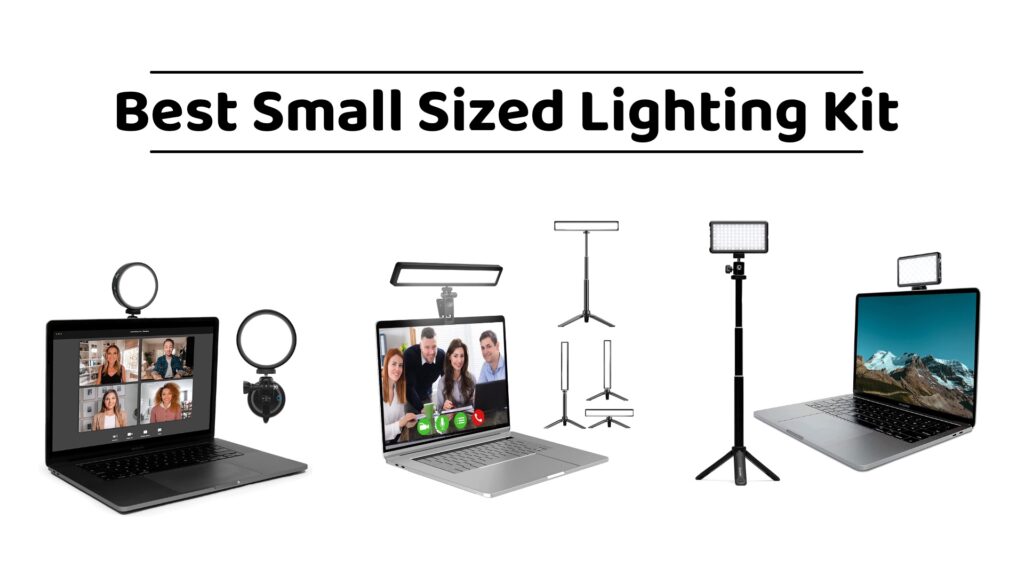 You instantly look more appealing on a webcam when using a small-sized lighting kit. Good news there are plenty of great small sized broadcast lighting kits for Mac users out there that you can buy for you 2023 Mac setup.
So, if you wish to project a clear, crisp, and flattering image and look much more professional and confident when having a one-to-one with the boss, pitching to a client, or addressing a meeting, it's totally worth it to spend some bucks on a Lighting Kit for Mac.
The lighting kits listed below will help you produce quality video content, no matter what you do, from online classes to video tutorials and zoom meetings to podcasts.
Best Small Sized Broadcast Lighting Kits for Mac
Here are the best small sized broadcast lighting kits for Mac
1. Lume Cube Broadcast Lighting Kit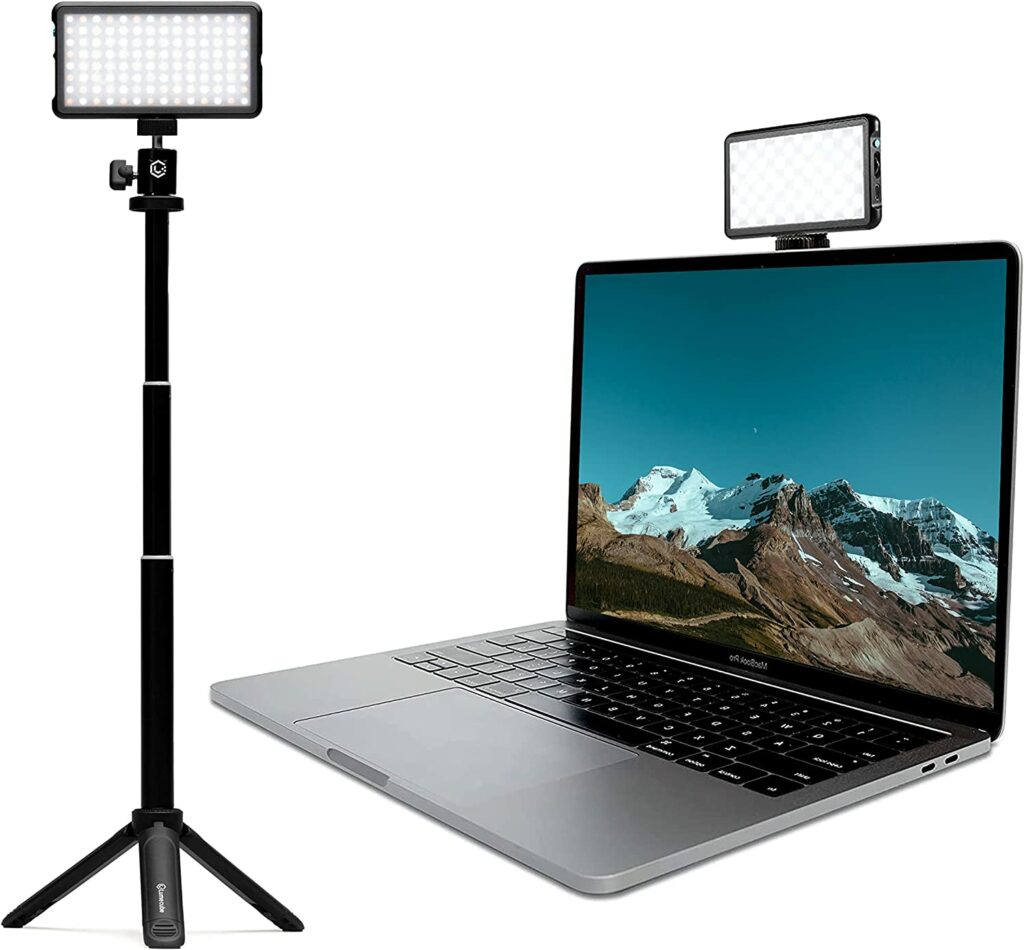 An iPhone-sized LED light panel enhances your professional look when used for desk lighting for video calls or laptop lighting for video conferencing.
You can adjust the color temperature and brightness of the video conference lighting kit to match your skin tone and the environment to achieve ideal lighting.
For desktops and laptops, this product includes a video conference light suction cup! So, you can use the video conference lighting kit with your work-from-home accessories or travel gear.
You have the option to adjust the height from 12″ to 30″ for working on your laptop or desktop. In addition, you can even use zoom lighting for your computer at home or as a portable light for your laptop while on the go.
Built-in battery provides hours of illumination. LED light for video calling can be run indefinitely off external power with a zoom light plugged into a USB port.
Buy Lume Cube Broadcast Lighting Kit for $79 here
2. FUSE MRK1 Portable Webcam Light Kit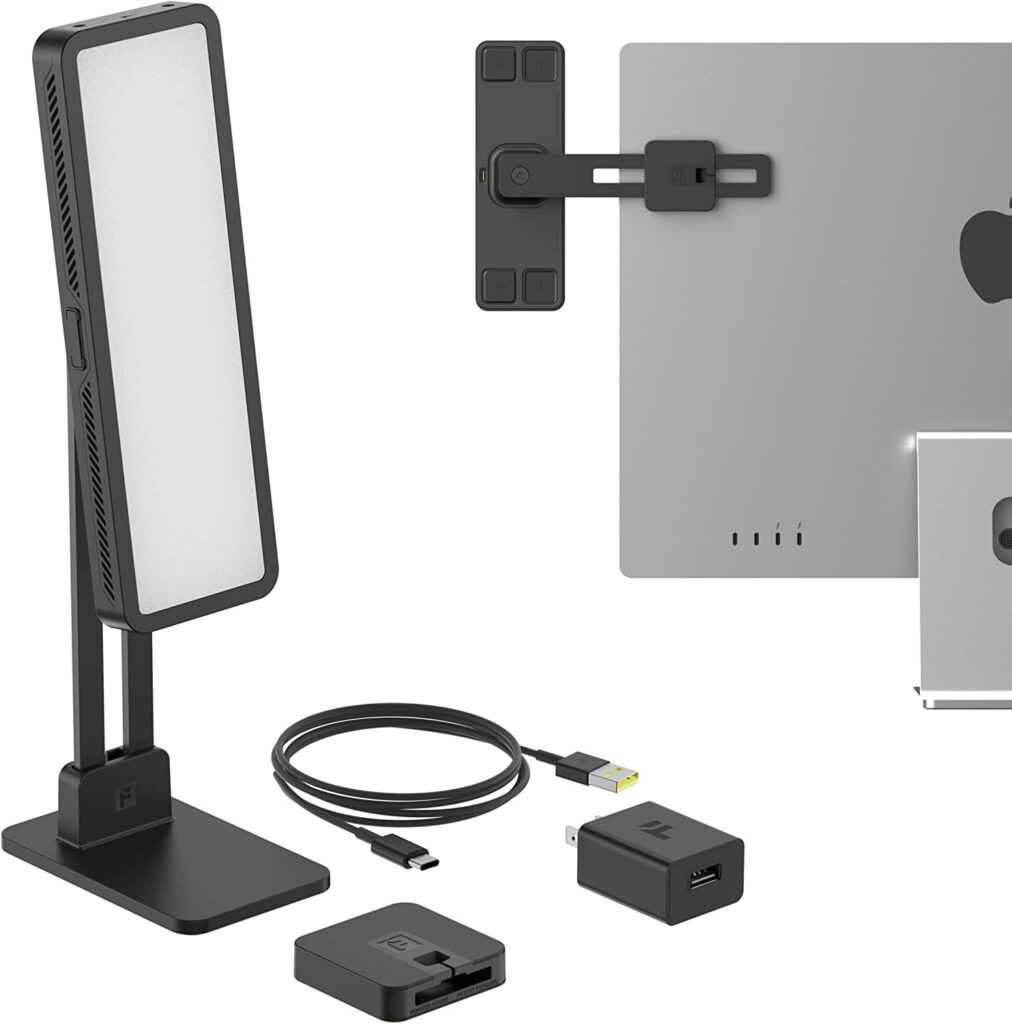 This light panel eliminates eye strain and glare on glasses by using 76 bi-color LED lights in a 3-layer diffusion system
The MRK1 is easy to set up and take down thanks to the patent-pending magnetic mounting system that connects the rubberized ball to the rear ball socket for over 60 degrees of adjustment.
There are 10 dimmable brightness and color settings from 2500-5600K and 85-1800 Lux 0.5m to meet the demands of professional-level photography and broadcasting. No matter what time of day or night it is, you can stream or make a call with confidence.
At 50% brightness, the light lasts for six hours. Once the battery is fully charged, the MRK 1's compact power system automatically switches to outlet power. As a result, the battery lasts longer and doesn't overheat.
In addition to the adhesive monitor mount, the lighting kit includes a weighted desk stand for enhanced mobility.
Buy FUSE MRK1 Portable Webcam Light Kit for $69.99 here
3. HumanCentric Video Conference Lighting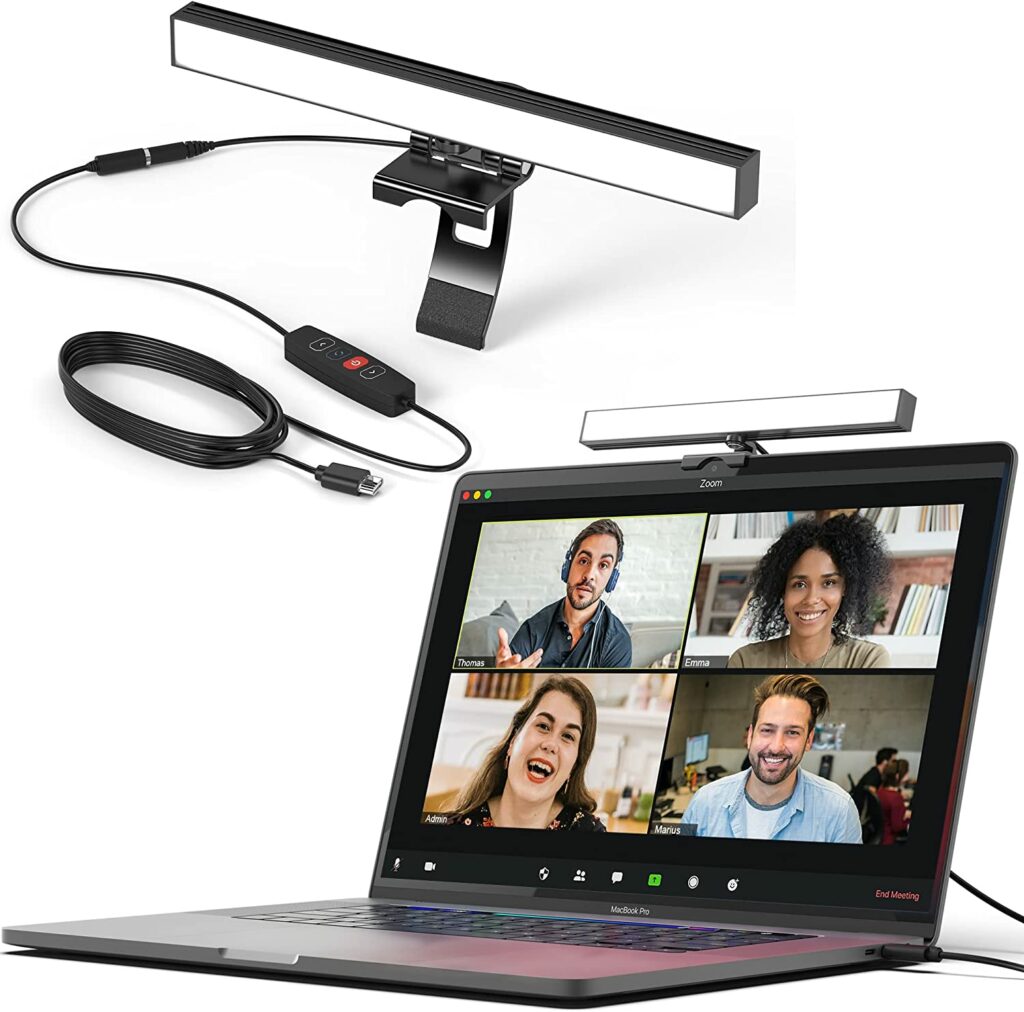 Make your best impression with a HumanCentric video conference MacBook Lighting Kit.
Stream video, video conference, and take online classes with better computer lighting.
The right video call lighting provides a more professional appearance and a stronger streaming presence. So, get the ideal video call lighting for your skin tone and environment. Make your video meetings more engaging with a light.
Using a webcam-style stand, the monitor light sits on top of your screen. The light is intended for stationary use, and it does not rely on unreliable suction cups or damaging adhesives just to be a computer video light. The monitor lights should be added after the camera is positioned.
A preinstalled diffuser creates a natural glow and appearance for the panel.
Buy HumanCentric Video Conference Lighting for $49.99 here
4. Ronims Video Conference Lighting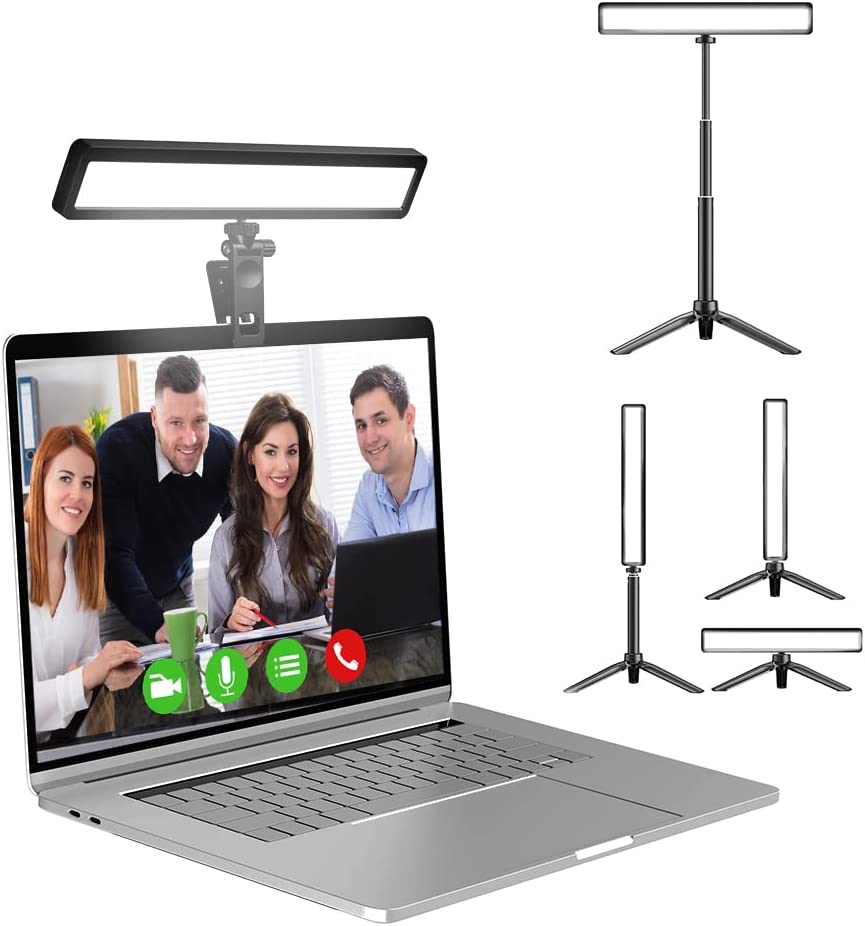 Using this video conference light, you will be able to show the most impressive version of yourself to everyone. You can improve the lighting effect of the computer screen in video conferences, online courses, zoom calls, and streaming videos to show your excellence. Besides being a light source, this small broadcast lighting kit for Mac can also be used for reading, taking pictures, and applying makeup.
There are three light modes on this video conference light: Natural lighting, white lighting, and warm lighting. Color temperatures range from 2500K to 9000K for the three modes. Natural light is ideal for taking pictures; the warm light is suitable for reading or using in the bedroom, and the white light is appropriate whenever strong light sources are required. The brightness levels in each mode vary from 10 to 25, and you can select the one that is most convenient for you.
It comes with a 3.35″ – 16.54″ (8.5cm-42cm) retractable tripod and anti-skid clip (There is a silicone sleeve inside the clip, so don't worry about damaging the screen). The lamp can be used for both video conference lighting and desk lamp.
Buy Ronims Video Conference Lighting for $29.99 here
5. Lume Cube Video Conference Lighting Kit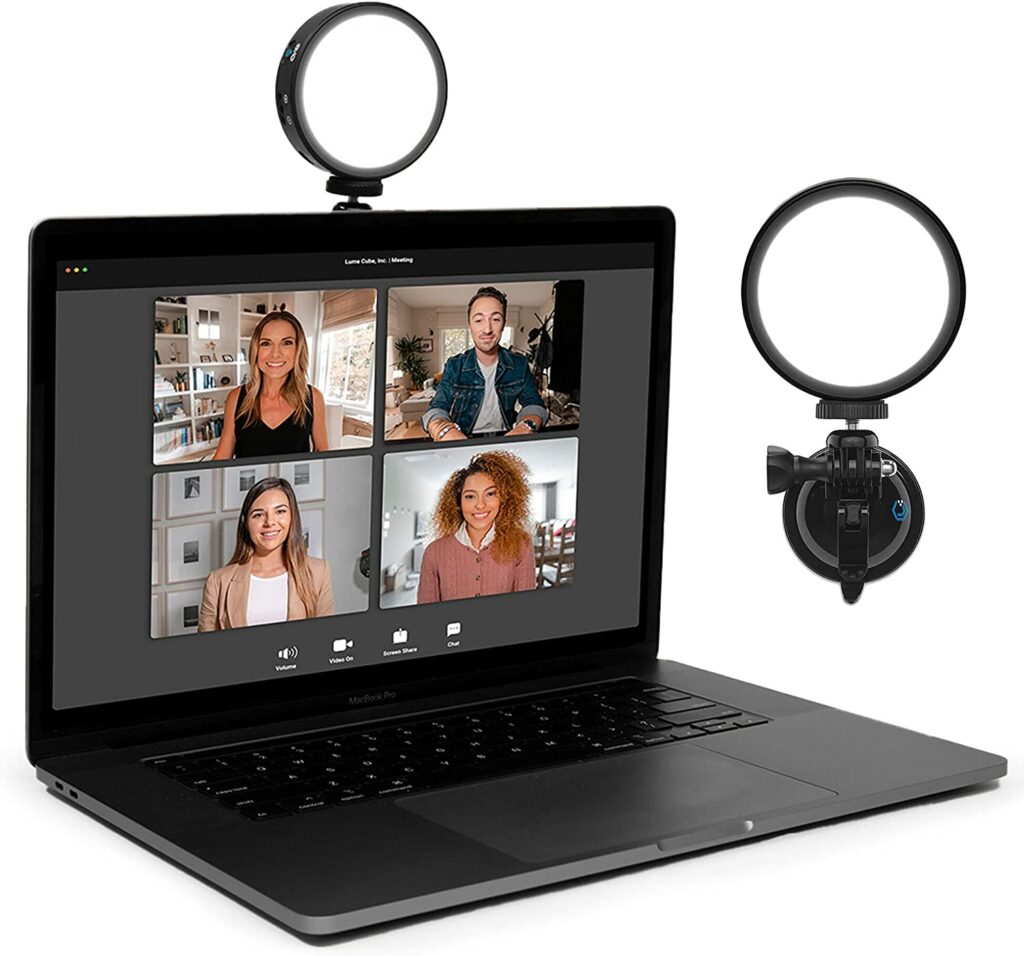 An excellent LED Panel Mini is included with the Lume Cube Video Conferencing Kit, as well as a suction cup to mount it just about anywhere.
It would make sense to mount it at the top of your laptop or computer monitor. However, it can also be mounted to a wall for a sidelight, or a tall piece of furniture for a tall pop of light. Simply put, the options are endless.
As far as the light itself is concerned, it is excellent. With its extensive range of brightness and color temperature options, you can customize the quality of the light to meet your needs.
Despite its built-in battery, you can connect the panel to your computer and power it with the included USB-C to USB-A cable, so you will never have to worry about it dying in the middle of a call.
Buy Lume Cube Video Conference Lighting Kit for $49.99 here
6. Weilisi 6.5" Ring Light for Computer with Adjustable Tripod,3 Light Modes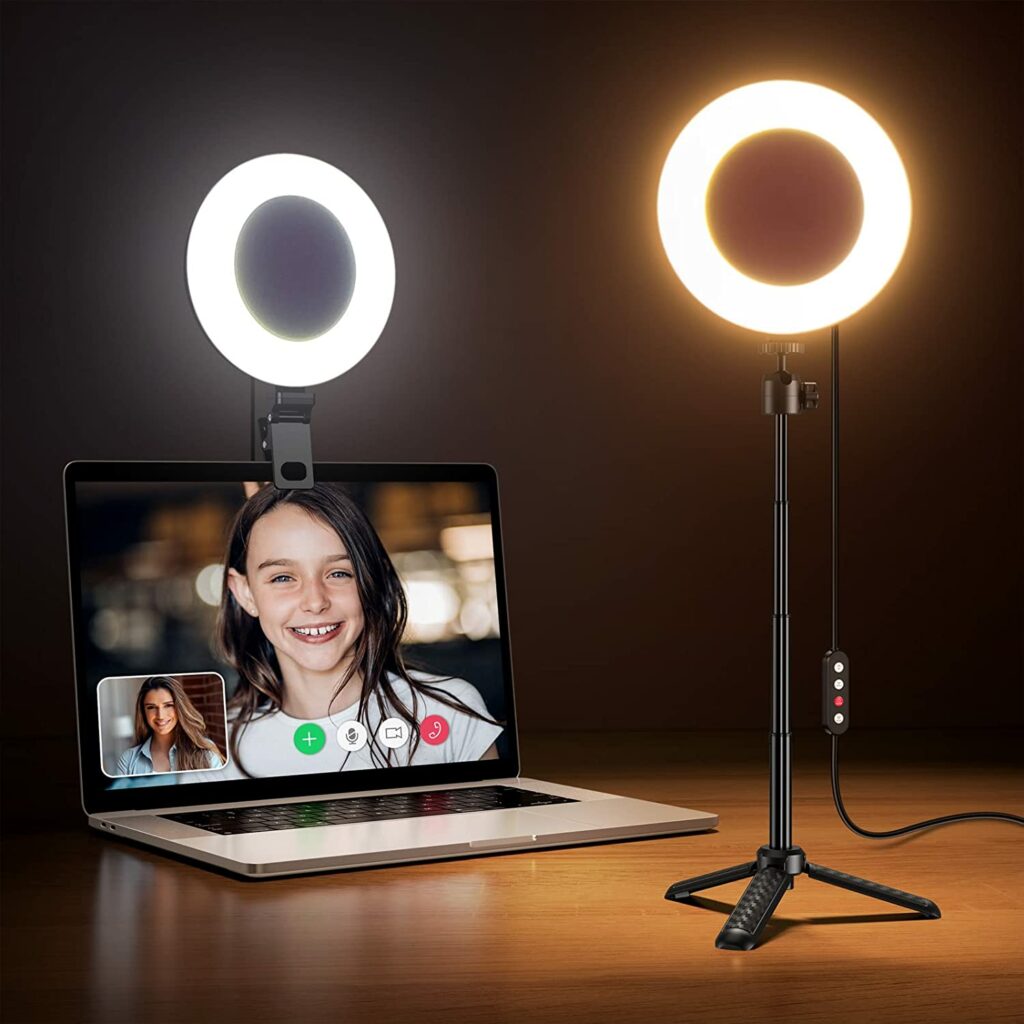 With 54 LED chips inside the light, Weilisi's 6.5″ ring light can provide 3 color temperatures (Cool White/Nature/Warm White) as well as 10 brightness levels, making it easier to customize the light to suit your environment and skin. In addition to creating a soft, diffuse light that makes almost any subject appear more attractive, the arc-shaped lampshade design eliminates shadows and glare.
An extendable tripod and a small clip are included in this video conference lighting kit. Triangular silicone pads reinforce the upgraded clip, providing maximum tightness and protecting your screens from cracks. You can either clip this ring light for computer or mount it on a tripod and place it beside your laptop.
With the USB cable, you can power this webcam ring light on the power bank's USB charger port. To turn it on, simply plug it in and press the ON button on the wired controller. By using the convenient controller, you can also change the light settings.
With this portable ring light, you can use it for multiple tasks that require extra light. In addition, you can use this Mac ring light for remote video conferences, online teaching/learning, Skype, TikTok, YouTube, taking selfies, reading, or applying makeup.
Buy Weilisi 6.5" Ring Light for Computer with Adjustable Tripod,3 Light Modes for $19.99 here
7. Weilisi 4000mAh Video Conference Lighting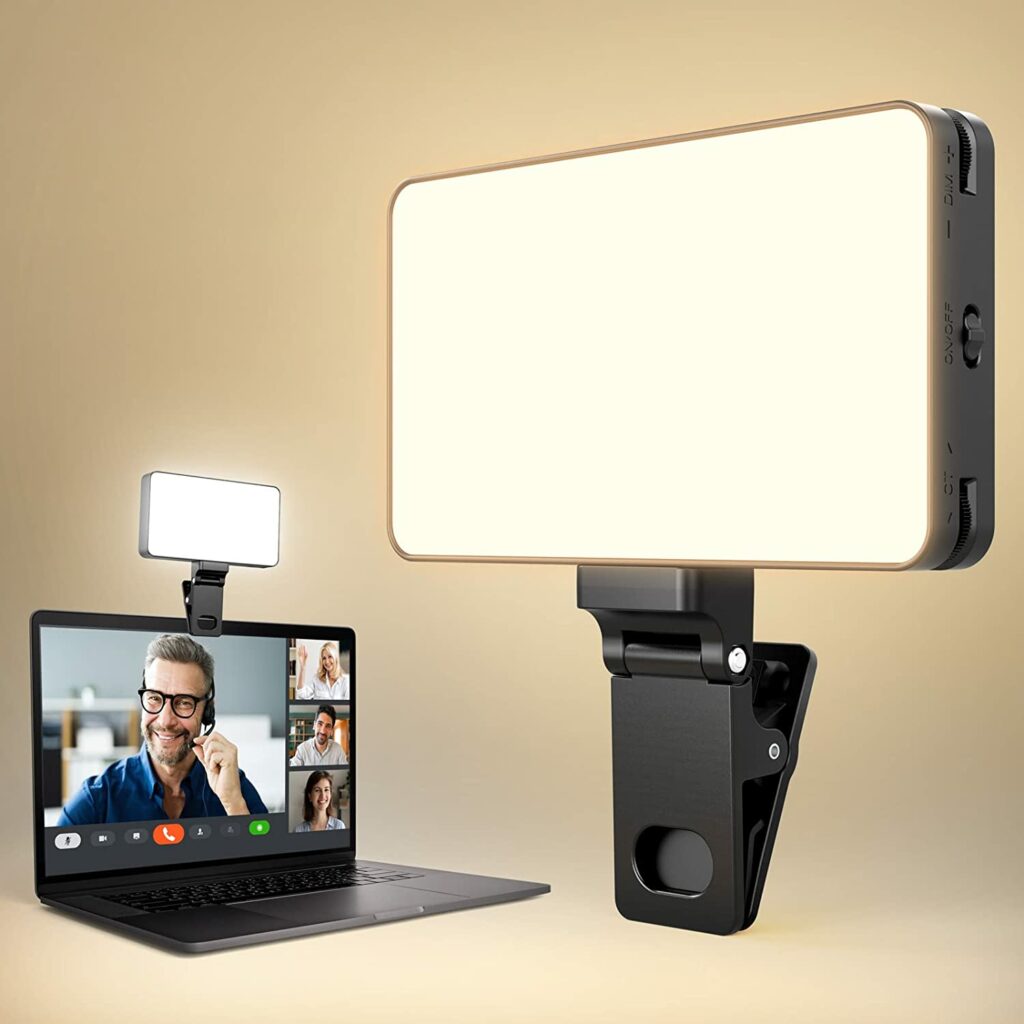 The Video Conference Lighting adopts cutting-edge luminous technology——LED side light-emitting. Compared with other lamps, it's indirect light, light is more uniform, soft, comfortable, and not dazzling, it can better protect your eyes. It can be used at any time without the need to install a troublesome diffuser
The zoom light uses high-quality batteries, the max brightness use time is 3.5h, the darkest is more than 100 h, the super long use time, and different user experiences. The charging time is 3 h, which can be used while charging, and it has good heat dissipation
The video call light uses the scroll wheel step-less dimming design, which is more convenient and user-friendly. Unique lighting technology makes its light effect better and makes you look more beautiful and your skin tone brighter. The brightness & color temperature are 1-100% adjustable, Light Mode: Cool light/warm light/natural light(3000K-6000K)
Buy Weilisi 4000mAh Video Conference Lighting for $29.99 here
Light Up Your Digital World,
High-quality visuals are key when relying on a video camera's view, and know that proper lighting highly contributes to that.
So, invest in one of the lighting kits and make the most of your content creation, professional meetings, or conference calls.
Which one would you buy? Let us know in the comments below.