In this post, you will find some of best silicone sports bands for Apple Watch Series 9 and Apple Watch Ultra 2 from third-party accessory makers.
So, you've got yourself the shiny new Apple Watch Series 9, or maybe you're rocking the Ultra 2 and ready to take your sports game to the next level?
Well, you've come to the right place, my friend, because we're about to dive into the wild world of sports bands for your precious wrist companion.
We're not just talking about any old bands here; we're talking about the best of the best, the cream of the crop, the best sports bands for Apple Watch Series 9 and Ultra 2 that will make your smart watch look so good it might just outshine your own athletic prowess.
The Best Silicone Sports Bands for Apple Watch Series 9
If you're on the hunt for the perfect accessory to complement your Apple Watch Series 9 and Apple Watch Ultra 2, look no further than the best silicone sports bands! These nifty bands not only add a pop of color and style to your wrist but also offer the comfort and durability needed for all your active endeavors.
Whether you're hitting the gym, going for a run, or just rocking that casual everyday look, these silicone bands are your trusty sidekick. Say goodbye to discomfort and hello to versatility – these bands are here to make your Series 9 experience even better!
So, sit back, relax, and get ready to discover the most stylish and functional sports bands that will make your Apple Watch the MVP of your workout squad.
1. Lerobo Sport Band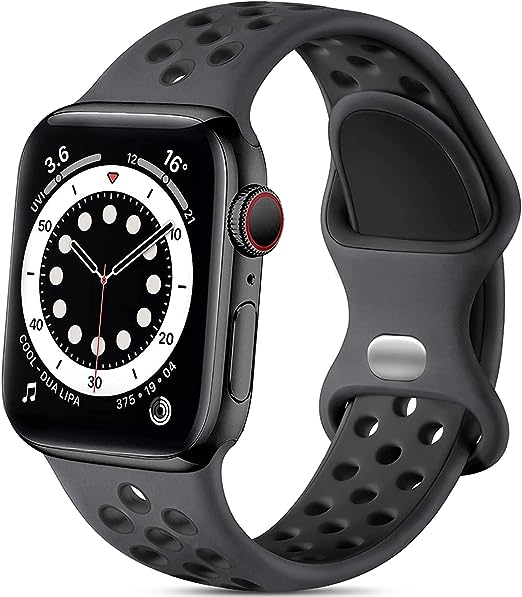 Lerobo sports bands are designed to complement Apple Watch Series 9 and Series 8 for both men and women. Crafted from premium soft silicone, these bands are gentle on your skin, preventing irritation.
They're also lightweight, durable, and flexible and offer features like being anti-dust, sweat-resistant, dirt-proof, odorless, and resistant to fading, ensuring comfort during wear.
Lerobo offers these sports bands in a variety of colors and sizes, allowing you to personalize your smartwatch to match your daily mood and outfit. The quick-change silicone sport watch band is designed with a secure pin clasp that keeps your watch in place, no matter what adventures you embark on.
The snap closure ensures a precise and secure fit by locking onto the watch band interface, preventing the bands from slipping or becoming loose.
Buy Lerobo Sport Band for $6.50 here.
2. Saucyi Apple Watch Band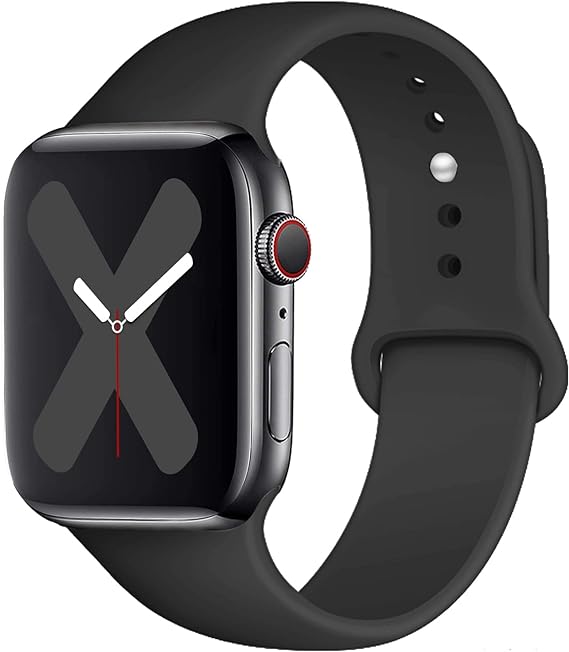 Saucyi silicone bands are soft and comfy, waterproof, sweat-resistant, and highly durable. They won't fade, get smelly, or easily break, making them perfect for activities like swimming, cycling, hiking, traveling, and various sports.
These bands come in a bunch of cool colors, so you can easily match them with your outfit and makeup, adding a fashionable touch to your look. Plus, they're designed with watch lugs on both ends, ensuring a secure fit on your Apple Watch.
The pin-and-tuck closure makes adjusting the strap a breeze, so you can get the perfect fit without any hassle. So, why wait? Get yourself a Saucyi silicone band and upgrade your Apple Watch game today!
Buy Saucyi Apple Watch Band for $8.99 here.
3. SVISVIPA Sport Bands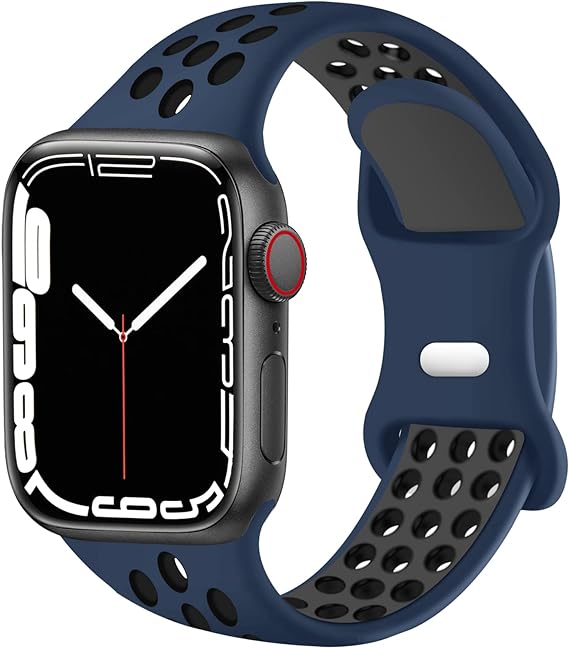 Looking for a compatible silicone sport band for your Apple Watch? Check out the SVISVIPA band, suitable for all Apple Watch models, including the latest 45mm and 49mm versions.
Crafted from soft and durable silicone, this band provides a comfortable touch, freeing your wrists from discomfort during wear. Plus, it's adjustable to fit various wrist sizes.
For 38mm/40mm/41mm Apple Watches, it suits wrists ranging from 5.6 inches to 7.1 inches, also accommodating 40mm and 41mm models. Similarly, for 42mm/44mm/45mm Apple Watches, it fits wrists from 6.2 inches to 8.3 inches, including 44mm and 45mm versions.
The SVISVIPA band features watch lugs on both ends, ensuring a precise and secure connection to your Apple Watch. Installation is a breeze, and removing it is as simple as pressing a button. Whether you're a man or a woman, this breathable replacement strap is a great choice for your Apple Watch.
Buy SVISVIPA Sport Bands for $7.97 here.
4. Maledan Sport Bands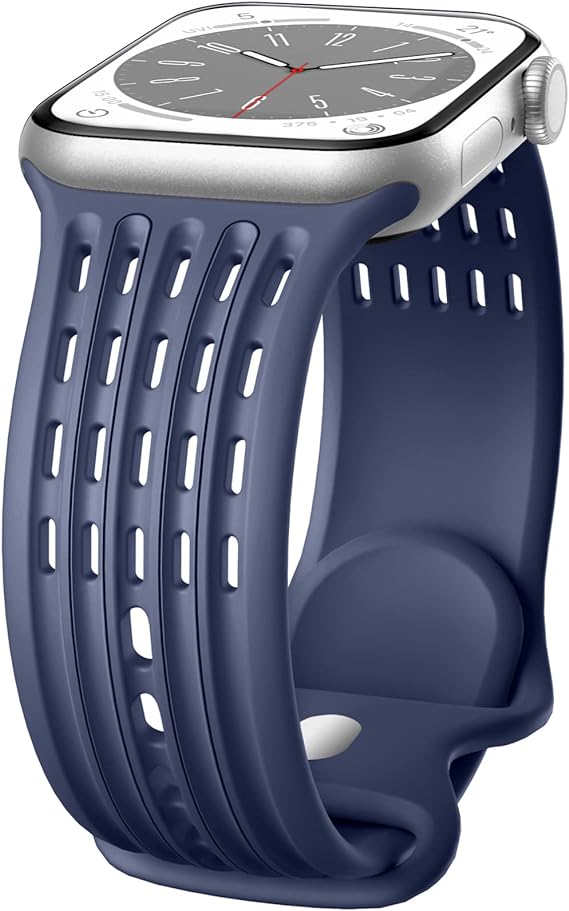 Looking for a sleek and breathable Apple Watch strap that can keep up with your active lifestyle? Look no further! Maledan's charms Apple Watch strap boasts a unique fluid design with extra ventilation, ensuring breathability without compromising durability. It's also sweat-resistant and dries quickly, providing superior comfort without any irritation.
These stylish and cute bands are versatile enough to complement any occasion, be it work, sports, a date night, a party, or your next travel adventure. With a wide range of options, you'll always find the perfect match for your daily outfit.
Crafted from high-grade soft silicone, these bands offer exceptional comfort compared to the original band. Plus, they're waterproof, lightweight, and built to last, making them an affordable and reliable choice for your Apple Watch accessories.
Buy Maledan Sport Bands for $8.99 here.
5. ATPZEVI 3 Pack Sport Band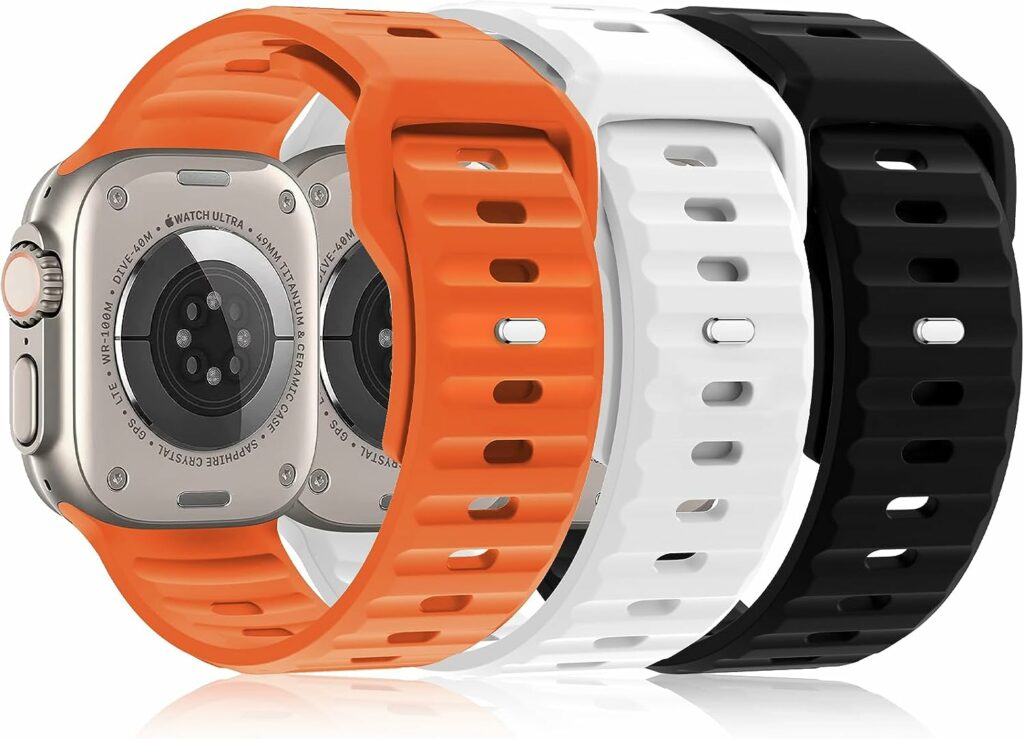 Looking for a versatile and durable watch strap that can handle anything life throws at you? Well, look no further because ATPZEVI's Apple Watch Ultra 2 sports bands are hands-down the best out there.
Crafted from premium soft silicone, this band is not only lightweight but also skin-friendly and odorless. Plus, it won't fade over time, ensuring it looks as good as new even after extended use.
With a width of 26mm, this strap exudes strength and resilience. Whether you're gearing up for a sweaty workout, enjoying a casual day out, or embarking on a rugged outdoor adventure like running, hiking, mountaineering, biking, or traveling, the Sport Band is up for the challenge. It's the perfect companion for a wide range of occasions.
One of the standout features of the Sport Band is its durability. It's both waterproof and dirt-resistant, and it won't give in easily when pulled or stretched. This means you can wear it all day long without any discomfort, as it allows your skin to breathe and doesn't cause irritation.
Buy ATPZEVI 3 Pack Sport Band for $16.99 here.
6. Generic Sport Bands
Crafted from high-grade silicone, this watch sport band is designed with your comfort and durability in mind. It's skin-friendly, lightweight, waterproof, and resistant to sweat. The reinforced metal buckle ensures a secure fit that won't let you down.
Putting it on and taking it off your watch is a breeze. To keep your watch screen clean and protected, simply install the screen case from the Home button side first, making sure it attaches firmly on both sides.
Whether you're hitting the gym for a sweaty workout, enjoying a casual day out, or embarking on a wet and rugged outdoor adventure like running, hiking, mountaineering, biking, or traveling, this watch band is the perfect choice to showcase your toughness and rugged charm.
Buy Generic Sport Bands for $10.99 here.
7. Suitisbest Sport Band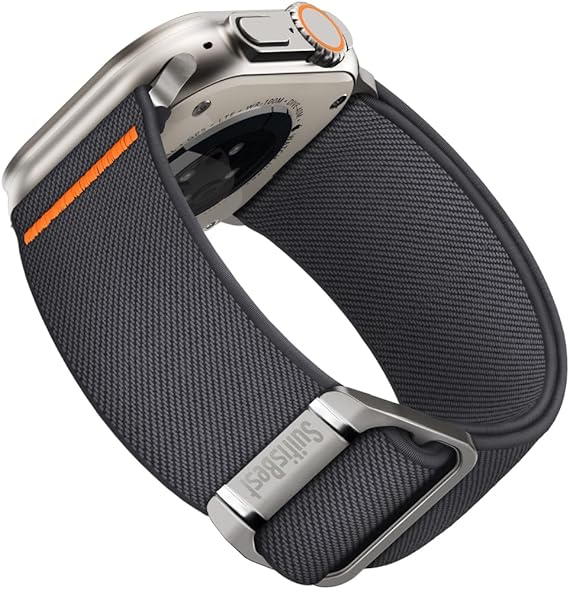 With a 26mm width, the nylon solo loop design of this band not only offers a secure fit but also exudes a bold and masculine style. It's an ideal choice for those looking to make a fashionable statement, especially suited for men.
Crafted from durable nylon material and featuring a stainless steel connector and buckle, the Suitisbest Sport Band combines resilience with a sleek and modern appearance.
The stainless steel connectors seamlessly integrate with the Apple Watch Ultra's titanium casing, providing an elegant and polished look that complements your personal style.
Comfort is paramount with this one of the best Apple Watch Sports bands 45mm. It offers enhanced elasticity for unrestricted wrist movement, is resistant to scratches, effectively absorbs sweat, and promotes breathability.
You can count on the Suitisbest Sport Band to keep you comfortable and stylish throughout the day.
Buy Suitisbest Sport Band for $17.99 here.
To Conclude
So, there you have it, folks – the best Sports bands for Series 9, the dynamic duo of wristwear! They're the ultimate wingmen for your smartwatch, making you look cooler and more stylish than ever – and they won't even judge you for ordering that extra-large pizza after your workout. So slap on your favorite sports band, and let the games begin!