In this review, we take a look at the Mujjo Envoy Laptop Sleeve for 16-inch MacBook Pro. If you are searching for a premium vegan leather sleeve for your MacBook Pro, then this review is for you.
Every MacBook owner needs a sleek yet practical sleeve for his or her device. A good sleeve makes it easier to carry around your MacBook while making sure it stays undamaged.
Even though I seldom take my MacBook out of its clamshell mode, I have been looking for a good-looking sleeve that could not only hold my 16-inch MacBook Pro but also allow me to carry some useful accessories with me.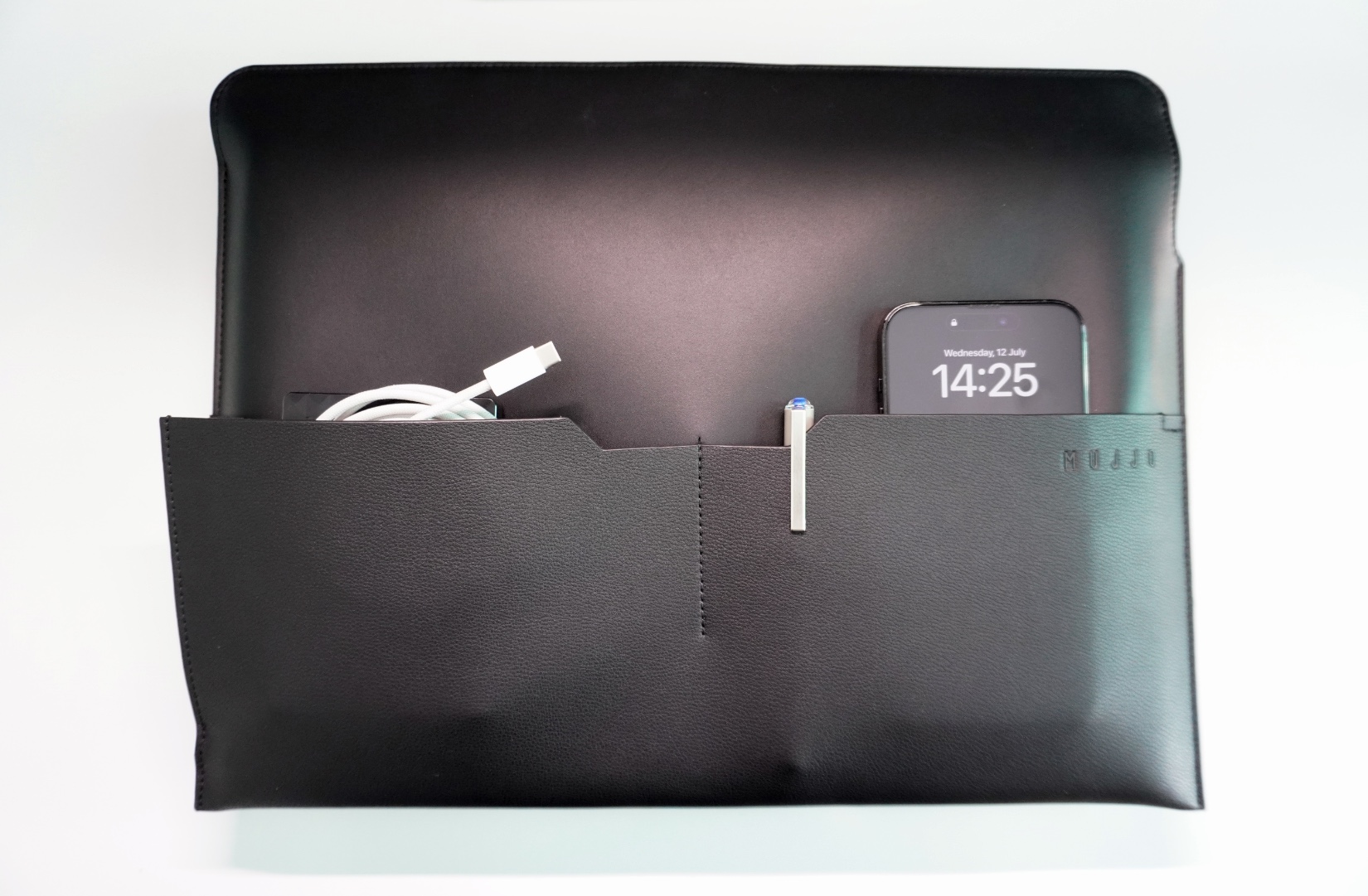 In my search, I stumbled upon Mujjo's Envoy 16-inch Laptop Sleeve and fell in love with its appearance. I reached out to Mujjo and asked whether they would be interested in sending us a review unit, to which they thankfully agreed. Full disclaimer though, while we were provided a review unit for this article, all the opinions expressed in this review are truly mine and have not been influenced by the accessory maker by any means.
Before I dive into my thoughts and verdict about the Mujjo Envoy 16-inch Laptop Sleeve, let's take a look at its design and features.
What it is for
The Mujjo Envoy Laptop Sleeve is specifically designed for large notebooks. If you have a 14-inch MacBook Pro or a laptop of similar size, then you can also go for the 14-inch version of the same sleeve.
With this sleeve, you get a large main pocket that houses your laptop. On the front, it has two smaller pockets that are ideal for carrying around your charger, cables, wallet, phone, or whatever medium to small items you carry around with you.
On the back, you get a medium-sized pocket, which is ideal for carrying a small-sized book. If you are not an avid reader, then you can also carry your iPhone, AirPods, or perhaps your iPad mini in this pocket. I tried putting my 10.9-inch iPad Air in this pocket and it also fitted inside it. However, I was uncomfortable carrying it around in this pocket as it could potentially fall out if the case was held upside down due to the pocket being loose.
Design and features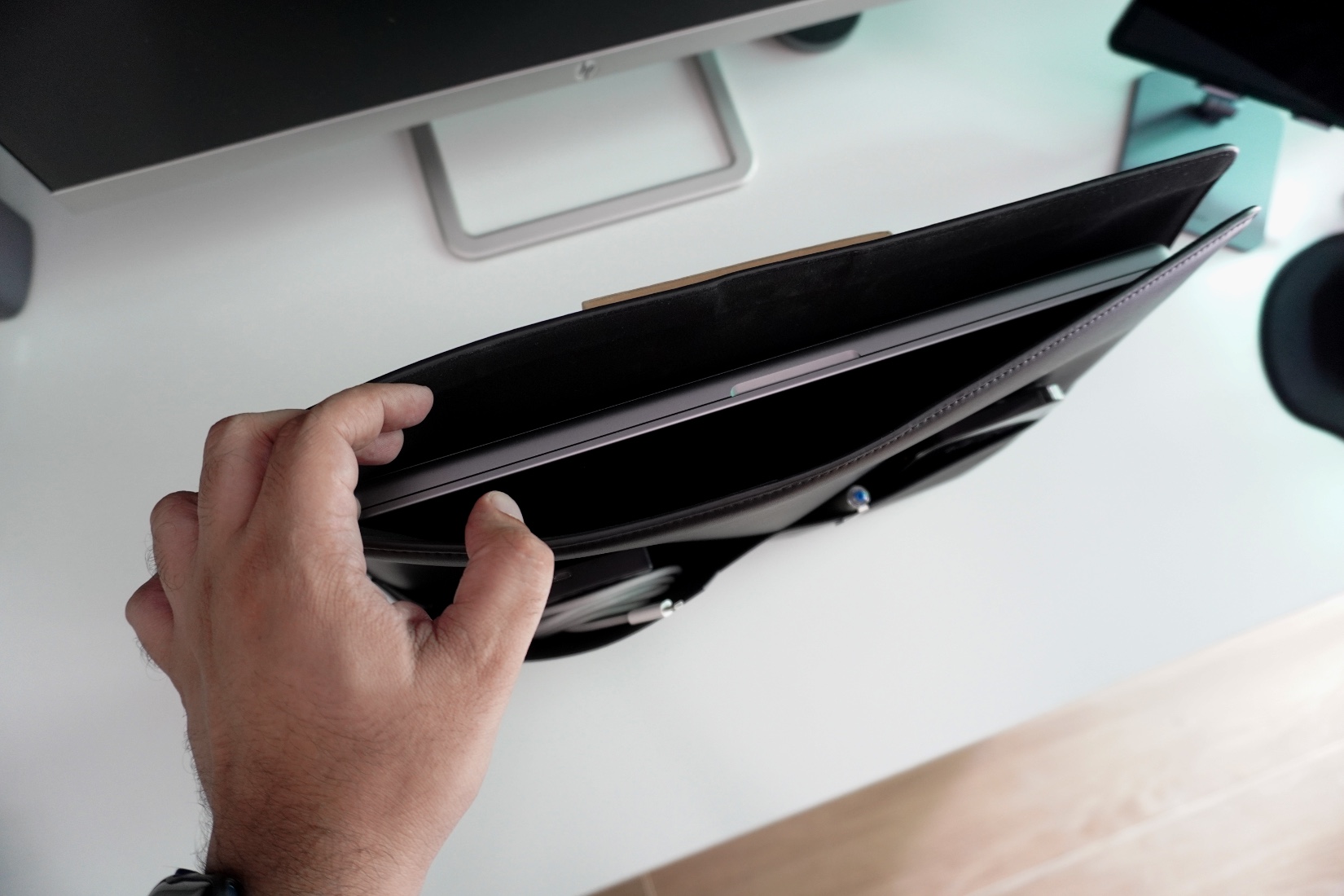 The Mujjo Envoy is made up of waterproof vegan leather. This material gives the sleeve a premium look and feel. At the top, you get a magnetic opening for the large pocket. The magnetic opening mechanism makes sure your MacBook stays securely inside while also making it convenient for you to open and close it with one hand.
The front pockets allow you to carry useful accessories with you. The left side pocket is expandable, making it capable of carrying larger items. When the pocket is not in use the built-in magnets help it to slim down again.
Along with premium-looking vegan leather material, the sleeve comes with very neatly done stitching that adds to the premium feel of the Mujjo Envoy.
Practicality
The biggest reason I don't like to use MacBook sleeves that are made up of some sort of fabric or polyester material is that many of them do not provide adequate protection to the sides of the devices, which is the most vulnerable part. With Mujjo Envoy you get foam-padded pockets that are designed to keep your device safe.
The fabric used in this sleeve is also waterproof, which means you don't have to worry about the rain or water splashes getting to your device.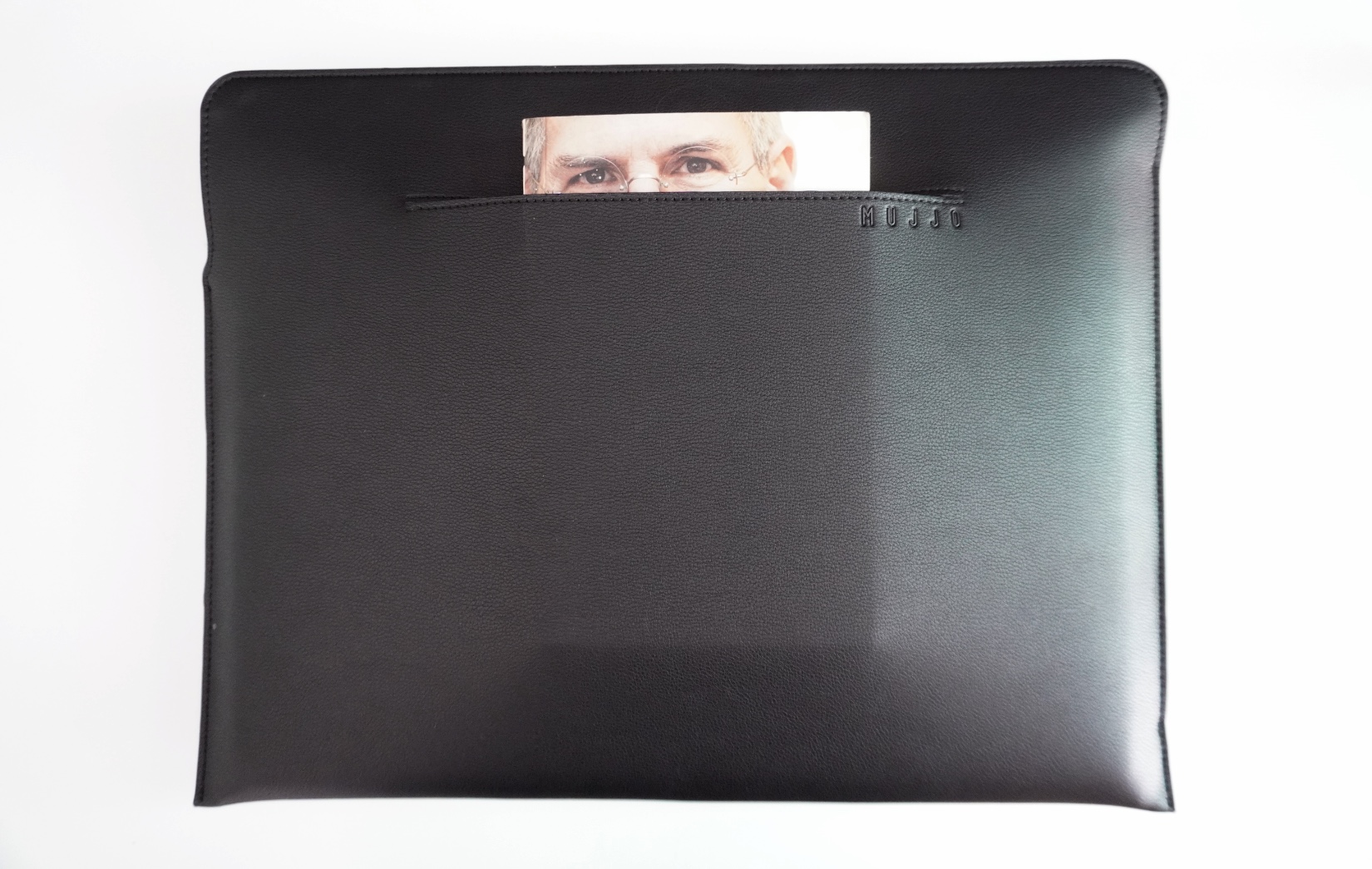 All four pockets of this sleeve have been designed with practicability and function in mind. They take the most advantage of the real estate that is given to them and enable users to carry quite a bit of stuff even while the sleeve itself remains slim and easy to carry.
The right-side front pocket comes with a hidden elastic pocket that is great for keeping your iPhone secure when you are carrying the sleeve around.
The sleeve also has a side opening that has been added to make it easier for you to charge your MacBook without having to take it out of the sleeve first. This is a very convenient feature especially when you are charging the MacBook on the go.
My experience with Mujjo Envoy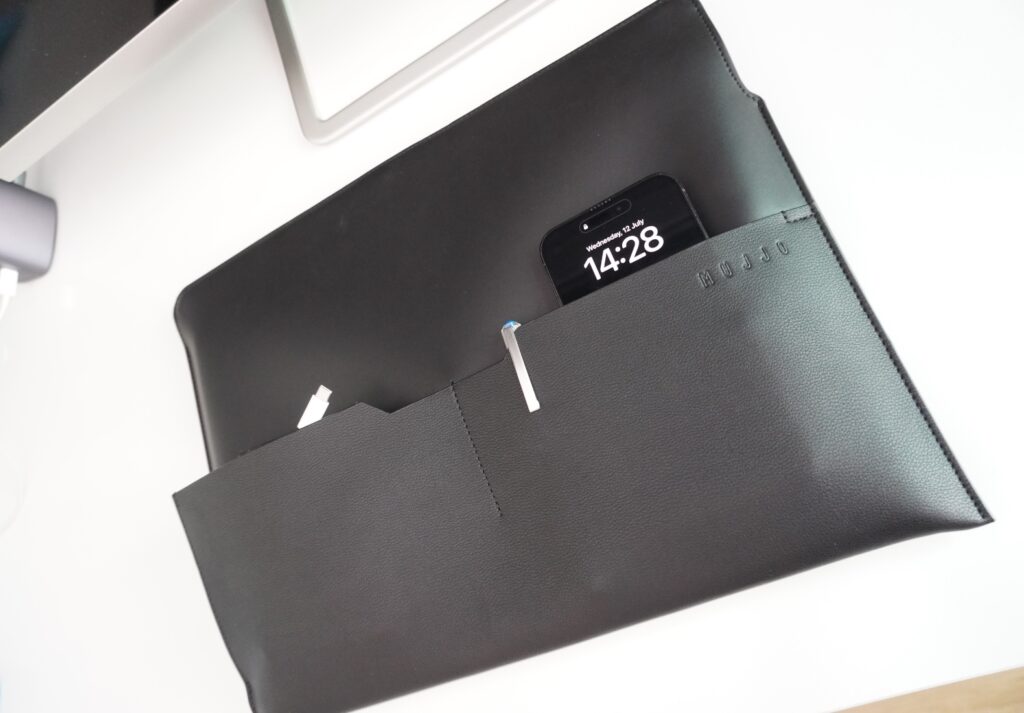 Now that we have covered the design and features of the Mujjo Envoy 16-inch Laptop Sleeve, it's time for us to talk about my personal experience with it.
I have been using this sleeve with my 16-inch MacBook Pro for a while now. Those of you who own the same MacBook Pro would know how bulky this notebook is. The good news is this sleeve is able to hold the 16-inch MacBook Pro without any issues. It is also super easy to put your notebook in and out of this sleeve thanks to the magnetic opening that is found in its large pocket.
I usually carry a few items with me when I take the MacBook outdoors. This includes an external hard drive, a USB cable, a pen, and of course my iPhone. I am happy to report that all these things fit perfectly inside this sleeve with some room to spare for other items.
I am also able to put my iPad Air in the back pocket of this sleeve, however, I avoid doing so as that pocket is not designed to carry such items. This pocket is more suitable for carrying a book, some documents, or when you are traveling, your passport.
Although this sleeve is made up of vegan leather on the outside, it does give you a sense of security when it comes to your MacBook. The foam-padded pockets provide you with confidence that your MacBook will stay secure even if you end up hitting the sleeve somewhere or experiencing a drop.
Verdict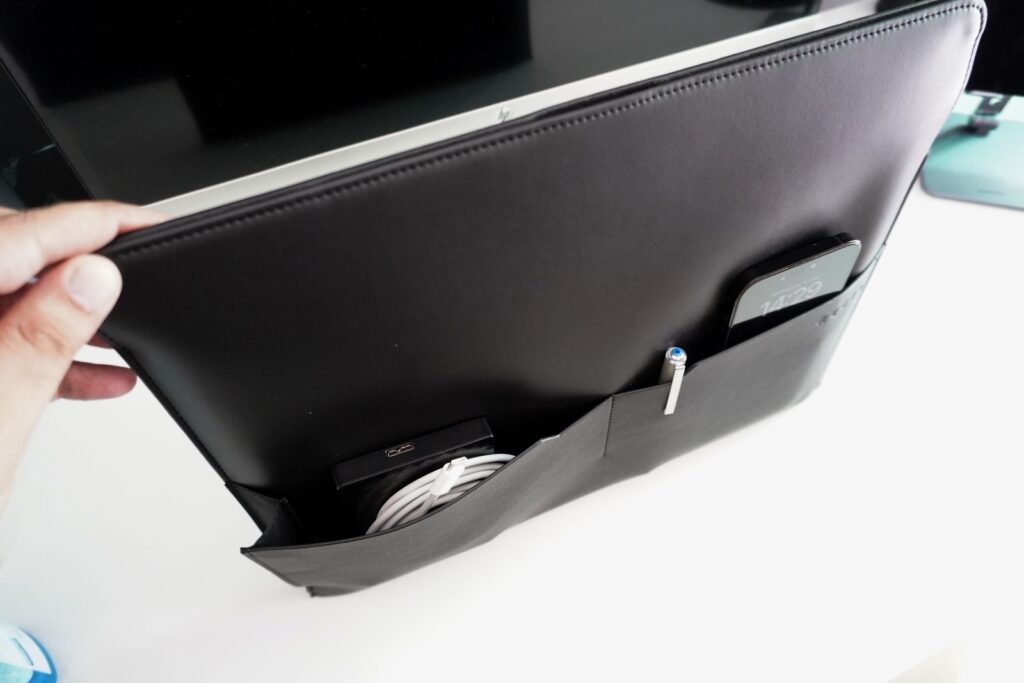 Overall I am very happy with the Mujjo Envoy 16-inch Laptop Sleeve. There are very few things that come to mind when I think about features that are missing from this sleek-looking sleeve.
One thing that would have made me appreciate it, even more, is if it had a secure pocket for carrying the iPad, however, that might have added extra bulk to the sleeve, so I understand why Mujjo went this route and kept this sleeve non-iPad supported.
Pros
Sleek and premium-looking design.
Front and back pockets to carry accessories and other items.
Top-notch stitching and magnetic closing for pockets.
Form-padded pockets to protect the MacBook.
Cons
No pocket for carrying iPad.
Pricey.
Pricing and availability
You can buy the Mujjo Envoy 16-inch Laptop Sleeve at a price of $95 from the official website here.