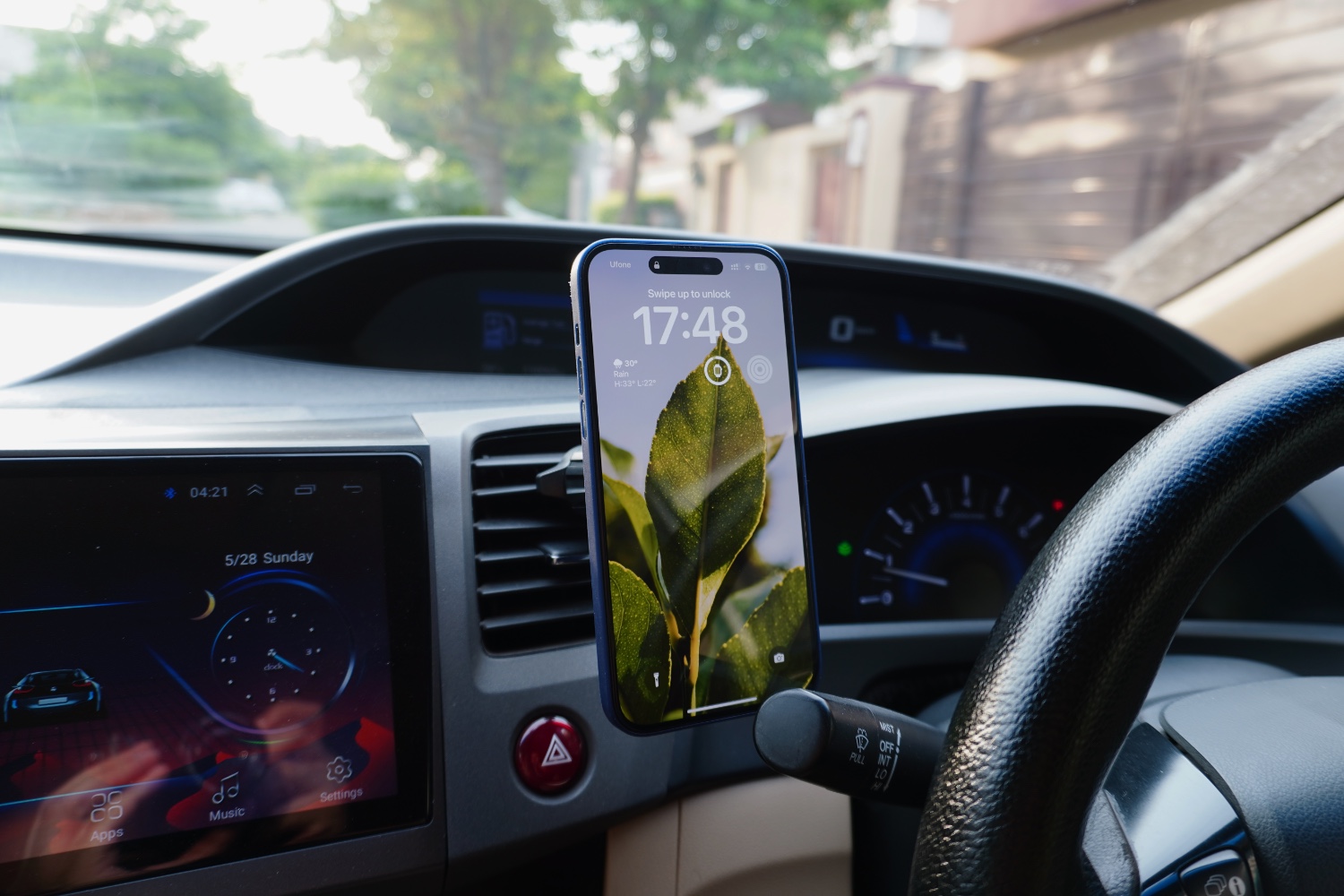 A MagSafe-compatible car mount and phone holder is one of the most essential iPhone accessories that one can buy. A good car mount makes sure your iPhone stays secure while you drive and at the same time lets you use features like navigation, music playback, call controls, etc without distraction.
I have been looking to buy a MagSafe-compatible car mount for my iPhone 14 Pro Max for a long time. In my search, I came across the OMOTON MagSafe Car Mount, which ticked all the right boxes. So that's what I ordered and will be reviewing in this detailed review.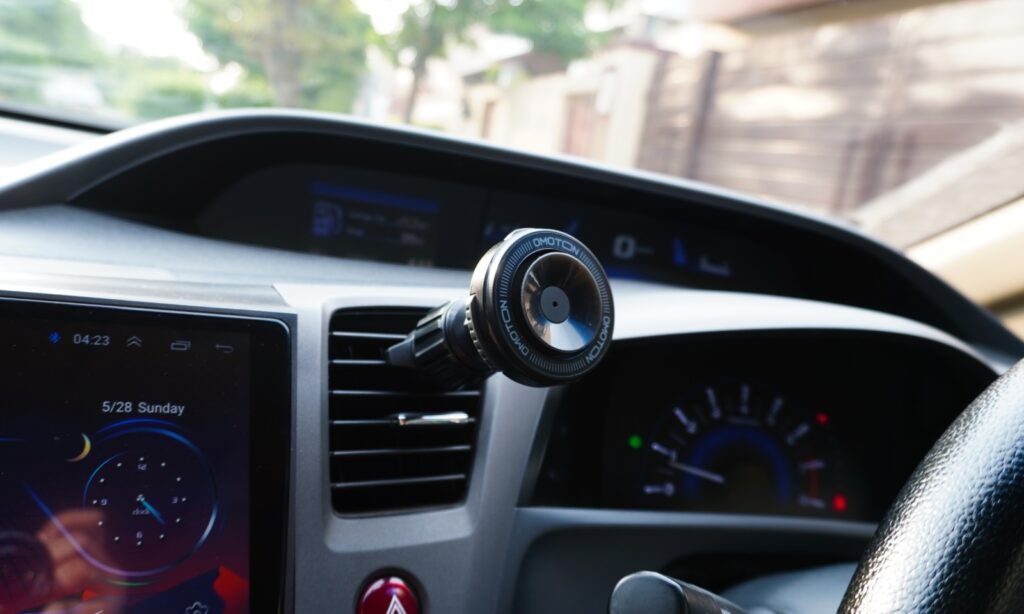 Before I share my experience with OMOTON MagSafe Car Mount, let's take a look at its different features and which devices and vehicles it is compatible with.
With OMOTON MagSafe Car Mount you get 'O-Mag Dual-Lock System'. This dual system lets you attach your iPhone to the mount securely with MagSafe. In addition to featuring strong N52 magnets for MagSafe compatibility, this car mount also has a vacuum suction cup, which provides double security to the iPhone and prevents it from falling even when your car is experiencing severe bumps.
Even though the connection between the mount and the iPhone is strong, it is super easy to remove the device from the mount with the dedicated buttons. Just press the buttons on the mount to release iPhone. This process is super fast and easy and can be safely done even while driving.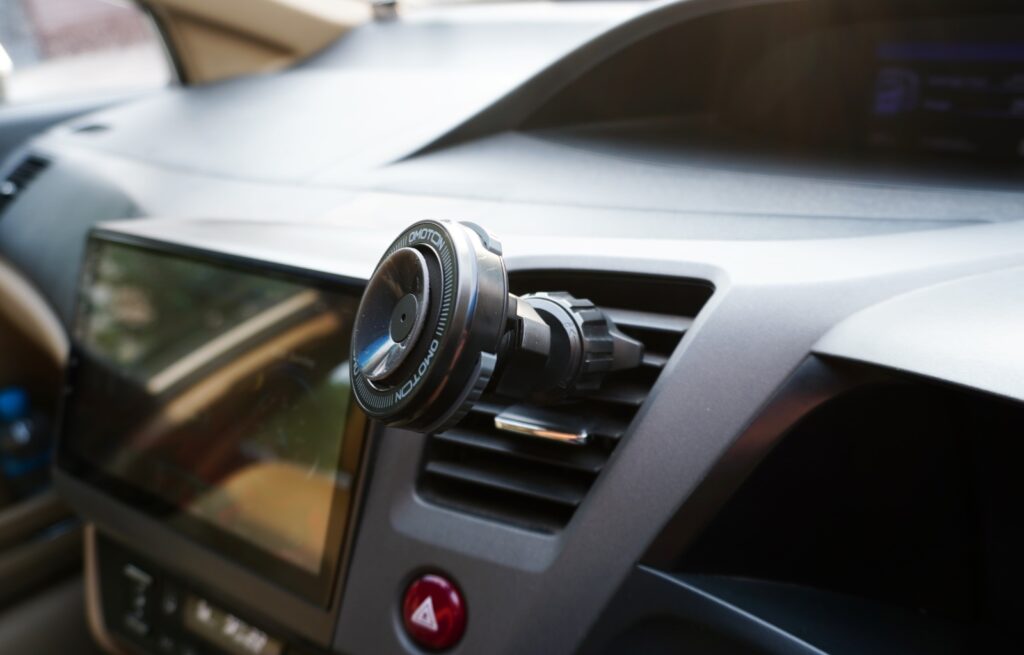 The OMOTON MagSafe Car Mount attaches to the car with what the company calls a 'Quadruple Locking System'. This locking system attaches the car mount to the vehicle's AC vent. This is achieved through a combination of parts including a metal hook, silicone pad, rotatable support ring, and an adjustable knob. This Quadruple Locking System is designed to make sure the car mount stays in place and does not move around. It also does a great job when you are driving on a rough road or off-roading in an SUV.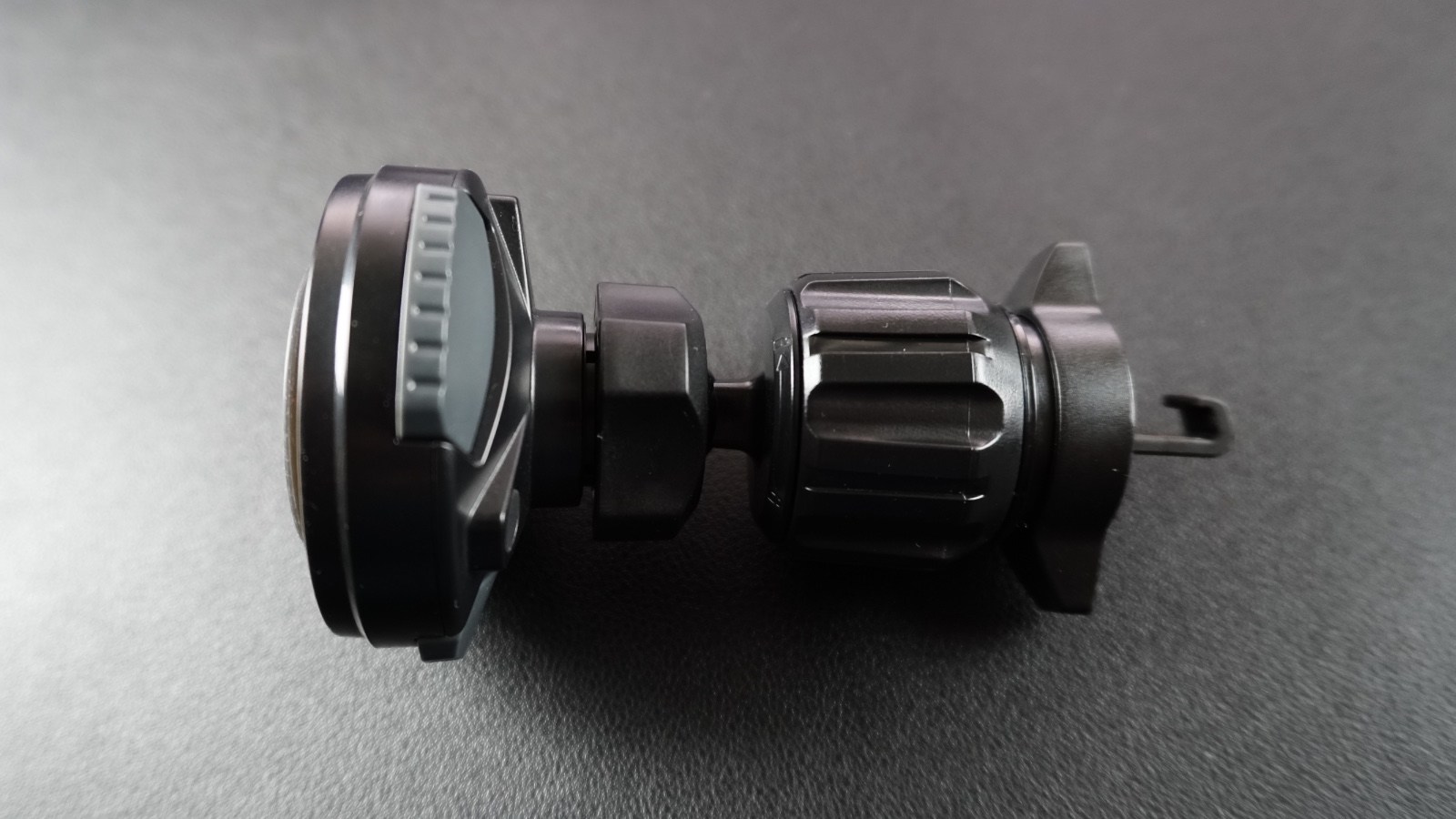 While MagSafe compatibility is a major feature of this particular car mount, it can also be used with non-MagSafe iPhones and Android devices. This is made possible thanks to a magnetic ring that comes inside the box. You can stick that magnetic ring to any smartphone and magnetically attach it to this car mount with ease.
OMOTON MagSafe Car Mount also features a 360-degree ball mount, which lets you rotate the device from portrait to vertical angle without even removing the device from the mount. This is great when you want to change the device's angle depending on the action you are currently performing on your device.
When it comes to vehicle compatibility you can use this mount with almost any car. According to the company it can be used with most vertical and horizontal air vents. However, it is not compatible with round vents.
The Review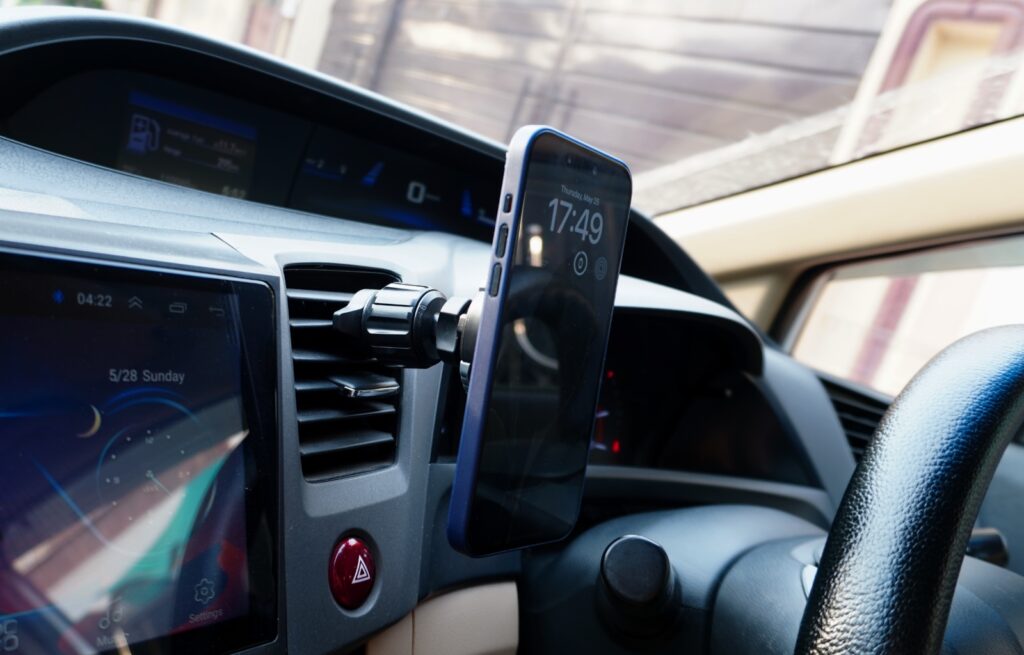 I have been using the OMOTON MagSafe Car Mount for several weeks now. When I received it in the mail and unboxed it I was pleasantly surprised by its build quality. The product feels solid and gives you a feel that it is built with premium material.
The installation process of this car mount was a breeze. The whole installation process takes less than a minute to complete. You can start by rotating the dial in an anti-clockwise direction to extend the hook. Once the hook has fully extended just place it inside the AC vent of your choice. Then rotate the dial again, this time in the clockwise direction. Keep rotating until the mount fits snugly in the AC vent and no longer moves.
Once the car mount has been attached to the AC vent adjust the angle of the mount by moving its head in the direction of your choice. Finally, place your iPhone on it.
Perhaps the most important thing that defines if a car mount is good or bad is how easy or difficult it is to attach your iPhone to it. OMOTON MagSafe Car Mount does this job pretty well as you can simply place your iPhone on it and it will stick on the mount without any effort.
Removing the device from the mount is equally easy as you can take advantage of the three release buttons that are located right behind your iPhone.
While this may differ based on your vehicle's model, on the Honda Civic I tested this mount on I could move the vent up and down easily. There was some resistance when I tried to move the sideways vents, however not being able to move them easily was not a big issue for me.
I am a big fan of OMOTON MagSafe Car Mount's 360-degree ball mount that lets you rotate your iPhone from portrait to landscape mode without removing it first. I also like that in addition to rotating the device, I can also change the angle of the device in any direction, which makes it great for video calls.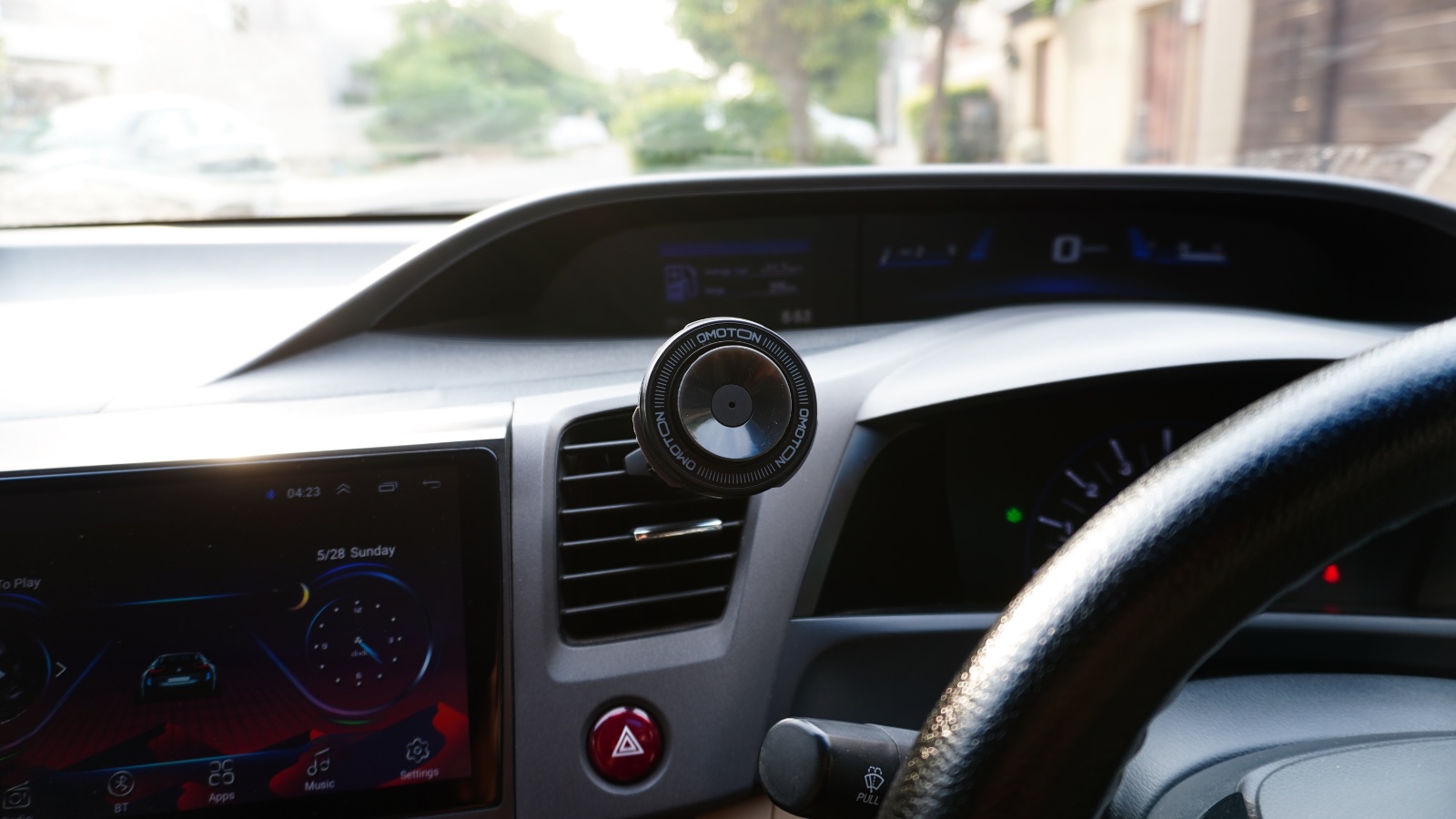 During my testing, I also did not face any issues when it comes to this car mount holding the device securely. Thanks to the dual locking system iPhone is securely held in place with the help of magnets and the vacuum suction cup. The combination of these two locks does a good job at mounting the iPhone and the device stays in place even when you are driving on bumpy roads.
All-in-all the OMOTON MagSafe Car Mount is a great car mount for those looking for a MagSafe-compatible car mount with wide car compatibility and adjustable angles. This is also a good mount for non-MagSafe smartphones thanks to the magnetic ring that comes with it.
You can buy the OMOTON MagSafe Car Mount for just $12.99 here.