Ever since I got my 2020 iPad Air, I have been looking for a decent case and folio that would protect it without ruining its prestige design. When I came to know that Pitaka, which makes my favorite Pitaka Apple Watch band and Pitaka iPhone case also has a lineup of iPad cases, I had to give them a try.
I got Pitaka MagEZ Case 2 and Pitaka MagEZ Folio for 10.9-inch iPad Air. Both of these cases serve a different purpose yet you can use both of them with your iPad Air at the same time.
Since this review covers both the case and folio, let's talk about each of these products, which are sold separately individually.
Pitaka MagEZ Case 2 for iPad Air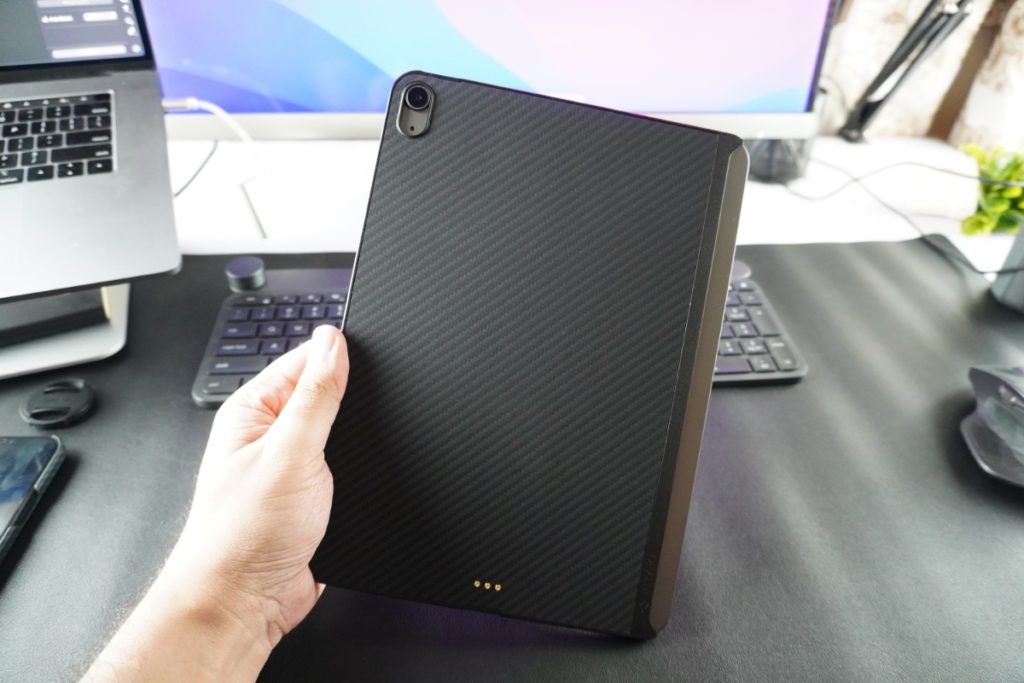 One of the most noticeable things about the Pitaka MagEZ Case 2 is that it features the same Carbon Fiber look that you find in many of Pitaka's accessories. This is one of the big reasons why I liked this case for my Space Grey iPad Air to begin with. The case has everything that you would want from an iPad case.
It has a lightweight design, provides easy access to all of iPad's buttons, ports and speaker grills, and offers compatibility with most of iPad Air first and third-party accessories.
The case covers the iPad Air from all sides but one, and provides a great deal of protection to it thanks to its durable material and raised lips that protect the display from touching the surface when the tablet is placed upside down.
With MagEZ Case 2 iPad Air is exposed from one side at all times. This should not be a problem for those who plan on using the Pitaka MagEZ Folio case (sold separately) however if your iPad falls a lot, then this is something you should pay attention to before buying this case.
The cutout that exposes a whole side of the iPad Air is there so that the case remains compatible with Apple's Magic Keyboard, which makes the case great for those who use that accessories.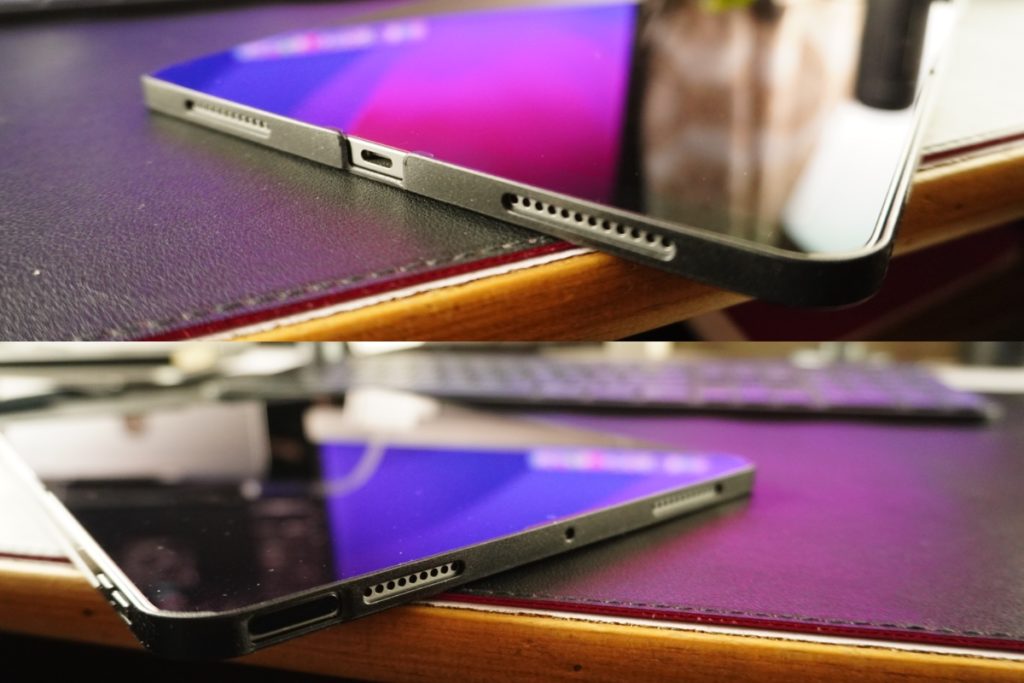 MagEZ Case 2 also features convenient cutout for the power/Touch ID button of the iPad Air, which means you can easily scan your finger and unlock your device with the case on. The case does cover the volume buttons however the buttons that sit on top of them are soft enough for it not to be a problem. You also get cutouts for the speakers and charging port.
When it comes to weight you will be happy to know the Pitaka MagEZ Case 2 is pretty lightweight and does not add noticeable weight or bulk to the iPad Air, which is a big plus for the case.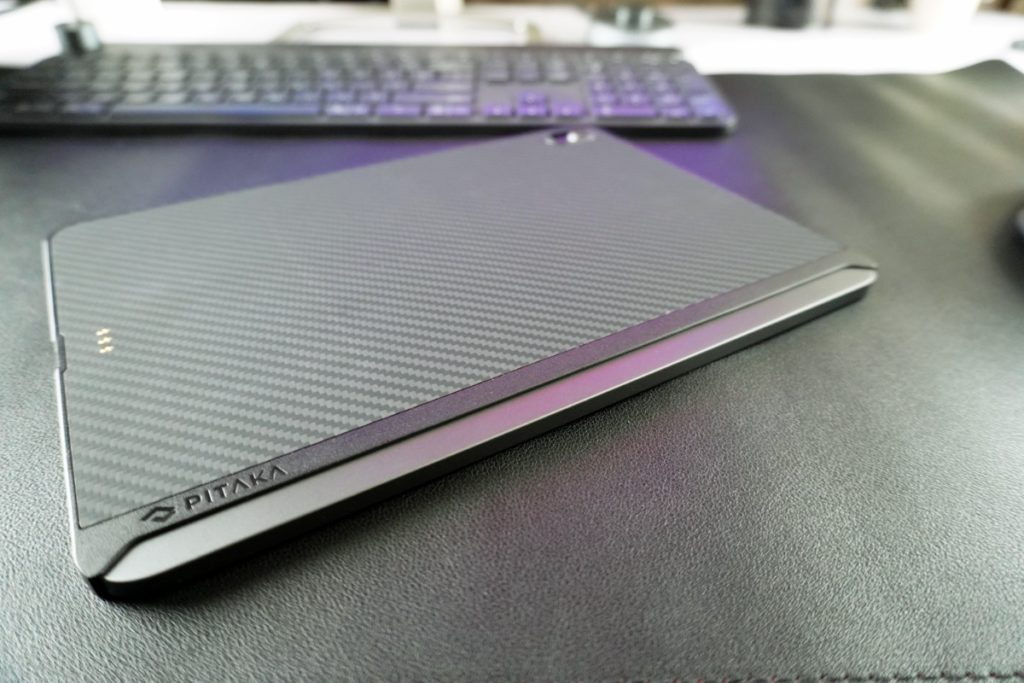 The case also features golden pins in the back that make it compatible with Apple's Smart Connector accessories.
So should you get this case for your 2020 iPad Air? To know the answer to this all important question, you should scroll down to the verdict section, but first let's talk about the Pitaka MagEZ Folio for iPad Air.
The case is also compatible with Pitaka's Pita Flow accessories that includes the MagEZ Stand.
Pitaka MagEZ Folio for iPad Air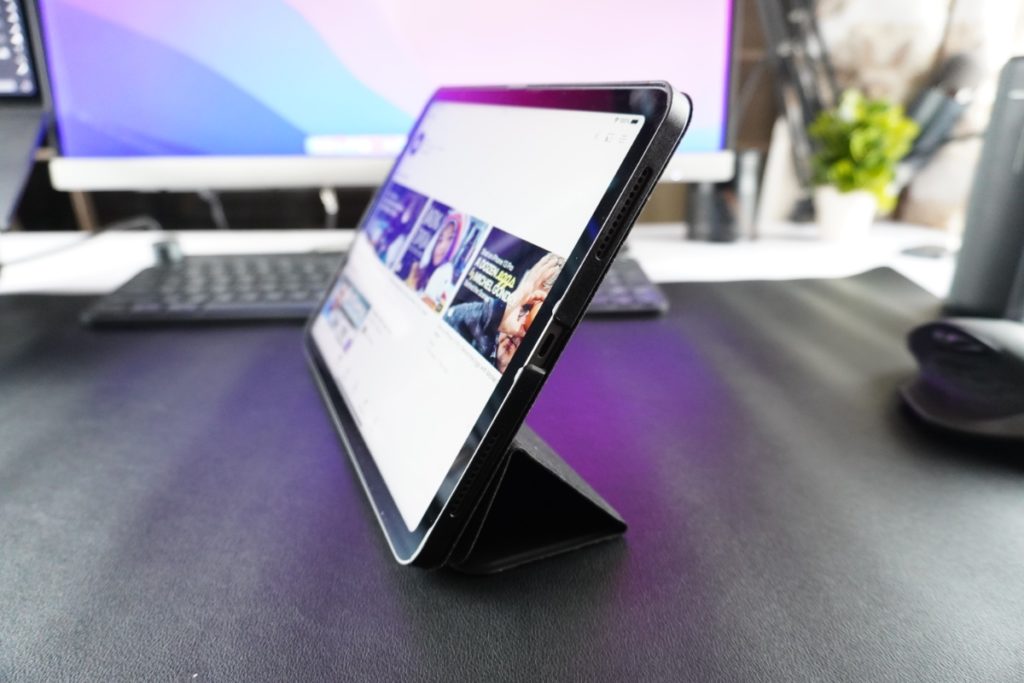 The Pitaka MagEZ Folio is a completely separate product from the MagEZ Case 2 however if you plan on buying both of these, then they play very nicely with each other and further improve the protectiveness of your device.
Pitaka MagEZ Folio features a Tri-Fold design, which means its front cover can be folded to double as a stand for watching movies and typing. You can set the folio in two positions depending on the task you want to perform.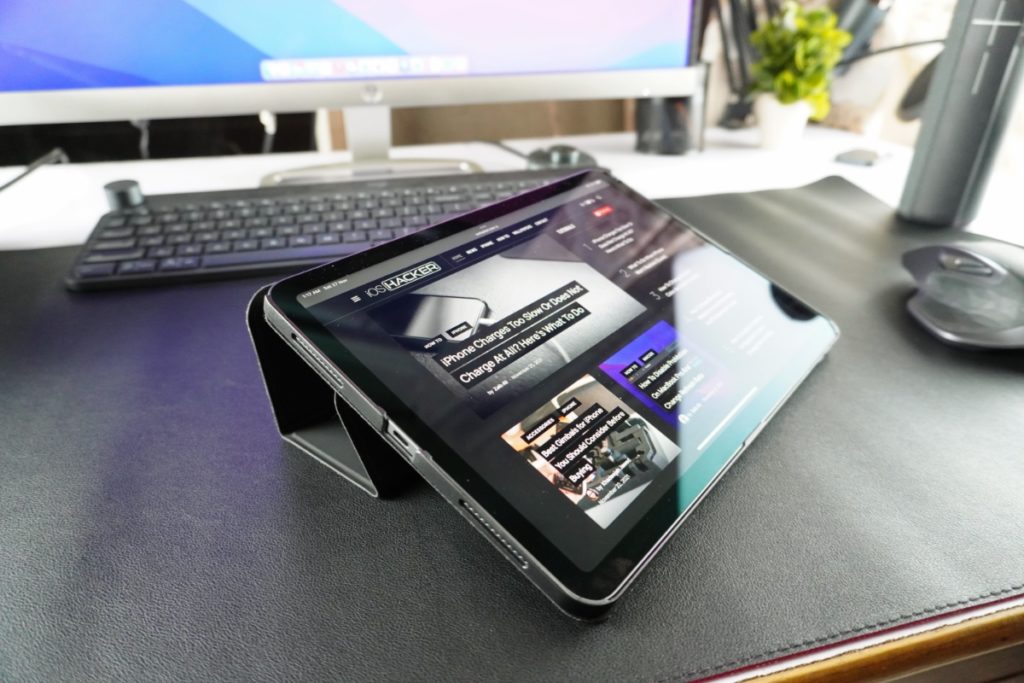 MagEZ Folio attaches to the iPad Air with the help of magnets, and the convenient magnetic connection is pretty strong. So strong that the iPad Air won't come off the Folio case even when you jerk it pretty hard. However when you are ready to actually remove it you can simply lift the iPad Air from the case.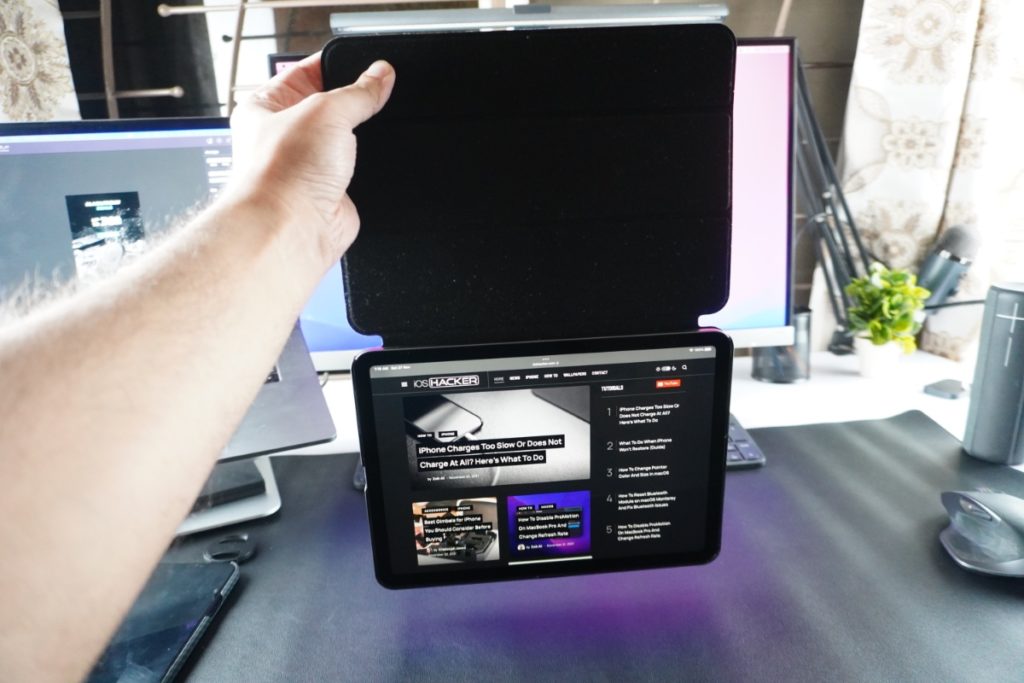 The convenience of adding and removing the case to the iPad Air makes it a perfect companion for those who don't want to use a case with their iPad but still have to put one on for protection. As this folio is so easy to attach and remove you can put it on when you want to carry the iPad Air around and quickly remove it when you no longer need it.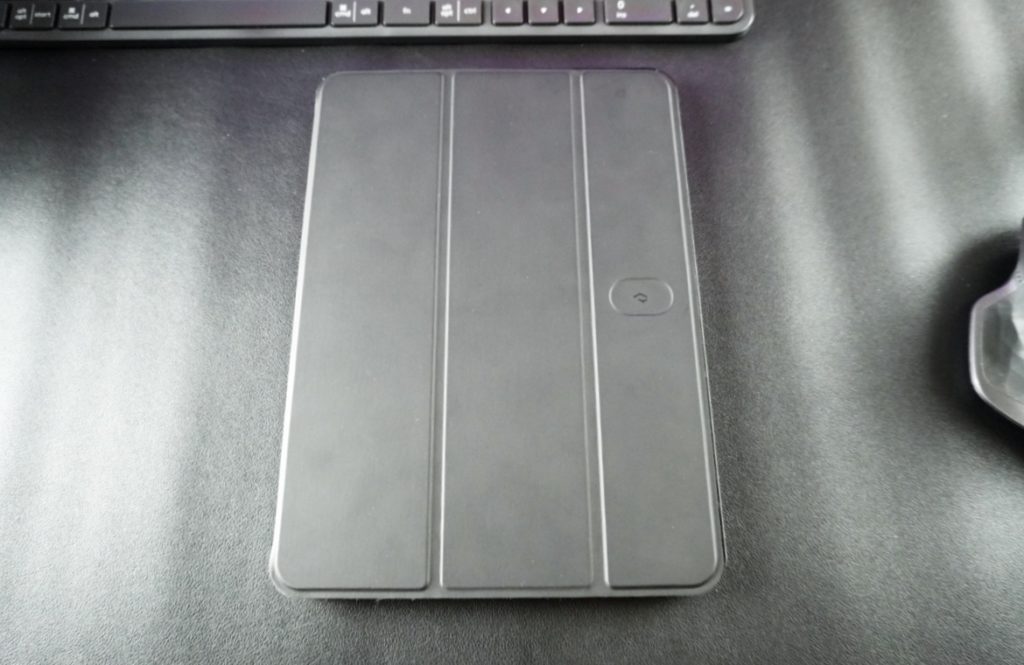 The Folio Case features a nice black design with soft text that gives it a very premium look and feel. The case covers the front and back of the device quite nicely and also covers one side. The other three sides remain exposed, unless you use the MagEZ Case 2 (or some other compatible case).
Other features of the Pitaka MagEZ Folio case include support for iPad's screen wake function where the screen wakes up when you lift the front cover and goes to sleep when you close it. The case also features an easy open finger groove that lets you easily slide the cover to open it.
Final Thoughts, Verdict And Ratings
Both MagEZ Case 2 and MagEZ Folio cases are excellent products and do a remarkable job at protecting the iPad Air without adding any extra bulk or ruining the look and feel of its sleek design. Both of the devices work great individually and work even better when used together.
Pitaka MagEZ Case 2 for 2020 iPad Air
Pitaka MagEZ Case 2 is lightweight, features a pretty nice design and offers Magic Keyboard support – all of which make it a pretty good choice for someone looking to give decent protection to their iPad Air. If you like the carbon fiber design then this case is a must have for you.
MagEZ Folio for 2020 iPad Air
Pitaka MagEZ Folio is my favorite of the two cases and one that I use most of the time. I am thoroughly impressed by its minimalistic look and easy to use magnetic design. The tri-fold cover that lets you use it at two different positions for videos and typing really improve the way you use your iPad Air and makes watching videos much more fun. I give the Pitaka MagEZ Folio Case full marks and recommend it to everyone.
Pricing and Availability
You can buy the Pitaka MagEZ Case 2 from Pitaka's official website for $89.99 here.
The Pitaka MagEZ Folio case for 2020 iPad Air is available for $39.99 here.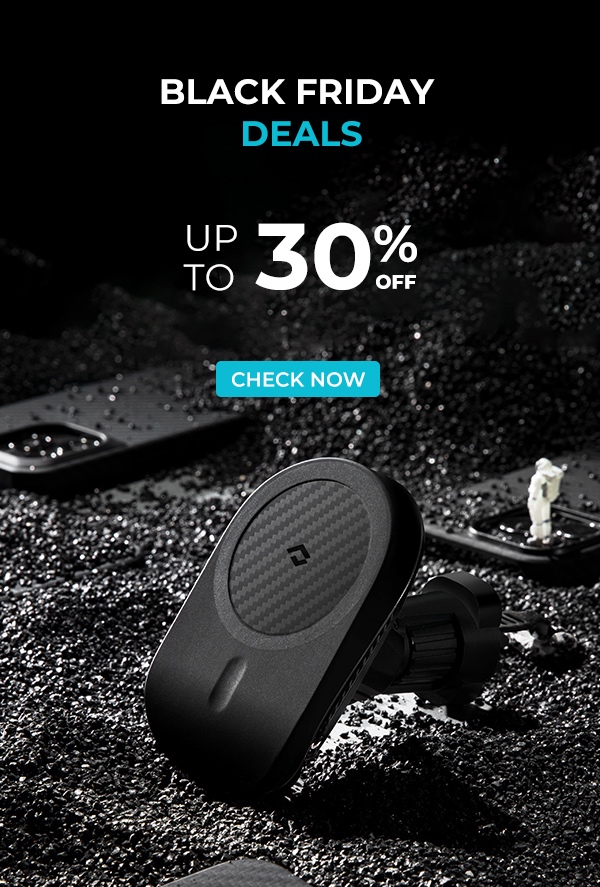 Pitaka is also running a Black Friday sale where you can get up to 30% discount on its product, so if you like these cases better hurry up before the promotion ends.