In this blog, we're taking you on a journey through 7 incredible apps for learning to code on iPhone and iPad that are designed to make your coding education effective, enjoyable, and accessible. 
Have you ever found yourself with a spare moment and a burning desire to learn how to code? Maybe you're on a train, waiting in line for your morning coffee, or just lounging on the couch with your trusty iPhone or iPad in hand. Well, we've got some fantastic news for you.
In today's digital age, learning to code has never been more accessible, and it's high time to seize the opportunity. Whether you're a newbie eager to dive into the fascinating world of programming or a seasoned developer looking to brush up on your skills, we've got something exciting lined up for you.
Unlock Your Coding Potential: Top Code Learning Apps for iPhone
You can harness the power of your iPhone or iPad to embark on a coding adventure. No bulky textbooks, no complex setups—just the world of coding, right at your fingertips. From bite-sized lessons and interactive challenges to real-world projects and daily coding exercises, these apps have it all. Let's discuss each in detail:
1. Mimo
The Mimo app for learning to code is a superb choice for beginners. It offers small coding lessons with interactive challenges to keep you engaged. You'll learn languages like Python, HTML, and JavaScript and you can learn Swift on iPhone as well.
It simplifies the complex world of coding, making it accessible to everyone. While providing bite-sized coding lessons that enable you to learn by doing. What's even more impressive is the mobile code editor, which functions like an Integrated Development Environment (IDE).
What sets Mimo apart is that it caters to learners with varying levels of coding experience. The app offers tailored paths for different coding goals:
Python Path: It offers over 2,600 bite-sized exercises, 53 concepts, and 32 projects to help you master Python.
Web Development Path: You'll find 13,000+ exercises, 87 concepts, and 62 projects to enhance your web development skills.
SQL Curriculum: For those interested in data science, Mimo provides a comprehensive SQL curriculum to help you analyze data effectively.
2. Sololearn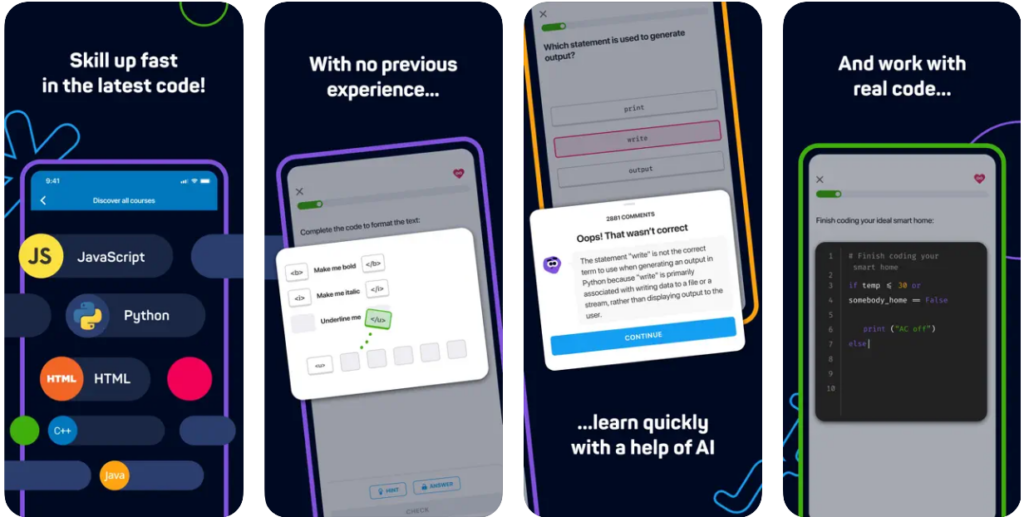 Sololearn is a treasure trove of coding courses and the best part? This iPad code learning app is absolutely free. With Sololearn, you can learn a plethora of programming languages, from the ever-popular Python, JavaScript, and Java to machine learning and data science, all without spending a dime.
What's even better? Each time you complete a course, you earn a certificate to showcase your newfound skills. It's like collecting badges on your journey to coding mastery. And speaking of courses, the Sololearn app for learning to code offers a mind-boggling array of programming topics. Whether you're looking to grasp coding concepts, brush up on your skills, or stay updated with the latest coding trends, Sololearn has got you covered.
Additionally, Sololearn goes beyond traditional learning methods. You can challenge both yourself and fellow coders with head-to-head coding competitions. It's a fantastic way to test your skills and see how you stack up against others in a friendly coding showdown.
3. Programming Hub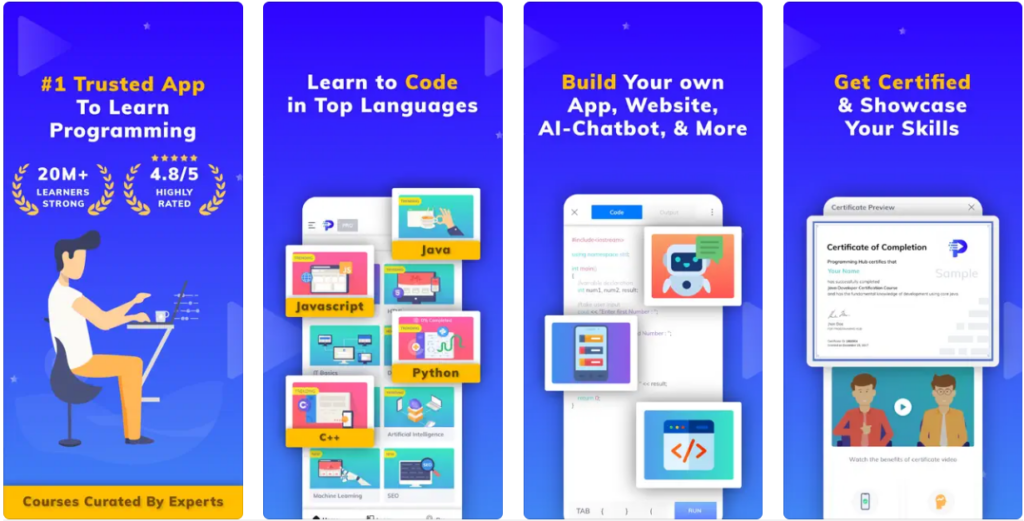 Programming Hub app for learning to code is your one-stop shop for coding knowledge. Whether you're a beginner or an experienced coder, this learning programming app for iPhone caters to all skill levels.
It's an easy, fast, and incredibly fun way to learn. With a massive collection of over 5000 programs (code examples), 35+ interactive courses, and the fastest compiler in the world, this app has everything you need for your daily coding practice.
You can dive into a wide range of programming languages, including HTML, Javascript, C, Swift, Python, R Programming, Java, Artificial Intelligence, CSS, VB.net, and more. Now, let's get into the nitty-gritty of what makes this app stand out:
Programming Courses: Interactive, bite-sized courses designed by experts to make your learning experience engaging.
Programming & Coding Examples: A vast collection of 5000+ pre-compiled programs in over 20 programming languages, complete with output for practice.
Compiler: Boasting the fastest compiler on iOS, it supports over 20 programming languages, allowing you to compile and run your code seamlessly.
4. Encode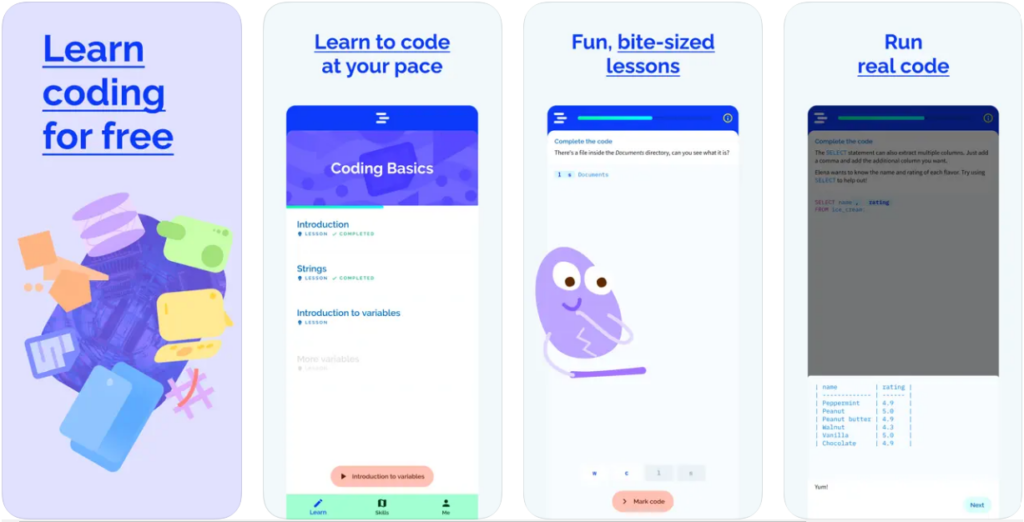 Encode is a sleek app for learning to code that caters to both beginners and experienced coders. With its step-by-step tutorials and hands-on coding exercises, you'll master web development in no time using this iPhone programming app.
The app offers an impressive selection of self-paced lessons that are not only informative but also highly engaging. Each lesson is broken down into bite-sized chunks, making it easy to grasp complex concepts. Additionally, coding challenges are sprinkled throughout, allowing you to apply what you've learned in a practical way.
What sets Encode apart is its real-world examples. It doesn't just teach you coding languages like Python, JavaScript, and Swift; it also delves into practical applications. You'll learn to use the command line, build websites, query databases, and analyze data – skills that are highly valuable in today's tech-driven world.
5. DataCamp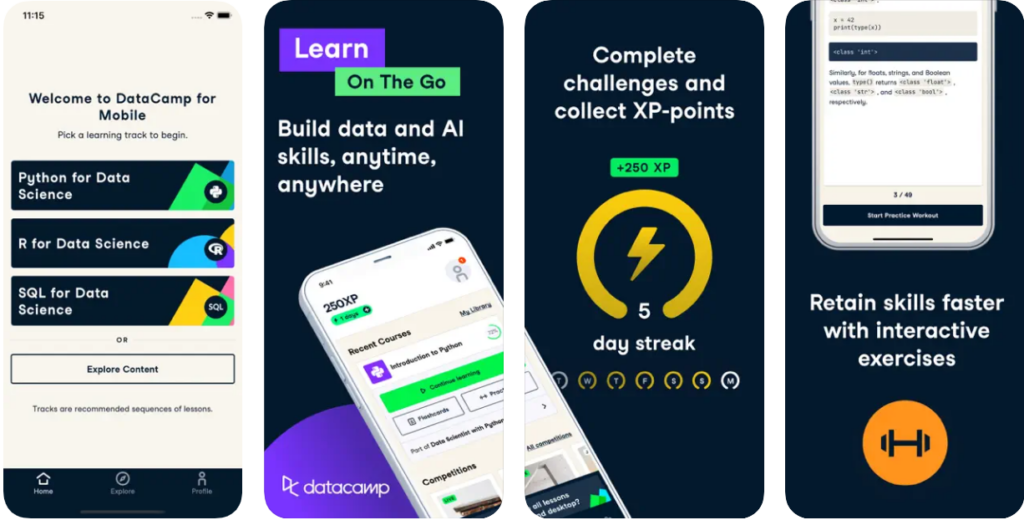 DataCamp for Mobile is your gateway to mastering the world's most sought-after data science and AI skills. Whether you're a seasoned pro or a complete beginner, this app caters to all levels of learners, with a user base of over 12 million worldwide.
The beauty of this app for learning to code lies in its interactive, bite-sized exercises that cover a wide range of essential programming languages such as Python, ChatGPT, R, SQL, and more. You can start learning for free with just five minutes a day.
The iPad code learning app offers a generous selection of free chapters, including data science, machine learning, data visualization, data engineering, and cloud computing. These chapters provide a solid foundation for learners across various domains.
What sets DataCamp apart is its AI-assisted and personal feedback system, which helps you learn from your mistakes and reinforces new skills faster. You can save everything you learn in your personal library, complete with flashcards for easy review. The app is thoughtfully designed to build a learning habit while ensuring an enjoyable experience.
6. Enki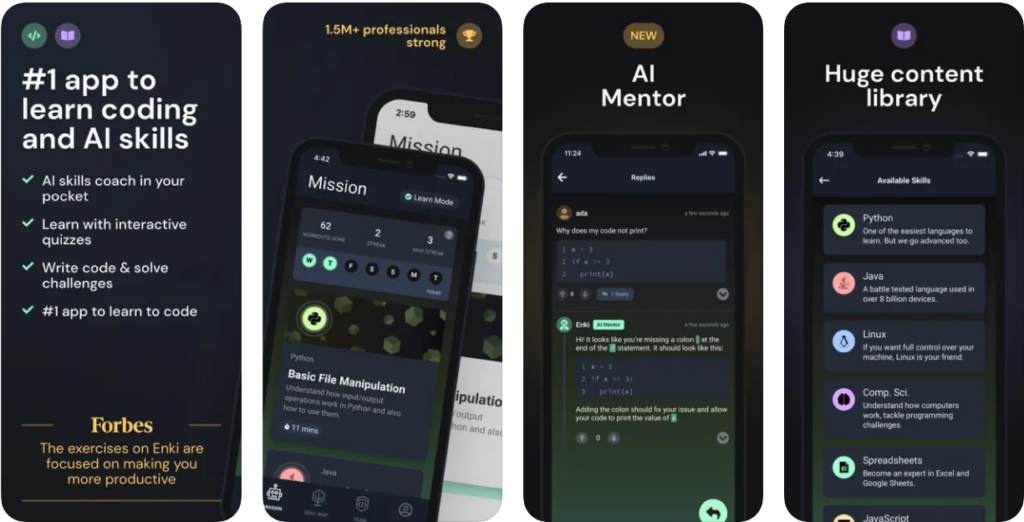 Enki takes a unique approach by delivering daily coding challenges and exercises to your device, making learning Python on iPhone easier than ever. This app for learning to code is a great way to make coding a daily habit and improve your skills continuously.
It's your personal AI-powered skills coach, and it packs a punch when it comes to helping you learn coding, no-code, productivity tools, data skills, and even generative AI tools. The app can explain any concept in a way that's crystal clear and simple. No more confusing jargon or tech-speak to decipher. It's your go-to source for understanding the most complex ideas effortlessly.
When you get stuck, Enki's got your back with helpful hints that nudge you in the right direction, making problem-solving a breeze. Additionally, it takes your learning experience up a notch by summarizing lessons into key points. This ensures you grasp the essentials even when you're pressed for time. And it doesn't stop there – Enki can review your code and provide valuable feedback, helping you sharpen your skills with practical insights.
7. Yolmo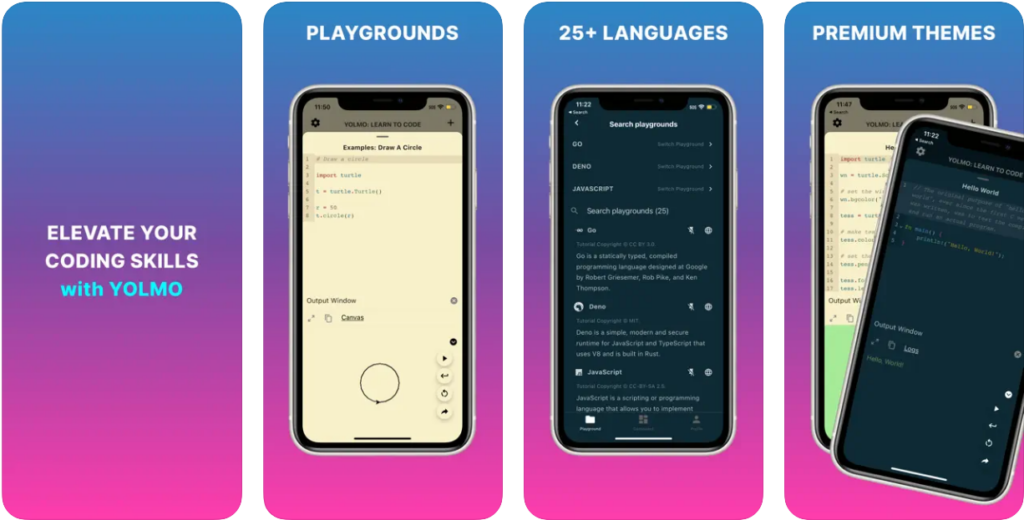 Yolmo is an emerging app for learning to code that focuses on teaching coding through real-world projects. With over 25 programming playgrounds at your fingertips, it's your on-the-go tutorial destination. You can learn JavaScript on iPad while you focus on learning Python on an iPhone, all without a hitch.
The app boasts an easy-to-navigate, self-guided learning environment. With a team comprising a blend of software engineers, teaching experts, and computer science educators, Yolmo simplifies the coding journey for everyone.
What makes Yolmo truly stand out is its impressive list of supported languages. You can dive into Javascript, Go, C, Python, Rust, and more. Plus it covers a wide spectrum, including languages like Cobol, Perl, Lua, and even Solidity for blockchain enthusiasts.
In this playground of possibilities, you can explore and experiment without fear. Yolmo lets you build a strong foundation in the language of your choice. No more slogging through thick books or lengthy videos as Yolmo brings a hands-on, interactive approach to learning how to code.
Conclusion
In a fast-paced world where opportunities abound for those who can speak the language of code, these apps for learning to code are your passport to new career heights, your ticket to building exciting projects. More importantly, they're your key to understanding the digital world that surrounds us.
From Mimo's bite-sized lessons to Yolmo's hands-on projects, there's something here for everyone. Whether you want to learn Java on iPhone or dabble with Swift, these apps have got you covered.