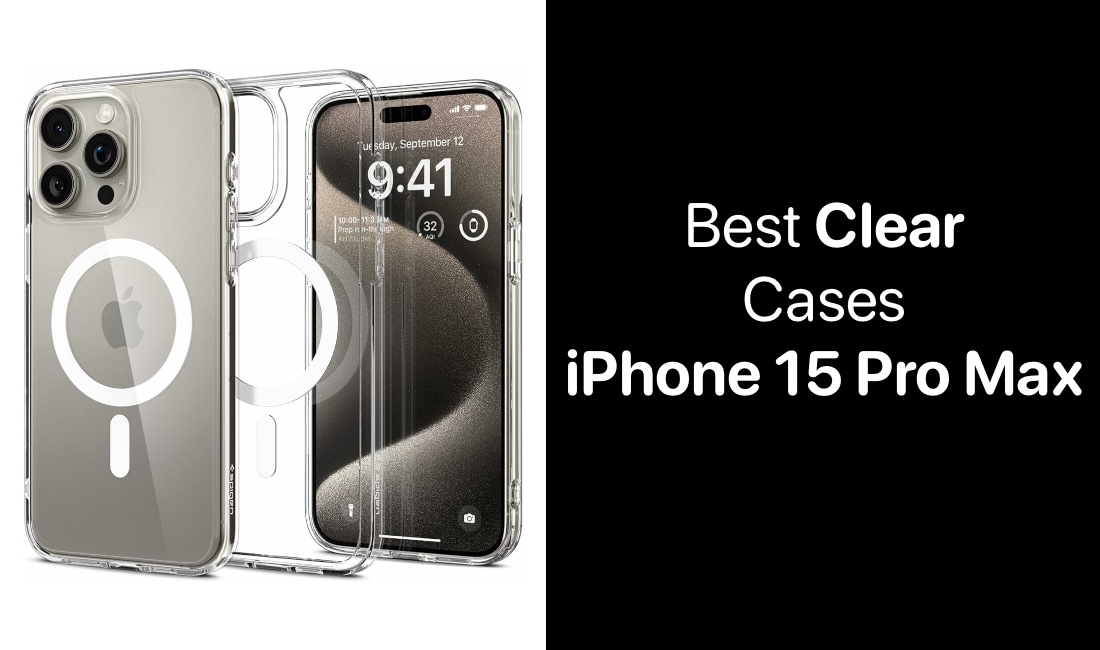 In this buying guide, we have featured some of the best clear iPhone 15 Pro Max cases that feature non-yellowing technology. These beautiful cases are MagSafe compatible and protect your device from all sides.
We know you love showing off that sleek, cutting-edge tech in your pocket, and we're right there with you. But here's the thing – nobody wants their brand-new iPhone 15 Pro Max to look like it's been hanging out in the sun for a decade, right? That's where the magic of clear cases comes in.
We're about to dive into a world of crystal-clear protection that won't turn yellow and dingy over time.
Best iPhone 15 Pro Max Clear Cases
Say goodbye to unsightly discoloration and hello to the non-yellowing cases for iPhone 15 Pro Max, because your prized possession deserves nothing but the best. So, stick around, and let's uncover the top options that'll keep your phone looking fresh and fabulous.
1. Apple iPhone 15 Pro Max Clear Case with MagSafe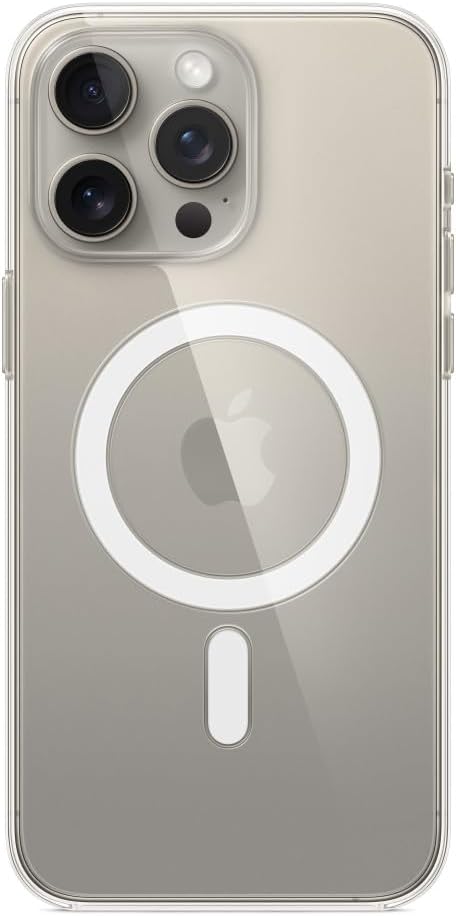 Wrap your iPhone 15 Pro Max in this Apple iPhone 15 Pro Max Clear Case that's as stylish as it is durable. The combination of crystal-clear polycarbonate and flexible materials ensures a snug fit over the buttons for effortless use. Plus, Apple has added a scratch-resistant coating to both the inside and outside, keeping your case looking fresh.
The materials and coatings are optimized to defy time and maintain their clarity. The built-in magnets create a seamless connection with your iPhone, making attachment a magical experience. And guess what? Faster wireless charging is part of the deal.
Charging is a breeze – leave the case on and snap on your MagSafe charger, or simply set it on your Qi-certified charger. Apple has designed this case with your lifestyle in mind. Not just a looker, it undergoes rigorous testing to ensure it can handle the hustle, protecting your iPhone from scratches and drops.
Buy Apple iPhone 15 Pro Max Clear Case with MagSafe for $46.99 here.
2. CASEKOO Crystal Clear Case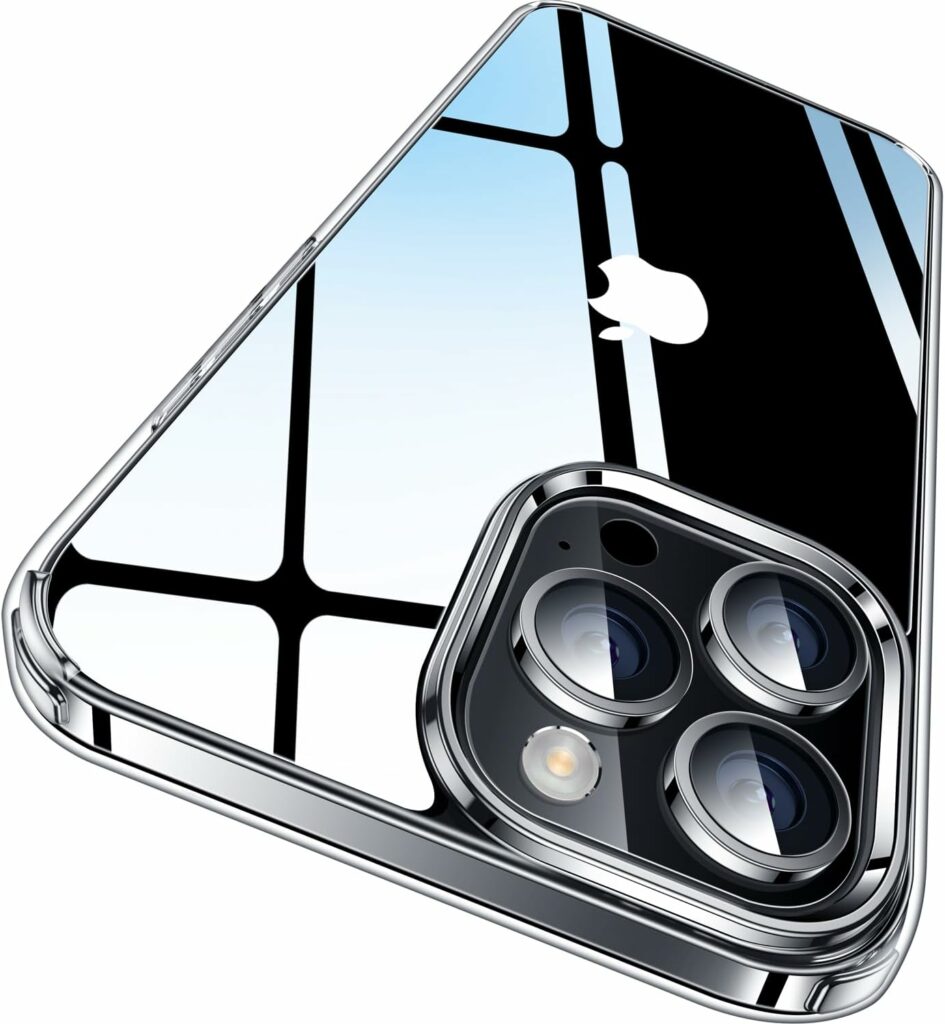 Crafted with precision, CASEKOO has sourced the highest quality Bayer TPU all the way from Germany to create a case that's as clear as day. Thanks to the latest AR technology, this case boasts almost 100% light transmittance, leaving your phone's design crystal clear. Plus, with CASEKOO's groundbreaking GRYS-GEL anti-yellow Technology, your case will stay transparent for longer, defying the yellowing effect over time.
Worried about those accidental bumps and drops? Fear not! The raised 2.5mm lens edges and 1.5mm screen edges are here to keep your camera and screen safe from harm. Plus, the cleverly designed 0.5mm raised corner lips on the back ensure your phone stays stable when resting flat.
This case is all about being slim and lightweight. At just 0.04 inches thick and weighing a mere 0.98 ounces, it adds minimal bulk while preserving the sleek feel of your iPhone. The non-slip texture on both sides gives you a secure grip and ensures your phone slips easily into your pocket.
Buy CASEKOO Crystal Clear Case for $17.99 here.
3. Spigen Magnetic Ultra Hybrid Case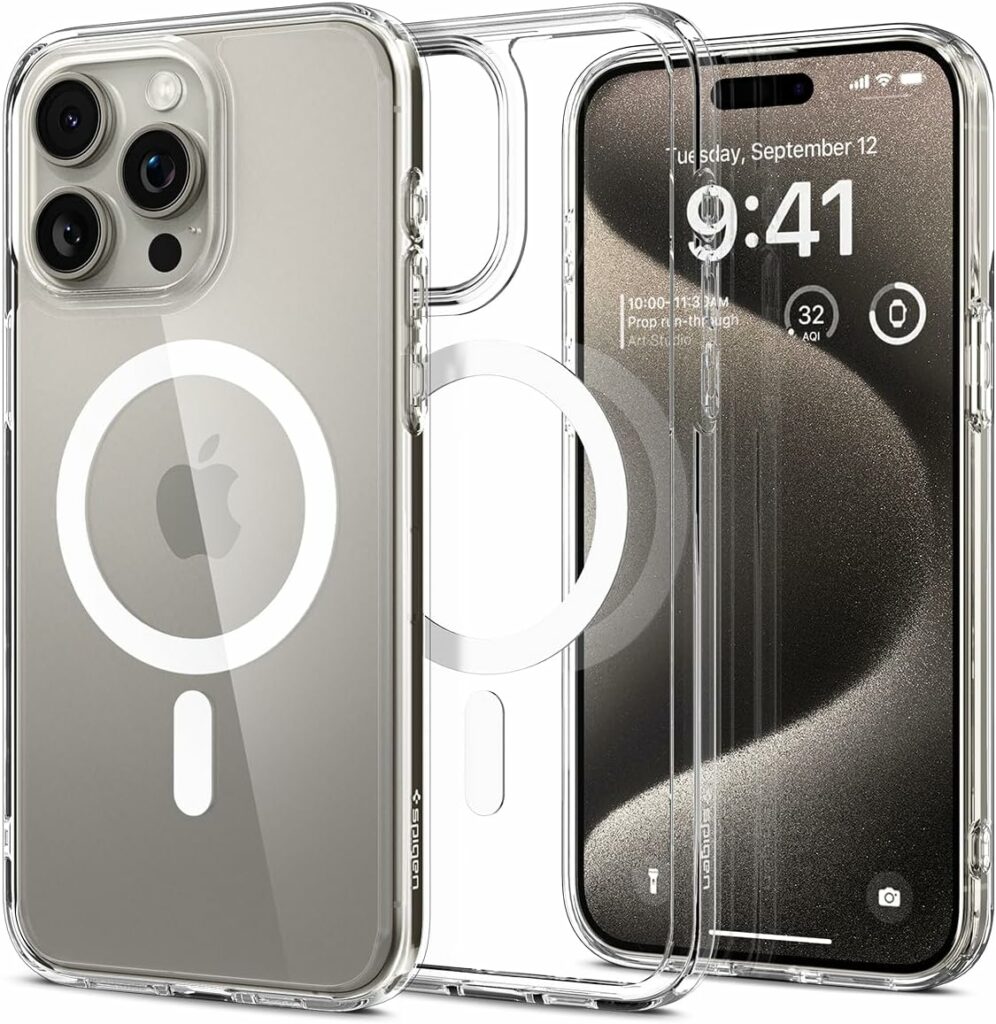 Next on our list of the best clear cases for iPhone 15 Pro Max is the Spigen Magnetic Ultra Hybrid Case. It is the perfect match for your MagSafe-compatible device!
Designed with precision, this case not only complements your device but also provides robust protection. Worried about accidental drops? Fear not! T case boasts Air Cushion Technology, ensuring your device stays safe from shocks and impacts.
The raised lip design adds an extra layer of defense for your screen and camera, preventing scratches and scuffs. Plus, the tactile buttons guarantee a satisfying click with every press, making your device's operation smooth and hassle-free.
Buy Spigen Magnetic Ultra Hybrid Case for $18.99 here.
4. Mkeke Ultra Clear Case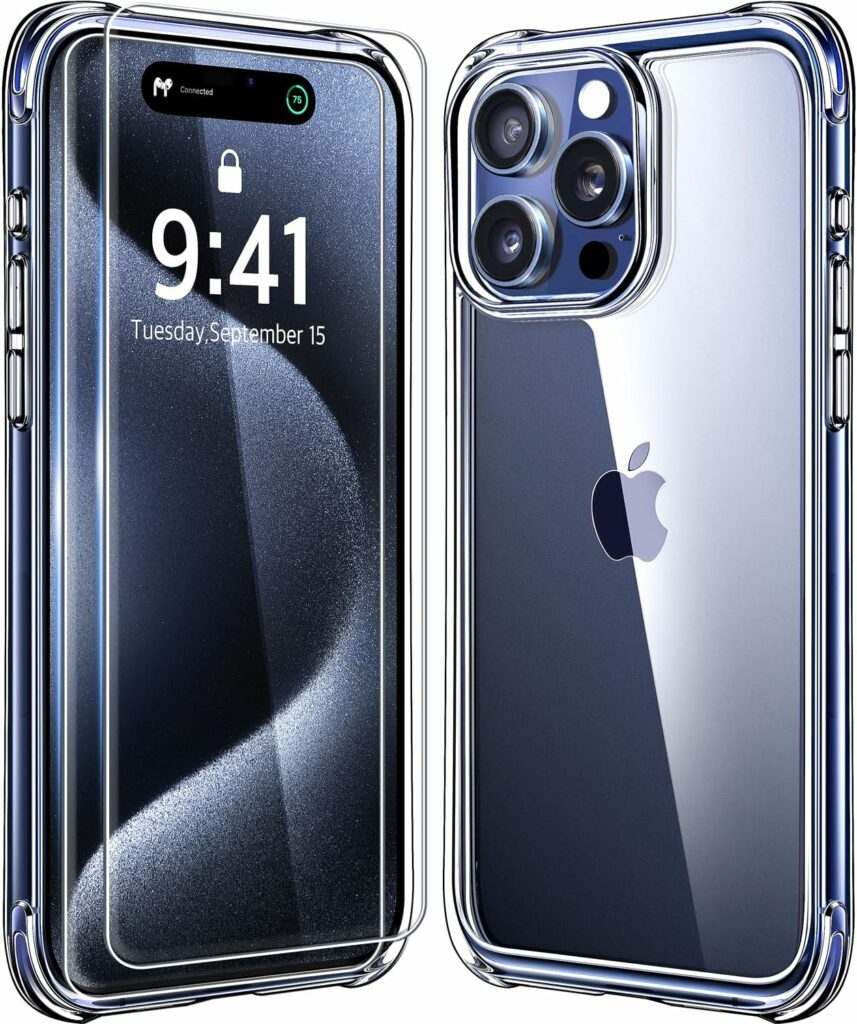 Crafted from high-definition polycarbonate, the Mkeke Ultra Clear Case for iPhone 15 Pro Max won't yellow over time and perfectly showcases the beauty of your phone.
Protect your investment with 2 Tempered Glass Screen Protectors and a top-notch design featuring 4 corner airbags. The 3.5mm raised lip bezels on the back shield your camera lens from scratches and dirt, ensuring it stays in top-notch condition.
What sets this case apart? The back camera bezel is ingeniously sloped for a seamless fit with wireless chargers or stands. Plus, it's not just about looks—the materials are meticulously chosen to provide a premium finish and shockproof drop protection.
Buy Mkeke Ultra Clear Case for iPhone 15 Pro Max for $14.99 here.
5. TORRAS Magnetic Clear Case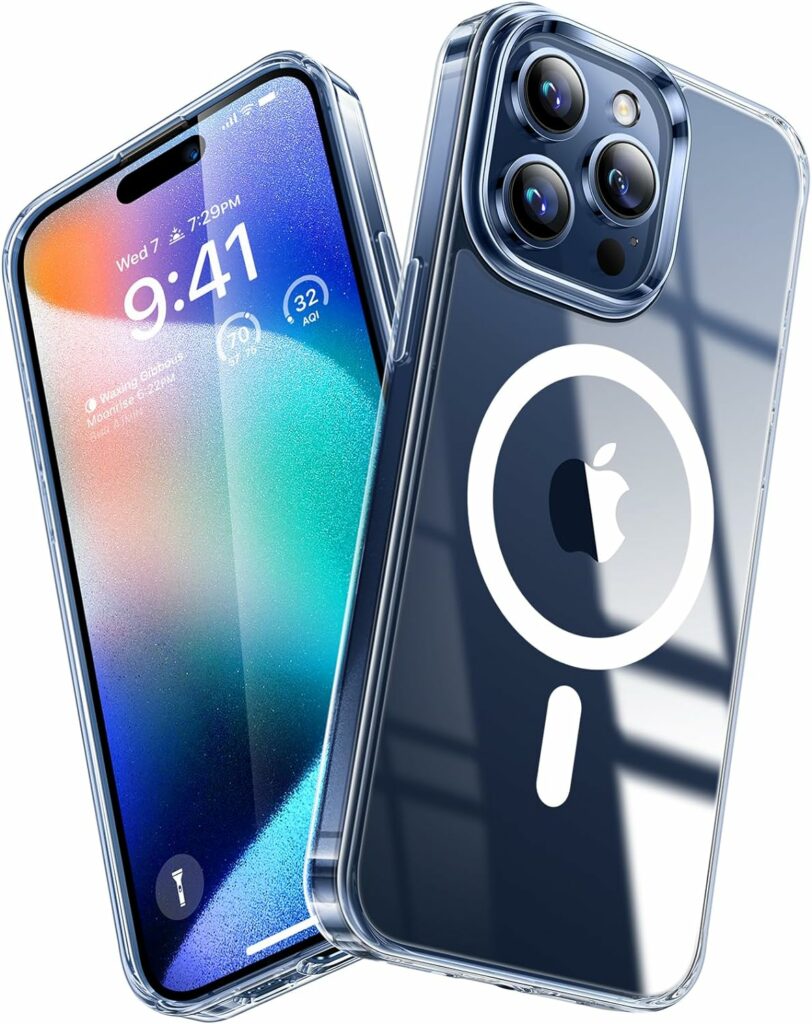 The TORRAS Magnetic Clear Phone Case for the iPhone 15 Pro Max is a game-changer in phone protection and functionality.
What sets this iPhone 15 Pro Max not yellowing case apart? It's all about the magnets. TORRAS's patented Halbach magnet array boasts 38 neodymium magnets strategically placed to provide an unprecedented magnetic force of up to 18N.
That's twice as strong as the official magnetic case at 9N. These magnets are precision-engineered to work seamlessly with a wide range of magnetic accessories, whether it's magnetic chargers, wallets, power banks, or car mounts. And the best part? These perfectly aligned magnets ensure faster and safer wireless charging.
The case has passed the 12FT Mil-grade shockproof certification, backed by a staggering 8000+ rigorous drop tests conducted at over 50 different angles. It features upgraded 4.0 X-Shock airbags, a 3-ply bumper, and a ShockMAT cushion that work together to minimize impacts.
There's also a raised screen bezel and a camera lip, along with an exclusive L-SHOCK camera airbag, ensuring your phone's delicate parts are safeguarded from dents and scratches.
Buy TORRAS Magnetic Clear Case for $22.99 here.
6. ESR for iPhone 15 Pro Max Case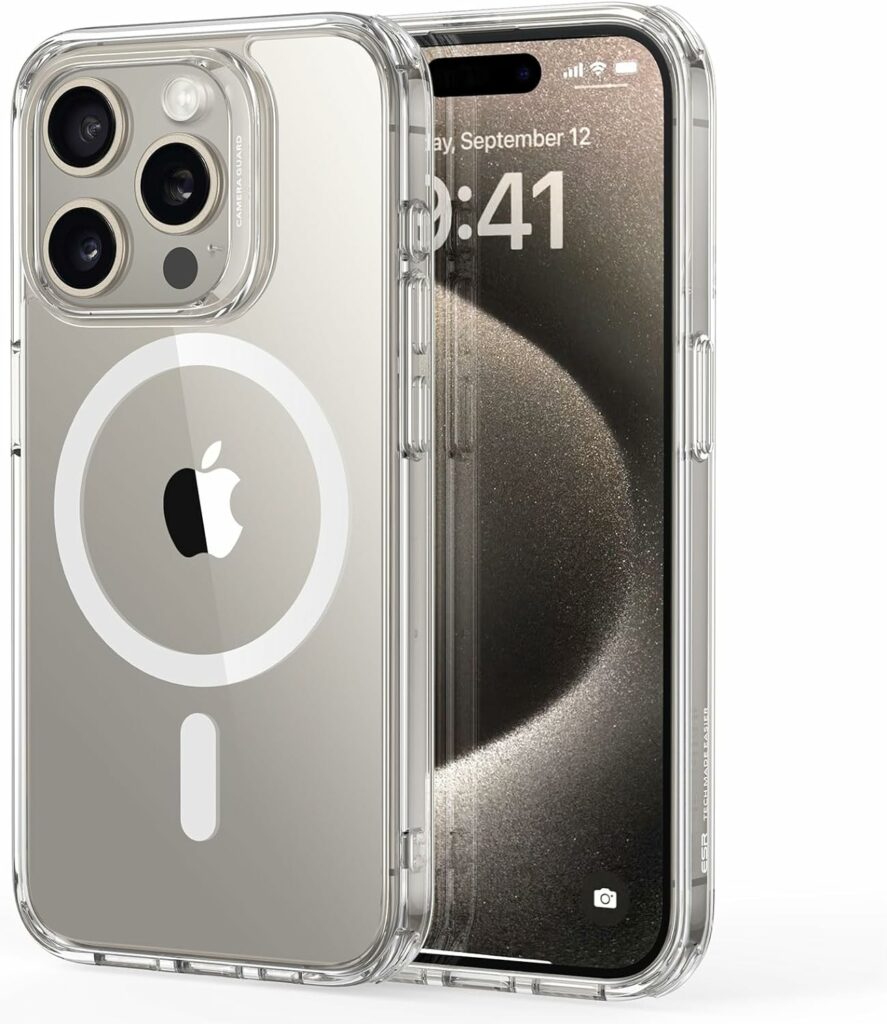 This one of the best transparent cases for iPhone 15 Pro Max would be the right choice for your shiny new device as it is designed with precision! But what really sets this case apart are the powerful built-in magnets. With a whopping 1,500 grams of holding force, you can enjoy lightning-fast, hassle-free wireless charging.
This case has been put through rigorous testing to ensure it provides all-around protection. The Air Guard corners are specially designed to absorb shock, sparing your precious iPhone from the bumps and drops of daily life.
And when it comes to your iPhone's most vulnerable parts, ESR has got them covered too. Raised screen edges and a Camera Guard lens frame provide top-notch scratch protection where it truly matters. Even the crystal-clear acrylic back is scratch-resistant, so you can flaunt your iPhone 15 Pro Max's style in stunning clarity that's built to last.
Buy ESR for iPhone 15 Pro Max Case for $18.99 here.
7. Humixx Non-Yellowing Transparent Phone Case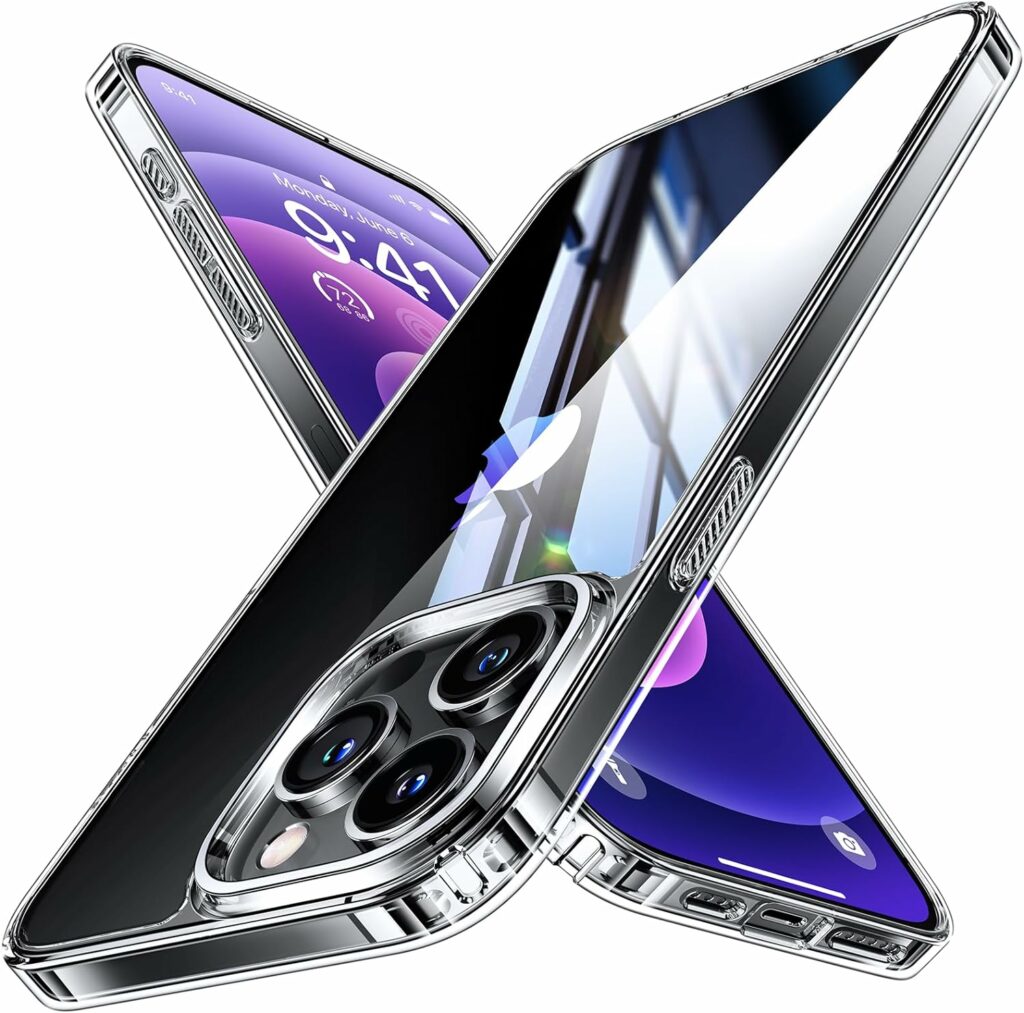 Crafted exclusively for the iPhone 15 Pro Max, Humixx Non-Yellowing Transparent Phone Case is a blend of premium DE Bayer materials, boasting dual certifications in safety from ROHS and SGS. Thanks to its micro-dot laser craft and 2% Blu-ray molecular injection, it ensures a stunning 100% light transmittance. This means your iPhone's original color shines through like never before, allowing you to flaunt its true beauty.
The Humixx case for iPhone 15 Pro Max meets military standard MIL-STD-810G 516.6 and has endured a whopping 8000+ drop tests from heights of up to 14 feet. With its tough hard PC back, soft TPU bumper, and 12X Airbag Anti-drop Protection in the corners, it's your best bet against costly repairs while maintaining a sleek profile.
The case features 1.2mm raised screen edges and 2.5mm raised camera bezels, guarding against collisions and scratches. Plus, the screen and lens protrusion height upgrades ensure resistance against scratches, shatters, and unsightly fingerprints.
Buy Humixx Non-Yellowing Transparent Phone Case for $15.99 here.
8. Temdan Magnetic Clear Case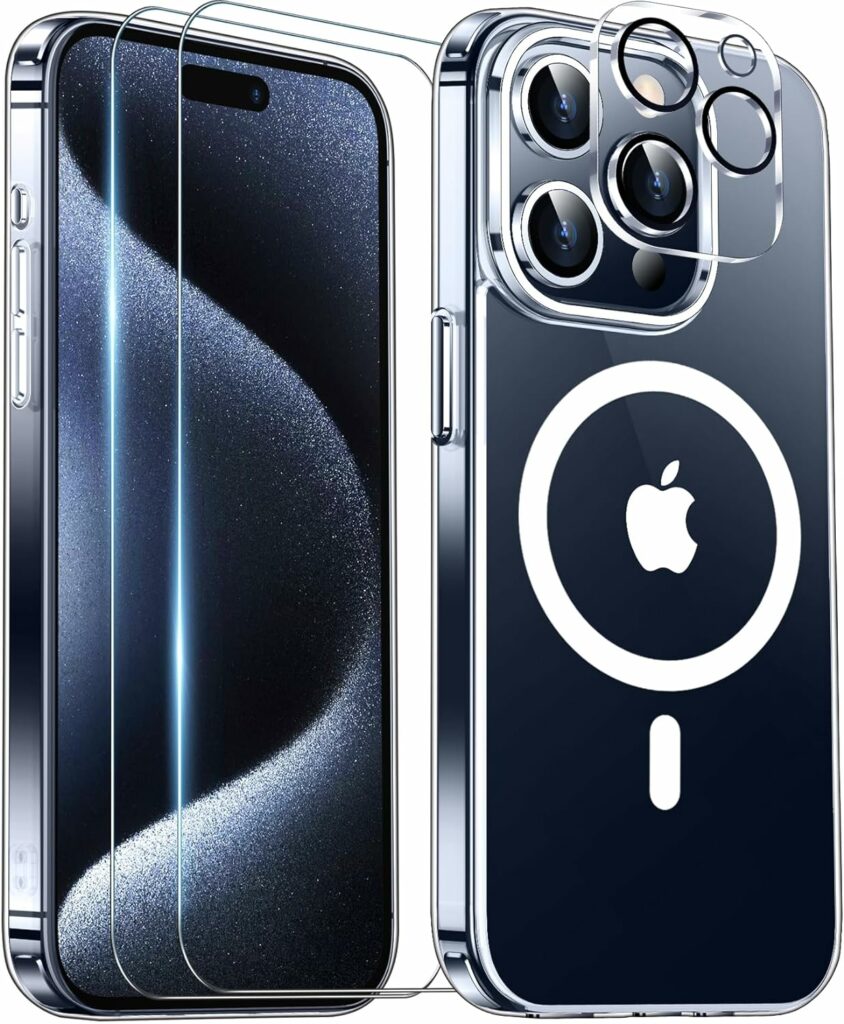 The Temdan iPhone 15 Pro Max case is a sleek and powerful companion for your device. Packed with 38 upgraded N52 magnets, this case boasts a built-in magnetic ring, ensuring seamless compatibility with all your favorite MagSafe accessories.
Crafted from high-grade Bayer's ultra-clear TPU and PC materials, this case lets you showcase the sublime beauty of your iPhone 15 Pro Max without compromise. Worried about yellowing? Fear not! Thanks to its anti-yellowing coating, it resists 99.9% of yellowing caused by UV rays, stains, and sweat.
But that's not all – the Temdan shockproof case is designed with 1.5mm screen bezels and 2.5mm camera bezels, offering robust protection against daily scratches. The raised lips provide full-body protection, and to sweeten the deal, the package includes 2 tempered glass screen protectors and 2 camera protectors. The 0.33mm tempered glass maintains 99.99% response sensitivity, giving you 360° full-body protection.
Buy Temdan Magnetic Clear Case for $9.99 here.
To Conclude
When it comes to protecting your iPhone 15 Pro Max while maintaining its sleek and pristine look, the best clear cases for non-yellowing are an absolute game-changer. They offer the perfect blend of style and substance, showcasing your device's design while safeguarding it from the daily wear and tear.
So, go ahead and invest in one of these clear cases iPhone 15 Pro Max with MagSafe, and rest assured that your iPhone 15 Pro Max will not only stay protected but also continue to turn heads with its crystal-clear charm. Your phone deserves nothing but the best, and these cases deliver just that!
Disclosure: iOSHacker may receive a commission if you purchase products through our affiliate links. For more visit our privacy policy page.