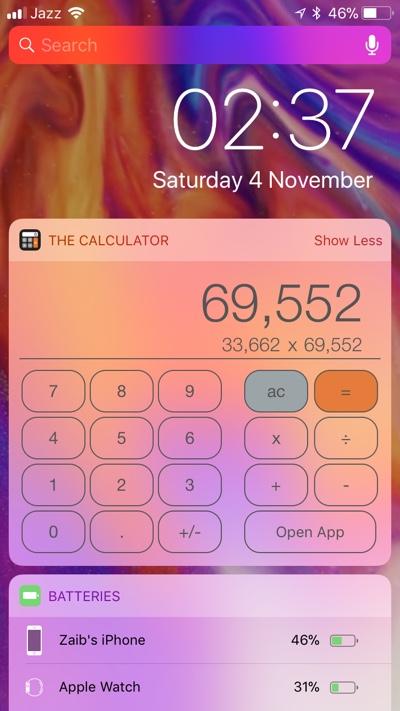 Ever wanted to add a macOS-like calculator widget to iOS's widget screen? Too bad iOS Calculator app does not allow users to have this useful feature. However if you can live with using a third-party calculator app, then you are in luck. The Calculator app, which was also among our 'Best Calculator Apps For Apple Watch', makes it possible for users to add a calculator widget to the widget screen.
The calculator widget this app adds to iPhone is fully functional and allows users to perform all sorts of non-scientific calculations right on the Notification Center screen. It also has a handy 'Open App' button if you want to take your calculations to the app. Even when you go to the app, you can continue working on the same calculation, which is great.
By installing The Calculator app on your iPhone, you are killing two birds with one stone. This is not only a great Calculator app for the iPhone, since it adds a widget to the notification center, but it is also a great Calculator app for the Apple Watch.
Tip: After installing this app, make sure you add 'The Calculator' widget to Notification Center to get the calculator widget.
You can download The Calculator app for free. The free version has ads that are shown at the bottom of the iPhone app, however if you only want to use the app in widget section and on the Watch, then ads wouldn't bother you much.