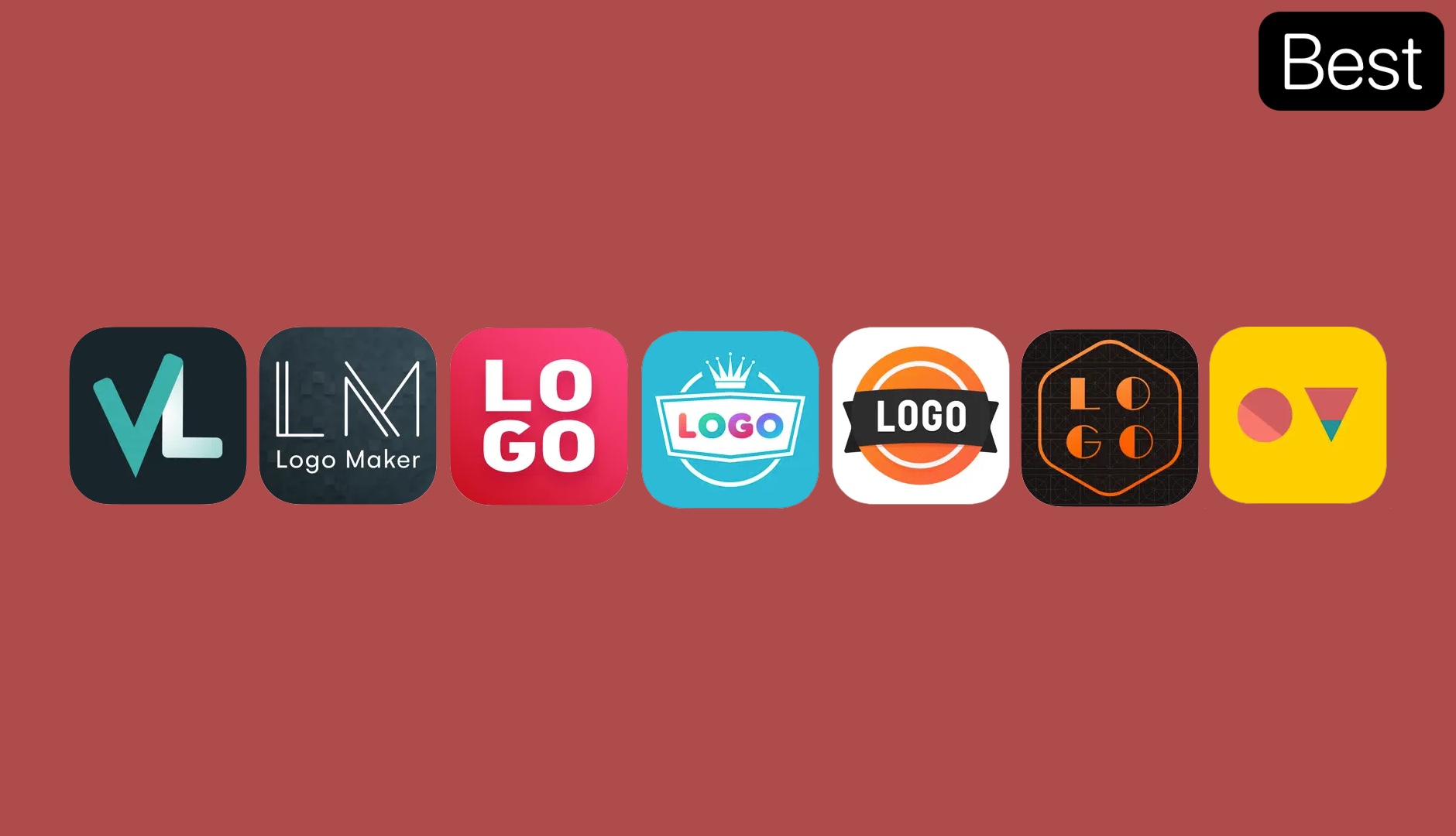 In this article, we're on a mission to unveil the ultimate secret to crafting a powerful and unforgettable brand identity – the best logo maker apps for iPhone and iPad.
Do you have a killer idea itching to see the light of day? Are you dreaming about transforming it into an irresistible "OMG, I need that!" sensation?
You've got an idea and know it's going to be a game-changer. But there's one thing missing – a stunning logo that shouts, "Hey world, I'm here, and I'm fabulous!"
Let's face it; in this visual-centric world, a strong logo is like a superhero's emblem. It's the symbol that represents your brand's identity and captures the essence of what you stand for.
So, if you want to conquer the hearts of your audience and make an unforgettable impression, you need a logo that radiates like a supernova.
Create Your Visual Identity: Best Logo Maker Apps for iOS Pros
You don't need to be a Picasso or a tech wizard to create a logo that turns heads.
With these incredible logo maker apps for iPhone, you'll be like a logo-making maestro, crafting captivating visuals that tell your brand's story in a way words can't.
1. LogoScopic Studio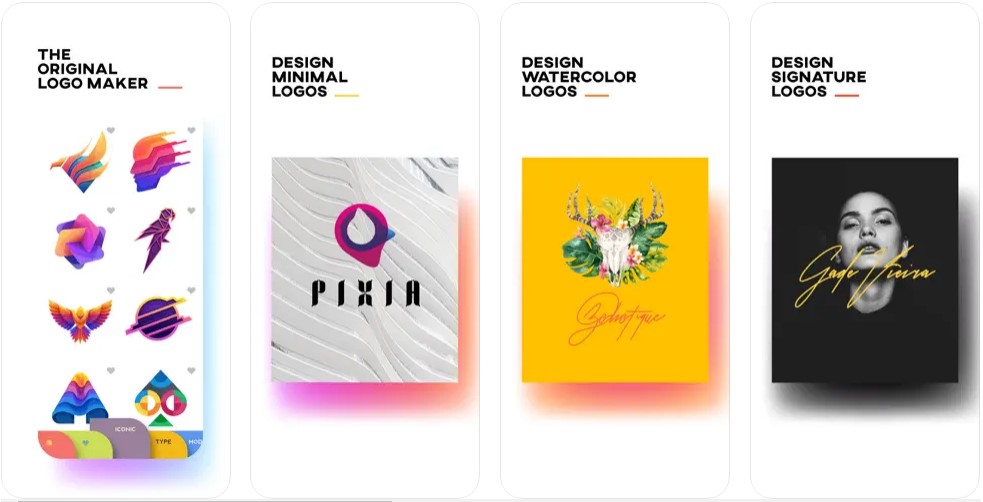 LogoScopic Studio is like a playground for your artistic side. A design powerhouse, the Logo Maker app for iPhone offers 1000+ logo templates spanning across 9 logo categories.
From iconic and modern designs to artsy watercolors and sleek letter marks, they've got it all. Whether you're in the sports business, a geometric aficionado, or want something industry or lifestyle-specific, LogoScopic has got your back.
With the logo maker app for iPad, easily recolor and modify logos to match your brand's unique vibe. Feeling adventurous? Combine multiple designs to create a logo that's truly one-of-a-kind – just like your brand.
LogoScopic spoils you with a wide range of superior branding fonts, 9 families strong. As for the technical stuff; LogoScopic's got your back with smart layering, fill & stroke coloring, type kerning & leading, alignment, opacity, and grid snapping.
Download LogoScopic Studio now.
2. Logo Maker: Watermark Designer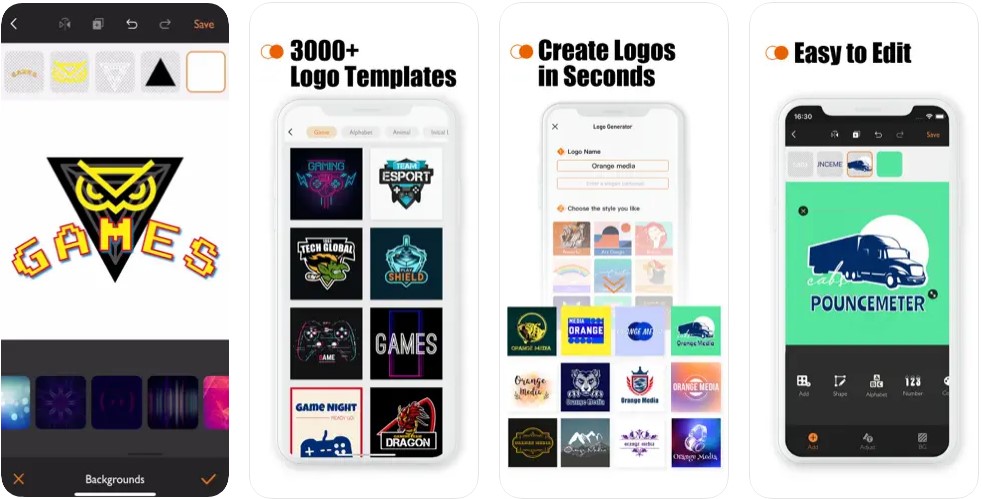 Not only can you create logos, but you can also design unique watermarks for your photos with this logo maker app for iPhone. It's a double win.
The process is as easy as 1-2-3. Just a few clicks and voilà! Your logo is ready to shine. Plus, you get the flexibility to save your masterpiece in high-resolution PNG or JPG format, with over 2000+ logo patterns to choose from for that extra personal touch.
You'll be blown away by the massive creative templates that'll turn your logo into a work of art. Mix and match with unique personality fonts and featured backgrounds – the possibilities are endless with this iPhone logo maker app.
Logo Maker doesn't stop at just logos or watermarks; it's a multi-talented app. Want to design eye-catching posters, flyers, or business cards? Easy peasy. How about creating memorable birthday cards or quick signatures for your social media posts? You got it!
3. Logo Maker | Vintage Creator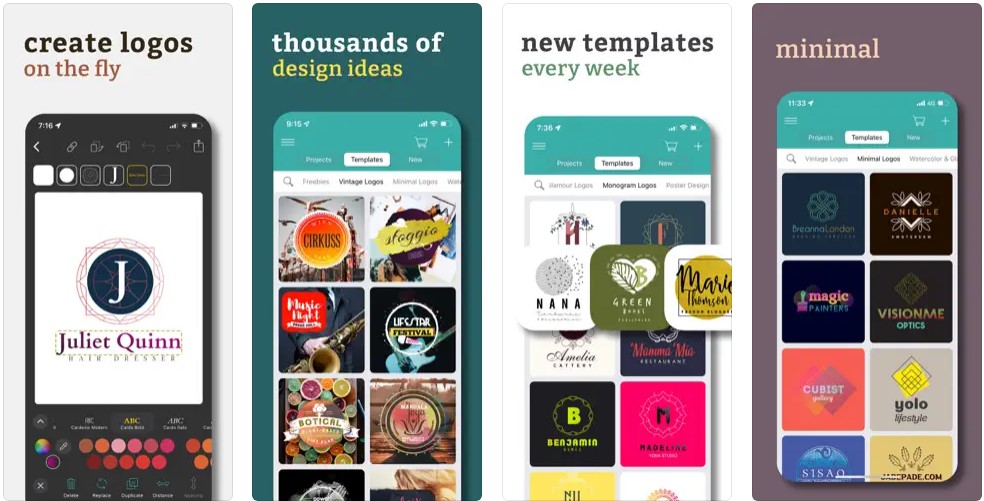 Craving some old-school charm? This logo maker app for iPhone is your ticket to vintage logo bliss. This app to make logos on iPad is a treasure trove of possibilities, offering a wide range of vintage, minimal, and watercolor styles.
You can also create stunning business cards, eye-catching flyers, personalized cards, and even t-shirt logo mockups. Plus, if you're in the mood to spruce up your Instagram feed, customize your photos with finesse.
Vintage Logo Maker is a design paradise with over 3000 premade templates, 7000 royalty-free backgrounds, and 100 vintage, watercolor, and glamour overlays. You also get access to popular royalty-free image sites like Pixabay and Unsplash.
Import your own photos and fonts, browse free fonts on the web, and store your creations right in the app for easy editing later. Export your designs with or without backgrounds, crop them, and share your masterpiece with others.
Download Vintage Logo Maker now.
4. Logo Maker – Design Creator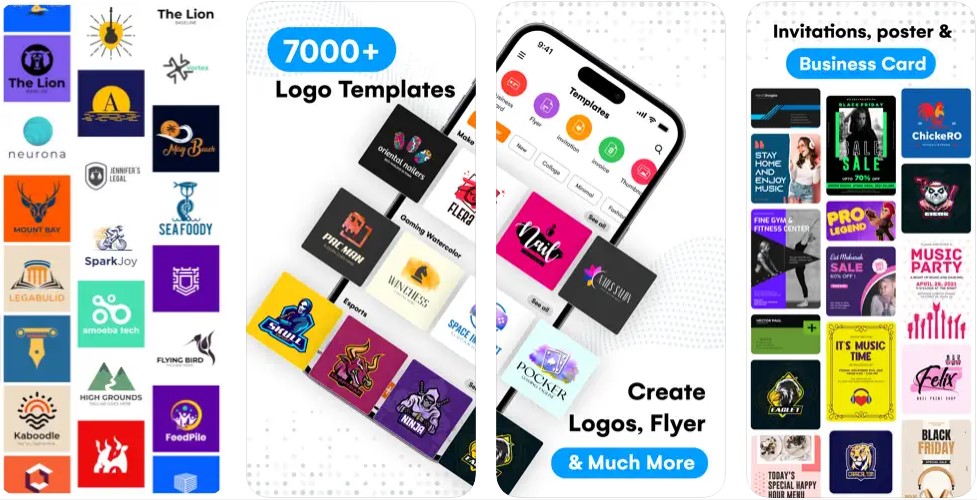 Looking for a feature-packed logo maker app for iPhone? Search no more! Logo Maker comes packed with over 2000 logo templates, so you're spoiled for choice.
Want a sleek and professional icon for your brand? Done. Looking for something quirky and artistic? You got it! With 30+ categories, including Business, Fashion, and Watercolor, you're sure to find the perfect match for your vision.
It also boasts 5000+ icons, 100+ backgrounds, and 100+ overlays to give your design that extra punch of awesomeness. And this app has also got you covered with 100 font options to make your artwork stand out.
To create logos on iPhone you can use fully editable and customizable templates and put your unique spin on things. Just add your company name, a catchy slogan, and your logo is ready to be officially out for the world.
Download Logo Maker – Design Creator now.
5. Logo Maker | Design Creator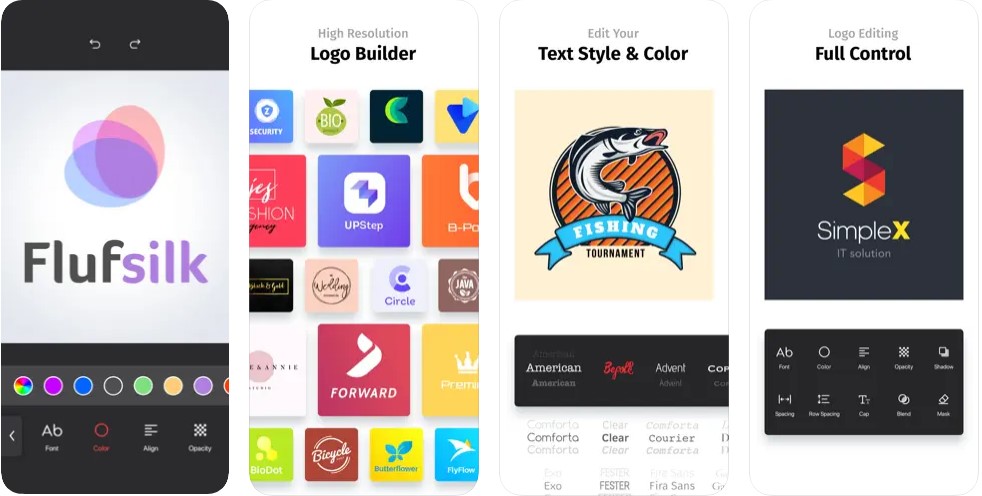 Wait, another Design Creator? Yes, but with a twist! This logo maker app for iPhone is not just your ordinary photo editor.
It's a fun and playful tool that lets you create funny memes and motivational pictures. Or simply decorate your images with an exciting collection of stamps, photo effects, and text fonts. You'll be amazed at how easily you can turn a regular photo into a captivating work of art.
Worried about navigating through a complicated interface to create logos on iPad and iPhone? Fear not. Logo Maker boasts an intuitive and easy-to-use app design, making your logo-making journey a breeze.
Just select your preferred typography, type in some meaningful or funny text, and choose a font that suits your style. With access to your camera and gallery, you can either snap new pictures or use existing ones to work your magic.
Download Logo Maker — Design Creator now.
6. Logo Maker Shop: Creator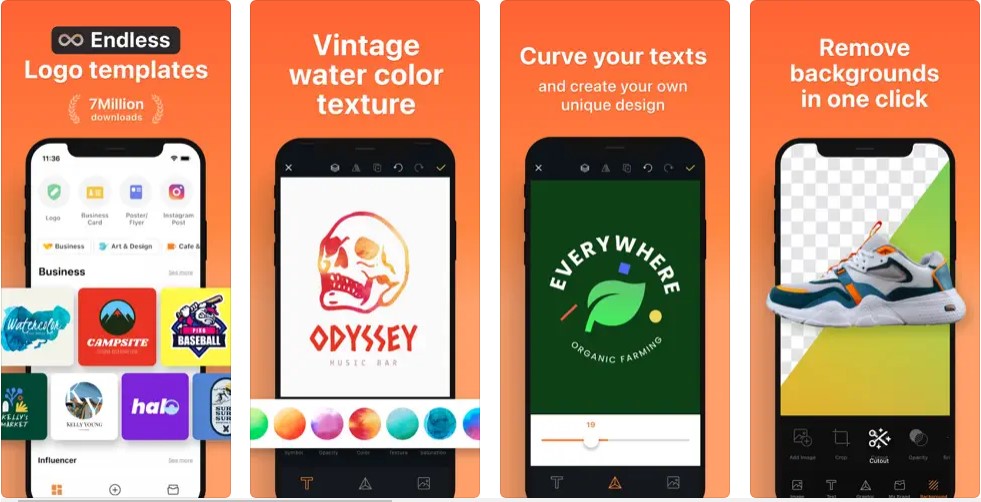 Unleash your inner shopaholic with Logo Maker Shop. This logo maker app for iPhone boasts an extensive library that lets you shop for logo ideas like it's Black Friday.
Logo Maker Shop stands out as the best logo design app free of complications and full of fun features. With over 10,000 customizable logo templates designed by the pros, you can skip the hassle of starting from scratch.
The app also boasts a whopping 6,000+ font, symbol, and background design resources, giving you endless options to play around with. With 13 categories, you can find the perfect style to match your vision.
If you make an oopsie and lose your progress, don't fret. This clever app auto-saves your edits, so you can easily pick up right where you left off.
Download Logo Maker Shop: Creator now.
7. Logo Maker – Logo Design Shop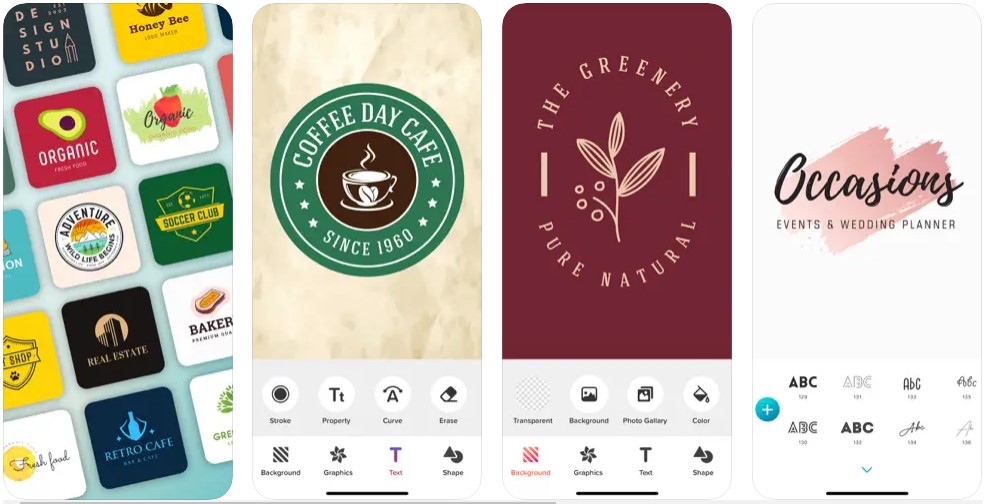 Logo Design Shop is the ultimate free logo design app that turns logo creation into a breeze – even if you're not a design wizard.
With over 500+ fully customizable logo templates and 5500+ icons, modern fonts, symbols, shapes, and HD backgrounds, each graphic ensures your logos shine like stars. Adjust text, stroke, size, colors, and more with ease. And if you're into precision, use the smart mask, curves, and nudges to create pixel-perfect masterpieces.
Can't find the inspiration to start from scratch? Just choose a template that speaks to you, and let your imagination run wild. It's that simple with the Logo Maker app for iPhone.
Download Logo Maker – Logo Design Shop now.
Master the Art of Logo Making
In this fast-paced visual era, a strong logo is like a rocket booster for your brand, propelling it to new heights. To create a brand identity that captures hearts and minds, a jaw-dropping logo is your secret weapon.
So, go forth and conquer with your newfound logo-making prowess.
Let your brand's visual identity roar with confidence and charm. Embrace the magic of these best logo maker apps for iPhone free, and let your imagination run wild.
Disclosure: iOSHacker may receive a commission if you purchase products through our affiliate links. For more visit our privacy policy page.