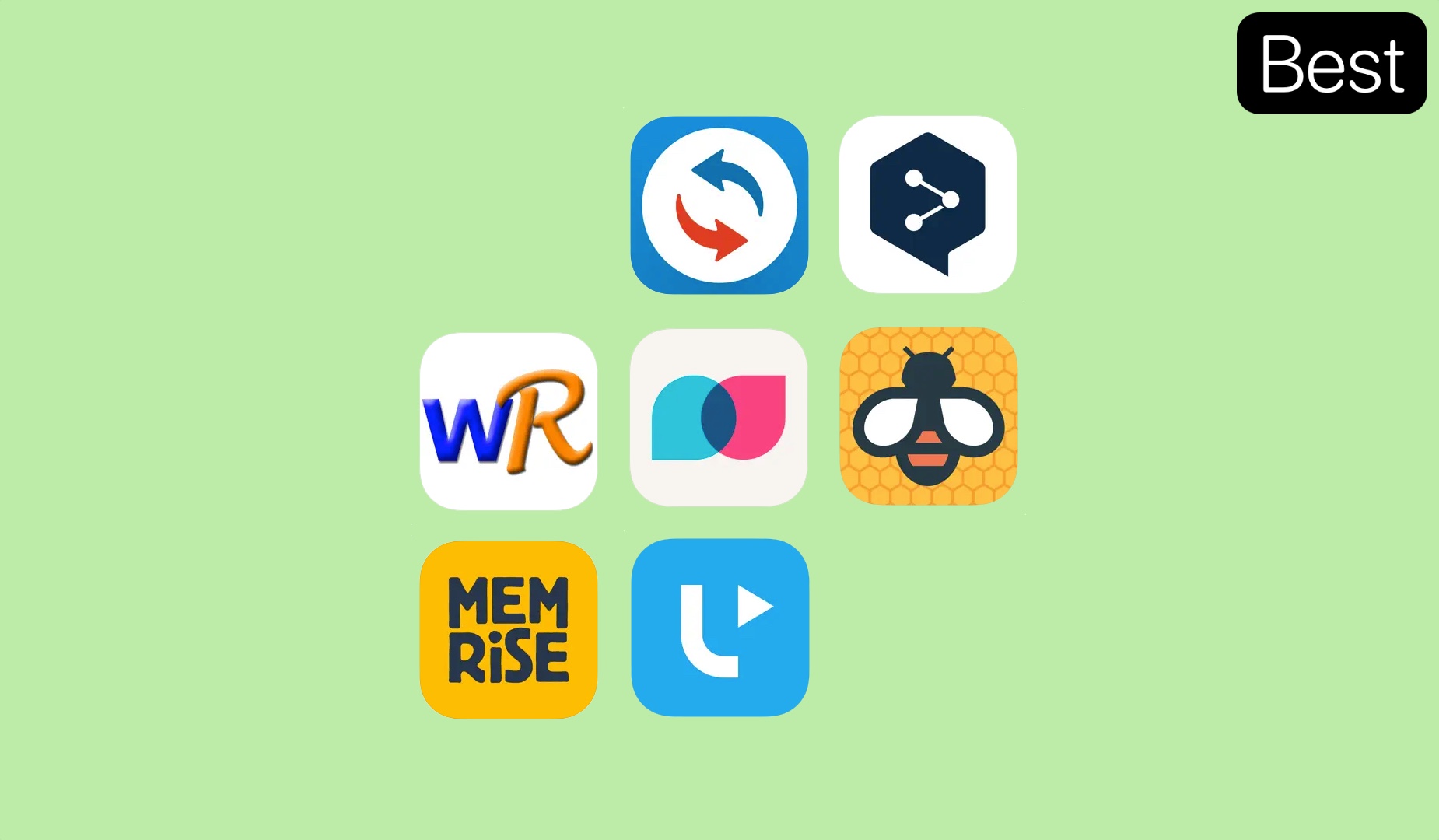 In this article, we explore apps to translate and learn languages to turn your language-learning journey into a delightful, playful, and rewarding experience.
Knowing multiple languages isn't just a fancy party trick anymore. It's a necessity turned superpower that can get you places, open doors, and connect you with people and cultures in ways you never thought possible.
Whether you're tired of the communication gap on your trips abroad, or you've always dreamt of becoming a multilingual maestro, impressing others with your linguistic prowess is no longer a daunting task.
Flaunt Your Linguistic Prowess: Try These Easy Language Learning Apps
Gone are the days of feeling like a fish out of water in foreign lands or awkwardly stumbling through conversations with native speakers.
With apps to translate and learn languages by your side, you'll be wowing the locals, negotiating like a pro, and impressing your friends with your newfound linguistic prowess.
While you're at it, trust us, you'll be having so much fun that you won't even realize you're learning with these apps.
1. Beelinguapp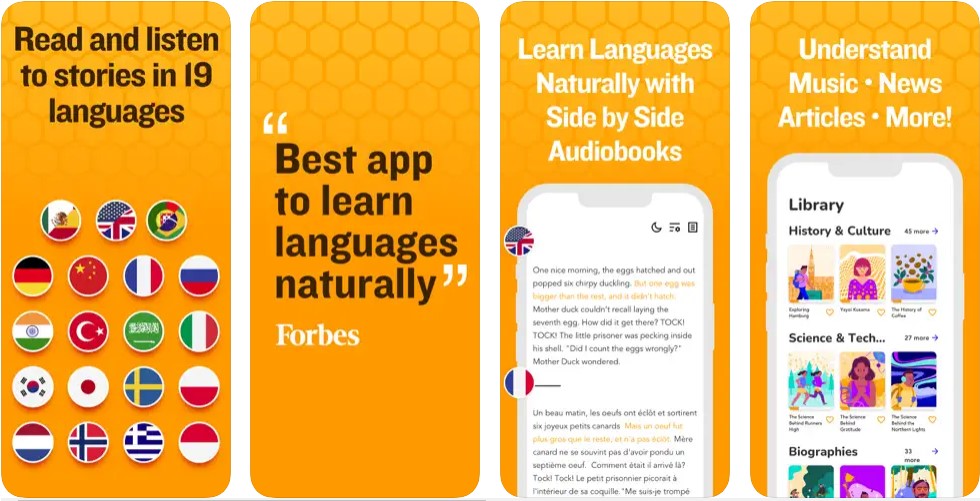 Using Beelinguapp apps to learn a new language is like bedtime stories but with a linguistic twist. It combines audiobooks with translations, making language practice an adventure.
So, how does it work? You'll dive into captivating stories in two languages side by side, all while listening to the audio in your target language.
It's like having a personal language mentor right in your pocket, guiding you every step of the way.
Key Features:
Learn at any experience level: beginner, intermediate, expert.
Audiobooks narrated by native speakers for ear training.
No need for memorization; just read your favorite stories.
Quizzes to test knowledge and improve comprehension, pronunciation, and vocabulary.
Karaoke-style scrolling text for easy language follow-along.
Use your native language as a guide for learning.
An immersive experience in the target language from the start.
Download Beelinguapp – an app to translate and learn languages now.
2. Reverso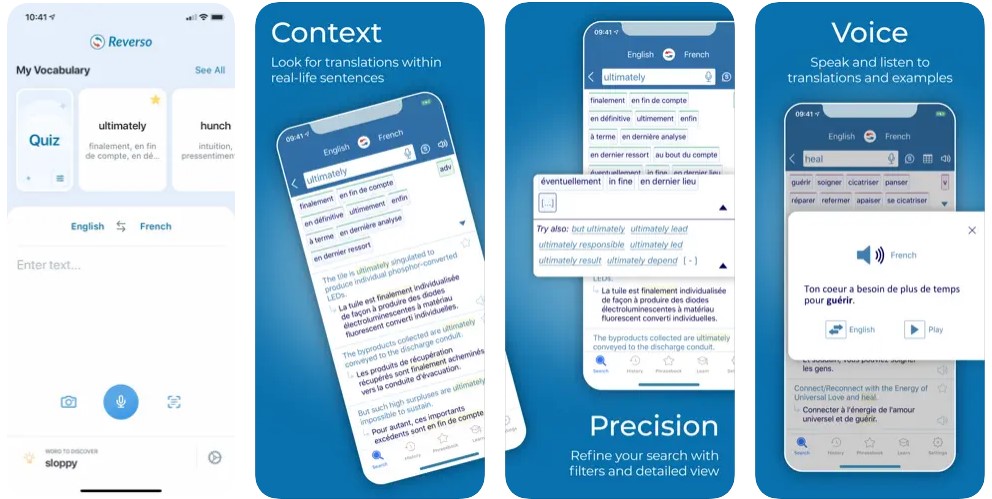 Reverso app to translate languages is your ultimate language wingman, offering accurate translations and context examples. From text to voice, it's got your back in over 15 languages.
Instantly translate selected text while you're reading content on your browser or any other app. Just click on the trusty "Share" option, select Reverso, and you'll have a world of translations at your fingertips.
Key Features:
Reverso Context provides real-life sentences for better understanding and learning.
Enjoy the natural pronunciation of example sentences.
Flashcards and quizzes to help memorize and improve language skills.
Translations are available in 14 languages, with more in development.
Advanced features include pronunciation, history, and a personalized phrasebook.
Create vocabulary lists based on your favorites, available offline.
One-click access to translations, frequency details, and conjugation.
Search history and word suggestions to speed up learning.
Download the Reverso app to translate and learn languages now.
3. DeepL Translate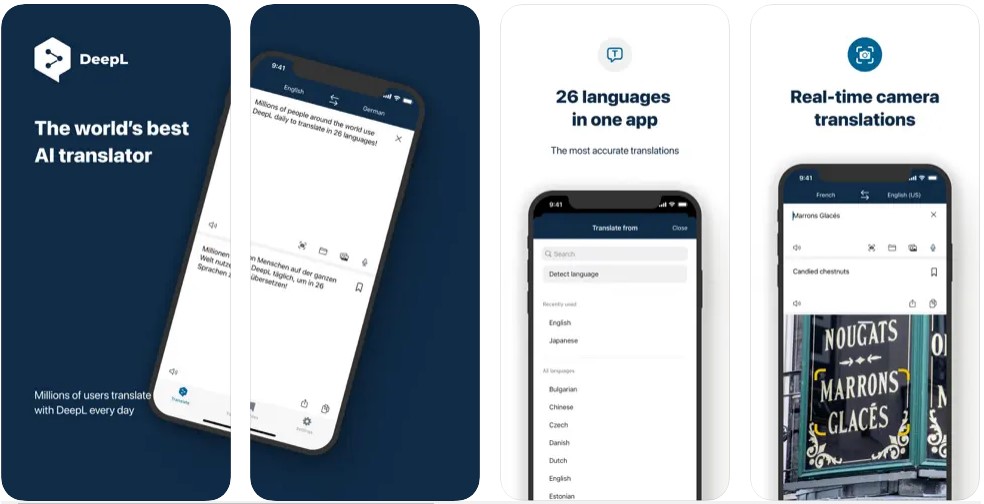 DeepL Translate app uses cutting-edge AI to provide precise interpretations, so you'll sound like a native speaker. Plus, with the easy language learning app, enjoy fast and highly accurate translations without spending a single penny.
To get started, simply type in your text, and DeepL will translate it between a whopping 30 languages. It's like having a global language party at your fingertips.
Key Features:
Speech-to-text translation using your device's microphone
Text-to-speech feature available in 25 languages
Quick detection with translations starting after entering just a few letters
Dictionary feature to learn more about translated words in 11 language pairs
Alternative translations for short phrases
Instant camera translation for text in images
Photo translation for higher quality translations
Translation history to easily find, edit, and reuse previous translations
Tone adjustment for formal or informal translations
Download the DeepL Translate app to translate and learn languages now.
4. Tandem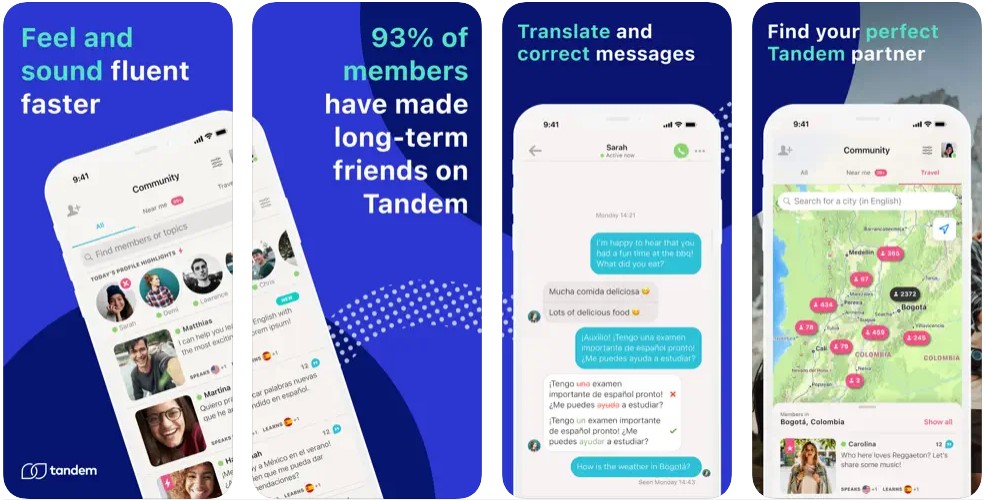 Learning with friends is double the fun. Tandem connects you with language partners worldwide for authentic practice. From casual chitchat to cultural exchanges, you'll be fluent in no time.
First, pick the language(s) you're eager to master in this app to learn a new language. Next, input your language goals and what you'd like in a Tandem partner. Once you're all set, it's time to explore the Tandem community and connect with native speakers of your target language.
Key Features:
Connect with Tandem partners who match your language learning goals.
Practice and learn 300+ languages, including sign languages.
In-app translation for composing and understanding messages.
Improve pronunciation with voice notes, audio, and video calls.
Message correction and comment features for grammar help.
Embrace your personal language learning style, from messaging to calling or meeting in person.
Download the Tandem app to translate and learn languages now.
5. WordReference Dictionary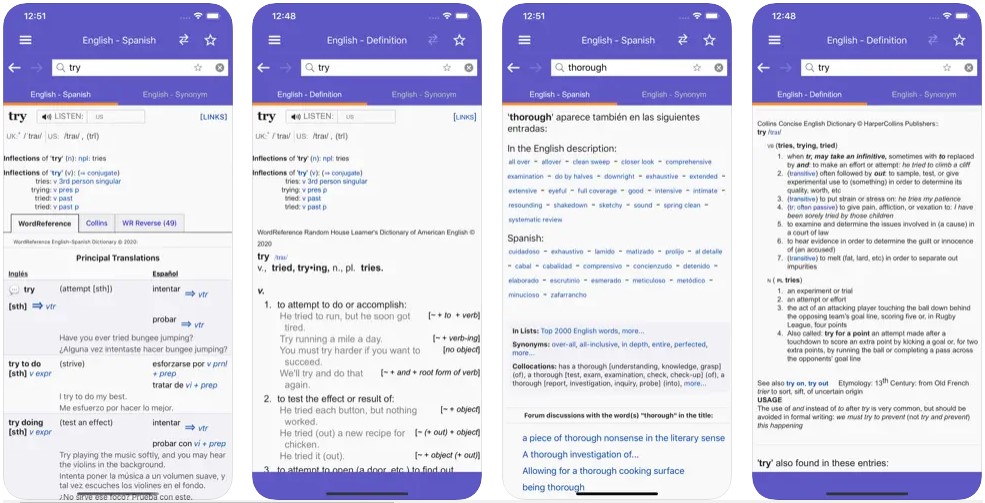 Stuck on a word? WordReference Dictionary app to translate texts is a must-have for language learners. Definitions, synonyms, and conjugations are just a tap away.
Using the app is as easy as pie. Just fire it up, and you've got quick access to the world's most popular and powerful dictionary translation website. Bid adieu to uncertainty, and let WordReference be your language sidekick.
Key Features:
Quick access to an extensive collection of dictionaries and forum discussions.
Dictionaries are available for various language pairs, including English to Spanish, French, Italian, German, Portuguese, and more.
Conjugators for Spanish, French, and Italian verbs to master verb tenses.
Synonyms are available for both English and Spanish to add variety to your language usage.
A thriving community with over 3 million questions and answers about English and translation in the forums.
Download the WordReference Dictionary app to translate and learn languages now.
6. LingoClip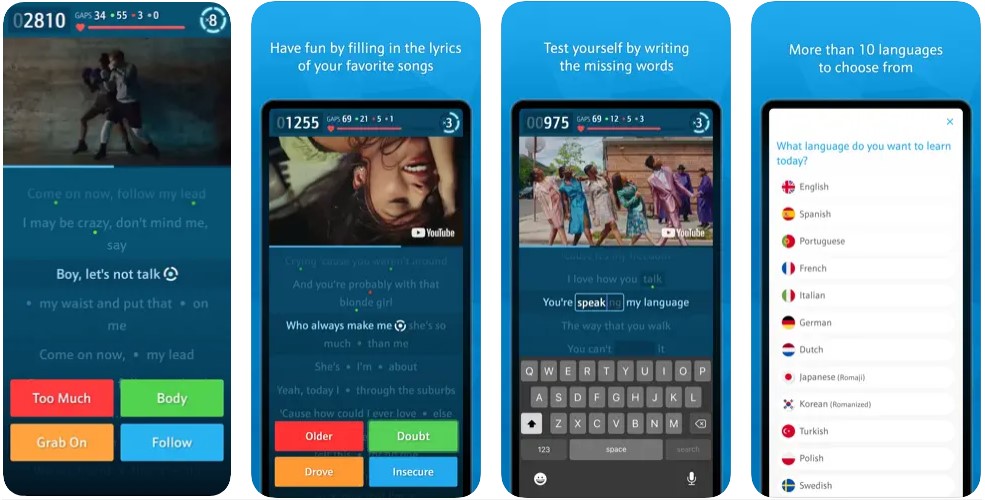 Short on time but big on ambition? LingoClip delivers quick language lessons on the go. With its interactive format, you'll be speaking confidently, even during your coffee break.
Using the LingoClip app to translate languages is as easy as humming your favorite tune. Just select a song, play it, and listen carefully to fill in the missing words of the lyrics.
It's a fun and engaging way to improve your listening comprehension, expand your vocabulary, and boost your grammar skills.
Key Features:
Fill in missing song lyrics while improving listening comprehension and expanding vocabulary.
Forget memorization, learn effortlessly, and enjoy the process.
Instantly learn word meanings or translations by holding on to any word or expression.
Play daily, earn achievements, and enhance language proficiency.
Check activity history to monitor language learning journey.
Download the LingoClip app to translate and learn languages now.
7. Memrise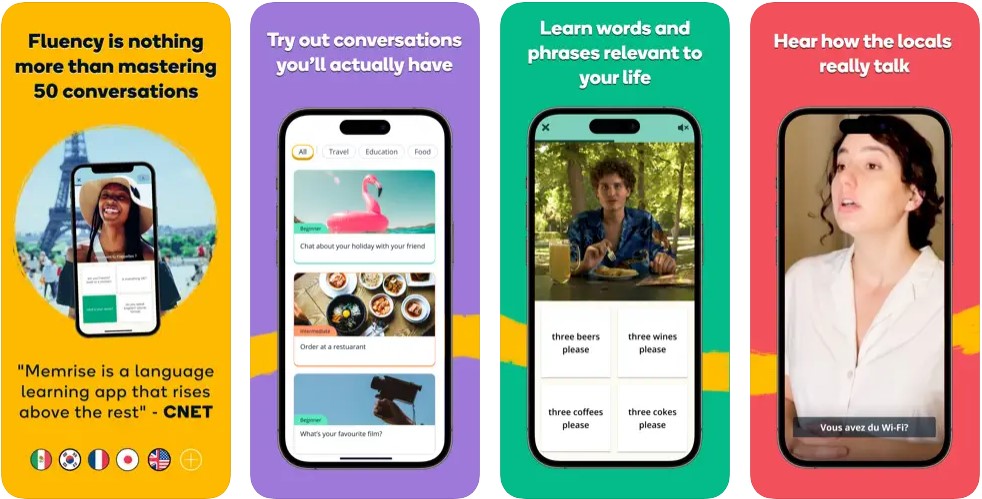 Memrise easy language learning app turns learning into a game, making memorization a breeze. Master vocabulary and phrases faster than you can say "polyglot," level up your brain, and impress your friends with your memory wizardry.
To get started, set your level and import your progress from other apps, then choose the conversations you want to master. From there, you'll dive into learning practical vocabulary and phrases that are relevant to your life.
And here's the best part – you get to listen to native speakers in action. This way, getting used to their accents and tempo so you feel at ease when chatting with them for real.
Key Features:
Set your level and import progress from other apps
Learn practical vocab and phrases
Listen to 30,000+ conversations by native speakers
Speak with AI tutor, MemBot, for unlimited practice and feedback
Over 65 million learners speak confidently with Memrise
Example conversations for all levels, from beginners to intermediates
Download the Memrise app to translate and learn languages now.
Lost in Translation? Not Anymore!
Learning a new language can be intimidating. The unfamiliar sounds, the quirky grammar rules, the strange writing systems – it's like entering a mysterious realm.
However, fear not, for these apps to translate and learn languages are your passport to becoming a true language superhero.
Immerse yourself in interactive lessons that feel more like games than work with these apps to translate texts and learn languages. So, fasten your seatbelt, pack your linguistic curiosity, and get ready to embark on a language-learning journey like no other.
Disclosure: iOSHacker may receive a commission if you purchase products through our affiliate links. For more visit our privacy policy page.