Here you will find a list of 7 best Calendar apps for iPhone and iPad that you can download right now for free. These apps offer amazing management features that let you plan your days, months and years with ease.
The time has long gone when a calendar used to tell us about what the date today is. These days calendar apps work like your personal assistant. A well-functioned iPhone calendar app notifies and reminds you of upcoming events, plus allows you to make a schedule and notes for a certain day.
Sure Apple has a pre-installed app that works just fine but the free calendar app iPhone has some irresistible functions that help you to be more productive.
There are a plethora of options to choose from on App store but we have listed down the best calendar apps for iPhone and iPad users. 
Best Calendar Apps in 2022
Here are seven of the best Calendar apps that you can download for your iPhone or iPad in 2022. Many of these apps are also available on the Mac.
1. Fantastical Calendar
Fantastical is the multiple award-winning calendar app that allows you to manage all important events with numerous excellent features!
This calendar app includes natural language text parsing, full calendar day, week, month, quarter, and year views, tasks, to-dos, weather forecast, and even time zone support.
You can add new events and tasks in such a fun way using Fantastical. Just type in your details and see how the app turns it into a task or event. You will be able to see all your tasks and events in one place.
You can enjoy premium features by subscribing monthly package for $4.99 only or yearly for $39.99.
Download Fantastical Calendar for free on your iDevice now
2. Google Calendar: Get Organised 
Most people like to plan ahead of time to spend their days more productively. If you also want to make the most of each day, download the Google Calendar app.
Whether you want to make a restaurant reservation or a meeting reminder, all your events will be added to this app through your Gmail account.
With this app, you can view your calendar in different ways and quickly switch between month, week, and day views, plus create and manage tasks easily.
Google Calendar iPhone is also integrated with Apple Health which helps track your workouts and mark Goals as done spontaneously.
Install Google Calendar for free on your iPad or iPhone
3. Calendars 5 by Readdle
Calendars 5 is yet another best calendar app for iPhone. It is smart, up to date, and excels in both events and tasks, besides it runs on iPhone and iPad without a glitch.
Calendar 5 is ideal for work management of your daily schedule. It is the first smart calendar for the iPad. It has a large screen view which makes it one of the best iPad calendar apps.
The app offers natural language input which means you only need to enter "Team Meeting on Thursday" and it will automatically create the event for you.
You can use task manager seamlessly to organize your plans, track events, and complete your day-to-day to-dos.
Not only just that but it also has an elegant interface that offers a quick overview of all your events and tasks. This interface also helps to keep you focused on what's more important.
To make the most of this best iPad Calendar app, subscribe to premium features and avail monthly package for just $8.99.
Install Calendars 5 for free now on the Apple store
4. Simple Calendar – SimpleCal
If you want to set a routine in your life, download SimpleCal as soon as possible! It is the simplest calendar app you can find on App Store.
This app makes it convenient for you to synchronize and transfer your schedule, tasks, and events across platforms and IOS devices through Google calendar or iCloud. Besides, you can view your recent events on a widget and see priority tasks.
What's more? There is no chance to miss your main events through SimpleCal's reminder. You can set the reminders to repeat daily, weekly, monthly, and yearly.
Its customizable color themes allow you to easily recognize your schedule and help you stay organized.
To enjoy the premium app feature, subscribe monthly package for $9.99 only.
Download Simple Calendar on your iPhone and iPad for free now
5. Sorted³ – Calendar Notes Tasks
No more struggling in managing your day or fear of missing deadlines! With Sorted³ you can hyper-schedule to plan your entire day from a single place. This iPhone calendar app assures your daily workflow.
Sorted³ effortlessly integrates your calendar tasks and events into one timeline so you can manage your routine like a pro. To make things even more convenient, you can take formatted notes, drawings, and attachments on both your events and tasks in the app.
You can easily set a schedule for your day, and schedule your tasks according to your priorities. You can even use Auto Schedule to figure out what you can reasonably get done in a day.
Get PRO to gain the full power of Sorted³ forever for only $14.99. PRO iOS and macOS are separate purchases so, you can either choose to buy the bundle or a separate monthly or yearly package.
Install Sorted³ – Calendar Notes Tasks for free on Apple Store
6. Simple Calendar: To Do Planner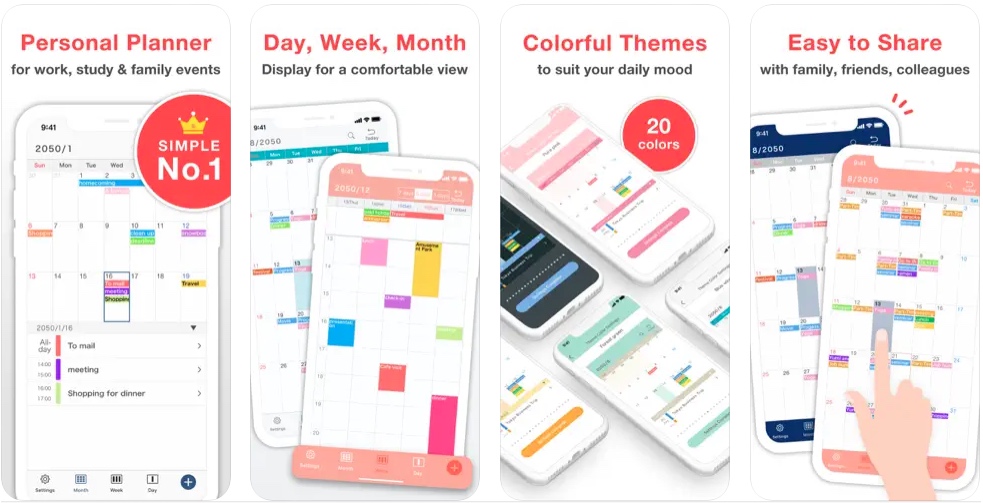 This is the simplest and the most useful Calendar app ever with customizable designs which help you plan ahead of time!
It's the right choice for individuals who are in search of a minimalist calendar app with maximum functionality instead of fancy features. This app has been receiving the highest ratings among iPhone and iPad users on the App store.
You can switch the weekly calendar between 7, 5, or 3-day display to see your plans easily. The app also allows you to categorize different schedules and manage your tasks clearly by color coding them.
To use Simple Calendar without any distractions, remove ads for $3.99 only.
Install Simple Calendar on your iPhone for free today
7. Calendar Op.2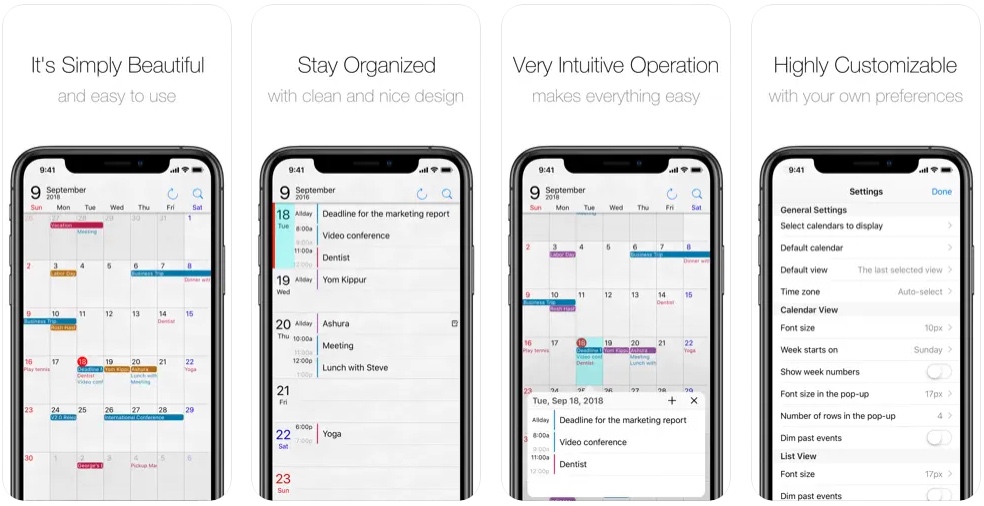 Calendar Op.2 [opus two] is among the most simple and easy-to-use calendar applications designed for people who prefer to keep things simple!
With its user-friendly interface and amazing feature set, you can organize your daily plans and schedule smoother than ever. You can see beautifully designed month & list view with event title plus, sync your tasks with iCloud, Google Calendar, etc. via the built-in iOS calendar.
Instead of feeling underproductive, this app helps you set and achieve attainable goals. On top of all these, the app functionalities make your organizing experience more fun and seamless across all IOS devices. The mini pop-up window for daily events keeps you motivated to complete the tasks and attend all important events.
You can remove ads for $4.99 only.
Install Calendar Op.2 for free on Apple Store today
Final Verdict
Your calendar should be functional with easy-to-use features, so pick one that seems right for you. All of the above-mentioned apps offer the basics and focus on things like intuitive interface aesthetic appeal, and special features that help you stay productive.
Do you plan things ahead of time or go with the flow? Let us know in the comments below.