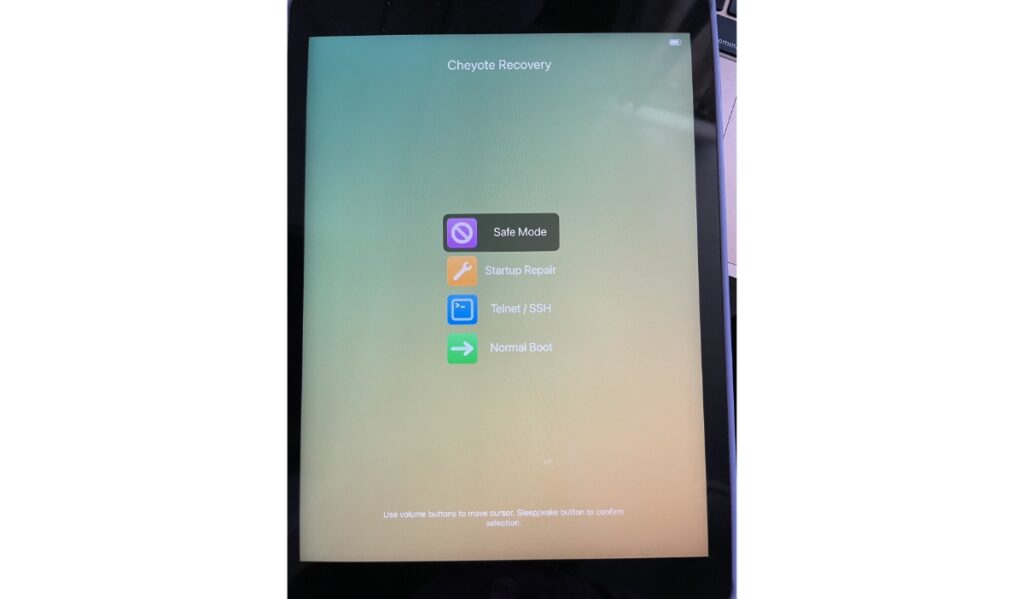 If you have been waiting for new updates regarding Team Odyssey's Cheyote Jailbreak tool for iOS 15 up to iOS 15.1.1, then keep reading. CoolStar, who is the lead developer behind Cheyote tool has shared a number of updates related to his upcoming jailbreak.
In updates shared on Discord the developer has demonstrated the Cheyote Recovery interface. He has also shown us some important jailbreak tools running. This includes the following tools found within the jailbreak.
Safe Mode
Startup Repair
Telnet/SSH
Normal boot
The pictures shared on Discord show us an option menu with all of the tools mentioned above.
On Discord Cheyote developer has also shared a list of completed tasks that mark the progress of A11 – A14 jailbreak.
Here's the complete list of tasks that have been completed by Team Odyssey:
✅breaking out of sandbox

✅getting root

✅getting read/write access to filesystem (except rootFS)

✅break AMFI/codesign

✅run shell commands

✅fix fork() on A12+

✅get OpenSSH running

✅get legacy Odyssey launchd injection working

✅add USB Ethernet debug support

✅get Userspace reboot working

✅get Cheyote recovery working

✅Getting system services started properly after Userspace reboot

✅put a bounty out for an iOS 15 tweak to install

✅run tweak in SpringBoard
Currently there are three tasks that are still pending and under process on Team Odyssey's to-do list for Cheyote jailbreak. This includes fixing dyld hook and fixing userspace reboot bug. They also need to make sure injection works inside of App Store apps.
While Team Odyssey have revealed the interface and other details regarding their upcoming Cheyote jailbreak they have yet to announce the final release date for the tool.
As can be seen in the updates shared with us today, the Cheyote jailbreak development is still a work in progress, although the rapid progress in the to-do list indicates that the release could be coming sooner than later.
Cheyote jailbreak tool will work with iOS 15.0 up to iOS 15.1.1 on all devices. If you want to learn more about the upcoming jailbreak tool, then we recommend reading our Cheyote Jailbreak FAQ where we have answered all of your questions regarding this jailbreak.
Disclosure: iOSHacker may receive a commission if you purchase products through our affiliate links. For more visit our privacy policy page.