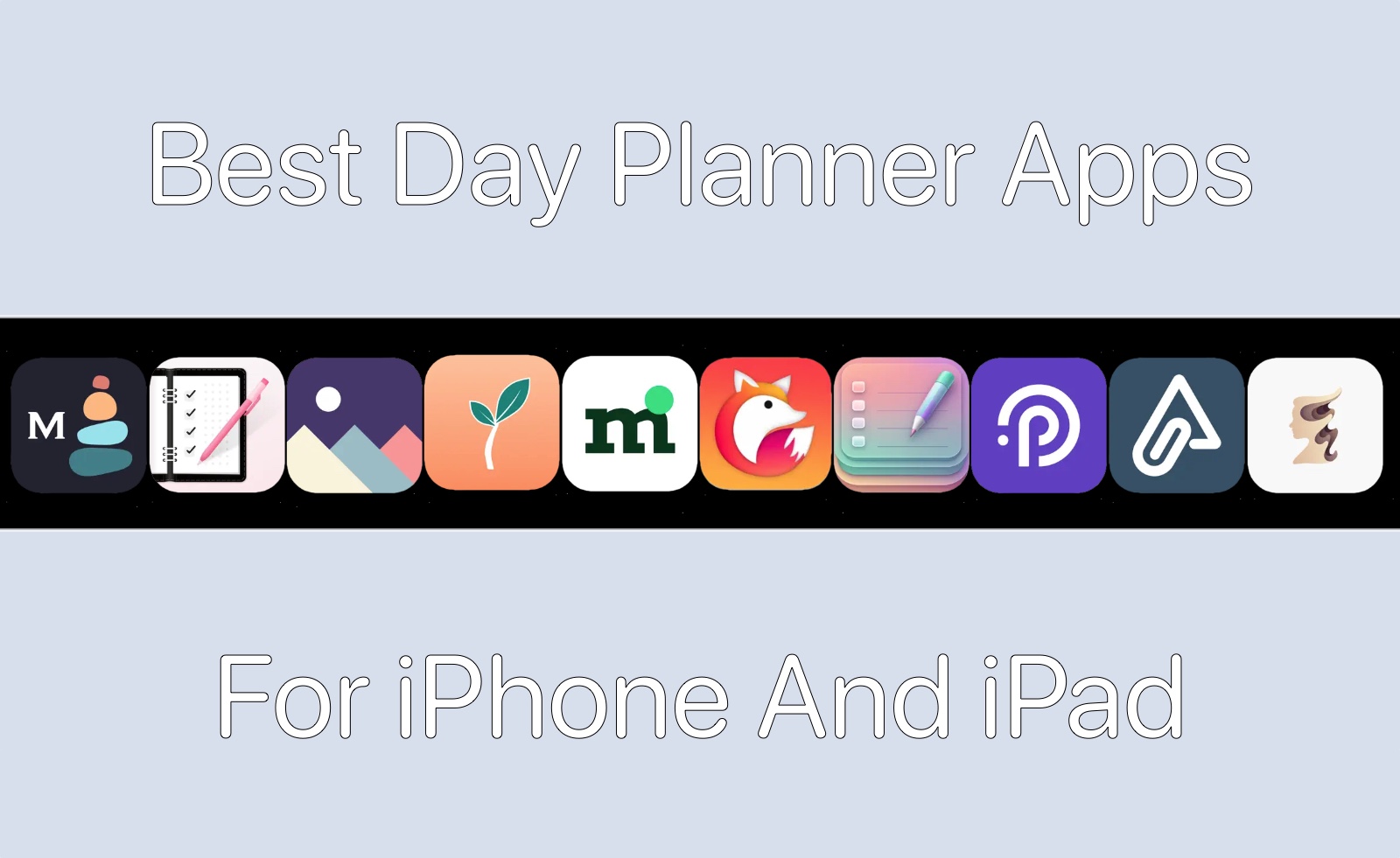 Looking for the best day planner apps for you iPhone or iPad in 2023? Then look no further, as we have the perfect selection of iOS productivity apps for you.
Can you imagine yourself juggling multiple tasks and getting embarrassed due to missed deadlines?
Well, excuses do not work all the time!
Obviously, delayed tasks lead to frustration as well.
Besides, no one wants to run around and finish their tasks in a hurry.
Luckily, the best day planner apps iPhone make your days extra productive and help you achieve your daily, weekly, and monthly goals.
Your ideas, deadlines, meetings, etc., are all at your fingertips with the best planner app.
In this article, we have highlighted the ten best free day planner apps. Let's get started.
Best Day Planner Apps for iPad and iPhone
You no longer have to struggle to plan everything by yourself. You can simplify your life with the best personal planner apps.
Why not start today? You can start living a more organized life today with one of these apps!
1. Moleskine Balance Day Planner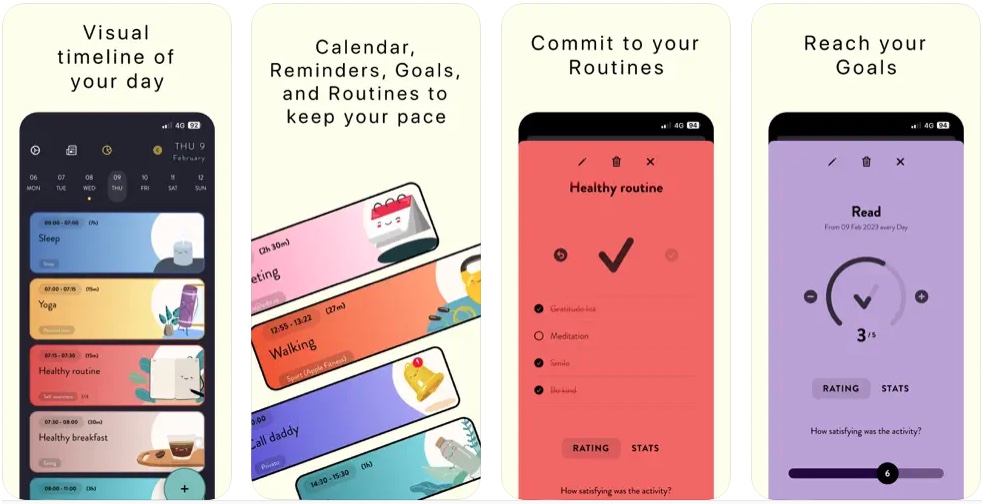 You can find a perfect balance between productive routines and self-care routines with Moleskine Balance.
With the app, you can set goals for your personal and professional development, import and see your events and reminders in one place, and track your progress with beautiful graphs and stats.
Maintain a journal of your progress by rating and noting your activities and feelings with a Moleskine Balance Day planner.
When you use your time effectively, you'll get to know yourself better, so start planning your days, weeks, and months at your earliest convenience.
Install Moleskine Balance Day Planner from the App Store today!
2. That Girl Original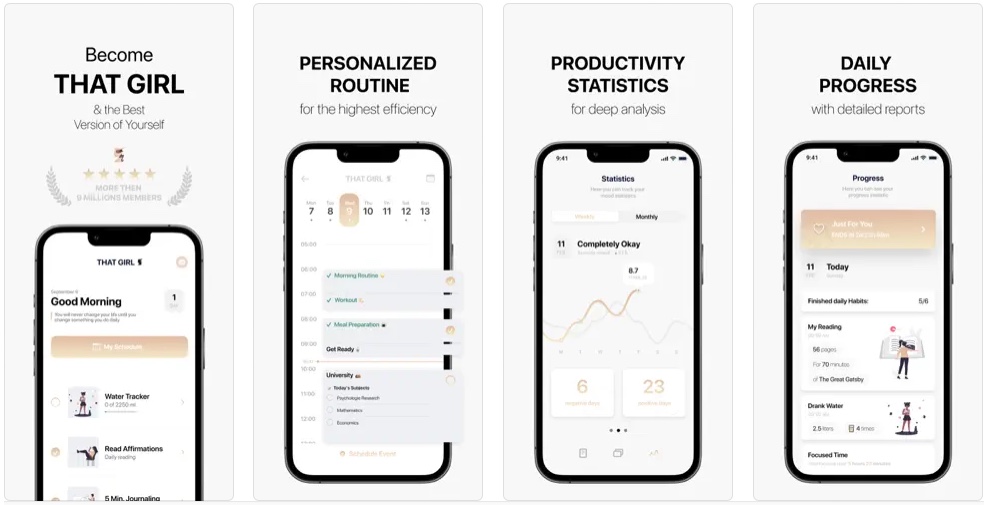 You are about to embark on a journey that will help you build your dream physically and mentally with the That Girl app. Its simplicity and universality make it ideal for almost any situation.
There are a number of impressive features available: task manager, workout tracker, ready-made daily habits, skin care, affirmations, meditation, etc. You can easily track your progress and see all the statistics you need.
One of the most unique features of That Girl is the community of users who support an active lifestyle. Every one of them is striving to become the best version of themselves, just like you.
Install That Girl Original from the App Store today!
3. Simplish Planner & To-Do List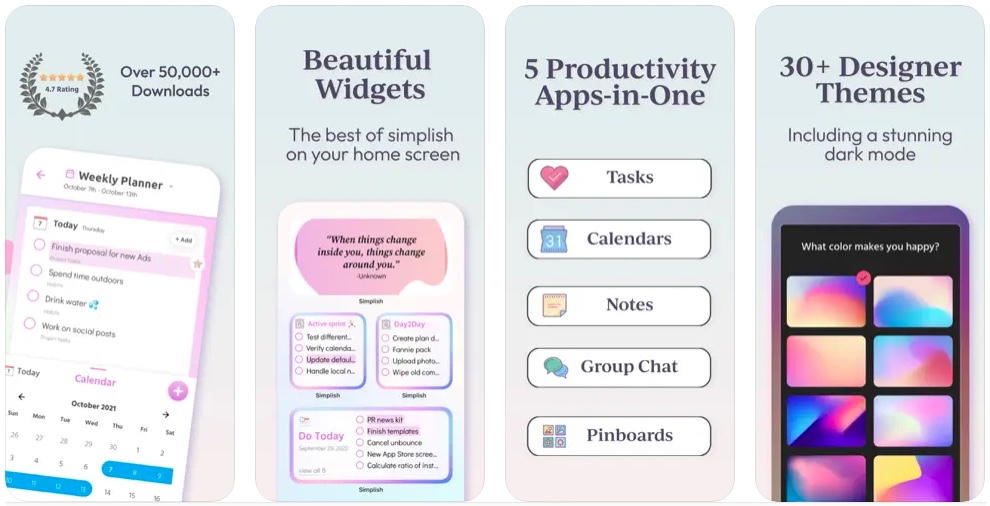 Everything you need in one place, from your calendar to tasks to notes to team chats. Using Simplish, you can find structure and confidence in your everyday life thanks to its GTD-based design.
Only Simplish is a productivity app that was built from the ground up to help you achieve balance throughout your day. You can compartmentalize your work, life, interests, schoolwork, etc., and use the day planner tool to keep everything together.
Make your life more organized and orderly by creating a system. This organizing and planning app includes more than 30 valuable features, such as recurring tasks, drag-and-drop weekly planners, smart reminders, pinboards, notes, and highlights.
Simplish is a time management app that streamlines your life so you don't have to wait for your most valuable resource.
Install Simplish Planner & To-Do List from the App Store today!
4. Seedling Daily Planner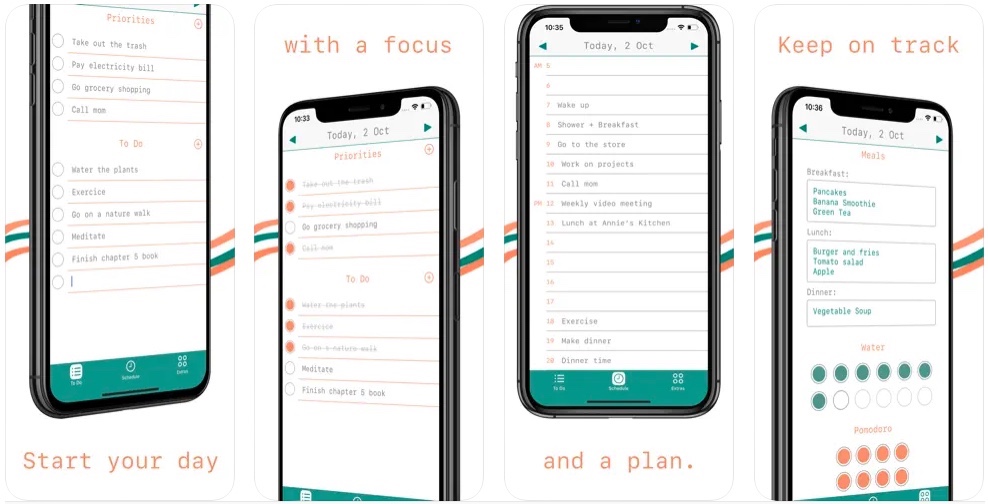 Get organized and focused first thing in the morning with Seedling. Planning your day in the morning is one of the best things you can do. The Seedling app helps you focus on what's most important while organizing your day in a simple manner.
You can take notes, prioritize your tasks, schedule your day, plan your meals, keep track of your water intake, and complete Pomodoro sessions using the app.
Install Seedling Daily Planner from the App Store today!
5. Digital Planner – Task Journal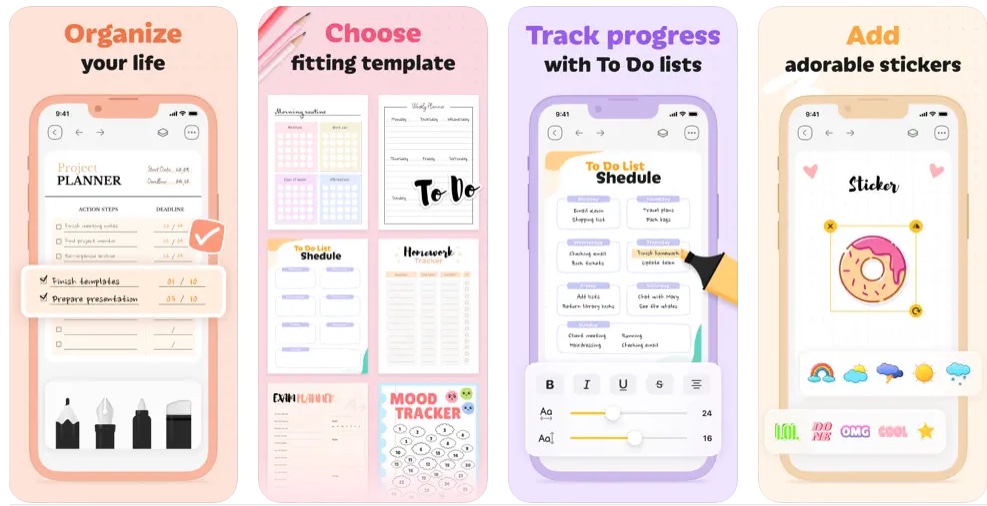 Want a handy daily planner that can serve as both an organizer and a creative tool? You have found one!
Using the app, you can keep track of your habits, plan your day, make to-do lists, and enhance your knowledge by reading and watching suggestions. Moreover, the app includes everything you may need during the day so that you no longer have to use several planning apps for different tasks throughout the day.
Make each page unique with colorful, cute, and creative templates, stickers, and brushes, and give each page a consistent look or an individually unique design.
You won't find anything like this in any other app! Bringing pragmatism and creativity together! The planner is a fun way to keep track of your schedule. With each tool, you will be able to infuse your routine with individuality and inspiration!
Install Digital Planner – Task Journal from the App Store today!
6. MyRoutine – Routine Tracker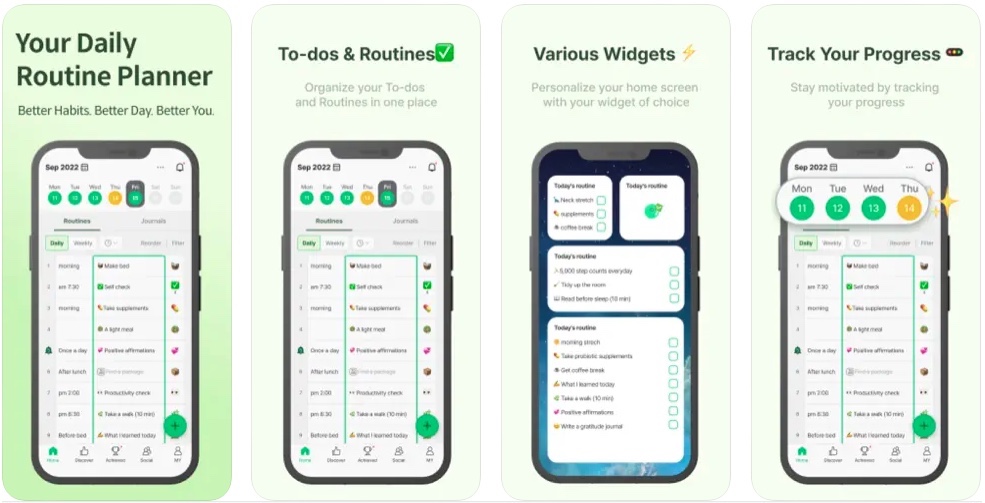 MyRoutine is an app for managing your daily routine that maximizes your productivity. Organize and record your goals, plans, routines, and notes in one place.
There are a variety of things you can do to keep track of to-do lists, schedules, goals, personal development, study, concentration, discipline, growth, habit, life, productivity, miracle morning, exercise record, diet journal, healthy life, mindfulness, etc., MyRoutine allows you to make life routines that will help you achieve your goals!
Routines are key to becoming your best self, which is why MyRoutine encourages you to follow your Routines.
MyRoutine will definitely help you keep good habits consistent.
Install MyRoutine – Routine Tracker from the App Store today!
7. Amplenote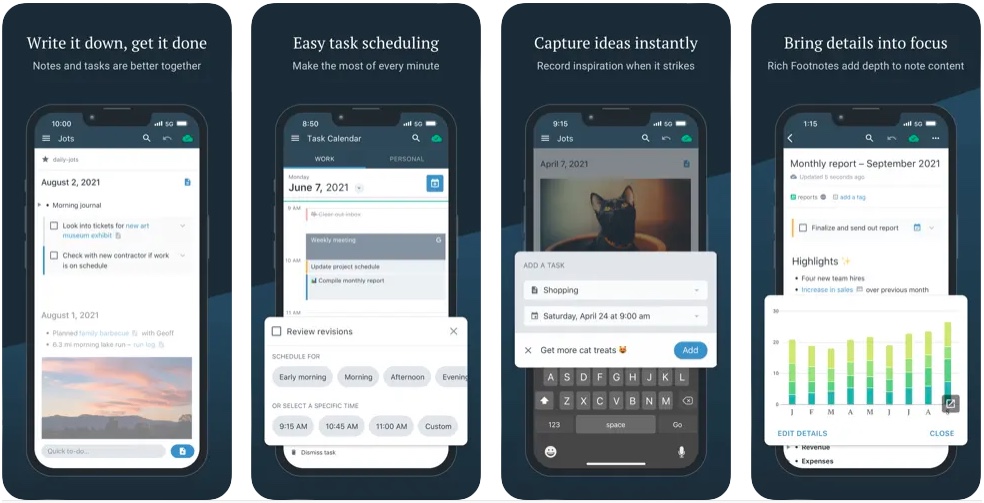 With Amplenote, you can write jots, take notes, accomplish tasks, and view a smart calendar. With its flexibility and cross-platform capabilities, it enables users to maximize their creativity while balancing productivity.
Amplenote is considered one of the best daily planner apps as it stands out among popular note-taking apps for making to-do lists as efficiently as possible.
There is no doubt that this productivity app is excellent and very versatile. You can use it to save your ideas, plan your day, or make a to-do list. It's easy to get started and is full of unique features! You can drag and drop tasks directly from Amplenote onto the calendar to sync with my Google calendar.
Install Amplenote from the App Store today!
8. NoteCircle: To-do app, Planner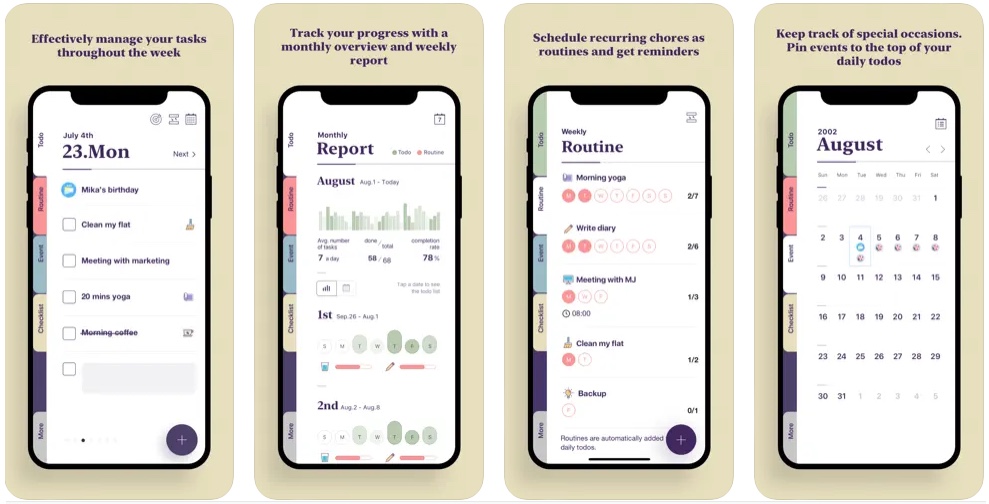 Do you want an app that helps you manage tasks and to-do lists that has over one million users around the world? There is no better solution than NoteCircle.
NoteCircle is a productivity app for those who've tried several but can't find one that matches their needs. The app makes it easy to keep track of your daily tasks, weekly routines, events, and checklists.
A simple swipe through the week allows you to view and manage your weekly schedule.
Organize all your events in one place with NoteCircle by integrating your Google and Apple Calendars. A monthly overview shows completed tasks, upcoming events, and more to help you stay on top of your progress.
You will always be able to access all of NoteCircle's innovative features for free. However, NoteCircle Premium offers even more advanced features for the ultimate task management experience.
Install NoteCircle: To-do app, Planner from the App Store today!
9. Paced — Daily planner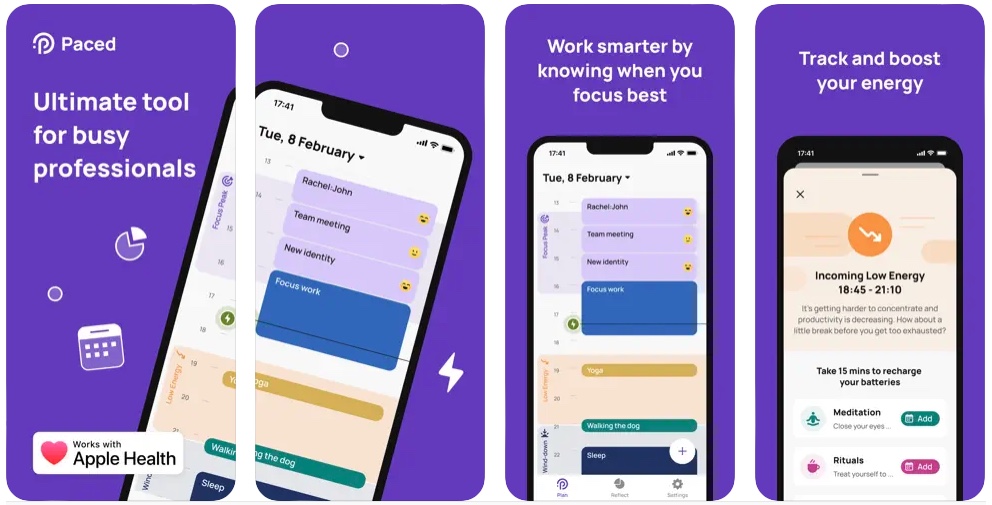 With Paced Schedule app, you can improve your productivity, effectiveness, and well-being. With Paced, you can create a routine that helps you balance your career and personal life in the most effective way possible.
Add a subject and duration to the activity, and the app will schedule it and include a small break. You will become more productive and reduce procrastination with your new activity scheduler.
Using this app, you can keep track of your mental health through daily planners and habit trackers.
Don't plan when, plan what. You can determine the duration and what you would like to do during the day. To make sure you don't miss anything important, the app will automatically schedule time for it and send you daily reminders. A day planner automatically reschedules everything for you when your plans change.
All in all, the app offers tips and tricks on managing your time efficiently so you can take care of yourself, spend time with your family, and work effectively. Paced works great as a family planner and allows you to keep track of everyone's schedules and lists in one place.
Install Paced — Daily planner from the App Store today!
10. Planny • Daily Planner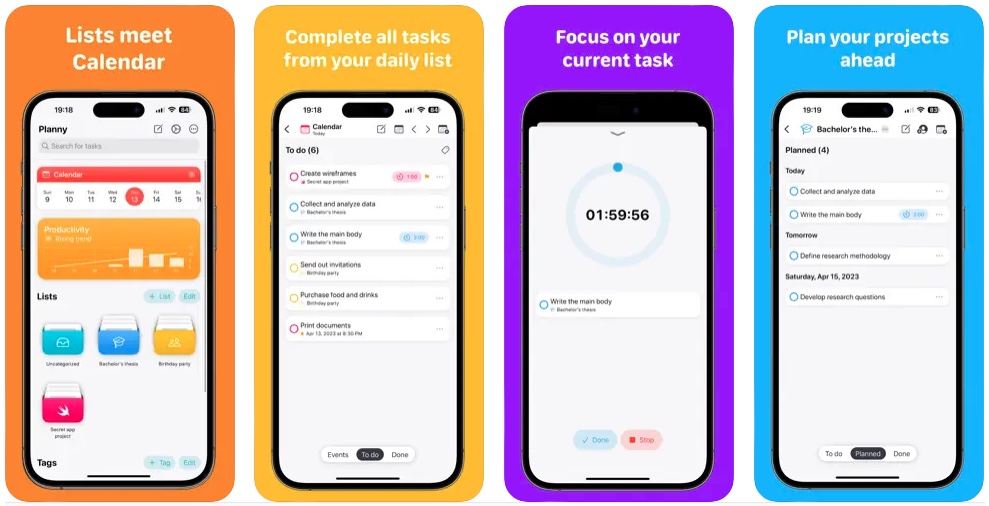 A number of apps let you keep a list of your tasks and forget about them.
This app is different from others in that it makes it easier for you to remember tasks as well as actually accomplish them. In addition to making task organization quick and easy, it goes far beyond that. With intelligent planning features, you can schedule your day and plan ahead in a way that wasn't possible before. Besides not letting a task slip through the cracks, you'll know exactly what you have to do today, tomorrow, and every day thereafter.
Planny combines your tasks with your calendar to give you an overview of what needs to be done and when. Never be caught off guard by a deadline or appointment again!
Install Planny • Daily Planner from the App Store today!
Ready to Plan Your Day?
That's all, folks! The above-mentioned professional planner apps will keep you organized in the best way possible!
However, it is crucial to determine what kind of planner app you need before installing the app. Are you looking for an app only for day-to-day tasks or one that can help you with projects and goals as well?
Most importantly, determine which features you need. Is your main requirement a planner that allows you to create weekly or monthly plans, or do you also want syncing and timer features?
Having these questions answered can make finding the best free daily planner much easier!
So, which app would you download? Let us know in the comments section.