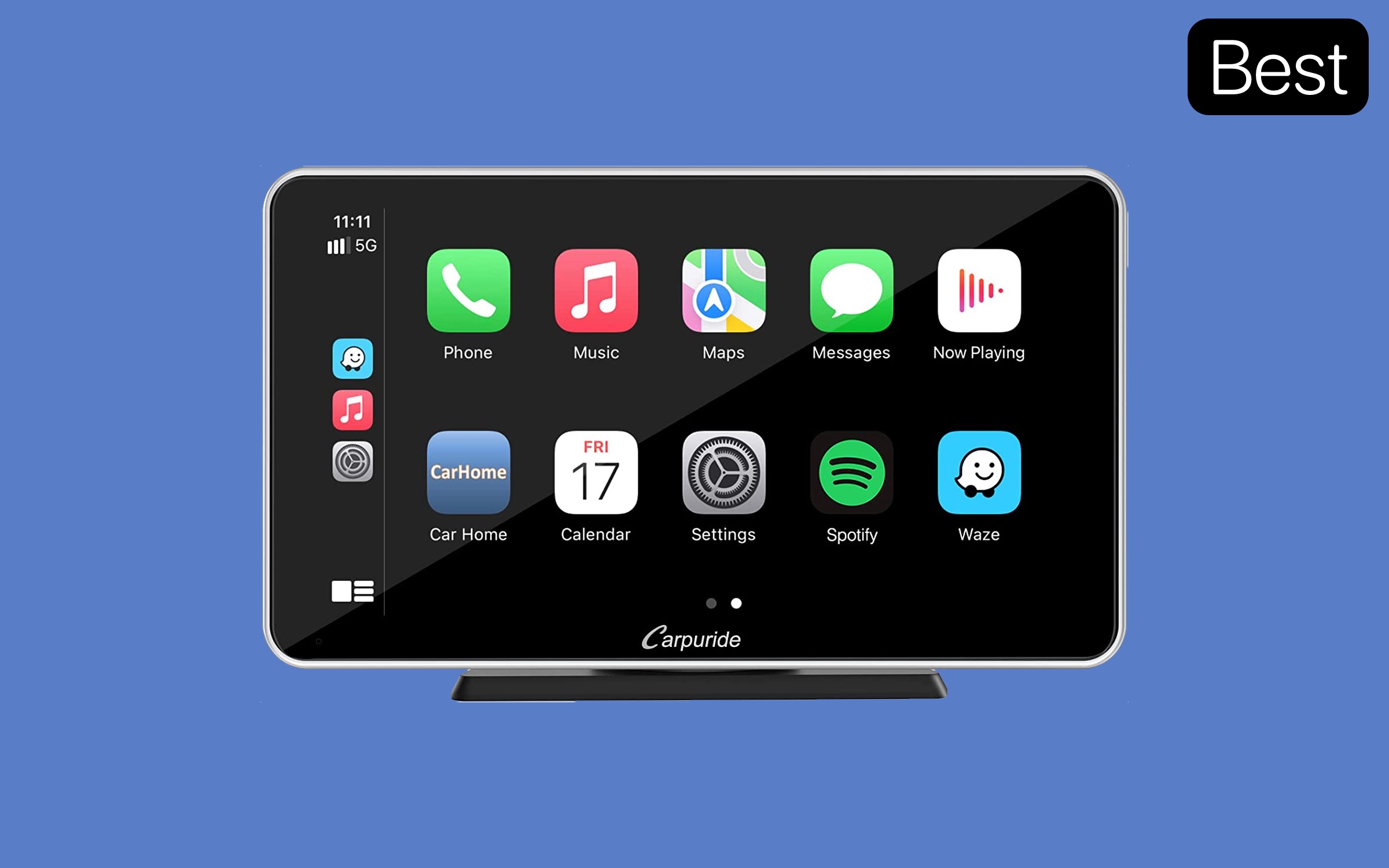 When you get in your car, you connect your phone to the Bluetooth head unit and put it in the dock. You will find music, navigation, and everything else you need for the next countless minutes/hours. The Best portable CarPlay system is designed to revolutionize how you use your phone in your car by creating a second display.
The CarPlay system is iOS on wheels. It's not a blown-up version of your phone (which wouldn't make sense), but rather an interface designed to make it easy to use while driving. You can use your voice to make phone calls, navigate to places, listen to music, and send texts. Installing a CarPlay will keep you focused while driving. So you can finally text and drive without getting a ticket!
In this post, we have listed some of the best portable CarPlay Displays for cars that you can get in 2023. With the help of these amazing portable CarPlay head units, you can add CarPlay to any car that does not have it. This allows owners of older vehicles to enjoy the same CarPlay functionality that is available in newer models.
Best Portable CarPlay Displays for Cars
Getting CarPlay in your vehicle can be accomplished in two ways: purchasing a car with an already installed CarPlay system or getting aftermarket head units. The easiest way to get CarPlay is clearly to buy a new car, but it's also the most expensive. In addition, if you are not looking to purchase a new vehicle, it's highly impractical. An aftermarket head unit is the best option in that case.
Here are your options for the best portable CarPlay touchscreen.
1. Carpuride 2023 Newest Wireless Apple CarPlay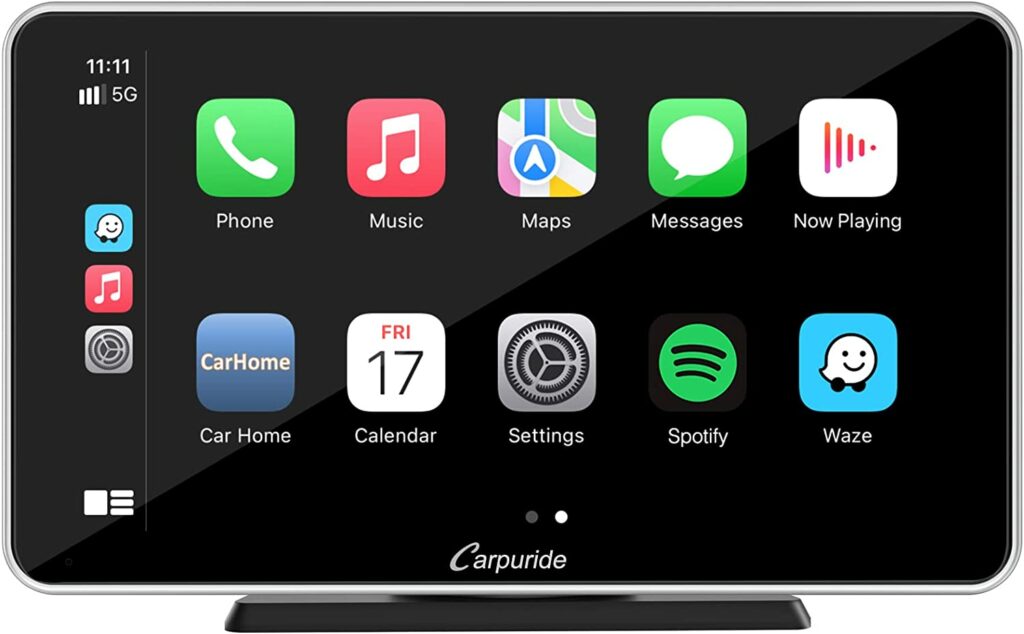 A wireless car stereo from Carpuride is compatible with Apple CarPlay, Android Auto, and wireless mirror link.
When driving, you can use your smartphone and Siri/Google Assistant to make calls and listen to music without taking your eyes off the road. It secures your dashboard console mounted or windshield with a suction mount and self-adhesive bracket and is easy to remove and store.
The 7-inch IPS display supports 1080P video playback and has a resolution of 1024 x 600 pixels. This allows you to access map features, movies, and music!
There is no better car stereo than the Carpuride. So add CarPlay to your car today!
Buy Carpuride 2023 Newest Wireless Apple CarPlay for $279.99 here
2. Hinine Portable Wireless Touch Screen Apple CarPlay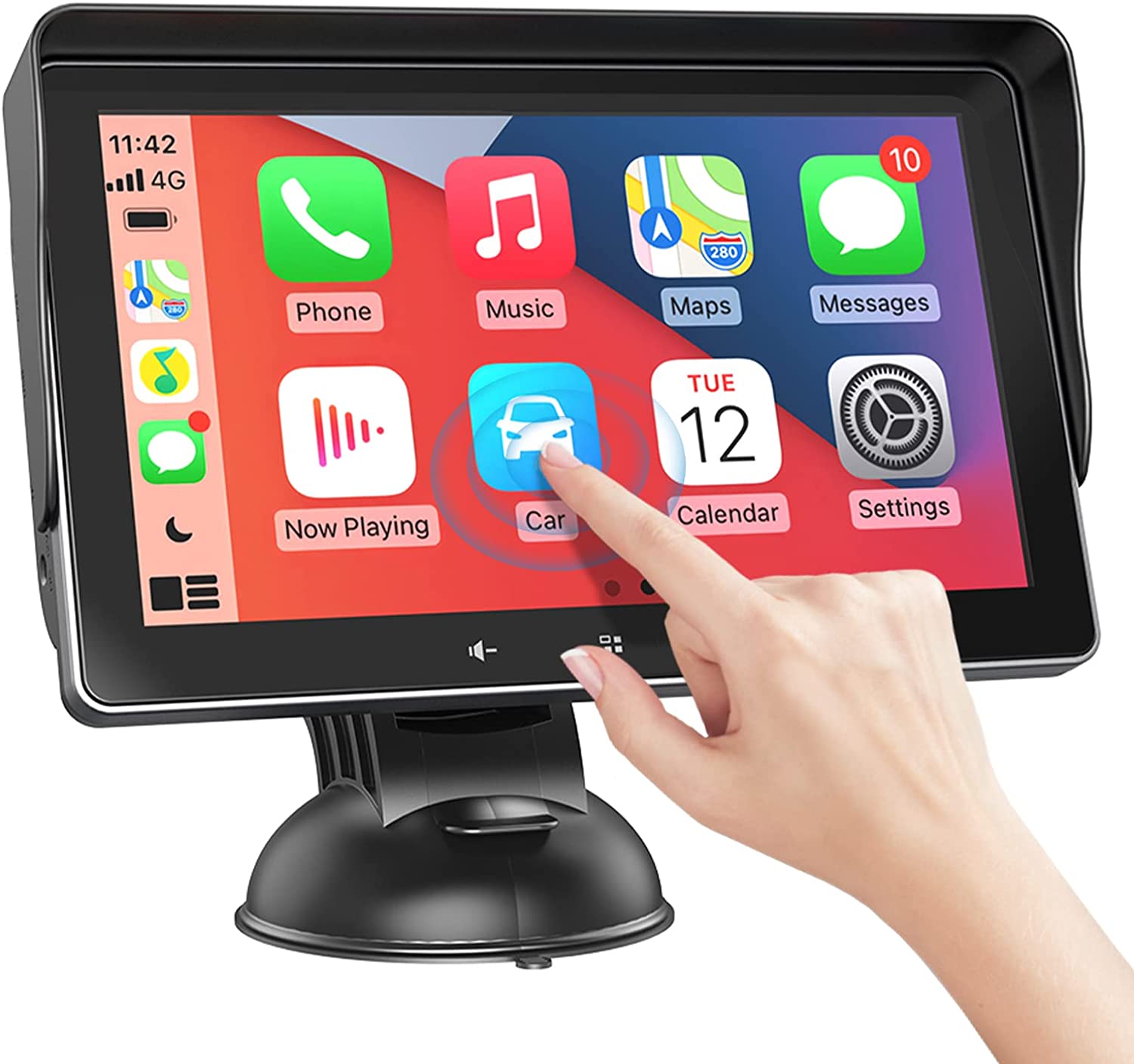 In addition to the dual din touch screen car stereo, Hinine Auto includes a sturdy suction cup holder attached to smooth surfaces such as windshields or dashboards. There is no need to disassemble the car console. Keep the original radio, and you can coexist seamlessly.
You can now use iPhone/Android Auto in your car in a smarter, safer, and more fun way. The voice control feature makes making calls, navigating Google Maps, playing music, and receiving text messages easier.
The mounting bracket for the Apple CarPlay monitor on the double din car stereo covers all angles, supports 360-degree rotation, and plugs directly into the car stereo. You can easily connect and synchronize content (video, GPS, etc.) via the original data cable with the Android/IOS mirroring function. If you take the kids on a long trip, you can mirror movies for them to watch.
This portable car radio CarPlay has a built-in speaker, but if you want more volume, you can use the car speaker instead.
Buy Hinine Portable Wireless Touch Screen Apple CarPlay for $109.99 here
3. Spedal Wireless Apple CarPlay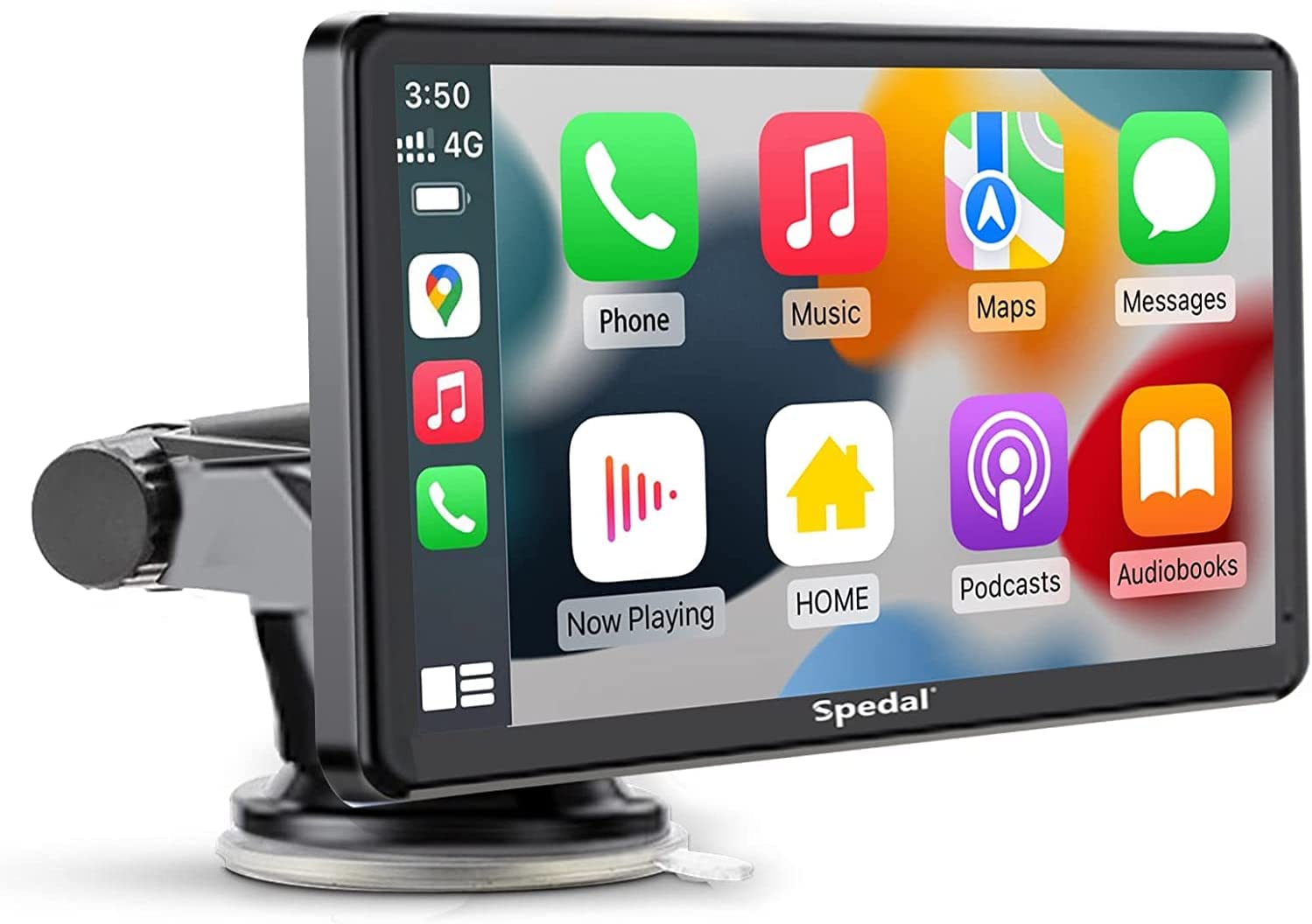 Spedal's portable CarPlay unit lets you connect your phone wirelessly to your car's infotainment system, providing a seamless and convenient experience. Simply put your iPhone in the car, and it will connect to the system automatically. CarPlay allows you to control your iPhone using Siri's voice commands through your car's touchscreen display and access your iPhone's apps, maps, and other features.
It has an HD front camera with an HDR function that automatically balances the lighting in bright and dark areas, providing a more accurate image. A 360-degree adjustment of the camera allows it to become a baby cam in the backseat of the car (equipped with a 32G TF card for loop recording).
When you connect your iPhone and CarPlay to the same Wi-Fi network, you can select the AirPlay icon on your iPhone and choose iPhone Screen Mirroring, and you are ready to go. AirPlay-enabled devices can receive audio or video wirelessly from users' devices.
Spedal Navigator supports map applications such as Google Maps, Waze, etc. Unlike traditional navigation devices, a Spedal navigator for cars can navigate with the mobile phone map in real-time, without frequent updates. It boasts a 7-inch HD IPS display with a more intuitive visual experience.
Buy Spedal Wireless Apple CarPlay for $179.99 here
4. Westods Portable Wireless CarPlay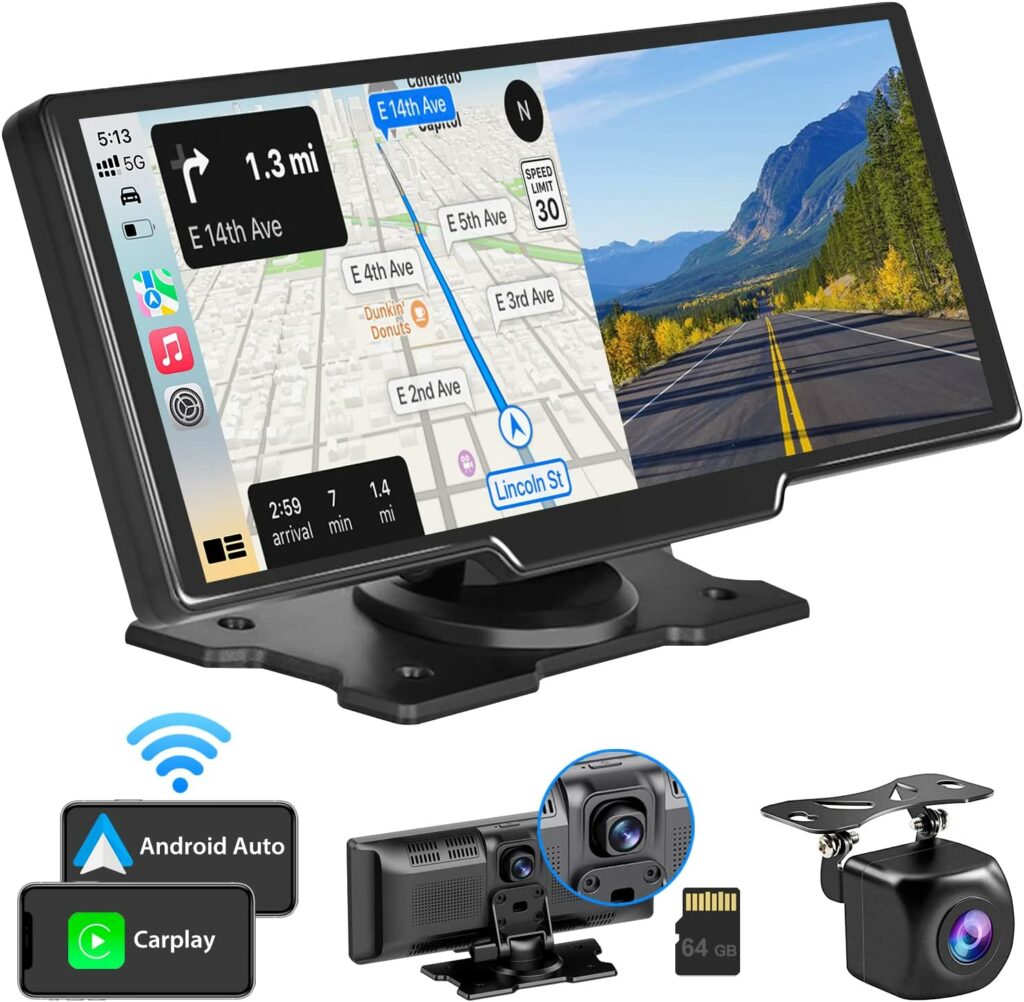 Bluetooth and Wi-Fi allow you to connect your phone to your car radio and access features such as music, navigation, texts, and other functions while driving. Furthermore, it supports voice control using Siri or Google Assistant, eliminating the need to touch the screen and just speak commands, making driving safer and more comfortable. So, no more getting lost while trying to figure out how to work the radio – thank goodness!
This device has a front-facing 2.5K HD camera and a rear-facing AHD camera. You can split the screen on this touchscreen dash cam. When you reverse, the front and rear views are displayed on the screen simultaneously, which is safer and more efficient. It comes with a 64G TF card, and once the card is inserted, the recording mode will be automatically activated.
This car radio has Bluetooth connectivity, allowing you to make hands-free calls and stream audio, making it safe and convenient to use. There is an in-built speaker, but you can connect it to your car's speakers if you want a louder sound. With the FM Transmitter, the car radio can connect to it via a frequency-to-frequency wireless connection; it just needs to remain on the same channel as the original FM radio. You will be able to hear all sounds through the original car speaker.
All in all, against SD cameras, the HD IPS screen on the car DVR can record high-resolution images at 1600×600 and a wide viewing angle of 178°. This enhances the viewing experience and creates a larger visual effect.
Buy Westods Portable Wireless CarPlay for $186.98 here
5. LSLYA Newest Portable for Apple CarPlay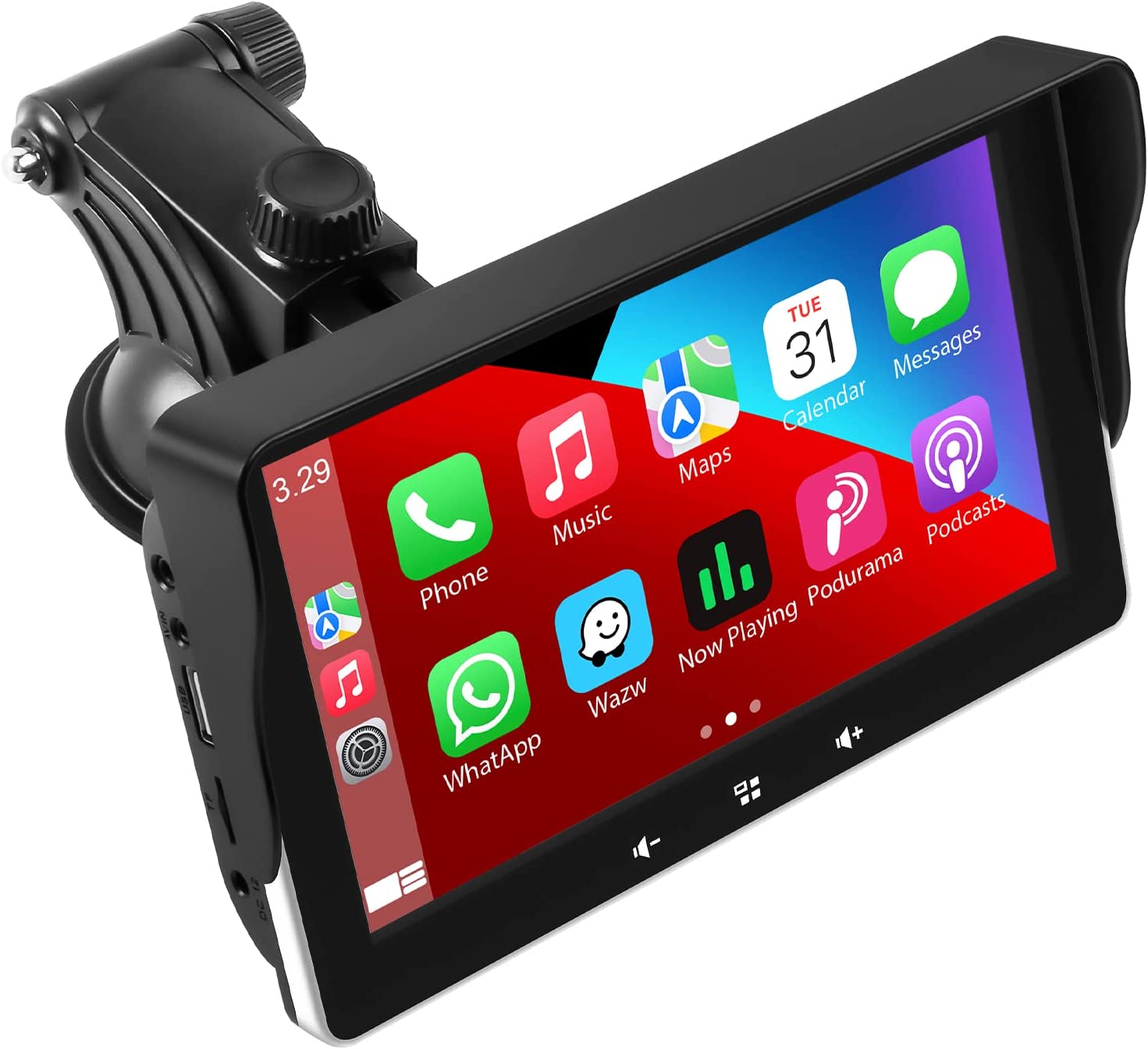 With LSLYA car stereos, you can wirelessly use Apple CarPlay and Android Auto. You just need to connect your smartphone via Bluetooth. You can do so much more with wireless navigation, messaging, phone calls, music, email, notifications, etc. The Google and Siri assistants on your device can even control phone calls, navigate, and play music, all so you can focus on the road, keep your hands free, and drive safely.
Integrated Bluetooth 5.0 chip makes the Bluetooth signal more stable. Hands-free Bluetooth calls, music playback, and voice control are all possible with the Bluetooth hands-free system, which is ideal for travel or driving.
It has an AUX cable to connect to your car's auxiliary audio input and transmit voice to the original car radio. You can listen to radio, television, news, music, and travel information when driving.
It features a 7-inch 1080P HD touch screen, supports USB, TF, and AUX connections, a music player, and a video player. It not only performs various functions, but it also charges your phone. This model operates between 9V and 26V and is suitable for all models, including trucks and buses.
Buy LSLYA Newest Portable for Apple CarPlay for $135.99 here
6. KECAG Portable Car Stereo for Apple CarPlay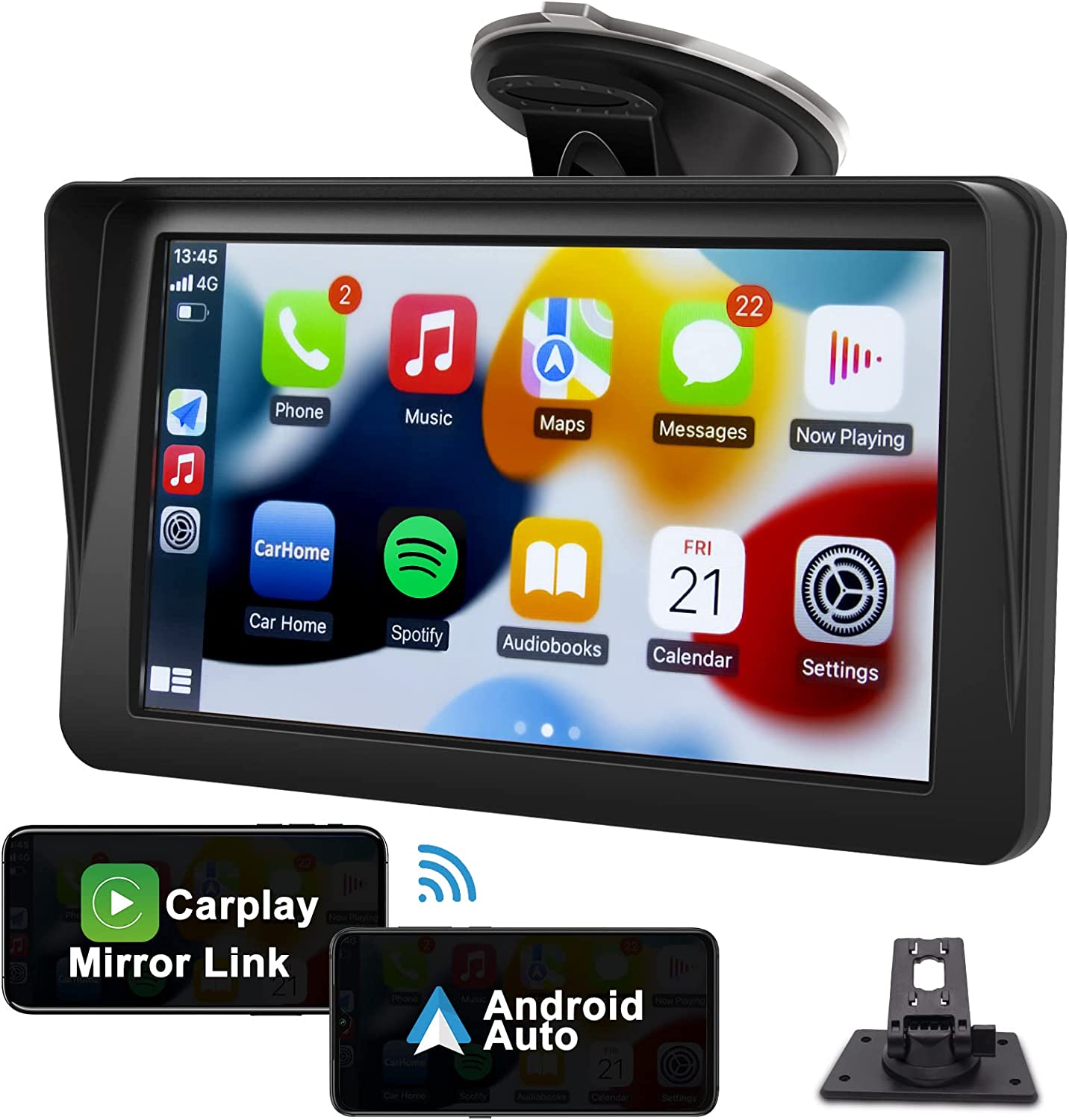 The Bluetooth 5.0 chip in this car stereo enables more reliable wireless connectivity and pairing. Hands-free operation and a built-in microphone allow you to make calls louder and clearer, listen to music, receive text notifications, and even control your device with your voice. This allows you to concentrate more on the road and drive safely.
With the KECAG Portable Car Stereo, you can connect AUX cables and wireless FM tuning to pair with car audio channels and hear a voice over the original car audio system. It supports USB/TF cards and a 7-inch 1080P Full HD touch screen.
It is compatible with any car or truck that runs on 12-24V. You can easily transport and fit it in your vehicle, and it's lighter and more portable than a typical car stereo. It can also be packed in your backpack and used when you rent a car when you travel.
A self-adhesive and suction cup bracket make attaching and removing a car stereo receiver easy. In just 10 minutes, you can upgrade your car stereo without disassembling it or requiring installation experience.
Buy KECAG Portable Car Stereo for Apple CarPlay for $139.65 here
7. CAMECHO Newest 9.3-Inch Wireless Apple CarPlay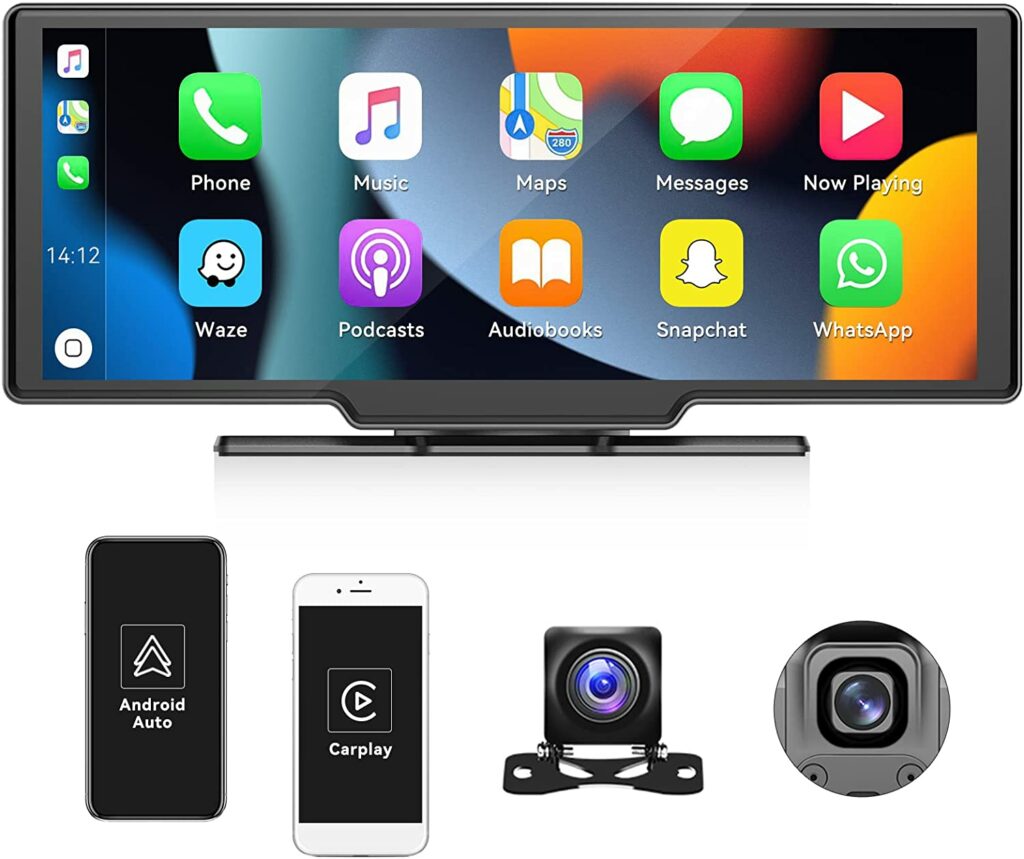 This car stereo comes with a full-HD 9.3-inch touchscreen for better operation and a slip-screen display that simultaneously displays both the front and rear view. It is also capable of just displaying the front or rear view.
This kit has an HD dash cam and a 32GB TF card for capturing clear views and recording road conditions. A safe parking system with dual cameras would make driving safer. The front camera is original with HD 1080P high resolution, and the CarPlay radio supports loop recording.
Featuring a waterproof and super night vision backup camera for safe and convenient reversing. Kit includes 10m/32ft extension cable for various long vehicles.
You can install this CarPlay display on your dashboard, and it's easy to plug and play via your cigarette lighter. Car stereos work with a voltage setting of 7-32V instead of a general 12V setting.
Buy CAMECHO Newest 9.3 Inch Touchscreen Wireless Apple CarPlay for $169.99 here
8. REAKOSOUND 2023 Newest Portable Car Radio with Apple CarPlay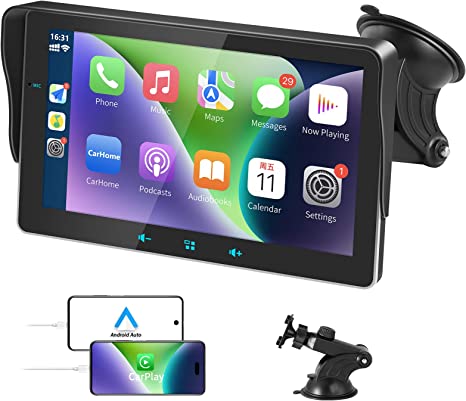 The car radio from REAKOSOUND supports an AUX cable that connects to the original car radio's auxiliary audio input. You can enjoy driving time listening to broadcast TV, news, music, and travel information accurately.
With Bluetooth 5.0, the Bluetooth signal is more stable, thanks to the higher specifications of the chip. You can make hands-free calls through Bluetooth pairing, play music, and control the car stereo via voice commands. Streamline your driving and make it safer.
It features a 7-inch HD 1080P car radio MP5 player that allows connection to USB, TF cards, AUX, music player, and video player. You can sync your smartphone to the touch screen via the USB cable to enjoy full features like maps, movies, and more! This device operates from 9V to 26V and is suitable for all models, including trucks, buses, etc.
Buy REAKOSOUND 2023 Newest Portable Car Radio with Apple CarPlay for $169.99 here
To Conclude
Add CarPlay to any car and enjoy your trips. Any of the above-mentioned CarPlay will eliminate the need to use your smartphone while driving. So choose one wisely and then spend your money!
Good luck.
Was this article helpful? Let us know in the comments section.