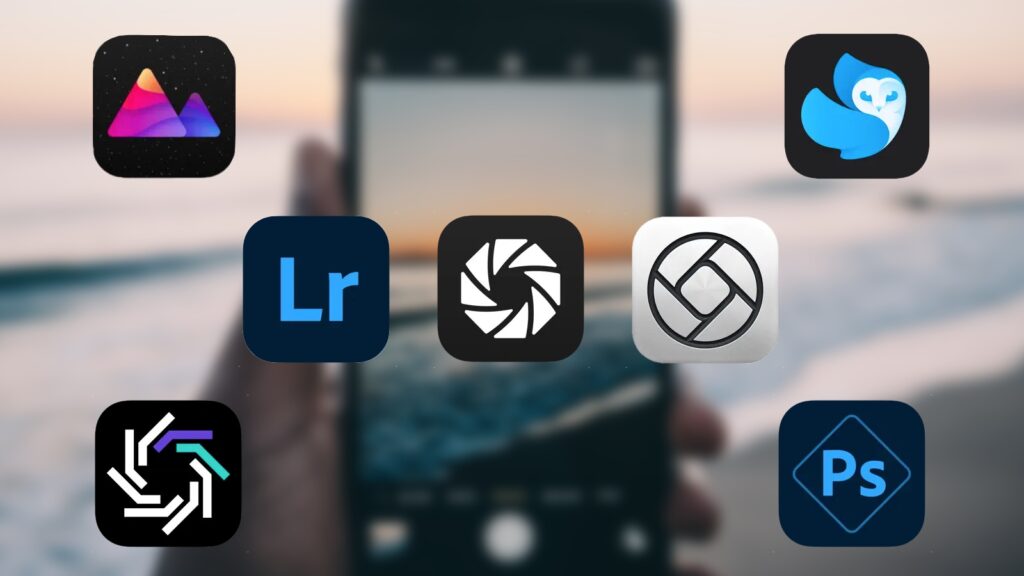 In this post we have listed some of the best iPhone photography apps that you should check out in 2023. These apps include professional photography and editing features that make them a must have for any iPhone photography enthusiast.
We are no longer confined to carrying around our bulky DSLRs in hopes to nail the perfect shot. Despite the advantages DSLRs offer over phone cameras in terms of quality, smartphones offer far greater convenience. 
As smartphones have practically replaced point-and-shoot cameras, it's easy to overlook them as simple devices for snapping quick snapshots. However, smartphones offer an incredible variety of apps and are indispensable to all photographers.
If you use your DSLR for photoshoots and wish to use your phone for location scouting and planning, or if you want to shoot and edit on your smartphone, we have you covered.
We have put together a list of the best photography apps for iPhone.
Best Professional Photography Apps for iPhone
Photo editing apps allow you to edit photos and make behind-the-scenes videos at a professional level while choosing the best location, angle, and time for your shoot.
So, what are you waiting for? Get ready to say cheese at any time and download any of the following iPhone photography apps.
1. Lightroom Photo & Video Editor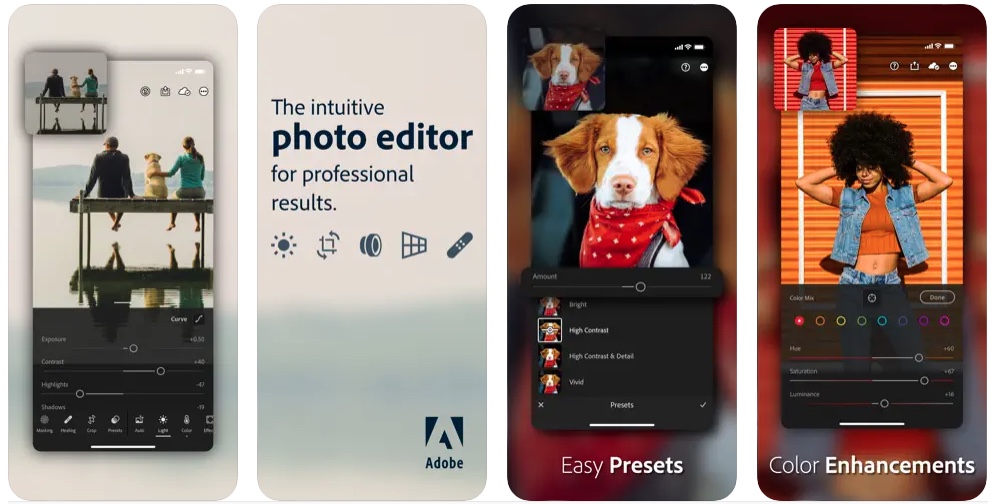 Adobe Lightroom is a popular name in the photo editing world. A free photo and video editing program from Adobe, Photoshop Lightroom lets you capture and edit stunning images with powerful presets.
The Lightroom Mobile app is a slimmed-down version of the full-featured computer program. It comes with a large number of presets that make editing your photos fast and easy.
With Lightroom, you can retouch your photos and videos, remove objects from your pictures, and fine-tune your backgrounds with camera filters ─ all in one editing app.
When editing photographs, you can increase clarity and remove haze, as well as adjust colors for a more natural appearance. It is also possible to create and use your filters with a single tap.
You can use the premium version to work with advanced features like the Healing Brush, Selective Adjustments, and Geometry Adjustments.
Install Lightroom Photo & Video Editor from the App Store now
2. Lightleap by Lightricks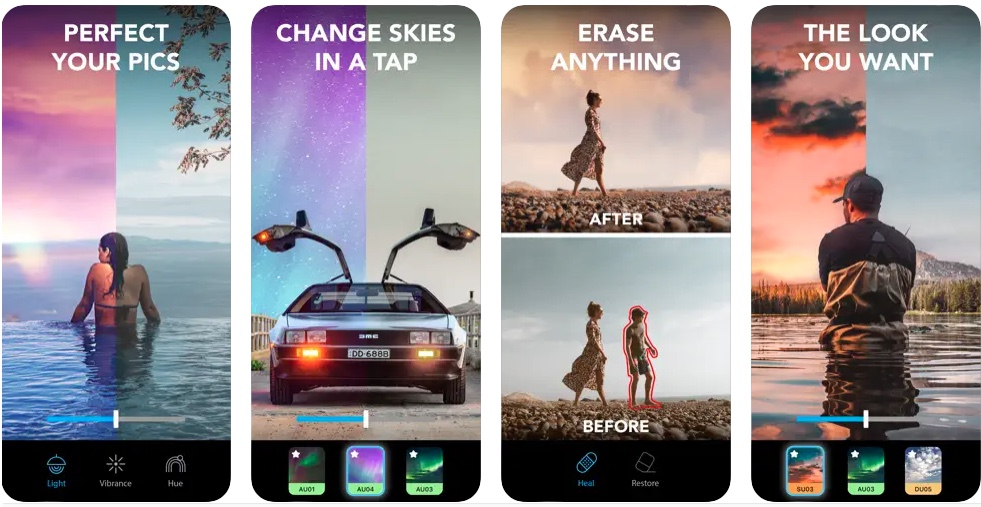 Sometimes your photos don't turn out exactly as you expected. A photo you shoot on your phone just doesn't capture the awesomeness of the scene. Usually, the background is too blurry, the lighting isn't right, or the scenery needs retouching – that's something only an experienced editor can handle, no?
With Lightleap, you can change all that! You can capture or enhance the beauty you see with your own eyes with this editor app. Filters, effects, and retouch tools at your fingertips turn you into an editor.
You don't need to spend countless hours trying to figure out how to use professional editing software. Lightleap app uses pre-set filters and effects to retouch your photos into eye-catching images with a professional vibe.
Every photo you take from now on will be picture-perfect with features like the background sky, the healing feature, the effects, filters, and looks.
Install Lightleap by Lightricks from the App Store now
3. Photoshop Express Photo Editor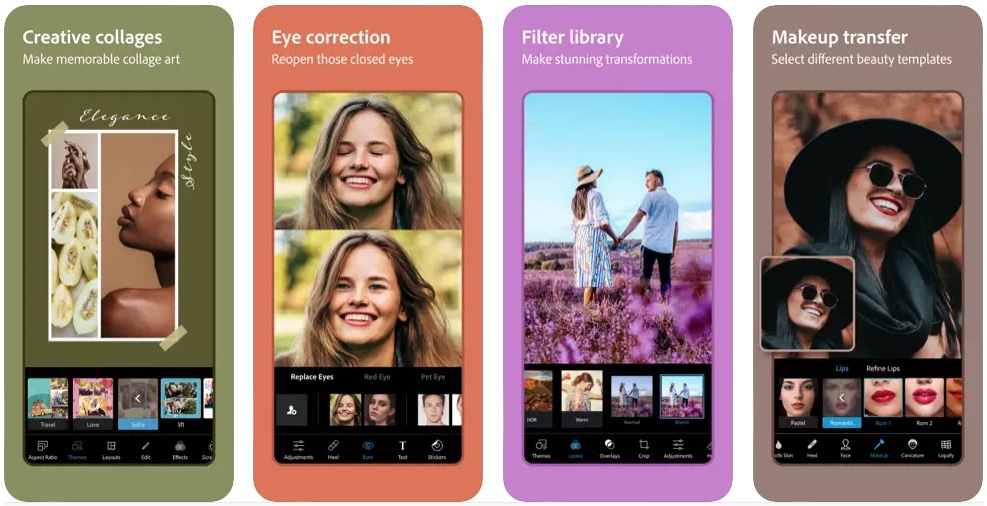 You don't have to be a professional photographer to edit stunning photographs. You can edit your photos all by yourself with Photoshop Express!
The app makes complex edits incredibly simple. Get the tools you need to create anything you can imagine, from cutouts to layouts to multi-layer adjustments.
Photoshop Express–an easy-to-use picture editor for one-touch transformations and photo editing–enables you to unleash your creativity on the go. Take pictures with ease and make your favorite moments even better with this easy-to-use app.
With Photoshop Express, you have access to a wide variety of features and effects at your fingertips. Using this photo editing app, you can customize and perfect your experiences by adding stickers and overlays, blurring images, and adding Looks filters. Using the app, you can create photo collages, generate memes, and fix/enhance your share-worthy moments for stunning social media posts.
Take advantage of Photoshop Express Premium to unlock unlimited possibilities!
Install Photoshop Express Photo Editor from the App Store now
4. GuruShots – Photography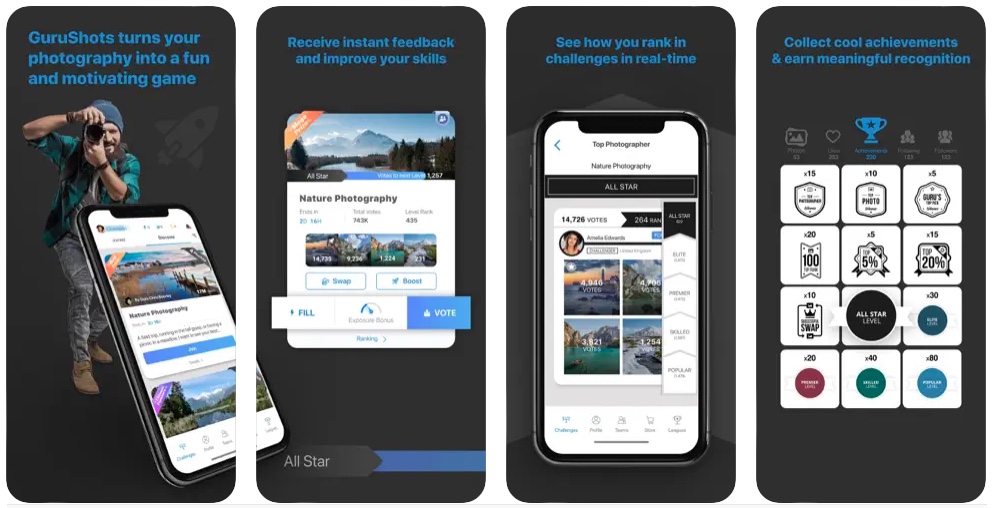 Your photography becomes more exciting, rewarding and fun with GuruShots.
GuruShots is an extensive photography community for mobile creators, DSLR photographers, and everyone in between.
The app gives you a chance to get inspired by some of the most talented creatives around the world, from mobile apps to hobbyists and professionals.
Just grab a camera and get ready to join the game! Take your photography up a notch, learn how to do it, find your style, and get the exposure you deserve. Take on fun and challenging gameplay that will put your creativity to the test.
You can receive instant feedback from photographers around the world who can help you improve.
Using the app, you can become a part of an exhibition challenge to have your photos displayed in international exhibitions.
Install GuruShots – Photography from the App Store now
5. RAW+

The RAW+ is a minimalist camera for purists and professionals alike.
Unlike other apps on this list, RAW+ is not classified as a photo-taking app. You can use the app to keep track of your iPhone and iPad photos with a digital asset manager, or DAM. The app includes RAW files, regardless of whether they were taken with the camera on the phone or from another source.
Among all of the apps presented in this article, we think this one is the most similar to Lightroom. The app allows you to adjust exposure, and curves, order and arrange photos, as well as edit various elements. Additionally, you can edit Depth Effect images captured with an IOS dual camera as soon as they are captured.
Within the app, you can purchase add-ons that provide more advanced editing tools.
Install RAW+ from the App Store now
6. Halide Mark II – Pro Camera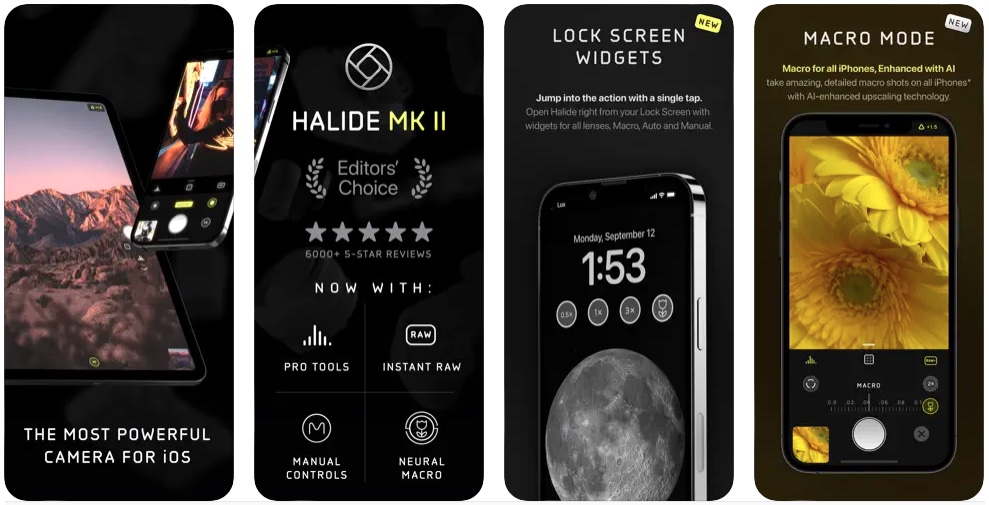 Halide offers the most powerful photography for iPhone in the most elegant, simple design.
It is an app that promotes deliberate and thoughtful photography. Halide is your go-to camera when you want to take a quality photo rather than just a quick snapshot, thanks to its high-end tools and beautiful interface.
With Halide, you can change exposure and manual focus by swiping a finger or switching between automatic and manual shooting. Halide offers the most powerful professional tools in the App Store, such as XDR (Extended Dynamic Range) 14-bit RAW streaming waveform views, zebras, and focus assist features, such as focus peaking and loupes, as well as histograms and an adaptive level grid. Customize controls to adapt the app to your needs.
Install Halide Mark II – Pro Camera from the App Store now
7. Darkroom: Photo & Video Editor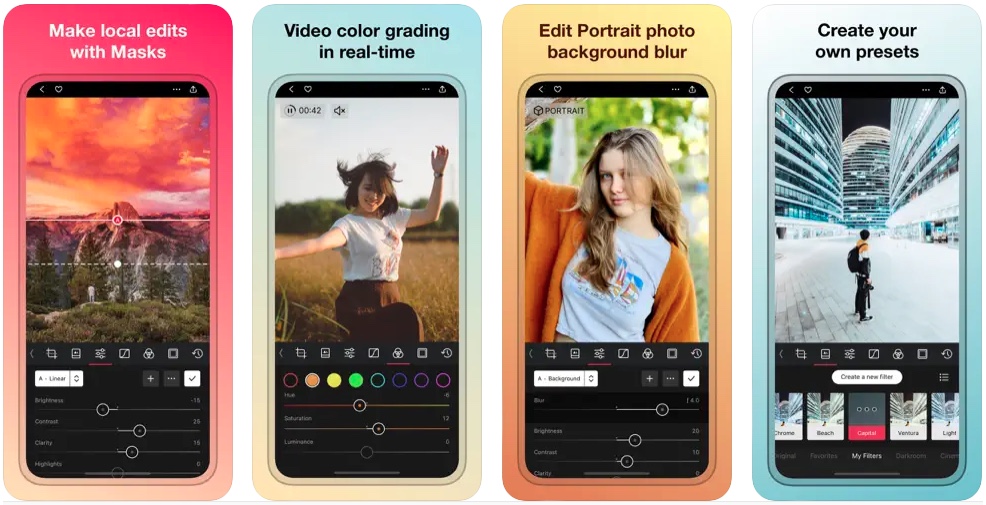 The Darkroom is transforming photo editing for the mobile-centric and computational future. A powerful AI-driven algorithm in the app makes photo editing easier and more efficient for iPhone photographers.
You can edit the primary subject, foreground, background, and any range in between with powerful algorithms that generate a 3D map of your photo.
With deep integration into all of the latest platform features, it is accessible as a single universal app on iPhone, iPad, and macOS.
Install Darkroom: Photo & Video Editor from the App Store now
Conclusion
It's no longer a joke to take pictures with your smartphone. Capturing moments is a serious business, and there are plenty of mobile apps available to suit your photography needs.
All the above-mentioned photographic apps can help you take and edit photos, letting you share your best work and making your photoshoots top-notch.
This was our list of the best apps for professional photographers available today. We hope you find the one that best suits your needs.
Here's your chance to take Instagram-worthy pictures to inspire the world.
What is your favorite photography app? Let us know in the comments section.