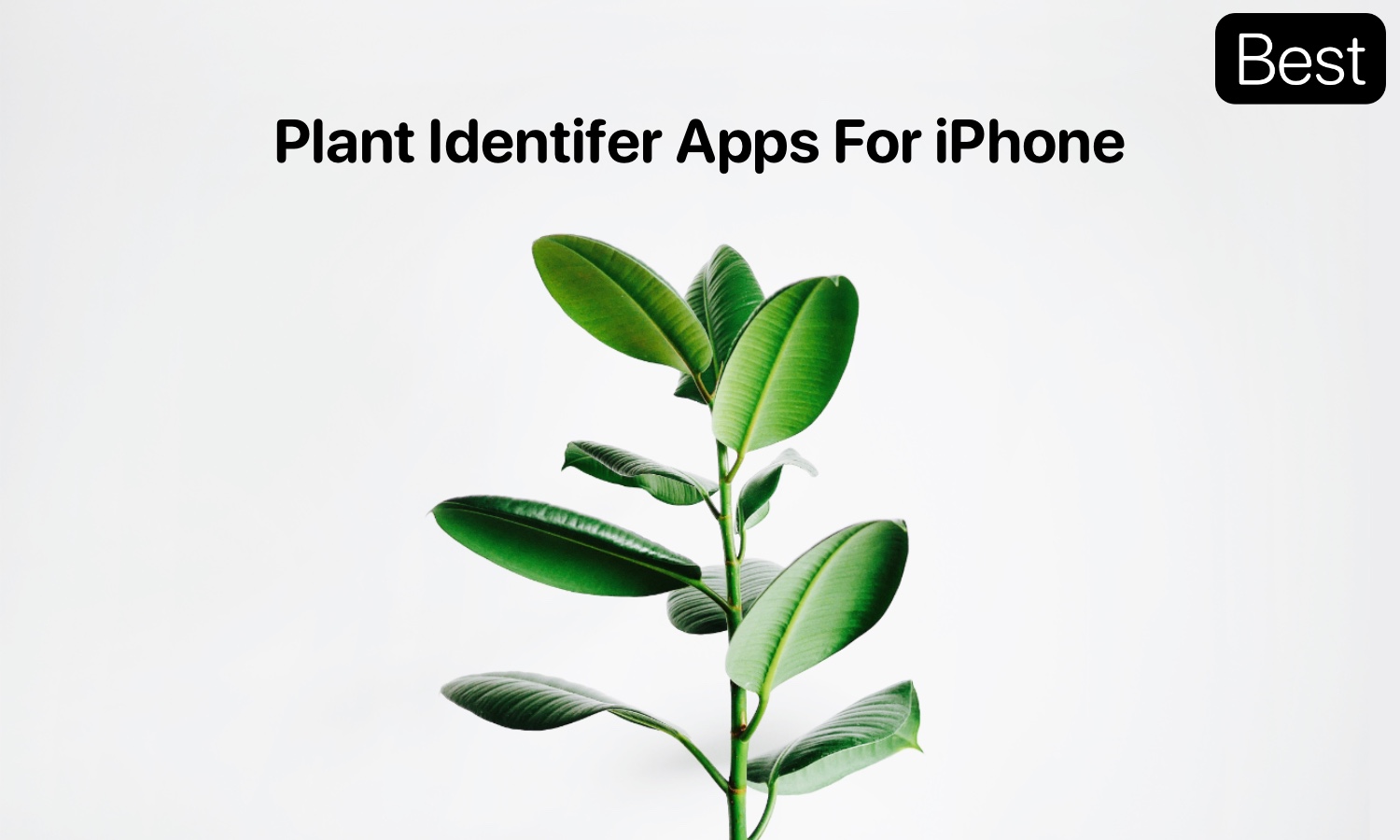 In this article, we have listed the best free plant identification apps for your iPhone. With these apps, you can connect with nature, learn which plants are dangerous, and even introduce your children to nature.
Whether you're a gardening enthusiast, a wildlife explorer, or just curious about nature, there must have been a time when you spotted a beautiful, unknown plant and were left clueless about its name and species. A quick Google search may be helpful in some cases, however, if the plant lacks any distinctive features, finding out its species can be a challenge.
Well, lucky for us, all the information we need is just a snap away. In this article, we have handpicked the leading plant recognition apps you can use to identify any plant nearby.
1. PictureThis – Plant Identifier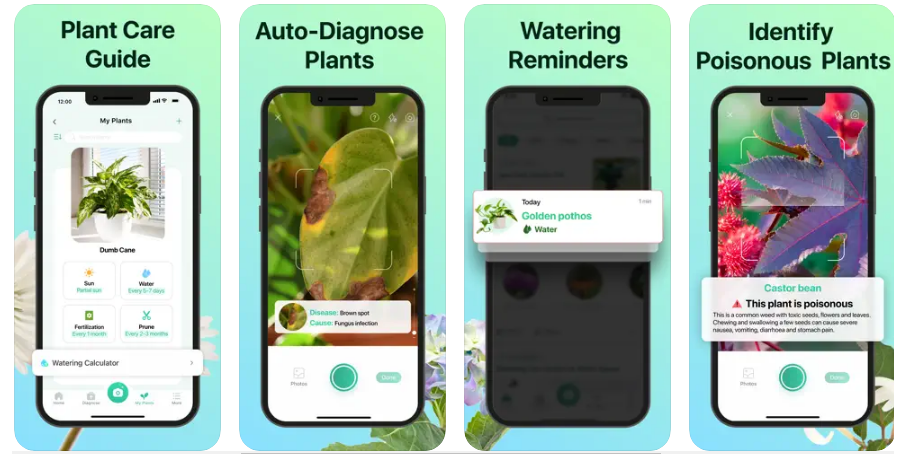 PictureThis boasts a massive database to the point where it regularly identifies 1,000,000+ plants with 98% accuracy worldwide. The AI-driven identification system on the app only needs a plant picture to show information, can help keep track of all your plants, and offers personalized plant recommendations for your next purchase.
The free plant identifier can act as your full-time botanist as it offers one-on-one consultation with the experts to get comprehensive plant care and treatment advice. PictureThis is truly a one-stop shop to identify any and all plants, flowers, shrubs, trees, or herbs.
Key Features:
Got a sick plant? Take a snap and the app will auto-diagnose the disease and provide the treatment information to cure your plant.
Take better plant care as the app sends notification reminders when it's time to water, fertilize, mist, clean, and re-pot.
The light meter on the app can track how much sunlight your plant is getting.
Identify poisonous plants and keep your pets, children, and family safe.
Install PictureThis from the App Store now
2. Plant Identification ++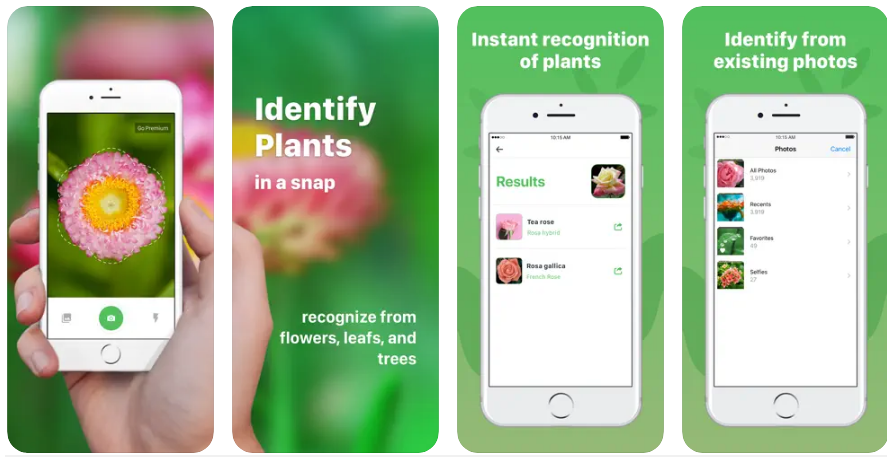 Not many free plant identification apps for iPhone can provide you with the features Plant Identification ++ offers. The app's advanced machine-learning algorithm can identify thousands of plants, flowers, trees, and leaves within seconds just using a picture.
The super fast and convenient AI along with a massive database is great for gardening fans and horticulture specialists. The developers are planning on introducing a community for plant enthusiasts and a place where you can get comprehensive plant care tips to take better care of your green friends.
While the app is free to download, it does contain some in-app purchases that unlock a myriad of amazing features.
Key Features:
The app offers an easy-to-use and simple interface for all ages.
Accurately identify flowers, succulents, cacti, trees, shrubs, leaves, and more.
Users can check their plant history at any time.
Users can share a picture of plant details with anyone they like.
You can either take a photo at the time or upload a photo from your gallery to identify a plant.
Install Plant Identification ++ from the App Store now
3. PlantSnap – identify plants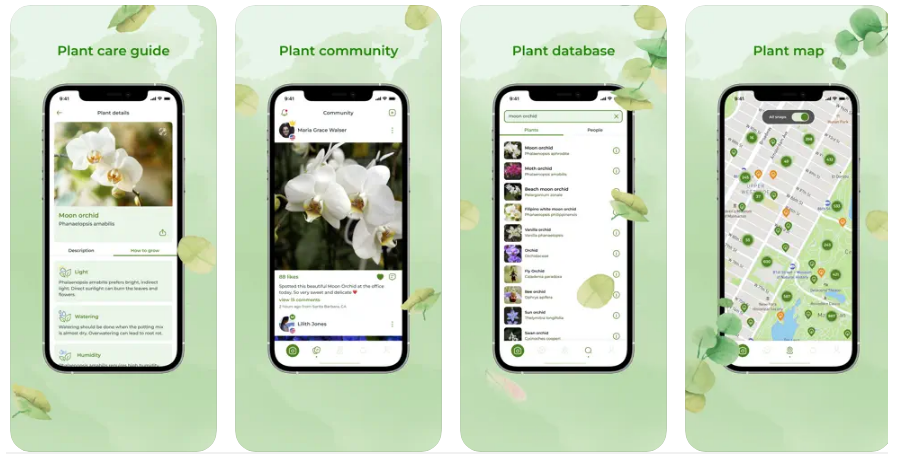 Rivaling with its competitors, PlantSnap can instantly identify over 600,000 types of plants, flowers, trees, succulents, mushrooms, cacti, and more while connecting you with over 50 million nature lovers in over 200 countries.
You can learn how to grow and care for thousands of plant species, share photos with your friends, learn about rare plants from around the world, and share your gardening expertise with others as well. Moreover, the plant snap app offers an "Explore" function, where you can use SnapMap to find identified plants anywhere on the planet.
Key Features:
The algorithm is retrained and improved monthly by using images taken by users around the globe.
Users can get detailed information about the taxonomy of any orchid, indoor, ornamental, exotic, and other plants just by searching the species
Users can access their plant discoveries whenever they want and create their own library.
Using augmented reality technology, users can zoom in on the photos and see tiny bits of details on their favorite greenery
Install PlantSnap from the App Store now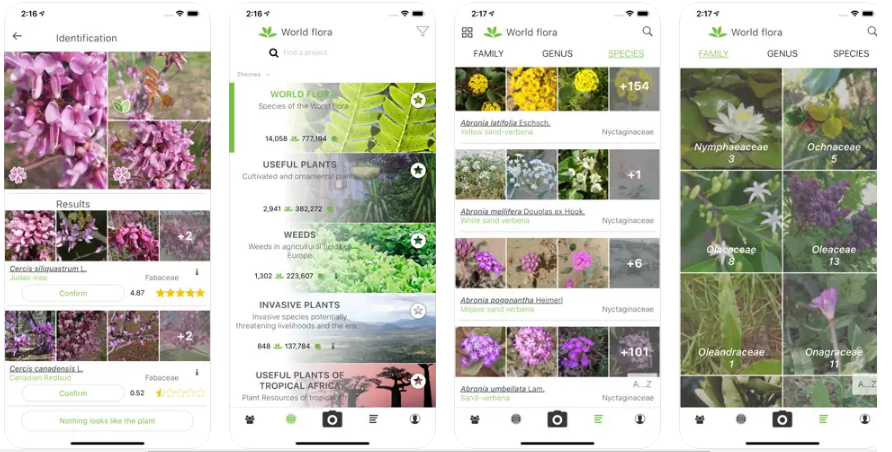 What's better than getting to identify a unique plant and also becoming part of a citizen science project?
To better understand and preserve the evolution of plant biodiversity, the plant identifier by picture app collects all user-photographed images and gets them analyzed by scientists around the globe.
So, not only are you your own botanist, but also play a significant role in the betterment of the plant world.
Key Features:
[email protected] can identify 20,000+ plant species and filter them by genus or family.
Offers multi-flora identification to search for the photographed plant.
Users can keep a selection of their favorite plants and access them quickly.
The observations shared by users are re-identified and mapped as per their location.
Users can easily navigate at different taxonomic levels in image galleries.
The app encourages users to provide more visual information by taking pictures of the plant up close, of flowers, fruits, and leaves, as well as thorns, buds, or hair on the stem to ensure accurate identification.
Install PlantNet from the App Store now
5. AI Plant Identifier – NatureID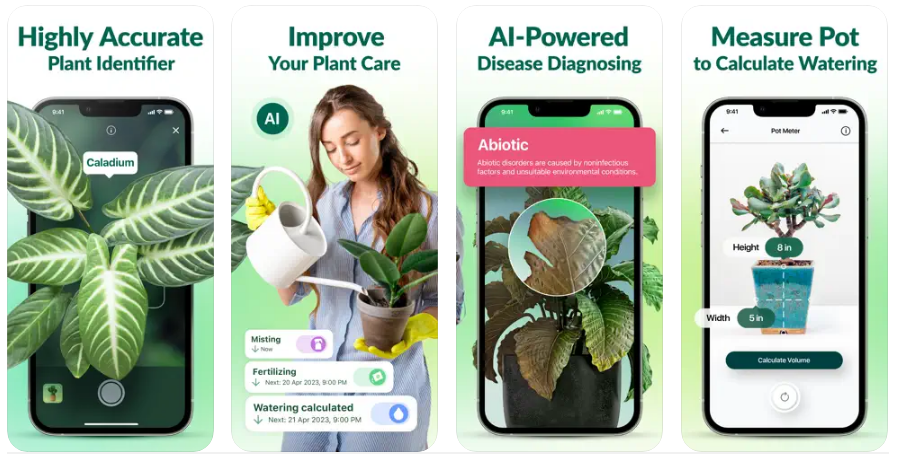 With a growing inventory of 15000+ plant species, NatureID is the best plant identifier for all plant noobs or new plant moms. Keep a journal, use reminders, and identify not just plants but mushrooms, rocks, minerals, and insects as well.
Key Features:
Users can search for a plant by its name or set custom filters and discover new plants.
The app can Identify diseases and the severity of the problem to accelerate the recovery of your sick green friends.
Users can set reminders to water, mist, and feed right in the app.
Use Light Meter to identify how much sun your plants need and Pot Meter to know the volume of the pot to repot your plant
Use the Water Calculator to estimate the optimal frequency and amount of moisture for your greenery.
Use Weather Tracker to get notified of weather changes and adjust your care routine accordingly.
Use Vacation Mode to share your plant care schedule with your plant sitters while you're away.
Install AI Plant Identifier from the App Store now
6. Plant Identifier AI – PlantMe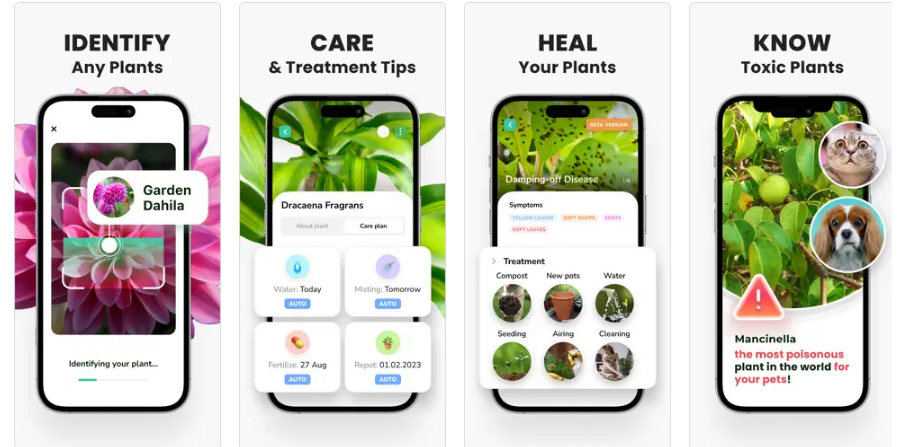 PlantMe functions as a field guide to all things foliage. An accurate, reliable, and free plant identification app, PlantMe is all about quick results, new planting knowledge, and treatment advice.
The app focuses more on plant health, diagnosing diseases, and suggesting cures and treatments to accelerate the recovery of your green pet. Additionally, PlantMe factors in the need for better plant care and helps users understand how to repot, when to fertilize, and how much light and water is needed by each plant.
Key Features:
Virtualize your garden by adding images of each plant you own or discover.
Get diagnosis and treatment plans from a team of botanists and professionals.
Identify dangerous and toxic plants to protect your pets, children, and family.
Be proactive and get a health checker for your plants to prevent diseases before it's too late.
Set reminders for watering, misting, repotting, and fertilizing schedules.
Share discoveries, achievements, and advice with a supportive global community of green thumbs.
Install Plant Identifier AI from the App Store now
7. Planto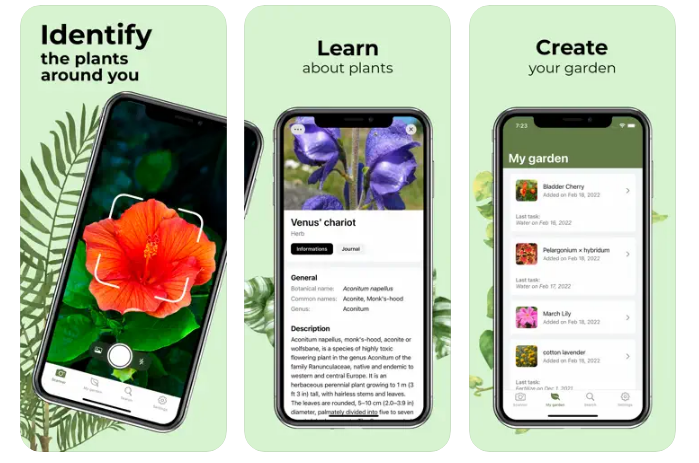 Planto is among the most detailed visual plant identifiers with a database of 10,000+ plants to appeal the plant enthusiasts. You can scan, organize, and learn to recognize the plants that surround you.
Although there is a free version available, most of the exciting features are only unlocked once you can make a subscription to the premium version for as low as $9.99 a month.
Key Features:
Scan any plants you see around you and learn all the characteristics to better recognize it
Learn all about the species, taxonomy, and other details of the plants through detailed explanations provided by experts
Take snaps of the most unique and beautiful plants and keep them in your virtual garden for as long as you like.
Install Planto from the App Store now
8. Blossom – Plant Care Guide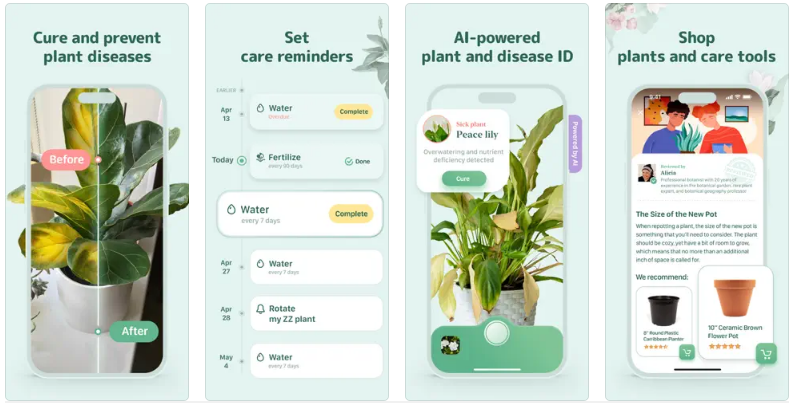 The Webby Awards "People's Voice Winner 2022" and one of the best free plant identification apps, Blossom simply makes you a better plant parent.
You can get those tricky plant questions answered by experts, find detailed plant care information, identify and recognize 12,000+ plant species, and consult the Blossom Assistant to identify your plant's problems and create a nurturing environment for your green buddies.
And with a premium subscription, you get unlimited plant & disease identification, unlimited reminders, and consultations with expert botanists on the go!
Key Features:
Get plant care information & automated reminders on watering, propagating, pruning, fertilizing, and more
Diagnose ailments, find what caused them, and how to treat and prevent them.
Get customized recommendations for watering and new plant care tools.
Get a personalized planting calendar, care reminders, weather alerts, and new plant recommendations.
Journal the growth of your plants, keep track of them, monitor their health, group them by type, and make your own wishlist.
Install Blossom from the App Store now
The Takeaway
Educating yourself or your little ones on plants has never been easier.
Plant identification apps are a great tool for a gardener or someone who loves nature and the flora-based bounty it offers. To improve your chances to accurately identify a plant we suggest taking multiple photos from different angles and various parts of the plant.
Happy planting!
Did I miss your favorite plant recognition apps? let me know in the comments below!