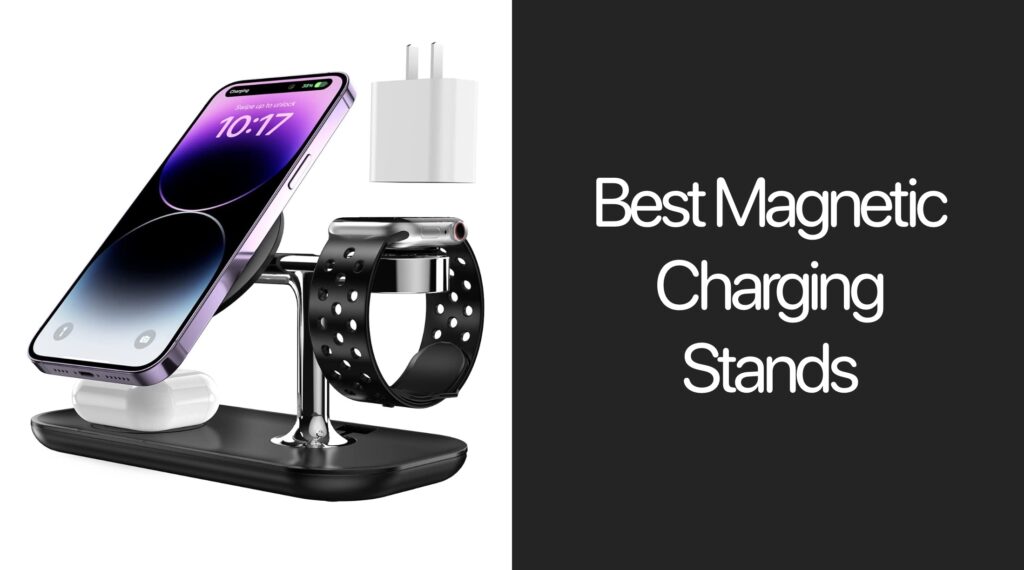 In this post, we have listed some of the best magnetic charging stands, that allow you to wirelessly charge your iPhone while keeping it in one place with the help of magnets. These charging stations also charge AirPods and Apple Watch as well.
There are many inefficiencies associated with wireless charging. Compared to a cable, it charges your phone slower, consumes more energy, and requires nearly perfect alignment on a charger pad. Even with its inefficiencies, it is still incredibly convenient.
Apple upgraded the iPhone 12 with a magnetic ring, dubbed "MagSafe," and things got a whole lot more interesting. MagSafe-certified chargers and charging stands charge your iOS devices at up to 15W, twice as fast as other wireless chargers – making them an excellent choice for those who need perfect alignment every time. Hence, MagSafe charging stands is the best way to charge your Apple devices in one go and save plenty of time!
Magnetic charging feature MagSafe is supported by a wide range of iPhone models. That means you can use MagSafe and other Magnetic chargers with the following iPhone models:
iPhone 14 Pro Max
iPhone 14 Pro
iPhone 14
iPhone 14 Plus
iPhone 13 Pro Max
iPhone 13 Pro
iPhone 13 mini
iPhone 13
iPhone 12 Pro Max
iPhone 12 Pro
iPhone 12 mini
iPhone 12
Along with these iPhone models, MagSafe charging is also supported by AirPods Pro and AirPods 3.
Magnetic Wireless Charging Station for Apple Devices
Put an end to cables cluttering your desk, nightstand, or wherever else you want with the best wireless chargers. The magnetic induction technology in these fast wireless charging stands transfers power to your Apple devices without cables, so you can power up without finding your USB or Lightning connector.
We've compiled a list of multi-device charging stands, ranging from plain to multi-functional (up to six devices can be charged simultaneously). Let's see what charging stand would suit your preferences.
1. IDOLCO Magnetic Wireless Charging Station for Apple Series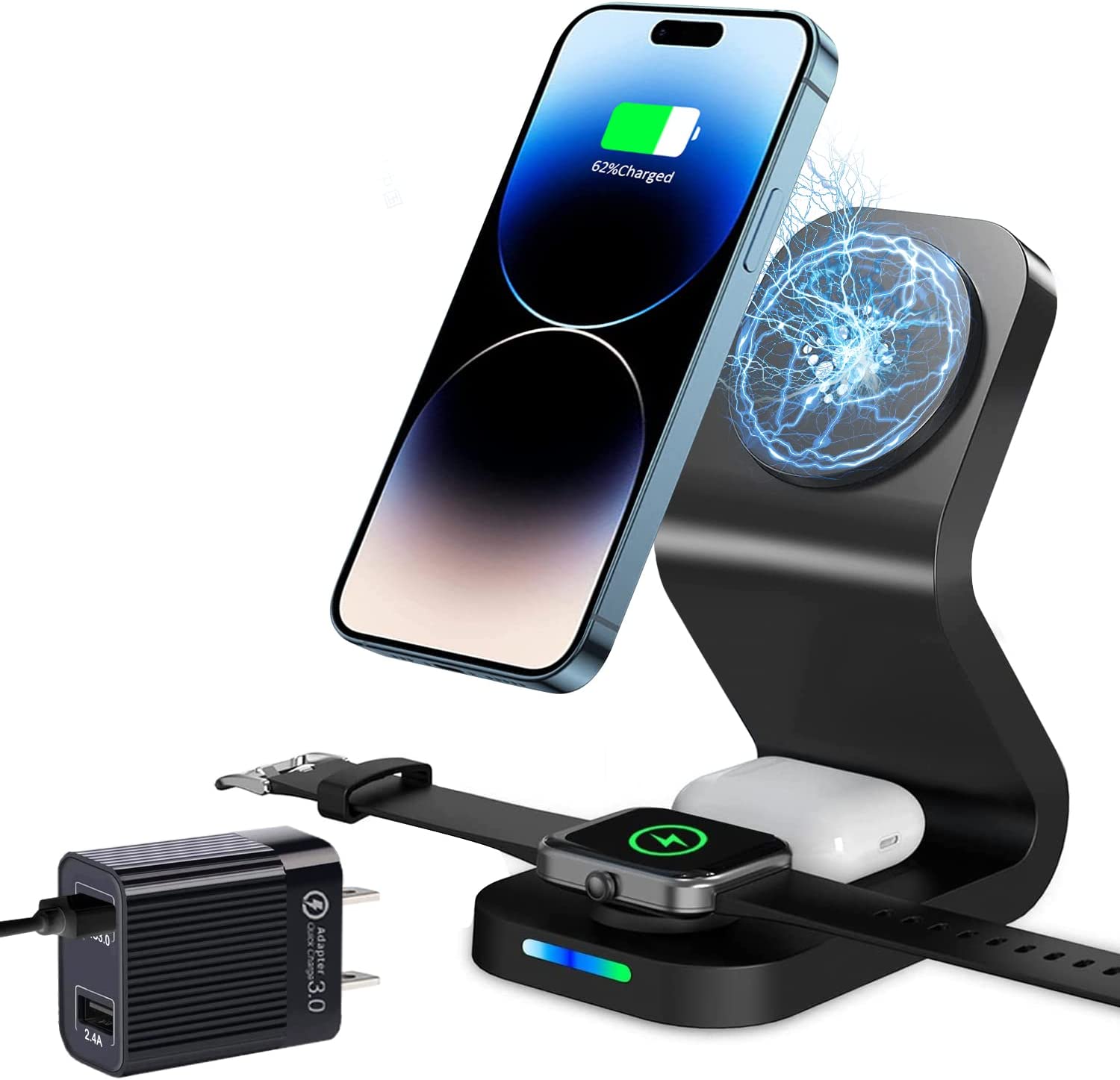 Charge your Apple Mag-Safe charger device quickly and safely with this three-in-one MagSafe charging station. With an automatic alignment using Magnetic tech, your phone will be charged horizontally or vertically, depending on how you place it on the charging stand.
Wireless charger stands feature unique LED lights that indicate charging status. The color green indicates iPhone charging, white for Apple Watch charging, and blue for AirPods charging. In addition, all the indicator lights will automatically go out after your Apple device has been charging for the 20s, so you won't be disturbed while sleeping.
Various safety features keep you and your device safe, including overheating protection, short-circuit protection, and foreign object detection. The magnetic charger is fitted with a powerful magnet, and the charging base has an anti-slip silicone design, so it won't move when charging, ensuring that your phone is protected. This charging stand maintains a low temperature due to the dual heat dissipation holes and the intelligent chip.
You can buy the IDOLCO Magnetic Wireless Charging Station For Apple Devices for $34.99 here.
2. Pilita Magnetic Wireless Charging Station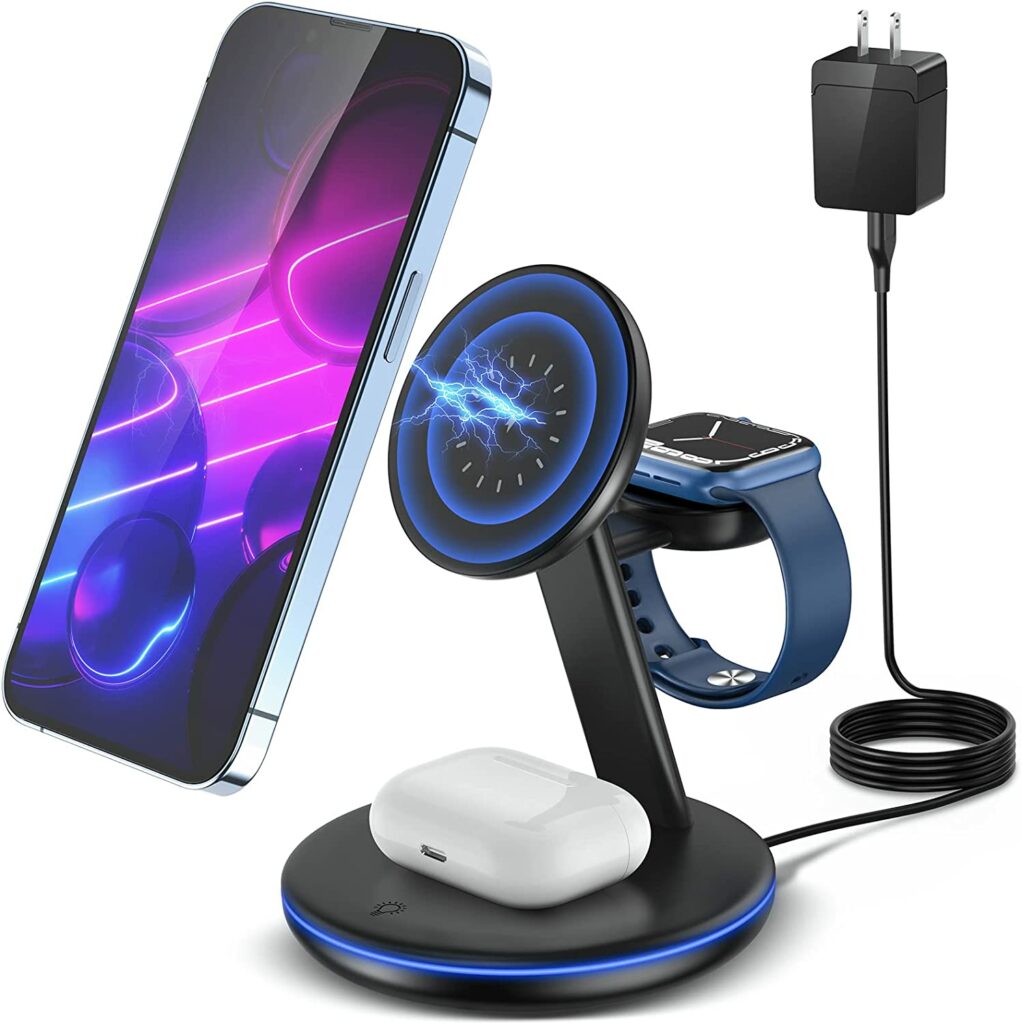 With its built-in magnet, you can easily align your smartphone to the wireless charging sweet spot, ensuring fast and stable wireless charging. It is compatible with Apple devices, so you can mount your iPhone horizontally or vertically to get it charged instantly.
Using the breathing lights on the charging stand, you can keep track of the charging status of your iPhone at a glance. With a light touch, you can turn off the indicator light whenever you want, so you won't be bothered by it during your rest. Enjoy a sweet night and prolong the life of your phone with this MagSafe Charger Stand. It is made of a soft, skin-like material, so accidental scratches won't damage your device.
The wireless charger stand ensures your compatible devices are charged safely and securely. Over-current, over-voltage, and over-temperature protection are built into the intelligent chipset, ensuring your devices are protected while charging. All in all, the bottom of the charging spots have massive heat emission holes for efficient heat dissipation.
Buy Pilita Magnetic Wireless Charging Station for $39.99 here.
3. MAKAQI 3 in 1 Mag-Safe Charging Station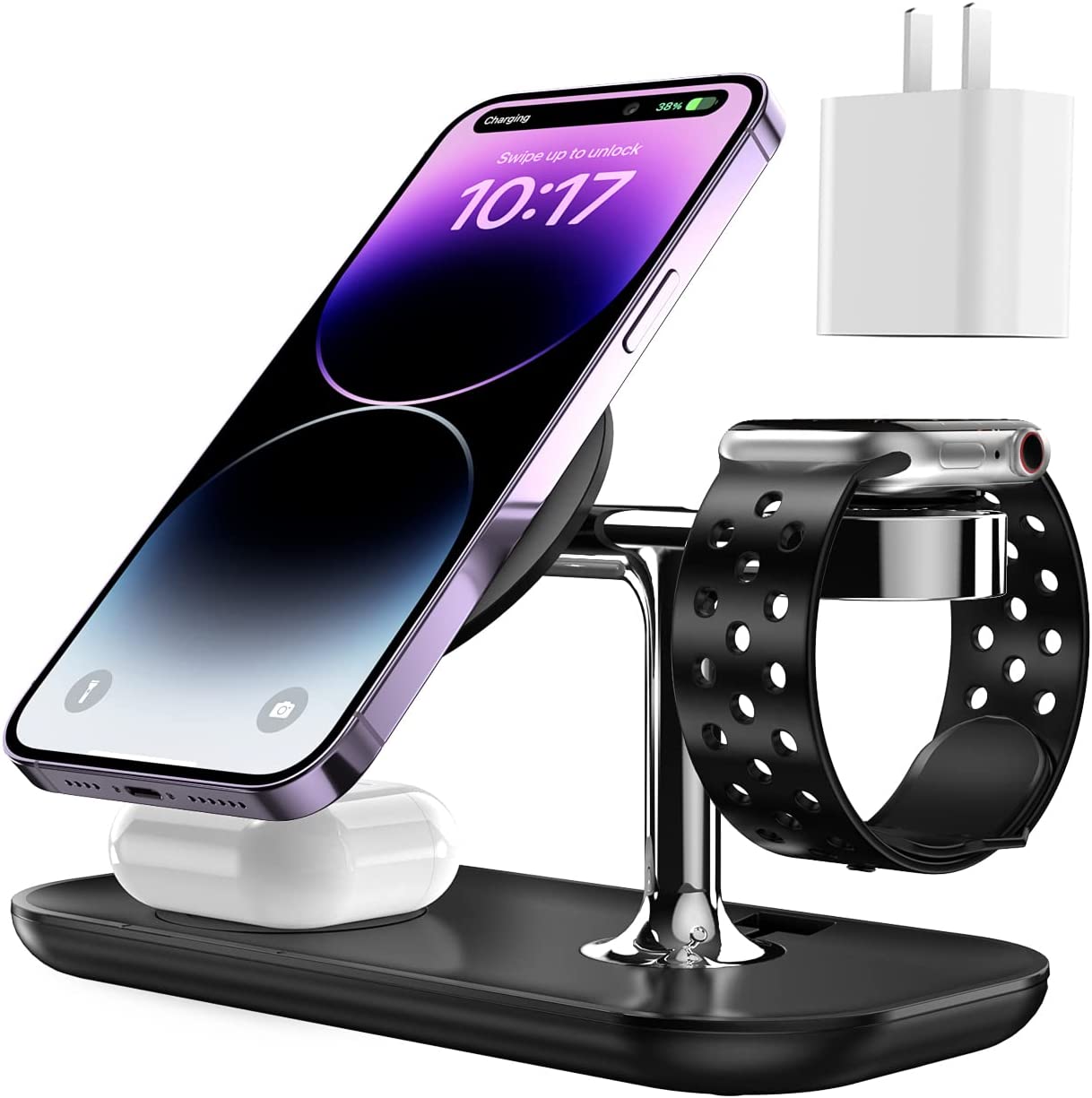 The MAKAQI Magnetic charger stand has perfectly aligned eight magnets, 3mm thickness, ring shape, is one touch to auto-alignment, and cannot be easily slipped off. You can rotate your iPhone 360° to charge vertically and horizontally.
Incorporated with an upgraded chip, the MAKAQI charger dock stand intelligently identifies and charges your device with the fastest possible speed and safety. The MAKAQI magnetic charger stand provides the maximum level of safety for your wireless charger, is Qi certified, and meets international standards.
This charger also features overheat, short-circuit, over-voltage, and over-current protections for safety purposes.
Buy MAKAQI 3 in 1 Mag-Safe Charging Station for $38.99 here.
4. ESR for MagSafe Charger Stand (HaloLock)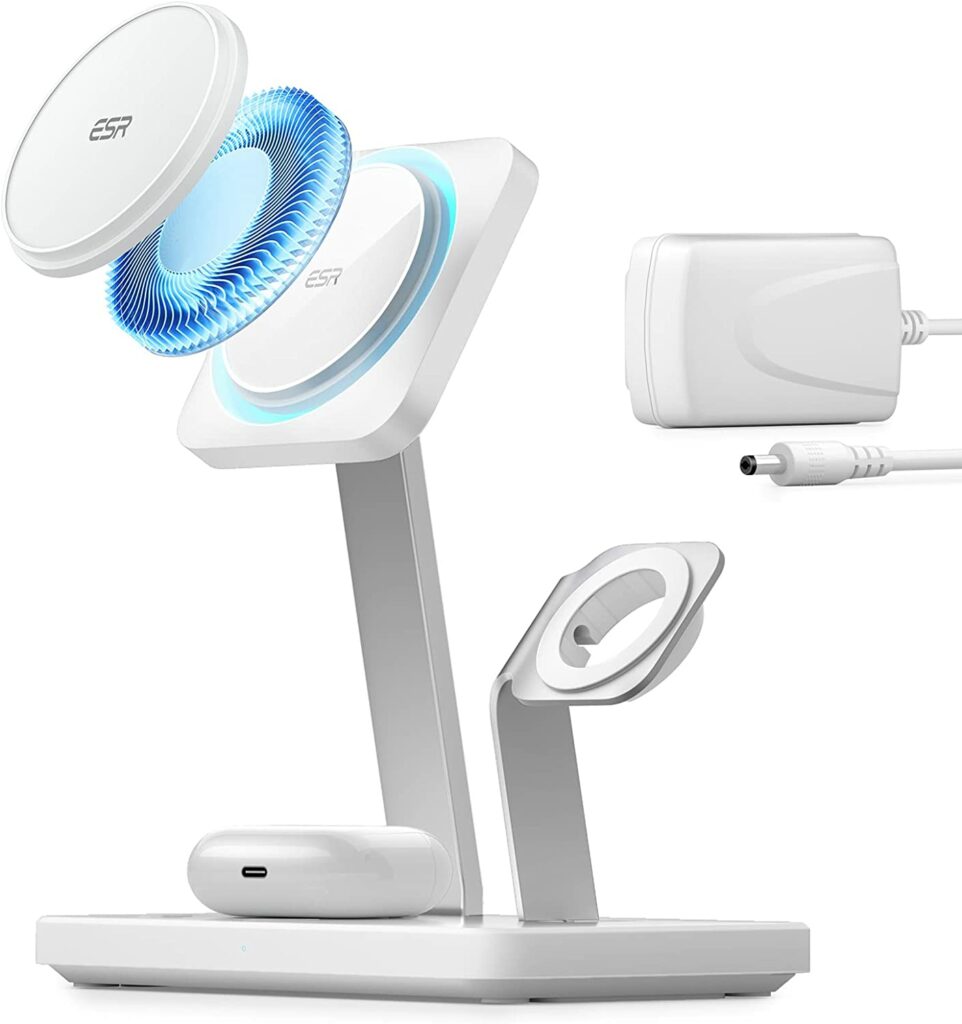 Want to charge your devices more quickly with magnetic wireless charging? Charging with a MagSafe charger creates heat, which slows the process. With CryoBoost fast charging, your phone stays cooler and sets maximum speeds using a cooling fan and heat-dissipating components.
You can easily switch between portrait and landscape modes with the 360° magnetic ring and adjust the ball joint to ensure the perfect viewing angle with 1000 g powerful magnets. Add a HaloLock case for an even stronger magnetic hold.
CryoBoost fast-charging technology allows you to get faster magnetic charging speeds while watching videos. Unlike other magnetic charging methods, iPhone magnetic charging is more rapid. Charge unstoppably with this new technology.
The only thing you need to do is tap on to lock on. With a magnetic holding force of 1,000 g for your iPhone and 400 g for your AirPods, you can rest assured that your prized devices will stay securely in place while they receive the energy needed.
Buy ESR for MagSafe Charger Stand (HaloLock) for $49.99 here.
5. UGREEN MFi-Certified 25W 3-in-1 MagSafe Wireless Charging Station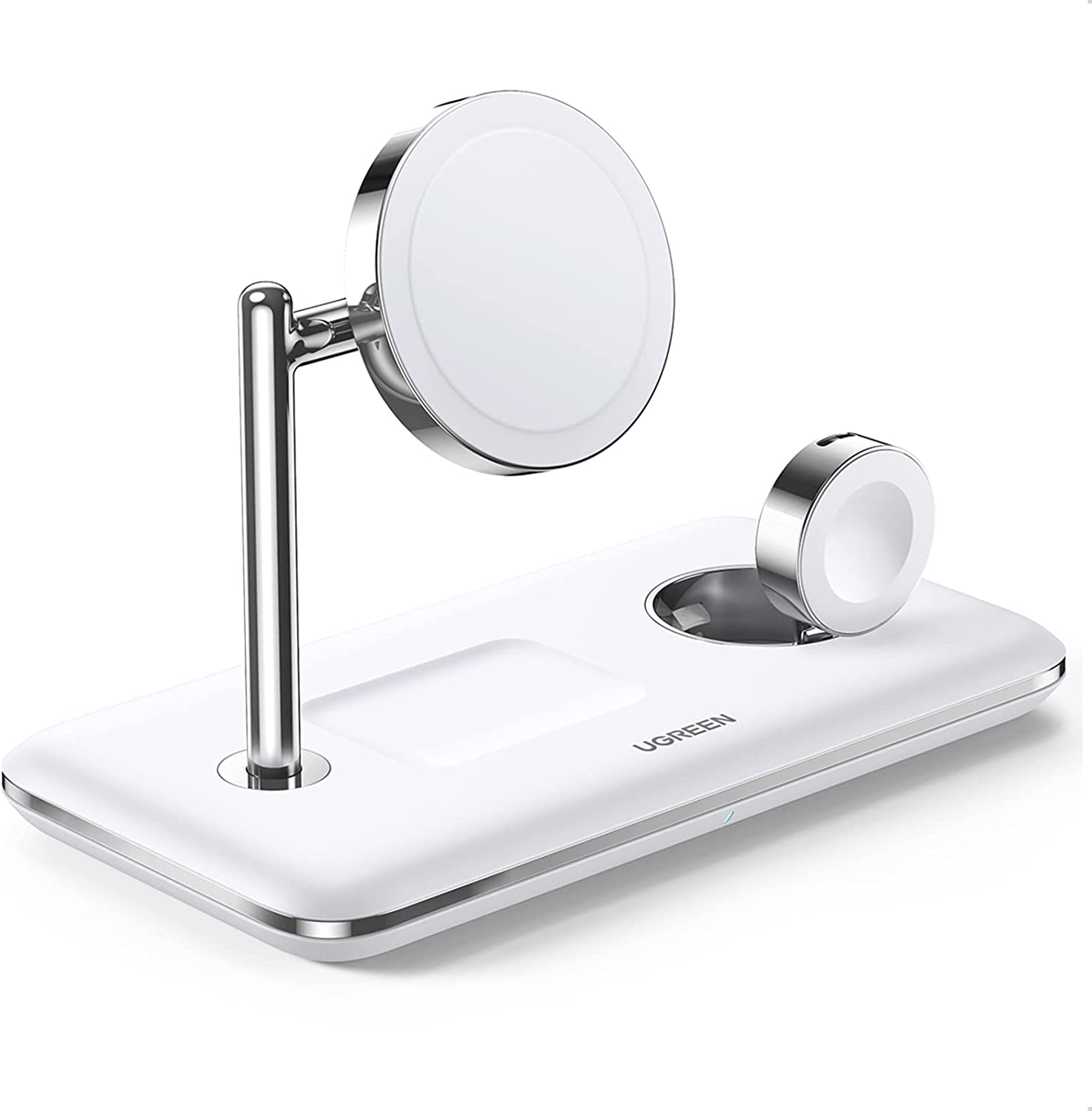 The 3-in-1 MagSafe charging station charges three devices using only one cable. This simplifies the charging process, making your desk neater and more organized. Your desktop won't become cluttered anymore because of tangled charging cables. All your devices will be charged and ready to go when you travel with this 3-in-1 wireless charger.
The magnetic wireless charger also serves as a stand to hold up your watch and phone. With a phone, you can control the viewing angle from 20 to 90 degrees; with a watch, you can set it from 0 to 90 degrees. The 3-in-1 wireless charging station can be used for various work/life scenarios, including video conferencing, searching for information, Face Timing, watching videos, or watching from the bedside.
A seamless MagSafe alignment allows this 3-in-1 wireless charger to fast charge your devices while protecting them from damage. This UGREEN charging dock offers multi-functional intelligent protection technology, including over-current, over-voltage, over-temperature, and short-circuit protection.
Buy UGREEN MFi-Certified 25W 3-in-1 MagSafe Wireless Charging Station for $129.99 here.
6. SHRMIA 15W Fast Magnetic Charging Station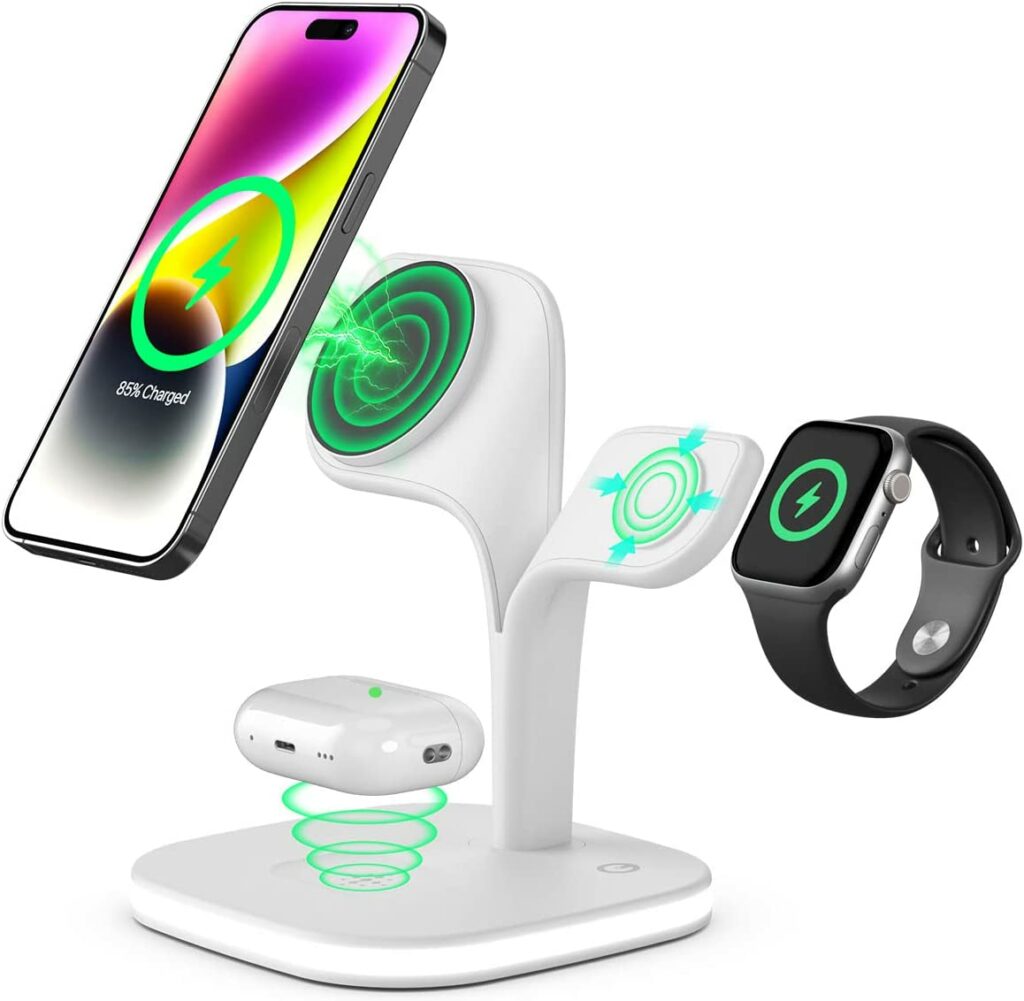 With this magnetic wireless charger, you can charge your iPhone, iWatch, and AirPods all at once. With its USB port, even mobile phones that are not certified can be charged. Don't let those messy cables get in the way!
Its built-in smart chip protects against overheating, over-powering, short-circuiting, Magsafe, and foreign body detection, thus providing you with a wide array of protection technologies. You can charge your device faster and safer with this battery protection to avoid overcharging damage.
There is a maximum output of 15W on the magnetic charger stand, a maximum output of 5W on the earphones and other certified devices, and a maximum output of 3W on the iWatch.
With a single touch, you can turn on the light, and then you can cycle between neutral, warm
Buy SHRMIA 15W Fast Magnetic Charging Station for $43.99 here.
7. U-good Aluminum Alloy 3 in 1 Magnetic Wireless Charger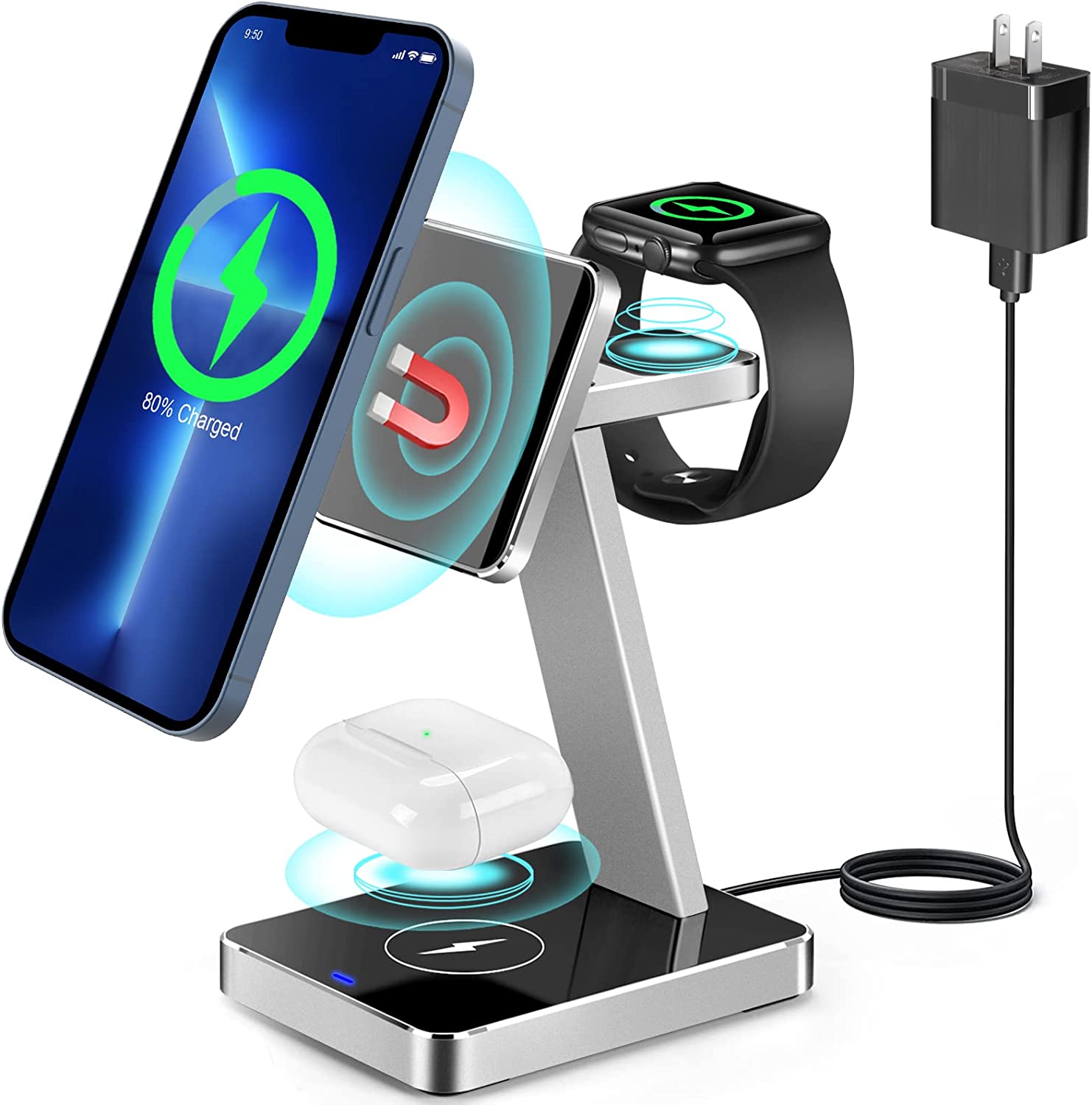 The product is made from aviation-grade aluminum alloy using CNC manufacturing techniques, so it's durable, sturdy, sleek, and looks great, making it the perfect charging solution.
The charging stand is almost as fast as the original. You need to use a MagSafe case with a MagSafe attachment to charge wirelessly. You can simultaneously charge Airpods or other earbuds on the charging pad below with the two magnetic wireless chargers. The magnetic connection provides a solid connection with your phone, props up your phone securely, and perfectly aligns the charge in any orientation, whether portrait or landscape. It comes with a 20W Fast Adapter for your convenience.
The magnetic charging stand is equipped with an intelligent chip, which prevents over-voltage, over-current, and short circuits, as well as controls temperature and detects foreign objects. The indicator will automatically turn off while charging.
Buy U-good Aluminum Alloy 3 in 1 Magnetic Wireless Charger for $49.99 here.
To Conclude
Wireless charging is an excellent option for situations requiring a rapid charge.
If you leave your house in 20 minutes and need more juice, just set your phone on the charging stand. You will be good to go!
Pick any of the above-mentioned magnetic charging stands, and you won't be disappointed!
If you have any queries let us know in the comments section.