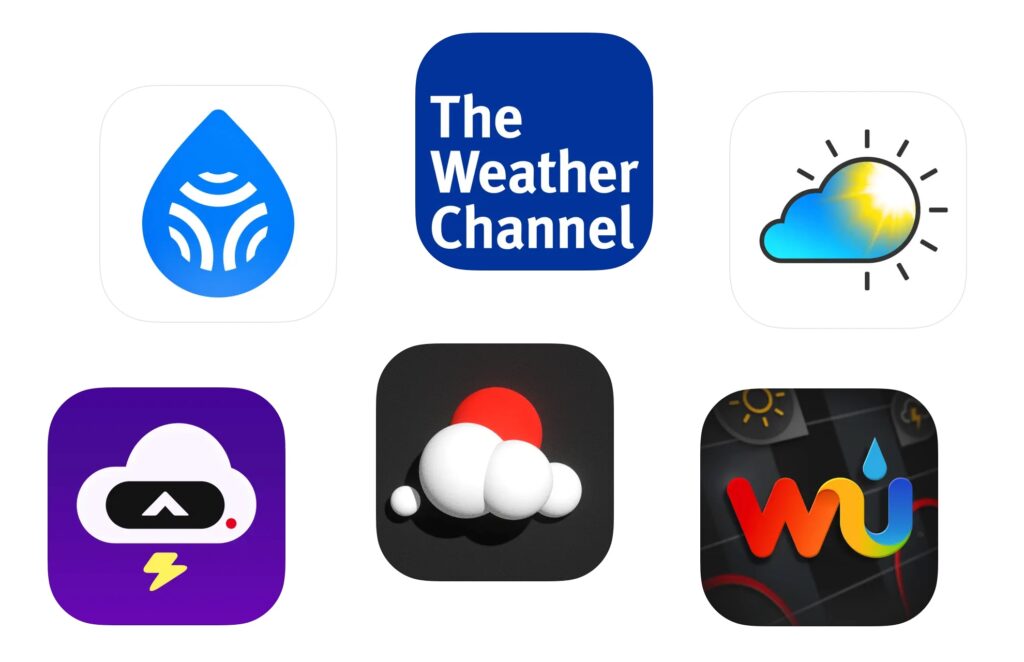 Some of the excellent iPhone weather Apps provide you with rain forecasts, UV index, air quality, extreme weather alerts, and hurricane warnings.
There are a ton of weather apps in the App Store that you can download for free. There is no doubt that Apple's built-in weather app offers nice animations, graphics, and helpful hourly forecasts. It is worth noting, though, that everyone has a different opinion of what makes a reliable weather app.
We have compiled a list of the best weather apps for iPhone so you can stay updated.
Best Weather Apps For iPhone
Here are the best and free Weather apps for iPhone that you should download in 2023.
1. CARROT Weather: Alerts & Radar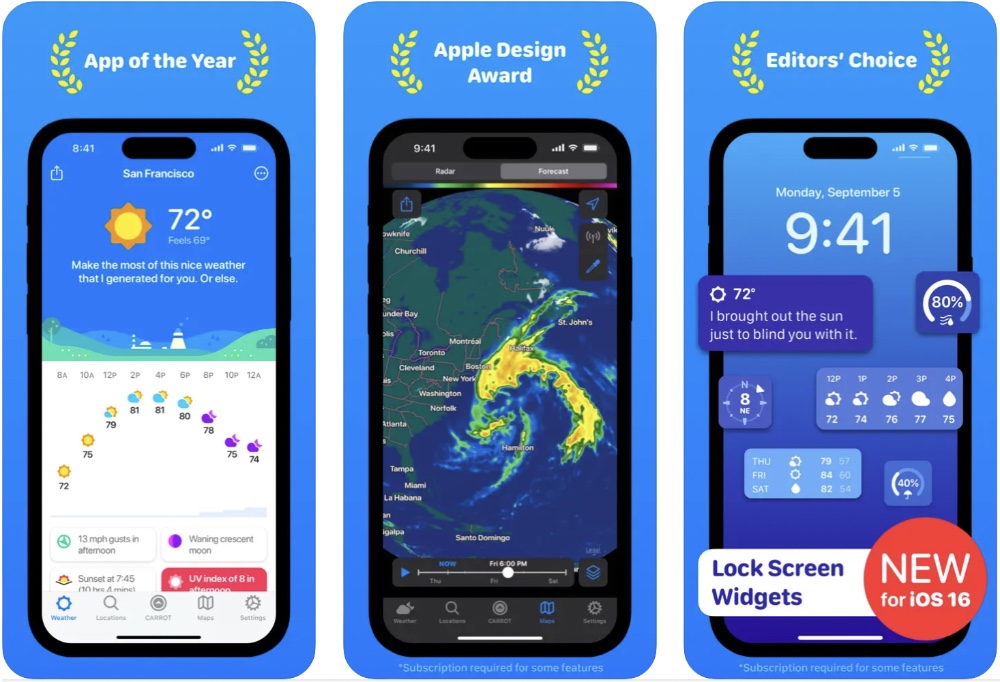 CARROT Weather delivers hilariously twisted weather forecasts through its crazy-powerful features.
There are five different personalities to choose from, from the straitlaced "prof" to the profanity-laced "overkill." You will be looking forward to a torrential downpour just to see what CARROT has in store!
With CARROT's lightning-fast weather data, you can easily see current, hourly, and daily forecasts. Moreover, the easy-to-read details screens are just brimming with meteorological knowledge.
Download this app today and receive precipitation, weather alerts, and even lightning strikes notifications.
Install CARROT Weather: Alerts & Radarfrom App Store today!
2. Tomorrow.io: Weather Forecast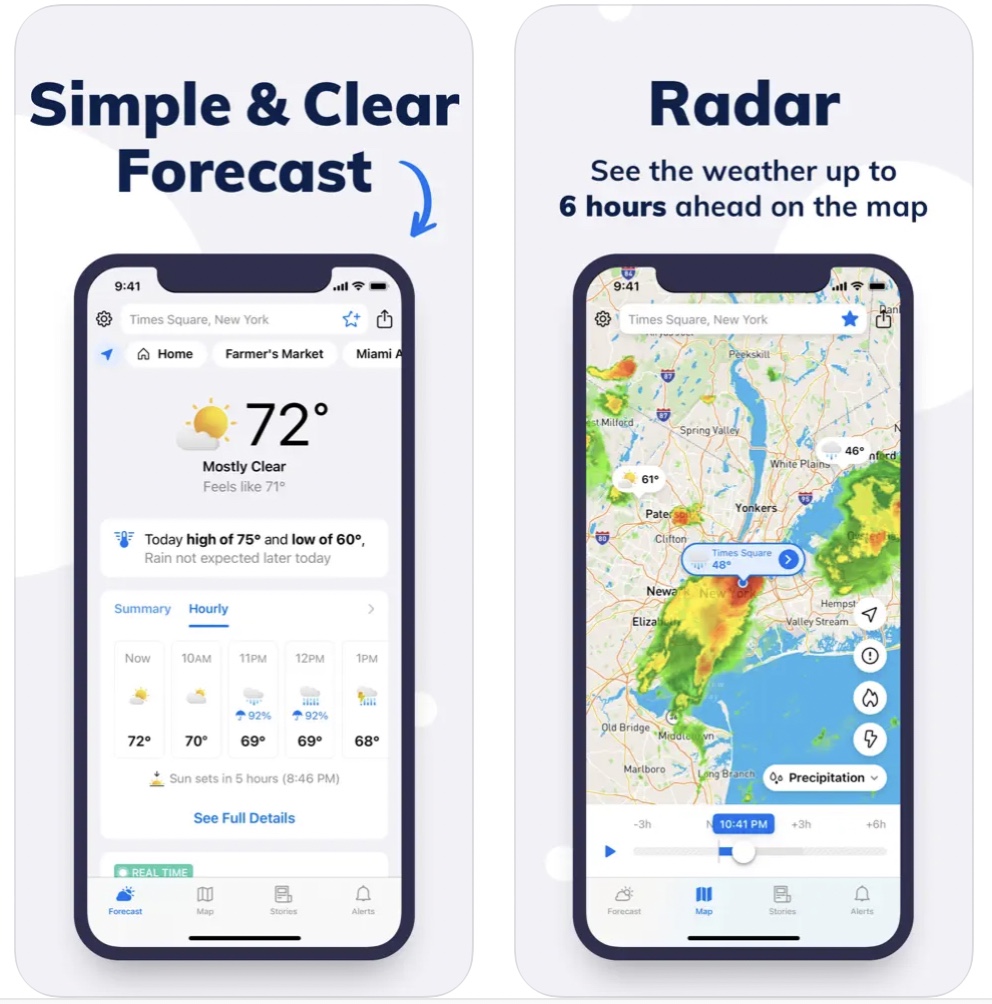 Plan smartly and be prepared with minute-by-minute and street-by-street hyper-accurate global forecasts, snow and rain alerts, air quality maps, and wind speeds.
Weather forecasts created by Tomorrow are used by industries, such as aviation and on-demand services that cannot afford to make bad weather-related decisions. This app update forecasts every minute, so you can also make plans accordingly.
It's a game changer for iPhone weather apps 2023. With this App, you will know when and where the rain or snow will come with an accurate precision level.
Install Tomorrow.io: Weather Forecast from the App store today!
3. (Not Boring) Weather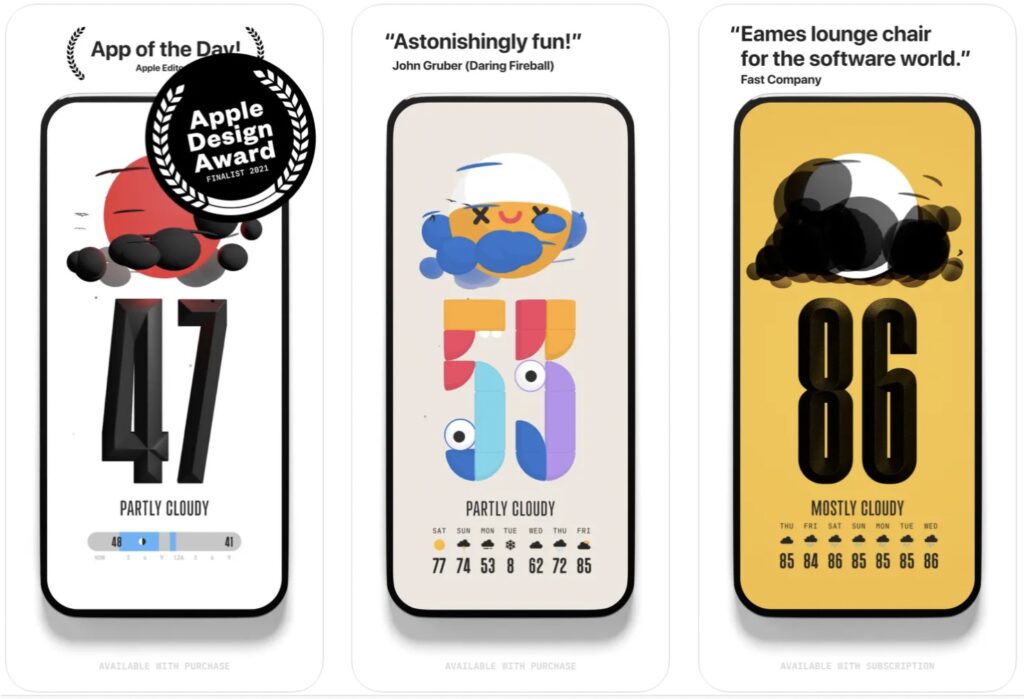 Wouldn't it be wonderful if you could play the daily weather like a song? Scrub through a day and experience the shifts in weather throughout the day like a timelapse shot.
This App promises *Real* weather and not just a simplistic interpretation which makes it one of the most accurate weather apps for iPhone. This app uses every weather data point including, cloud coverage, wind speed, precipitation, visibility to simulate the real weather in real-time.
The App includes a next-generation user interface in 3D with video game-inspired animations and sounds. You will be able to hear the rain and feel the thunder. Isn't that cool?
A simple tap reveals all the underlying weather data, including wind speed, direction, humidity, visibility, air quality, dew point, moon phase, cloud coverage, and more. For the most accurate forecast in your area, you can even choose from multiple weather forecasters.
Install (Not Boring) Weather from the App store today!
4. Weather – The Weather Channel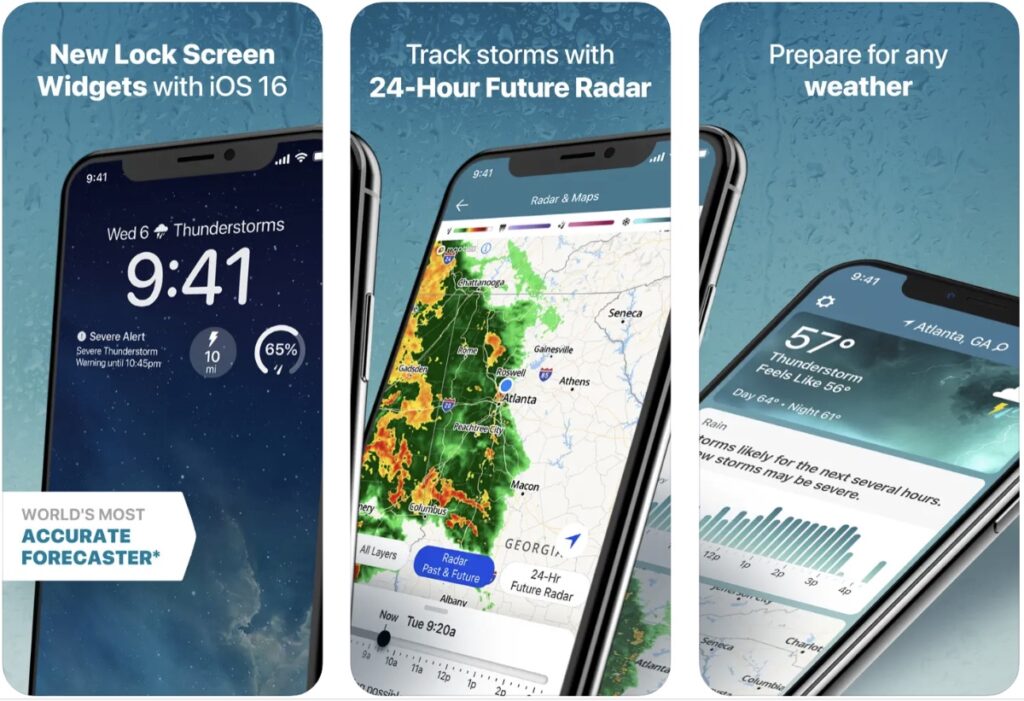 There is no doubt that Weather Channel forecasts are the most accurate in the world. During times of extreme weather, you can prepare yourself for storms, hurricanes & wildfires.
Keep up-to-date with daily forecasts and receive alerts on storms, local precipitation, and radar updates.
Doppler radar maps, storm watches, and hurricane trackers can warn you ahead of time of severe storms, heavy rain, heat waves, or even an incoming flood. Receive forecast updates and feel confident knowing that this app has weather warnings.
Plan up to 15 days in advance with forecasts from the World's Most Accurate Weather Forecaster, so you can plan ahead of time confidently.
Install Weather – The Weather Channel from the App store today!
5. Weather Live° – Local Forecast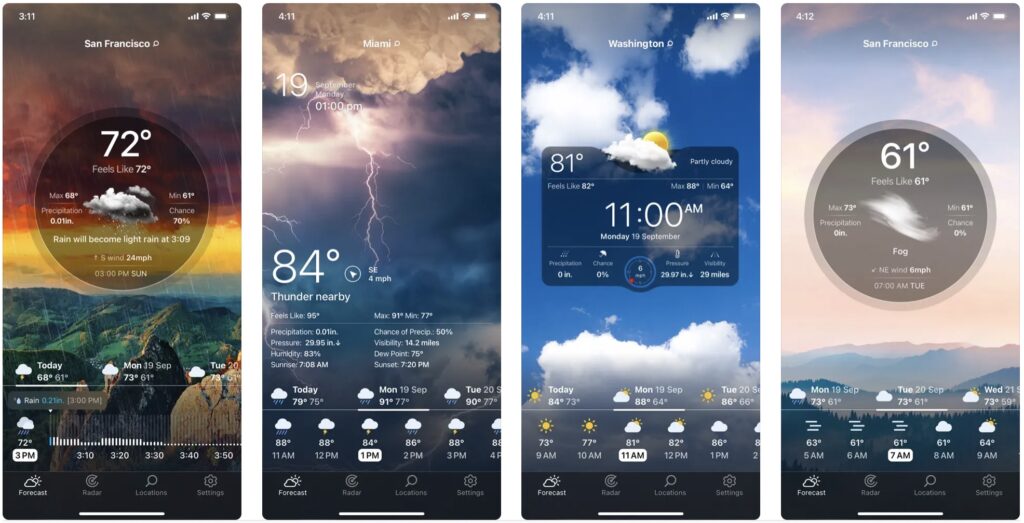 Get an app that has the most accurate weather in your pocket – Weather Live°. Make smart decisions based on accurate and informative forecasts!
Plan your day-to-day activities more easily with Weather Live°: choose the parameters you want to track, select your preferred layout, and see your personalized weather forecast! Stunning weather backgrounds make the forecast as visually appealing as nature itself.
In multiple locations around the globe, the app provides accurate forecasts for today and the week ahead.
Get the detailed temperature forecast and severe weather alerts right on your Home Screen with the useful weather widget.
You can also view the current weather conditions and the forecast for the coming hours right on your Apple Watch.
Install Weather Live° – Local Forecast from the App store today!
6. Weather Underground: Local Map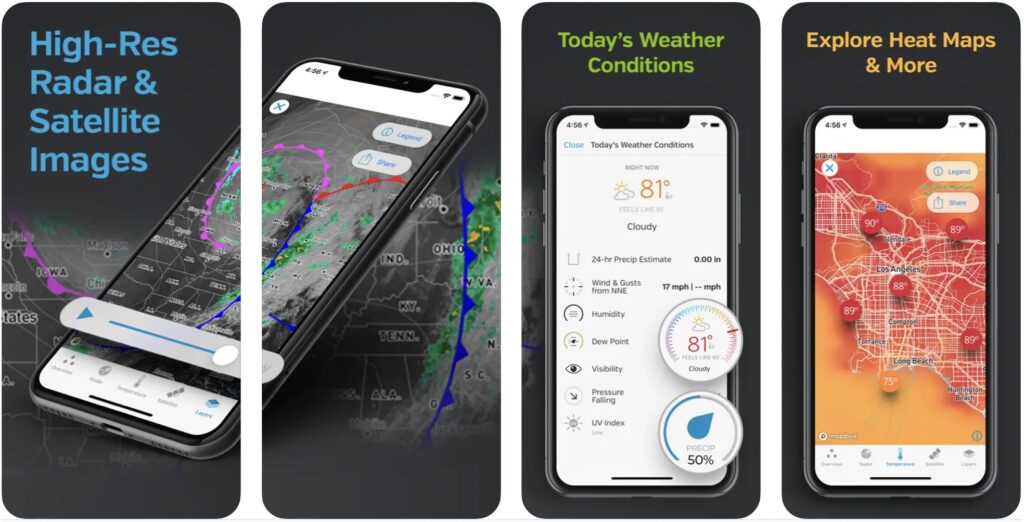 Get a reliable, real-time, and hyper-local severe weather forecast that you can trust.
With over 250,000+ personal weather stations and a proprietary forecast model, Weather Underground provides the most accurate and hyperlocal forecasts. You can discover current conditions, interactive Nexrad radar, get customizable severe weather alerts, and other features. So you can always be prepared for whatever the weather brings.
Keep up with the latest weather information including temperature, "Feels Like," wind speed, wind directions, today's rainfall accumulation, humidity, dew point, visibility, and pressure.
You can get current weather conditions from local weather stations as well as hourly/daily weather summaries for the next 10 days.
Install Weather Underground: Local Map from the App store today!
Conclusion
We all use weather apps in different ways, but this list provides some of the most useful iPhone and iPad weather apps, as they all have special features to fit different preferences and needs.
If you are the most serious weather enthusiast who appreciates a ton of data, these apps will be more suitable for you. The above-mentioned apps will allow you to appreciate simple facts and interesting visuals. These apps should work on any iPhone and iPad model. So, download any one of the apps we mentioned on the list!
Would you rather get wet in the rain or make a snowman on a snowy day? Let us know in the comments below.
Disclosure: iOSHacker may receive a commission if you purchase products through our affiliate links. For more visit our privacy policy page.