Cleaning Mac's disk on a regular basis is an essential step in keeping it up and running without any issues. However, one of the users' biggest hurdles when it comes to keeping Macs junk free is the absence of a comprehensive junk removal tool in macOS.
There are several third-party tools that make user's life easy by allowing them to quickly free up disk space and remove junk files from their Macs. One such tool is BuhoCleaner for Mac. And today we will review this tool to see whether you should download it on your Mac or not.
BuhoCleaner's Flash Clean Feature
Having a powerful Mac cleaning tool is essential for Mac users, as it not only allows them to free up valuable disk space on their computer but it can also removes junk files such as caches, log files, etc, and as a result boost Mac's overall performance.
BuhoCleaner is full of Mac maintenance tools that are helpful in doing just that. With its 'Flash Clean' feature, Mac users can quickly find and clean out junk files from the computer and free up GBs of disk space in the process. Users can perform a scan on their computer, after which they get a list of files that can be deleted.
BuhoCleaner also smart selects the files that users should remove while users can also manually select even more files by clicking on the View Details option. When I performed a Flash Clean scan on my Mac, the tool was able to find 8.2GB of files that I could remove from my Mac while it smart selected 4.37GB by itself.
The scanned files included Browser Cache, User Cache Files, System Log Files, Trash Can, Unused DMG Files, User Log Files, Xcode Junk, and System Cache Files. After reviewing all the files I further selected around 400MB of data and remove a total of 4.37GB of junk from my computer. That's 4.37GB of disk space freed, which I could now use for anything I like.
App Uninstall and large files removal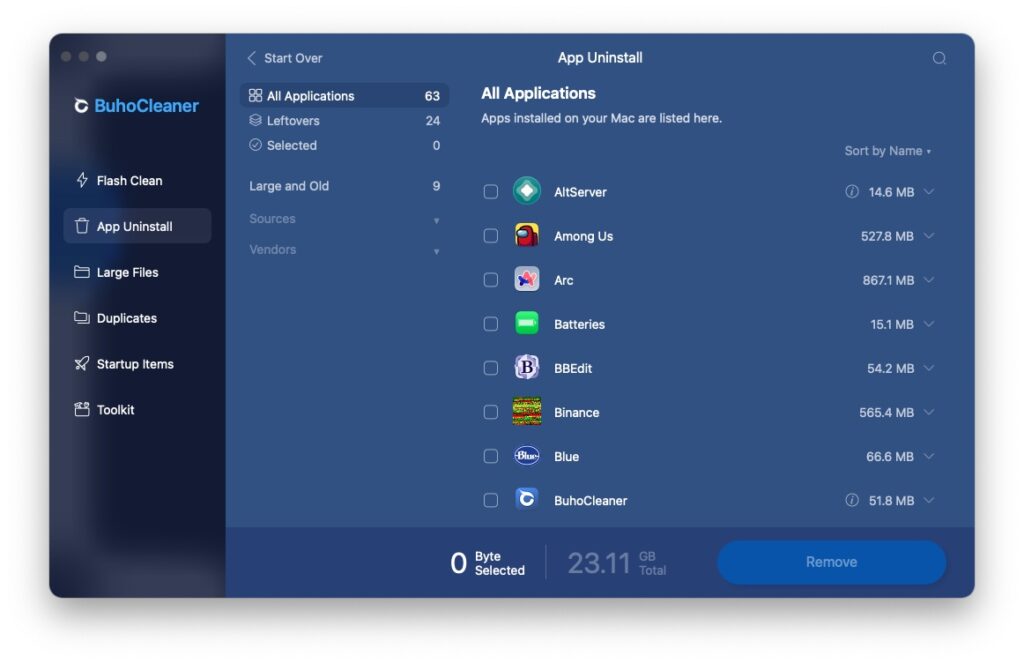 BuhoCleaner also offers an App Uninstall feature, which makes it super easy to remove any third-party app from the computer. Users can just go to the App Uninstall section of the BuhoCleaner tool and manually select the applications that they no longer use and want to delete from their computers.
As you select these apps for removal the tool shows you how much disk space you will be freeing after the removal process has been completed. After ticking the apps to delete you can simply click on the Remove button.
App Uninstall isn't the only feature of BuhoCleaner tool that is helpful in removing unused data from the computer. The Large Files feature enables you to scan big files from your computer. The tool finds big files that are 50MB or larger and gives you a list. The large files are even categorized into audio, video, images, documents, archives, and other categories. You can manually select the files that you want to remove and then click on the Remove button to quickly remove them.
After a quick scan, I found out that Final Cut Pro's 'Untitled.fcpbundle' file was taking up a whopping 50.66GB of data on my computer. After verifying that this was not a useful file for me, I deleted and regained over 50GB of disk space, bringing the total of freed-up disk space to 54.37GB on my Mac.
Remove Duplicate Files and Photos
Another super useful feature of BuhoCleaner tool is the 'Duplicate Files & Folders' feature. This feature allows users to find files and folders that contain the same files. It looks for files and folders of the same size and content and shows them to the user. With this feature, you can quickly find duplicate photos, files, and folders and remove the duplicates from your computer in just a few clicks, which is amazing.
A performance-boosting feature of BuhoCleaner allows users to identify which apps open automatically whenever they log into their Mac. It not only lists those apps and services but also gives users the option to instantly stop them from opening the next time.
ToolKit section and its goodies
BuhoCleaner has a ToolKit section, which has a number of useful tools for enhancing Mac's performance and removing unwanted junk from the machine. This includes the Disk Space Analyzer tool that allows users to visually analyze a disk and remove old unused files and folders. This helps in freeing up disk space from the Mac.
The Shredder tool allows users to permanently delete sensitive files from their Mac safely. It makes sure a file becomes unrecoverable by overwriting the space that was once occupied by the deleted file. This is helpful as after this other software cannot be used to recover the deleted file.
The 'Free Up RAM' feature lets users quickly free up RAM on their Mac and solve performance issues that they might be facing. With Free Up RAM feature users can solve performance issues, lag when typing and fix apps that are either working slowly or have become unresponsive.
BuhoCleaner also allows users to Reindex Spotlight and find what they are looking for more efficiently. This is a helpful tool if your Mac is not showing any results in Spotlight search and you are facing other issues with Spotlight.
Lastly, the Flush DNS Cache tool that allows users to flush their DNS Cache and solve issues like cache poisoning and Internet connectivity problems.
Final Verdict
Overall I am very impressed with the BuhoCleaner tool and although I downloaded it for testing purposes, it is going to have a permanent home on my Mac.
With this tool, I was quickly able to free up over 50GB of disk space and as a result, improved the performance of my Mac. Without installing this tool I would never have realized that Final Cut Pro's unused files were taking up 50GB of space on my computer and I would never have been able to recover that disk space.
Other useful features of BuhoCleaner that includes its handy app uninstall tool, duplicate files deletion tool, shredder tool that lets you safely delete sensitive files, and more are also super useful and make this tool even more helpful.
Pricing and availability
You can download the BuhoCleaner tool for Mac from the official website. The tool can be downloaded for free however with the free version you can only delete up to 3GB of junk.
To get full advantage of this tool you have to purchase BuhoCleaner license, which you can get for up to 3 Macs for just $22.99. This is a discounted price as there's a 50% off on the tool and the price is down from the usual price of $49.99.