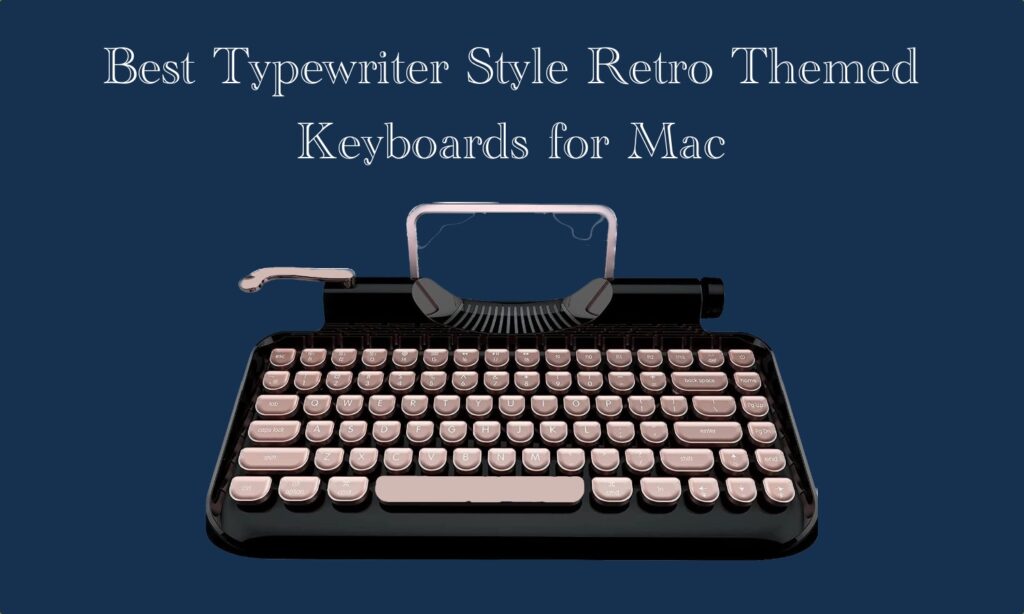 A typewriter keyboard gives you the advantages of both worlds, giving you a nostalgic look and feel while not compromising on features.
There has been an exponential evolution in keyboards over the last decade – improving in almost every area so that typing can become more comfortable and enjoyable.
The keyboard market is now booming with typewriter keyboards for Mac, designed to look and feel like old-school typewriters while offering all the modern features you'd expect.
Let's explore some options for the best retro typewriter keyboards for Mac!
Best Wireless Typewriter Keyboards to Buy
It's imperative to consider several options before selecting the most suitable wireless typewriter keyboard for your specific needs. Considering the following options will not only help you select a keyboard that suits your particular requirements but also help you choose an affordable one.
1. AZIO Retro Compact Keyboard (Elwood)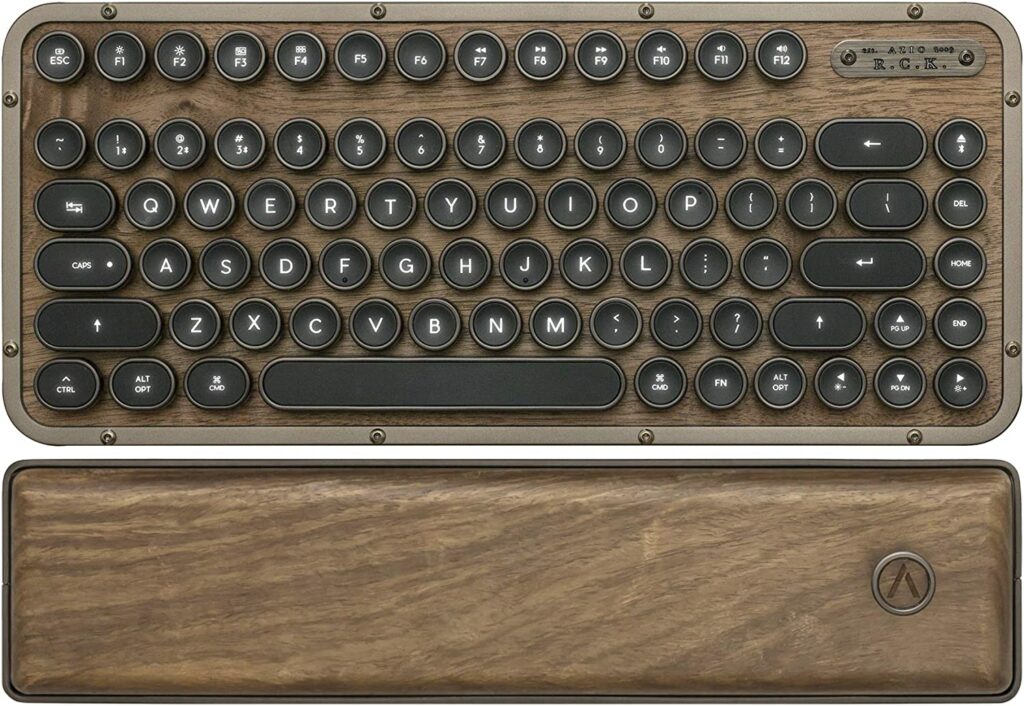 Among mechanical keyboards designed for modern users, retro compact keyboards are the most premium.
With premium materials, timeless aesthetics, and an intuitive design, this keyboard is sure to become your go-to keyboard. RCK is a compact creative tool designed for both traveling and stationary lifestyles with its portable form.
You can connect via Bluetooth or USB. With USB mode selected, all you need to do is connect the included USB-C cable to your computer and start typing.
Designed to feel tactile and 'clicky,' the mechanical keys have the feel of vintage typewriters. In addition to this, each mechanical switch is specially made so that the LED in the backlight is positioned in the center of each key. This allows the keyboard to be illuminated evenly and beautifully at all times.
Buy AZIO Retro Compact Keyboard (Elwood) for $172.49 here
2. Adventurers Typewriter Style Retro Mechanical Keyboard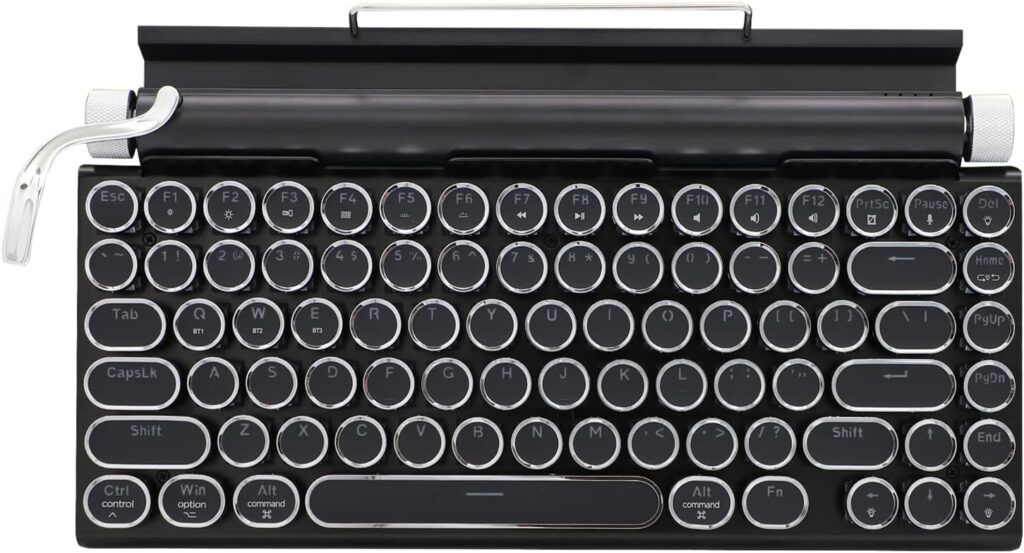 This product combines classic typewriter design with high-quality hot-swappable keyboard technology. A hot-swappable design can also accommodate the need for replacing the shaft in later periods and creating a customized typewriter that belongs only to you.
Aluminum alloy metal is electroplated on the panel, with black levers and rollers, and round key caps are also electroplated. In every detail of this typewriter keyboard, retro style is evident.
Using Bluetooth 5.0, the three devices can switch seamlessly, allowing you to work and play simultaneously. You can also connect it to a desktop computer via a USB cable.
The product is compatible with Android, Windows 10, iOS, and Mac OS mobile phones, tablets, and laptops.
Furthermore, the multi-color backlight makes the typewriter not only an excellent work assistant but also a fun entertainment aid for leisure time.
Buy Adventurers Typewriter Style Retro Mechanical Keyboard for $124.99 here
3. 7KEYS Retro Typewriter Keyboard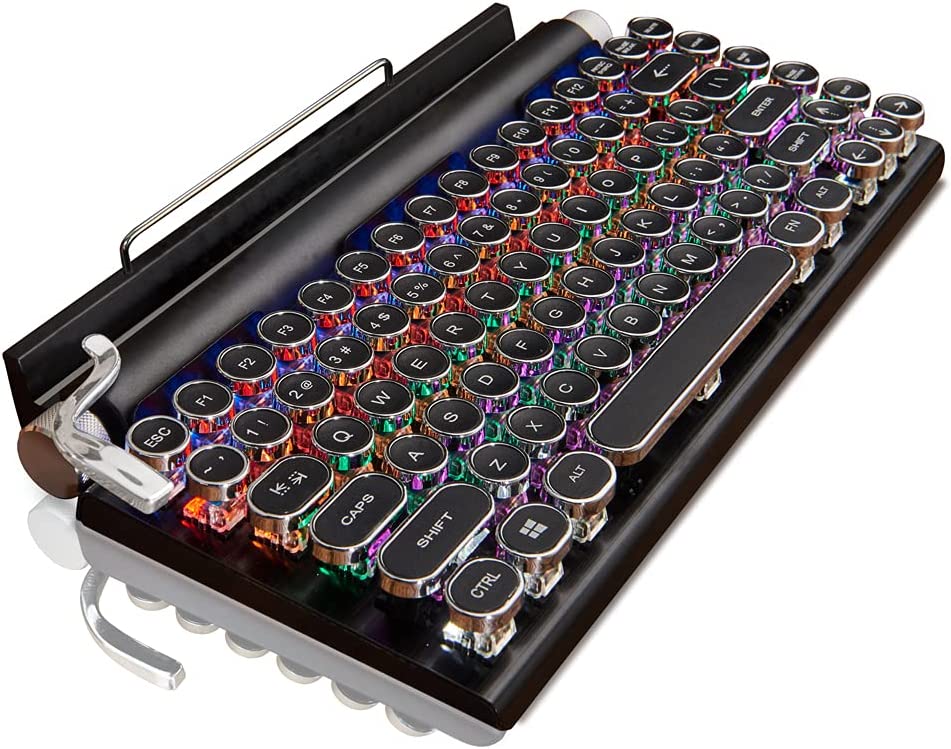 This product offers upgraded Bluetooth 5.0 that enables faster switching between A, B, and C devices. So, you won't have to complain about slow switching anymore.
By pulling the lever, you can adjust the white LED light mode, which is quite useful when working. Additionally, you can adjust the brightness and volume of the light by turning the wheels.
It has a classic typewriter appearance and a blue switch keyboard with a premium hot-swappable feature. The old royal typewriter provides you with the "click" feeling as you accelerate your typing speed.
An aluminum alloy metal, electroplated with wood grains, is used for the panels, along with black pull rods, rollers, and electroplated round keycaps.
Buy 7KEYS Retro Typewriter Keyboard for $128.99 here
4. RYMEK Typewriter Style Mechanical Wired & Wireless Keyboard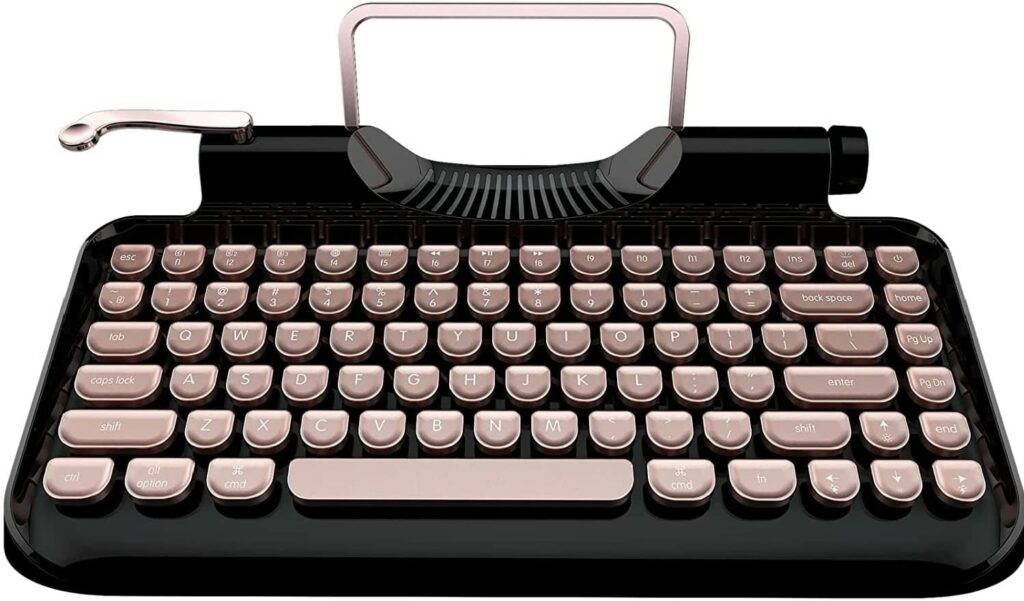 There is no better way to describe Rymek than to say it offers a flawless blend of classic and modern. Rymek's combination of classic design and ultra-modern features makes it the perfect amalgam of the past, present, and future.
You can enjoy a more satisfying typing experience with this desktop keyboard inspired by vintage typewriters and mechanical keyboards.
Rymek comes with ergonomic saddle-shaped keycaps; its glossy surface is attractive and durable. In addition to boosting typing speed and accuracy, all keys are arranged in a default position for comfortable operation. You can securely type on your smartphone or tablet with Rymek thanks to its stainless-steel stent.
Rymek's Bluetooth 3.0 technology provides an extremely stable connection and is compatible with iOS, Android, macOS, and Windows (with Bluetooth support). It is even possible to pair with 3 devices and switch between them easily through shortcuts.
This LED Dynamic Backlight enhances the accuracy of your typing at night and enhances the pleasure of playing games.
Buy RYMEK Typewriter Style Mechanical Wired & Wireless Keyboard for $169.88 here
5. Azio Retro Classic Bluetooth 5.0 (Artisan)

If you are looking typewriter keyboards with numpad, then this Azio Retro Classic keyboard is for you. Inspired by vintage typewriters and crafted with ultramodern features, the Azio Retro Classic is the perfect amalgam of past, present, and future. The retro classic is a backlit mechanical keyboard with round keycaps that evokes the nostalgia of yesteryear complemented by a durable aluminum frame and a sumptuous genuine leather or walnut surface.
The genuine leather top plate reflects style, craftsmanship, and culture while radiating a sense of uniqueness.
Using the switch on the back of the keyboard, you can use your Retro Classic Keyboard wired (USB) or wireless (BT), in PC or MAC mode.
The keys are vintage round caps with backlit mechanical switches tuned to be tactile and clicky.
There is an elegantly designed plaque filled with glossy lacquer that gives Retro Classic keyboards a classy look.
Buy Azio Retro Classic Bluetooth 5.0 (Artisan) for $146.19 here
6. MOFII Wireless Keyboard and Mouse Combo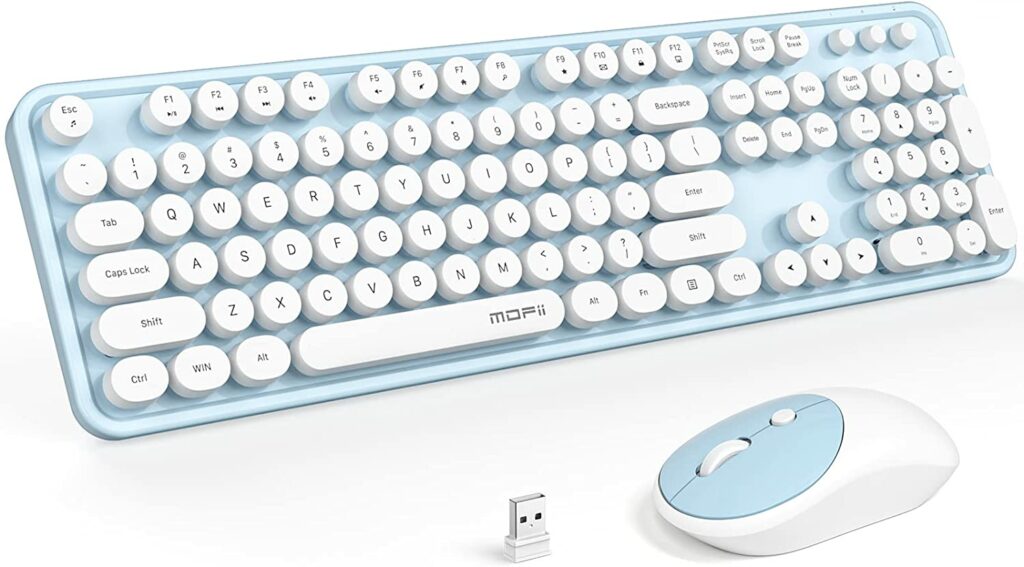 MOFII offers a colorful keyboard and mouse combo. With its extensive quality control and supply chain, the brand delivers quality products that exceed user expectations.
Allows you to enjoy wireless freedom, just plug and play, reliable wireless connection up to 10 meters away from your computer with virtually no delays. (USB receiver that cleverly stores in the mouse back).
The ergonomic keyboard comes with a folding holder and anti-slide pads that keep the keyboard at the right angle and prevent wrist pain during prolonged typing sessions. The contoured shape of the keyboard, along with the removable keycaps, makes it comfortable to work for long periods.
Both the ergonomic wireless keyboard and the wireless mouse are powered by a 1AA battery.
MOFII strives to create high-quality colored wireless keyboards and mice for office and home use. This is another typewriter keyboard with numpad for Mac.
Buy MOFII Wireless Keyboard and Mouse Combo for $39.99 here
7. Camiysn Typewriter Style Mechanical Gaming Keyboard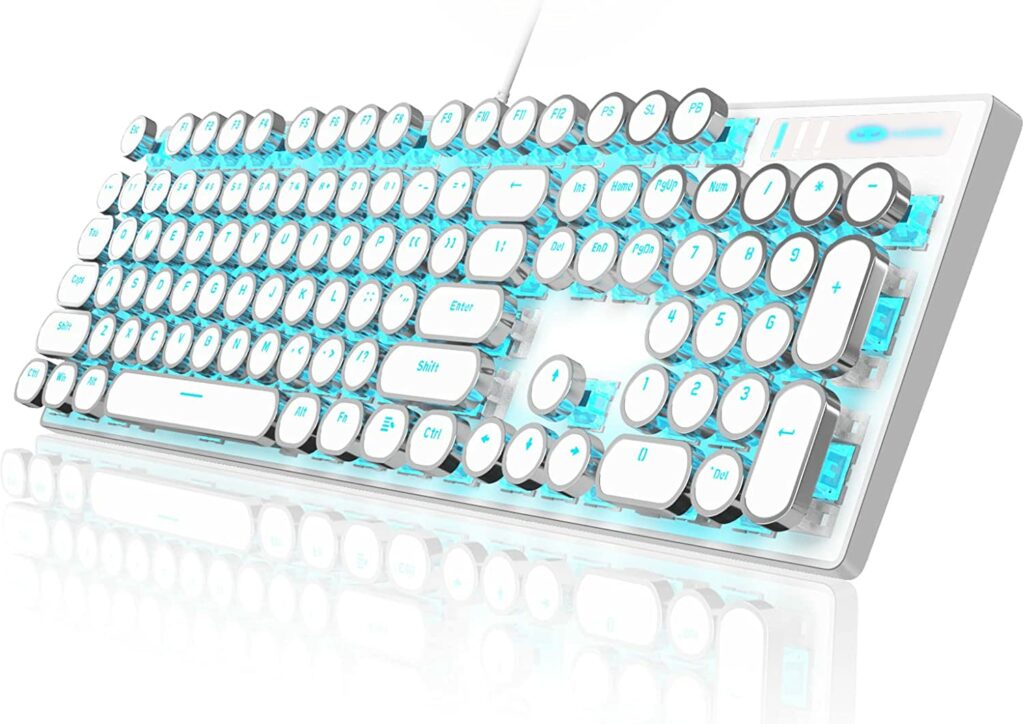 If you want to get more fun at work and stand out in the game, go for the Camisyn typewriter keyboard.
Camisyn provides both gaming and office keyboards: mechanical keyboards (linear red switches, clicky blue switches), membrane keyboards, full-size keyboards, and compact keyboards.
Featuring clicky mechanical blue switches, this is the ultimate gaming keyboard. A mechanical keyboard offers medium resistance, audible click sounds, and tactile feedback.
Featuring mechanical blue switches, this gaming keyboard has multiple lighting modes. Select the lighting effect you want, and adjust the brightness and speed.
These keycaps are durable because they are manufactured with two-color injection molding. The round keycaps make this keyboard so unique compared to traditional keyboards
There are 26 anti-ghosting keys on this cute keyboard and the rear feet are adjustable for a comfortable grip, making it perfect for gaming and the office.
Buy Camiysn Typewriter Style Mechanical Gaming Keyboard for $39.99 here
Final Verdict
To find one of the best typewriter mechanical keyboards for Mac, it is highly recommended to determine the features that are right for your writing needs. In any case, you should look for a keyboard that has high-quality switches, key rollover features, and spill-resistant surfaces.
You might also consider aesthetics when you're looking for the most stylish and well-designed retro keyboard to inspire you and create the most comfortable typing experience.
Have queries? Let us know in the comments section.