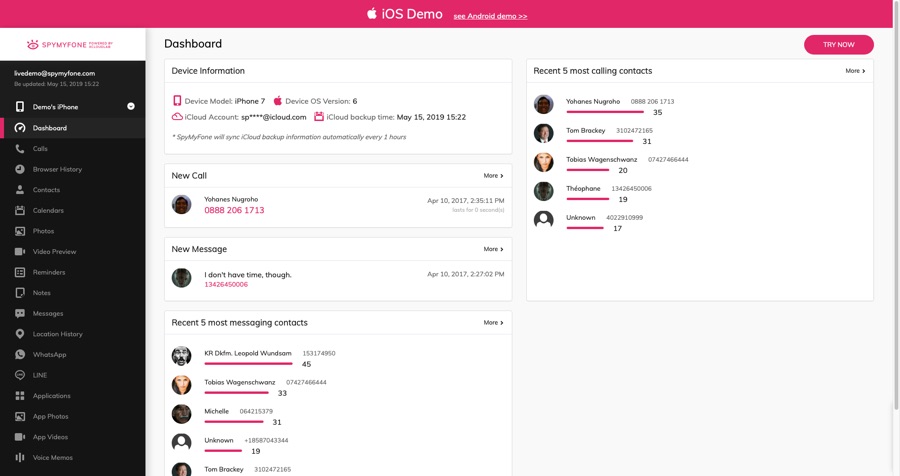 If you are a parent who is concerned about what his or her child is doing on WhatsApp, then you are left with very few options. WhatsApp by default does not offer child monitoring functionality so you cannot spy on your child's WhatsApp account and keep an eye on their activities. However there are several third-party solutions that make it possible for parents and others alike to spy on WhatsApp Messages, one of these services is called SpyMyFone.
With SpyMyFone you are able to remotely monitor your child's WhatsApp account. Once you have set up the SpyMyFone's WhatsApp monitoring feature you can not only see who your child is communicating with using WhatsApp but you are also able to see the messages that are exchanged between them. You are able to see the name of the person you child is talking to, messages threads of sent and received messages and phone numbers of contacts the messages are being sent to. With this type of spying tool you can get the peace of mind without having to ban your child from accessing WhatsApp on his or her iPhone.
Setting up SpyMyFone on a target device is very easy. In this step by step tutorial we will show you how you can use SpyMyFone and how to monitor WhatsApp messages using it.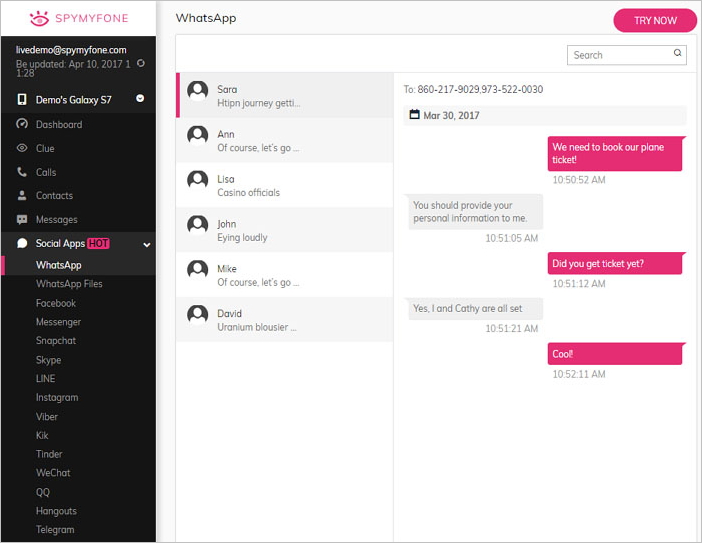 Step 1: The very first step for setting up WhatsApp monitoring for iPhone is signing up for SpyMyFone service.
Step 2: On the web page enter your email address and desired password.
Step 3: Now enter your child's name and age.
Step 4: On the next screen you will be asked to enter the username and password for the iCloud ID that is being used on your Child's iPhone, enter it.
Step 5: Access the SpyMyFone dashboard and then under Social Apps tap on 'WhatsApp' to see monitor messages on your child's WhatsApp account.
While WhatsApp monitoring is a major and one of the most useful features of SpyMyFone, there are many other features that make monitoring your child's activity more convenient. With SpyMyFone you can also see call logs and contacts found on your child's iPhone, track their location and create geofences, see messages from other message apps including iMessage and much more. You can also monitor popular messages apps like Viber, Instagram, Snapchat, LINE and many more. With the geofencing feature you can create geofences and get notifications when your child enters or leaves those locations.
A great thing about this service is that it allows you to monitor WhatsApp stealthily. This means you can watch your child's activity without letting them know that you have access to their messages, which is good for more effective monitoring.
You can try out SpyMyFone for free by signing up for its trial here. If you decide to go premium, then you can get SpyMyFone service $39.99 per month. This includes all sorts of monitoring services offered by SpyMyFone including WhatsApp monitoring.