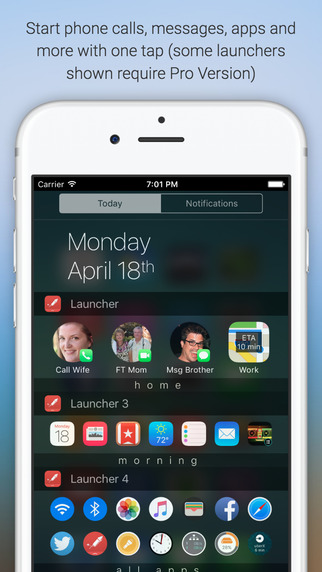 Last year we reported about the Launcher app, which allowed users to add shortcuts to actions and apps in the Notification Center. Launcher app cleverly uses Notification Widgets to provide users with shortcuts to actions they frequently perform such as calling their favorite numbers, open website etc. Now the app has received a major update, adding the ability for users to add more than one widgets. In addition to that the app brings a number of other useful features.
By adding multiple Launcher widgets, you can have more app and action shortcuts in the notification center. Not only that but this new feature will also let users create sections of similar apps, as they can group similar shortcuts in one widget while keeping others in another one. For example, you can add app shortcuts in widget 1 and put actions in the widget 2. You can even have another widget that has shortcuts to all your favorite games.
Launcher app also allows users to configure widgets to only appear in the Notification Center during certain time, day or location. This means you can have separate widgets appearing on the Notification Center while you are at work, home or gym. The version 2.0 also adds support for iCloud backups and brings ability for users to choose between round or square icons. Users can also use custom icons if they like while setting up a shortcut.
To add 5 more widgets, have more space inside each widget and other organization features you need to pay $2.99 to unlock the pro version. You can download the Launcher app from the App Store for free.
Download Launcher with Notification Center Widgets