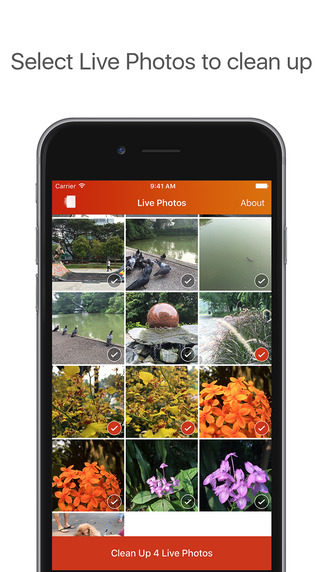 So you bought an iPhone 6s or installed the Live Photo Enabler tweak to test out the new Live Photos feature. And now you are regretting the decision, as all you photos have awkward before and after scenes and take up twice storage space. Well if that's the case then we have got the perfect app for you. The new Lean – Clean up your Live Photos app for iPhone allows users to delete the 'Live' part of their Live Photos, getting the perfect still photo as a result. Lean app simply removes the video part of the image and saves a still image in your library, while also deleting the Live Photo from the Photos app so you don't have to.
The app is super easy to use. As soon as you install and launch it, you will see all of your Live Photos in a nice preview page. You can even tap on the images to see them in action before deleting. Once you have selected the photo all you have to do is tap on the 'Clean Up' button. You can also select multiple images at once, making the process a lot less frustrating. Remember that unlike the Photos app, which also lets users remove Live part of their photos but not permanently, Lean app's changes are permanent.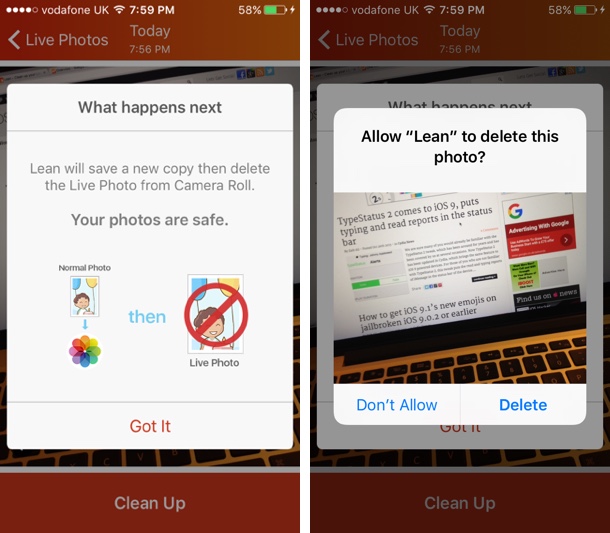 The Lean app also shows how much space you have saved after deleting live parts of your photos. This app is a must have for those of you who have 16GB iPhone or those who are constantly running out of storage.
While the Lean app is designed for iPhone 6s and iPhone 6s Plus, it works fine on all devices, as seen in the screenshots above. So if you have a jailbroken device with Live Photos feature enabled, or if you have them saved on your device, you can use the app.
Lean – Clean up your Live Photos app is available in the App Store for free. You can download it using the link below.
Disclosure: iOSHacker may receive a commission if you purchase products through our affiliate links. For more visit our privacy policy page.