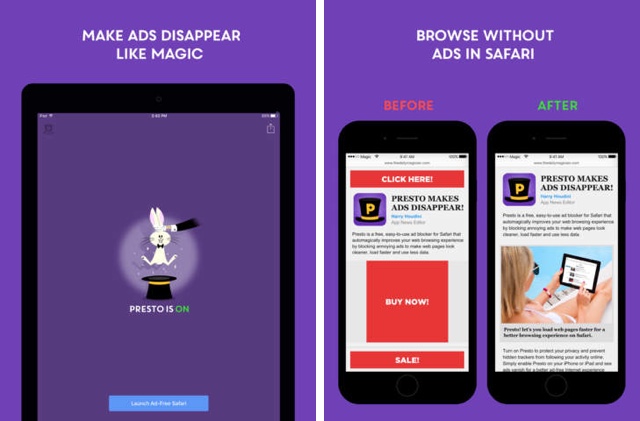 With the release of iOS 9 Apple is allowing ad blocking apps to be installed on iPhone and iPad. While most publishers are not comfortable with this development, it is certainly welcomed by users who are usually annoyed by the websites that overdo ads and abuse their mandate of displaying advertisements to the users. One of the many ad blocking apps that have been released for the iOS software is Presto. Unlike most ad blockers out there Presto is free and easy to use. Using this app you can block all banners, pop ups and video ads when using the Safari browser. After installing the app you will no longer have to worry about auto playing video ads or webpages cluttered with ad banners.
An added benefit of using Presto ad blocker is that in addition to getting rid of annoying advertisements, you will also save data. This significantly improves the browsing experience, especially for those who have slow or limited Internet connection. That's not all as you will also find that the websites will load much faster, since now Safari will only have to load the content that matters to you, and not the extra junk that ruins your experience. Presto also offers anti-tracking features, saving you from hidden trackers, which enhances the privacy of the user and prevents ad companies to track your web history.
Setting up Presto is super simple, after installing the app all you have to do is open it and then click on the launch button. There are no complicated settings that you will need to configure before being able to use the app. Presto app also lets you manage a language-specific block list.
You can download Presto Adblocker app for free on your iOS 9 powered device using the App Store link below.
Disclosure: iOSHacker may receive a commission if you purchase products through our affiliate links. For more visit our privacy policy page.