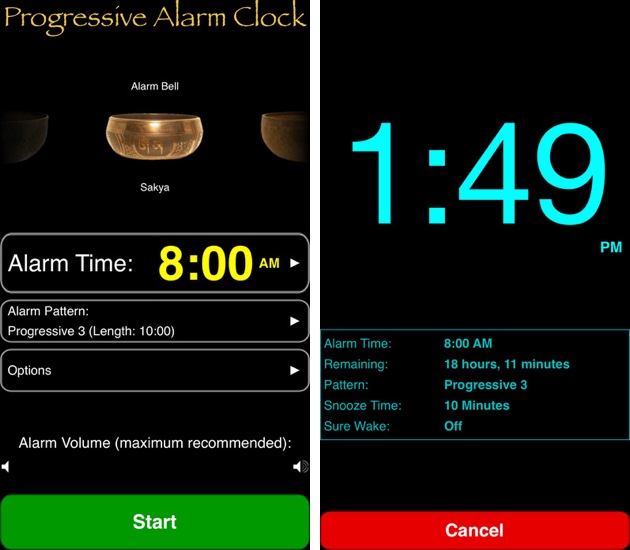 iOS Clock app is pretty much the central place for all things clock. It houses the world clock, alarm, stopwatch, timer and the bedtime feature. While the app works well for most of the things it does, what frustrates many users is lack of customization options in it. For example, you cannot change the snooze times or have the alarm tone fade in gradually instead of abruptly ringing at full volume. If you are looking for the fade in effect on your iPhone's, then you might want to check out the Progressive Alarm Clock from the App Store.
The app focuses on being gentle when waking up the user. It gradually rings the sounds of Tibetan singing bell while slowly raising the volume of the alarm tone. The app will ring the bells at user's alarm time in pre-defined patterns.
The sound will begin slowly and softly, then get louder gradually, waking you up slowly and peacefully. The app offers 5 different patterns for ringing the alarm bells. It also has 6 different bells made up of different metal compositions and sizes.
That's not all as unlike the stock Clock app the Progressive Alarm Clock app also lets you set a custom snooze time ranging from 1 minute to up to 30 minutes. The app can display current time in landscape mode with seven color options for the time display and optionally keep iPhone from sleeping.
Progressive Alarm Clock is not limited to alarm only as it also allows users to write journal notes when they wake up, great for recording your dreams and thoughts according to iTunes app's description. The app even lets you set a password to keep your journals private.
The Progressive Alarm Clock is an app that tries to fill the gap by offering features not available in the stock Clock app. The app does need a redesign as the current UI looks a bit crappy and something straight out of 2008. Still if you are looking for function over style this is a must have app.
You can download the Progressive Alarm Clock app for $0.99.
Disclosure: iOSHacker may receive a commission if you purchase products through our affiliate links. For more visit our privacy policy page.