Cydia has received major updates after the release of iOS 8.4 jailbreak. These updates have introduced new features on the jailbreak store, which includes the ability for users to install tweaks that affect Cydia. This means you can now install tweaks developed by third-party developers to change the way Cydia works and looks. Unsurprisingly, right after the update a number of tweaks were released that allow users to customize Cydia and add new features to it. In this post we will feature the newly released tweaks for Cydia that includes CustomDia, DismissProgress, FavoriteTweaks, Landia and SwipeForMore.
CustomDia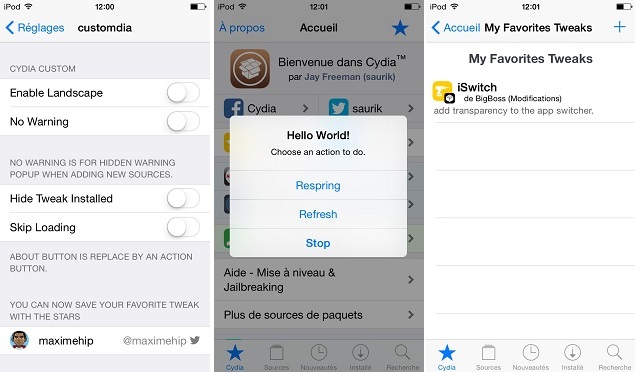 First up on this list of tweaks is CustomDia. It offers a variety of features including ability to enable a landscape mode in Cydia, disable warning that appears when you try to add a pirate repo and skip the loading page that appears when you launch Cydia. It also adds a dedicated 'Favorite Tweaks' section where you can add tweaks you like the most. You can download CustomDia from Cydia for free.
DismissProgress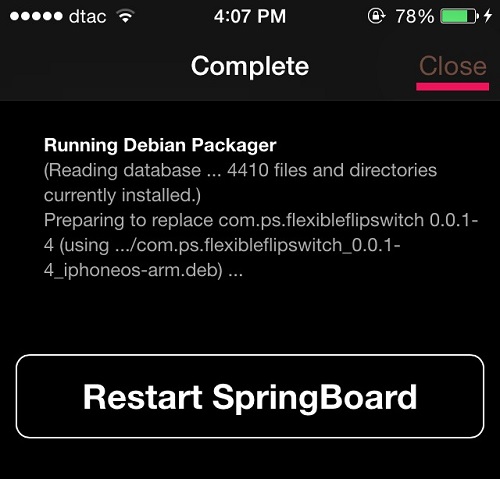 Whenever you install a new tweak from Cydia the store forces you to restart springboard or in some cases reboot the device. You are left with no other choice apart from returning to the homescreen and launching Cydia again or simply tap on the restart button. DismissProgress tweak changes that by adding a 'Close' button on top right side of the screen. When you tap on the 'Close' button you can continue using Cydia and installing other tweaks. Once you are done you can restart the device so that changes can take affect. DismissProgress is a free tweak.
FavoriteTweaks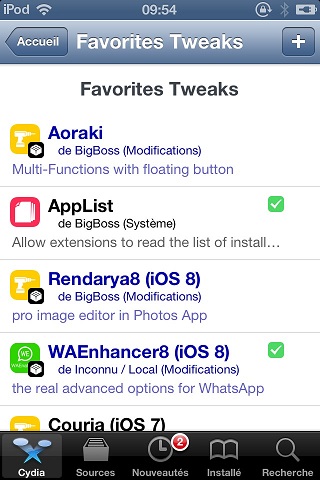 Similar to CustomDia, the FavoriteTweaks also allows users to have a dedicated favorites page where you can add your favorite Cydia tweaks. It adds a star icon on the top menu bar through which you can access your favorite page. An upcoming update to this tweak will add support for iTunes backups, so you won't lose your list after every restore. FavoriteTweaks is available for free and works with iOS 8 devices.
Landia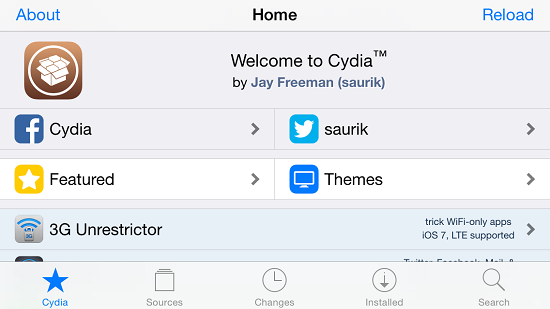 Landia tweak adds a landscape mode to Cydia, similar to CustomDia tweak. It is a free tweak.
SwipeForMore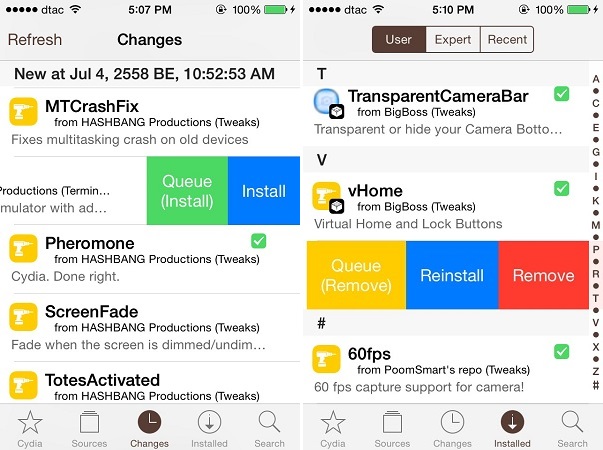 SwipeForMore tweak makes using Cydia easier by adding Mail app like gestures to the store. With this tweak you can swipe on any tweak to quickly install or add it to the queue on 'Changes' page. Similarly, you can remove, reinstall or add a tweak to removal queue from the 'Install' page. All you need to do is swipe on its cell. Just like every other tweak featured in this post SwipeForMore is also free.