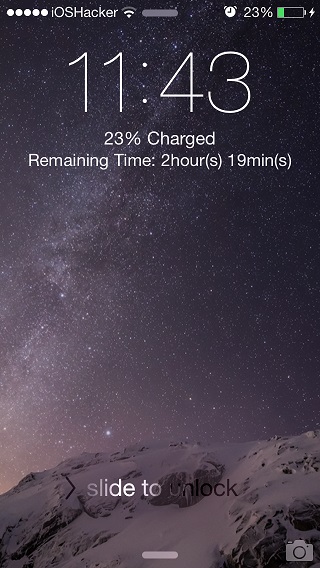 Thanks to the terrible battery life of mobile devices most users jump to the first opportunity they get to recharge their iPhone or iPad. This is something we do on daily basis and for most of us this has to be done at least twice a day. A new Cydia tweak called ChargingHelper has been released to aid users while they are recharging their iOS device. The tweak shows the time remaining for when the device will be fully recharged on the lockscreen in addition to how much it has been charged.
But that's not all as it also packs some other very useful features. With this tweak you can set up alerts that show up to let you know how much the device has been recharged. For example, if you are in a hurry and just want to charge your iPhone up to 50 percent then you can set up an alert for this. When your device has achieved 50 battery level you will receive a pop up accompanied with a sound alert as well as vibration.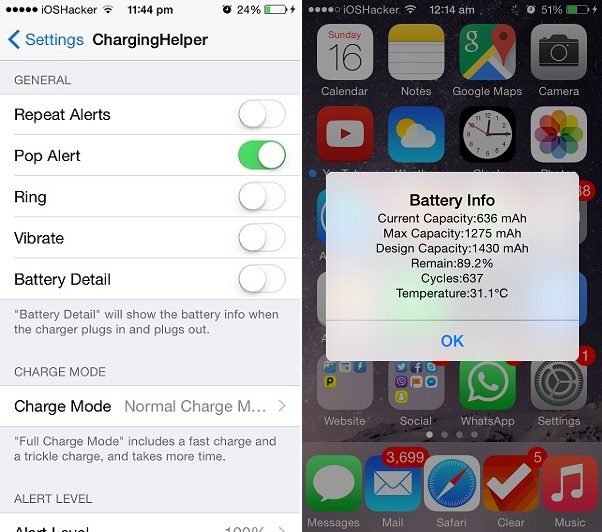 You can also turn on the BatteryDetail toggle that shows information about your battery every time you plug in your charger. This includes battery capacity, cycles, temperature and more. This is shown in the third screenshot above.
Another interesting feature allows you to turn Full Charge Mode on, which essentially turns off the fast charge feature. This toggle makes sure your battery is fully recharged just like it is when you are charging from a USB port of a computer.
You can get ChargingHelper for iOS 8 tweak from Cydia's BigBoss repo for free.