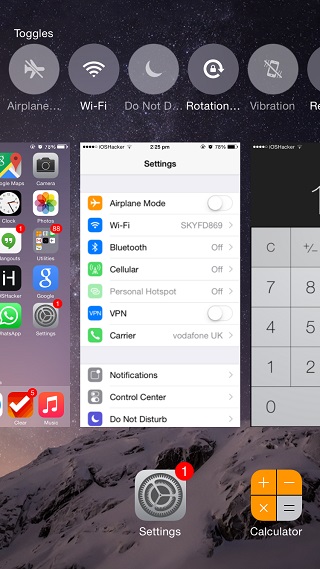 iOS 8 adds a row of icons on the app switcher screen that allow you to access your recently used or favorite contacts and quickly make a call or send a message to them. This feature is useful but not for all users. If you don't like the recently used contacts row in the app switcher then a new tweak called Cobalia replaces it with something even more useful. With this hack you can place control center like toggles for important iOS settings right in the App switcher.
The toggles work exactly like they do in the Control Center allowing you to turn on or off settings like WiFi, Airplane mode, Do not disturb, respring, auto brightness and more. There are a bunch of switches available that you can add or remove from the tweak's dedicated preference page. All you have to do is drag and drop the switches in enabled or disabled sections.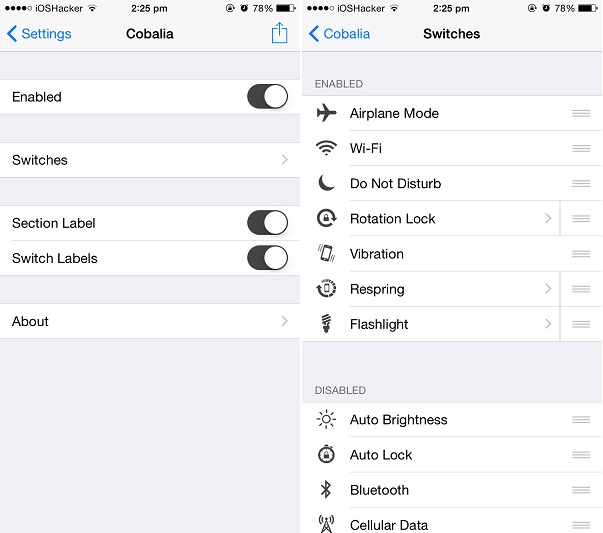 From Settings you can also turn off the labels for section and switches. This is good for those who want to create a minimalistic experience on the app switcher screen.
You can download Cobalia tweak from Cydia for free. It is still in beta so you have to add HASHBANG's repository (http://cydia.hbang.ws) in your sources.