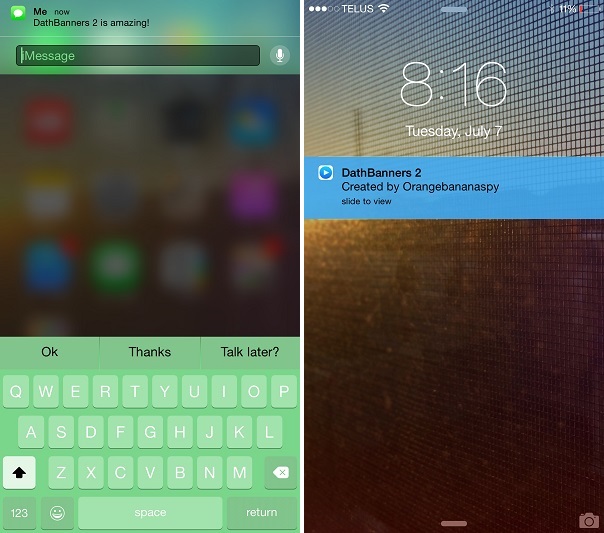 Since iPhone is primarily a communication device we all receive a lot of notifications on it. iOS's banner notifications are pretty, however the operating system does not offer any customization options for them. DathBanners 2 changes that by colorizing the banner alerts using the dominant color of the app's icon. This means each notification you receive will feature a unique color as most apps have different icon colors. DathBanners 2 is the second iteration of the tweak and offers improved performance and features.
DathBanners 2 affects all banner notifications of iOS, this includes notifications that appear on the lockscreen, notification center and simple banners alerts that you get when using any section of iOS. The tweak also changes the color of the quick reply screen and colorizes the keyboard and quick reply interface with the dominant color of the icon, as seen in the first screenshot above.
The tweak offers saturation and alpha level for NC, LS and normal banners. It also selects the black or white color for each banner based on its background color. Users also get the option to turn on or off the underlying blur on the lockscreen.
You can download DathBanners 2 tweak from Cydia for free. It works with all iOS 8 powered devices.