If Instagram had been available in Homer's time, the torment of Tantalum (find out the guy's story here) might have looked more digital-like. Just picture yourself coming across a jolly good meme or a super duper useful Reel on how to get an apple pie order back in your kitchen. Well, you have definitely added them to Saved, and … there it is! The Internet has gone out.
Well, you have just blown a nice chat in DMs with your bestie or messed up a month's pre-planned major cleanup. At moments like this, we get quite a reminiscent chill about the days the data was stored in the internal memory of our devices, not on the web, or simply turn to Ig downloader and get what is needed here and now.
What is an Instagram Downloader?
The Instagram downloader is a customized software solution that allows users to save videos and photos from Instagram to a PC or mobile. It is a third-party tool devised to make up for the absence of a download feature among a standard package on the platform. The tool can be provided as apps, browser extensions, and online services, depending on how you install and use it.
In the article, we will check out two reliable tools that ensure your access to any content no matter what.
The Instagram App F.Y.A Hack Instagram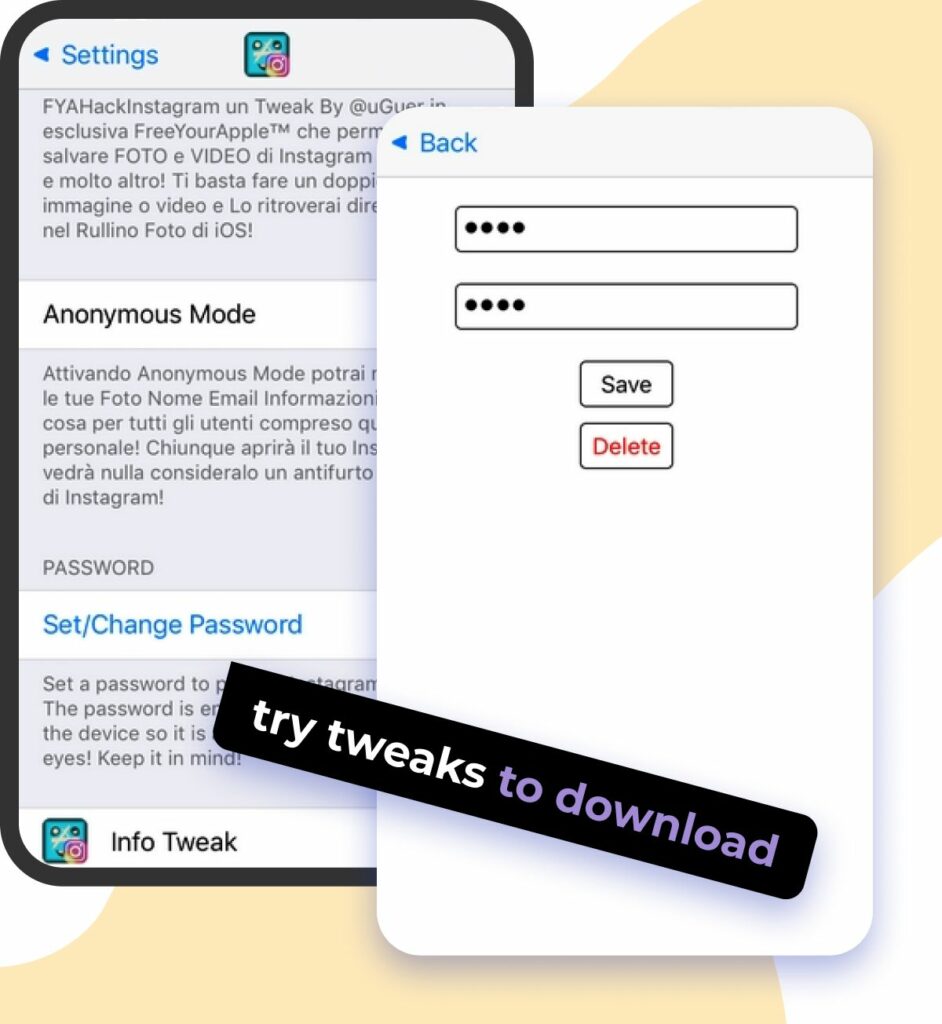 F.Y.A Hack Instagram is not just an app, it is a free tweak that can be installed on iOS 9 and iOS 10-powered Apple devices from Cydia. While someone still dreams of the perfect Instagram, the tweak is well within our reach right now to upload photos and store them on the phone. Therefore, asking how to download images from Instagram will never give you a hassle.
You can also save stories and videos since the tweak works as an ig video downloader. There is no need to be torn between multiple apps to get what you want. It is enough to link your account to the tweak once to make it available in-app. Just double-tap a photo or video and get HD quality right in your camera roll.
It's also amazing software to keep your account safe. You can set a password to block Instagram access from the unknown. It means in case your device ends up in the wrong hands, your Instagram feed will remain hidden. In this way, you ensure the absolute privacy of all DMs and make your content unviewable unless the account is public.
On top of that, the ANONYMOUS MODE is at your fingertips. It is a very handy feature that can be put to practice if, for example, you prefer to view stories and Reels without getting into the viewer statistics lists. As for private accounts, technically the application gives access to them. However, you should be ready to take full responsibility for violating the guidelines of the platform.
We are absolutely confident in this tweak. However, some apps bring more harm than good. Malicious files or software are very often disguised as such tools. Do not go for unverified apps to prevent yourself from cybercrimes!
Apart from security issues, an online Instagram downloader is a great alternative for those who don't want to bother with installing additional applications or trying to save phone memory.
The Instagram Downloader by Inflact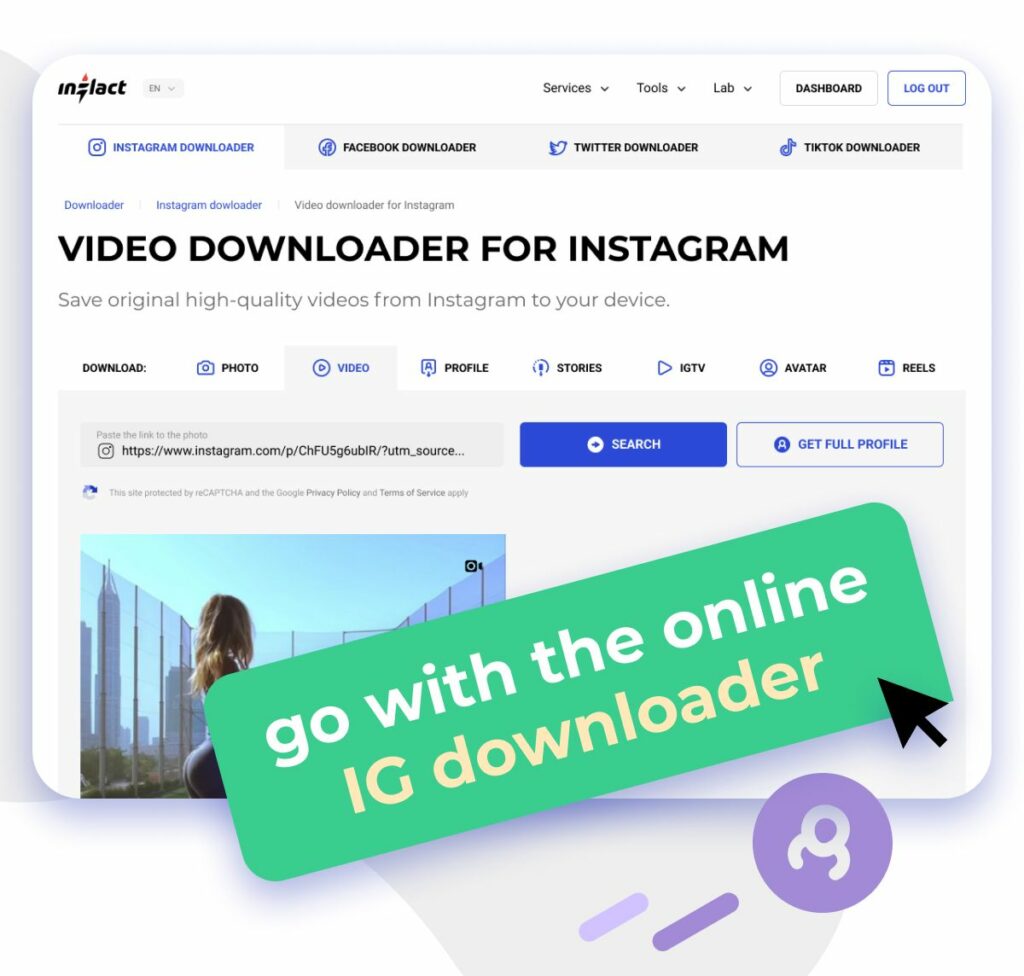 Not long ago, images were the prime focus of Instagram, yet the situation has changed dramatically over the past years. The management has decided to revise the growth strategy, which led to a sharp turn towards video content. We all remember the way stories and Reels have wholly revolutionized the platform. With new features rolling out, the number of user requests on how to save videos from Instagram is going up the same. The Instagram Downloader by Inflact is a universal online service, so downloading any type of content is no more an issue. Paste the link to the desired content into a search bar and get it covered in a twink.
The best part of this tool is that you can download content without authorizing yourself. There is no need even to have an account on the platform. In other words, you download videos and photos from Instagram without registration or providing any personal data.
The service is compatible with all devices. Although the social network is geared toward mobile users, anyone can download the content they like on a PC. A frequent question about how do I move a video or photo from Instagram downloader to gallery will also not cause much trouble. The Instagram Downloader does not store information and transfers it there immediately. Perhaps it would be more useful for you to know where it downloads to Chrome. Just like with the mobile version, you get all the content immediately on your device.
The tool operates within Instagram's privacy policy and only allows you to download videos from public accounts. If you are interested in the post from a private page, get your application approved by its owner first. With regard to downloadable content, the tool is admissible for personal use only. The usage for commercial purposes is allowed only after you receive the consent of the author and place relevant credentials.
The Bottom Line
Deal with proven tools to avoid large-scale and irreversible breaches, and do not resort to illegal software so as not to end up in a shadow ban. The two methods mentioned above are absolutely reliable so that you can go with either of them.
The only challenge you may face is taking up the most suitable one and applying it in practice. We advise you to follow the app updates and side with the latest versions for your iPhone. Such a careful approach will speed up the video download process and fix any program bugs. If you give preference to an online service, the only thing you should worry about is the maintenance of a smooth Internet connection.
You are the one to choose!
Disclosure: iOSHacker may receive a commission if you purchase products through our affiliate links. For more visit our privacy policy page.