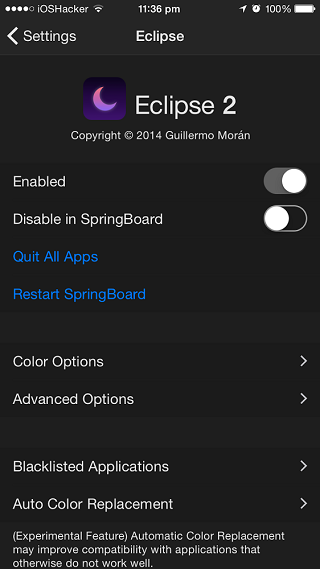 The popular Eclipse tweak that allows iOS users to have a dark mode on their devices has been updated to add iOS 8 and iPhone 6 support. The update also brings the long awaited iPad compatibility, finally making the tweak universal. The changes Eclipse brings are system wide and take place in different parts of iOS, stock apps and third-party apps. Apart from the dark mode you can also choose different colors for the background on your device giving iOS interface a completely different look.
Eclipse supports most popular App Store applications and if you don't want dark mode in a specific app you can simply add it to blacklist from Settings. You can customize different parts of the operating system individually from color options page and choose colors for navbar, tint, status bar and overall theme. With this tweak you can also change the color of Control Center, Keyboard and the Dock from a wide range of options.
After using Eclipse 2 on my iPhone I can say it works better than the previous version and is a must have for users who like to have a dark mode on their device.
Eclipse 2 tweak is available as a free update to those who had purchased the iOS 7 version. For those of you who haven't used Eclipse before it costs $0.99 and is available under Cydia's BigBoss repo.