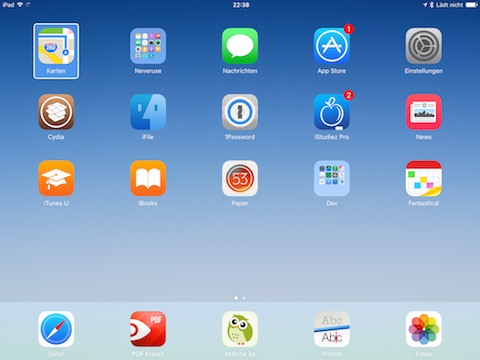 With the Keyhook tweak you can launch apps and navigate around the homescreen through Bluetooth keyboard, without touching the screen. If you are someone who uses a physical keyboard accessory with the iPad or even an iPhone, then you will love the new Keyhook tweak from Cydia. The hack enhances the Bluetooth keyboard support on iOS, making it possible for you to perform different actions on the device's homescreen. On stock iOS users have to tap on the homescreen to launch an app, however with this tweak you can launch apps on iPad or iPhone using the keyboard. You can even navigate around the homescreen without even touching the screen.
Keyhook is such a simple yet a much needed tweak that makes experience of using a keyboard with iOS much better and intuitive. I mean who doesn't hate touching the screen again and again just to open apps. After installing the tweak simply respring and connect your Bluetooth keyboard with your iPhone or iPad. After doing so you will be able to use the arrow keys to navigate through the icons. Keyhook will even show an indicator to show which icon the pointer is currently on. Once you are on the folder or app's icon you want to launch simply hit the enter button to open it.
You can even scroll through pages quickly using the ⌘ + arrow keys. If you want to quickly launch apps that are in your dock then you can also press ⌘ + [1-9] shortcut keys to launch them.
You can now download Keyhook tweak from Cydia on your iOS 9 powered device.