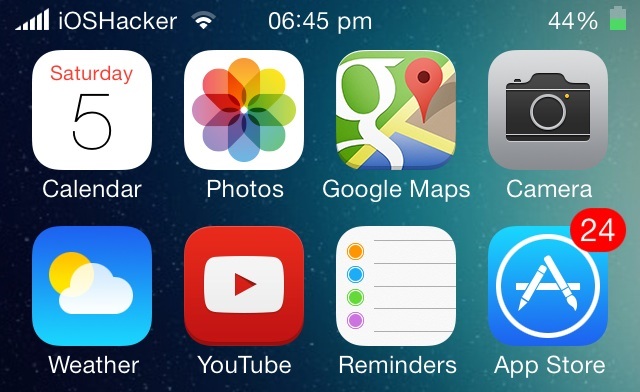 If you are an iOS user who likes the look of Android KitKat's status bar and would like to have it on your iPhone then we have got the perfect hack for you. By installing Android Kit Kat Status Bar on your jailbroken iOS device from Cydia you can make the cellular bar, WiFi signals as well as the battery indicator look like Android's. Android Kit Kat Status Bar is a theme rather than a tweak and requires WinterBoard and Alkaline tweaks in order to work.

Follow the steps below to make your iPhone, iPad or iPod touch's status bar look like Android KitKat.
1. On your jailbroken device open Cydia and search for 'Android Kit Kat Status Bar' and install it. It should be available for free under the Modmyi repo.
2. After respringing your device open Cydia again and install the Alkaline tweak.
3. Now go to WinterBoard by tapping on the homescreen icon or from the Settings.app and select 'AKK WiFi Bars' and 'AKK Cell Signal' themes.
4. Next go to Settings and tap on 'Alkaline' option. From the next page enable Alkaline and select the ' AKK (Full Color) theme. You can also select any other AKK theme from the list according to your preference.
5. Respring your device.
That's it!
Also try: