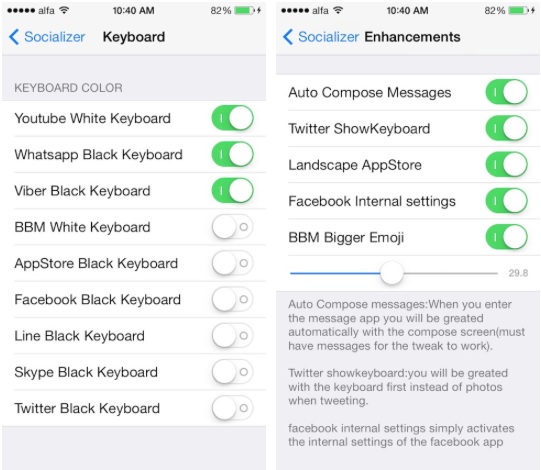 Social networking apps are one of the most used iOS applications. No matter how much you hate Facebook or don't get the point of why Twitter is useful to you there's no denying that you use one app or the other to fulfil your appetite. No matter which social networking app we talk about each and every one of them have their own quirks. A new tweak called Socializer aims to fix this problem by giving more control to the users.
With this tweak jailbreak users can make changes and enhancements to the most popular social applications that include Facebook, Twitter, Skype, WhatsApp, Viber, BBM, Line etc. This tweak has a number of features that enable the user to change these apps according to his or her preference. With this hack you can switch between white or black keyboard so if any app uses the white keybaord by default you get to switch to the black one and vice versa. You also get to enable the fullscreen mode, which removes the status bar when using selected apps.
For the official Twitter app it has the 'ShowKeyboard' feature that essentially allows users to directly get the keyboard when they launch the tweet compose screen within the app instead of the image gallery. The tweak enables the Facebook's internal settings, brings ability for users to make the size of emoji bigger in BBM, enables the landscape mode in App Store and more.
You can download Socializer tweak from Cydia for free. It supports all iOS 7 compatible devices.