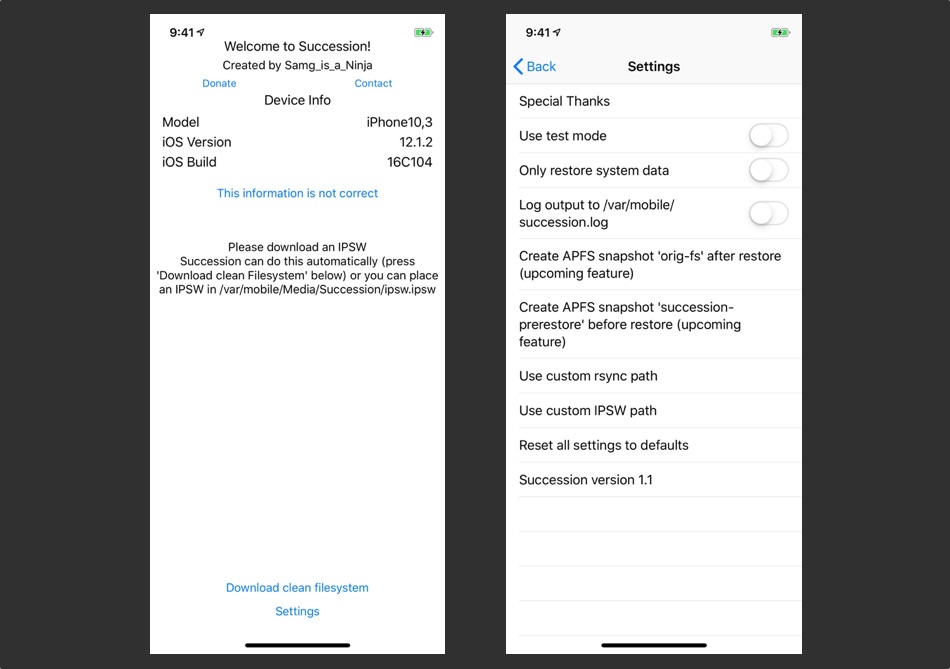 Succession tool, which is essentially a Cydia Eraser alternative with support for iOS 12 jailbreak has been released. The tool that can now be downloaded from Cydia makes it possible for jailbreak users to easily restore their device without updating it to the latest version of iOS, and it does so without requiring SHSH blobs.
The release of Succession tool is groundbreaking for jailbreak users as it provides a way for them to restore iOS to stock without having to upgrade their device to newer signed version, and lose their chance of jailbreaking. With Succession you can restore iOS to its original state and then have a chance to jailbreak it again.
According to its developer Samg_Is_A_Ninja, Succession restores iOS by downloading the relevant IPSW file for the target device and then extracting the root filesystem DMG. Then it uses rsync to replace the files that were previously modified for the jailbreak with the original clean versions. It also deletes any extra files that were added by the jailbreak.
For jailbreak users Succession can be a life saver in situations where they temporarily want to remove jailbreak from their device. This includes instances when you are supposed to send over your device to Apple for repair, want to run an app that does not support jailbreak or perhaps more importantly want to remove a buggy jailbreak to give your device a fresh start.
Succession is not only an alternative to Cydia Eraser but it is also its only replacement for the time being, as unlike Cydia Eraser that only supports with iOS 7 – iOS 10, Succession works on the latest iOS 12 jailbreak along with offering support for iOS 10 and iOS 11.
You can download the Succession tool from Cydia where it is available as a free download under the BigBoss repo.