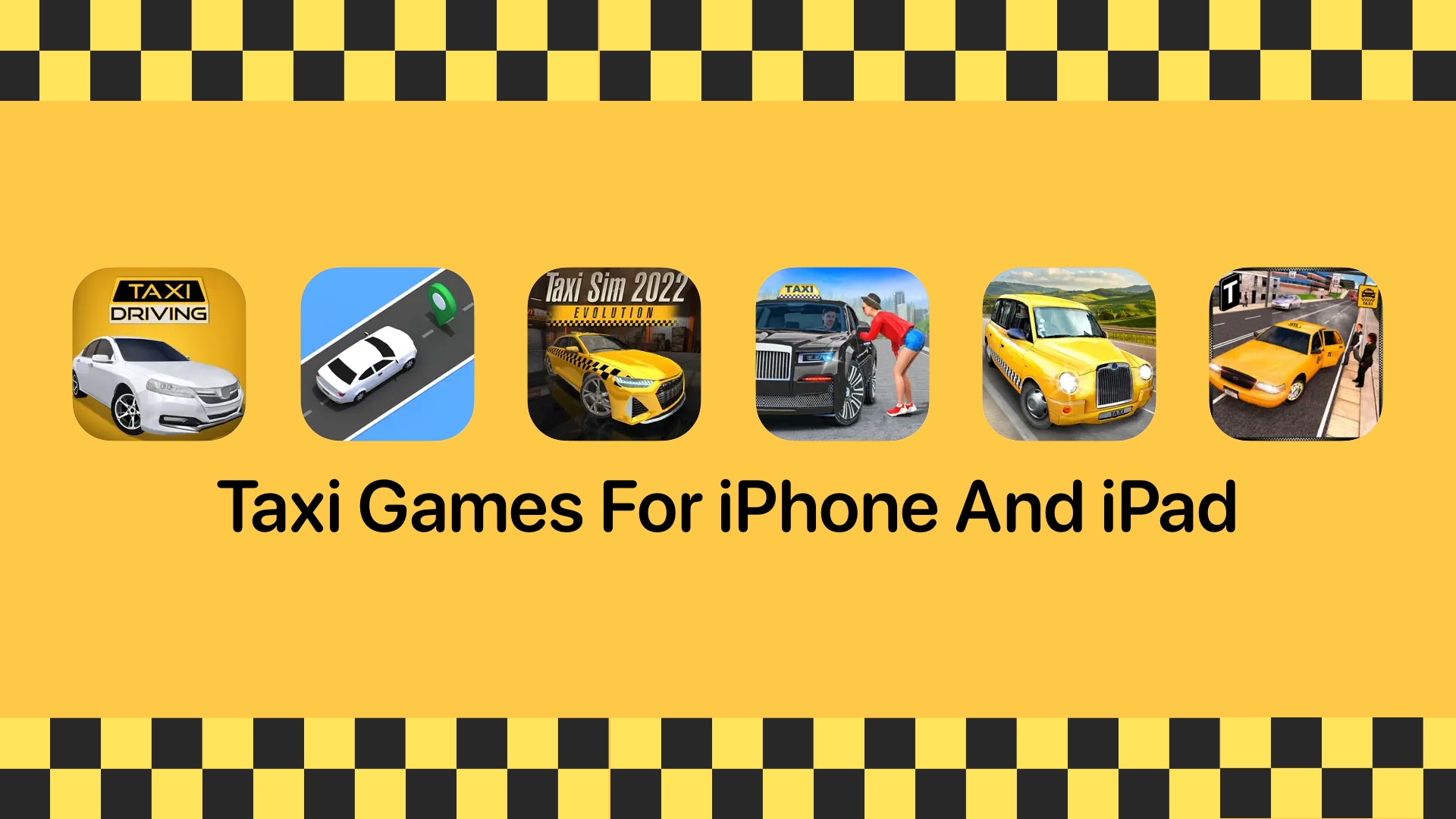 Rev up those virtual engines and prepare for a wild ride through the world of mobile gaming! If you've ever dreamt of becoming a cabbie cruising through the neon-lit streets of a bustling metropolis, or if you simply enjoy the thrill of high-speed races, then you've stumbled upon the perfect pit stop.
In our article in which we have listed the best taxi simulator games for iPhone, we're about to take you on a journey where your iOS device becomes the steering wheel to your very own taxi adventure. Buckle up, because we're about to explore the top picks for on-the-go taxi-themed fun, and trust us, it's going to be a ride you won't want to miss!
Best Taxi Games for iPhone and iPad
Check out these taxi games for iPhone and iPad that let you become a taxi driver and enjoy the ultimate taxi driver experience.
1. Taxi Sim 2022 Evolution

Are you ready to hit the streets and take on the ultimate taxi driver experience?
Taxi Sim 2022 Evolution offers a thrilling experience with a choice of over 30 incredible vehicles, and we keep adding new cars regularly to keep the excitement alive. You'll navigate through sprawling cities like New York, Miami, Rome, and Los Angeles, adjusting your driving style to cater to different types of passengers, whether they're in a hurry or prefer a smoother ride.
Your journey as a taxi driver starts with regular cars, and you'll work your way up to SUVs, luxury vehicles, sports cars, and even supercars. The better the car, the more you can earn, especially when transporting VIP clients. What sets this one of the best taxi driver games for iPhone apart is that every car you own can be used for both taxi and private taxi services, providing a unique gameplay experience.
The game offers stunning graphics and lifelike environments in an open-world driving adventure. You'll encounter features that distinguish this app from other taxi simulation games, like pedestrians opening umbrellas when it rains, destructible objects, and realistic volumes of cars and people on the streets.
Install Taxi Sim 2022 Evolution from the App Store today!
2. City Taxi Driving: Driver Sim

Tired of the daily commute? Want to experience the thrill of navigating a bustling city as a taxi driver? Well, look no further, because City Taxi Driving: Driver Sim is here to make you a superstar taxi driver in no time!
With 100 crazy and unique levels to conquer, this game will put your driving skills to the test. From maneuvering through busy city streets to taking on long road trips, there's never a dull moment. And the best part? You can unlock more taxis using coins and videos, giving you an endless variety of vehicles to tackle the city rush.
But it's not just about speed and excitement. City Taxi Driving also throws challenging driving and parking missions your way, so be prepared to show off your precision and finesse. Your goal is to safely drop off a variety of unique personalities around the city while exploring a wide-open world with realistic driving physics.
Install City Taxi Driving: Driver Sim from the App Store today!
3. Radio Taxi Driving Game 2021

Ready to conquer the town as the ultimate taxi driver? In City Taxi Driving: Driver Sim, you'll experience the thrill of dropping off and picking up interesting passengers in a bustling city. Challenge yourself with intricate driving missions and enjoy the realism of the game's physics.
Keep your taxi app ready as job requests can come at any time. Accept the tasks and race against the clock to pick up passengers before any competition. The more efficiently you serve your passengers, the more rewards and tips you'll earn. Be punctual, especially for those early morning airport pickups!
In this taxi simulator, there's even a friendly rivalry with other cabbies, like Offroad Cabbie, who's popular in the countryside. Show off your cheerful attitude and impress passengers to make a fortune for yourself. You'll encounter a wide range of cars, from classic to modern taxi models, and you can even book rides via phone. Smart AI traffic and a vast environment add to the realistic experience.
Install Radio Taxi Driving Game 2021 from the App Store today!
4. Taxi Driver 3D

Rev up your engines and hit the city streets in City Taxi Driving: Driver Sim! This isn't your run-of-the-mill taxi game; it's a test of your driving skills on tight streets and busy roads as you rush to reach your destinations within the time limit.
Get ready for a thrilling experience with rich graphics and smooth controls that'll have you driving like a pro in no time. The versatile camera angle lets you explore the city from every angle, and the rush of speeding through the streets and enjoying breathtaking views is unlike anything you've experienced before.
So, what are you waiting for? Put the pedal to the metal and embark on an improved taxi driving adventure filled with exciting missions and daily challenges. You can even customize your controls to match your driving style, whether you prefer tilting, steering, or using buttons. And with realistic city environments and traffic signals, you'll feel like a true taxi driver as you pick up and drop off passengers in iconic cities like San Francisco, New York, and Los Angeles.
Install Taxi Driver 3D from the App Store today!
5. Pick Me Up 3D!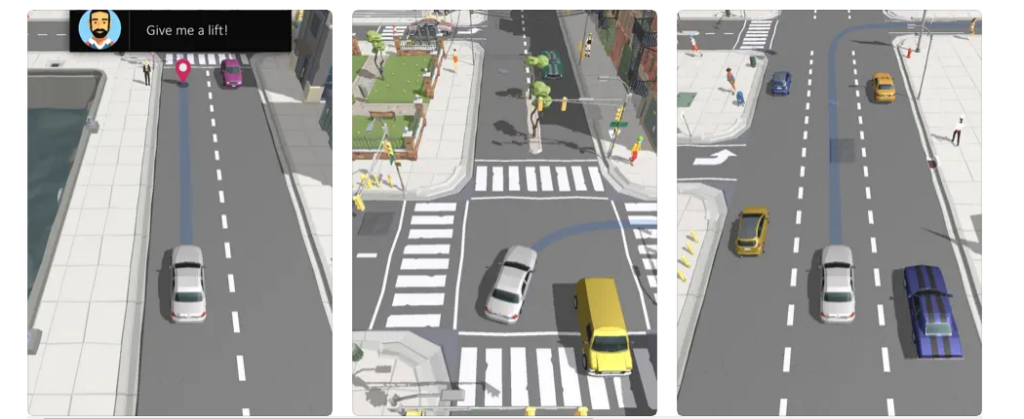 Rev up your engines, because the ultimate ride-sharing iPad taxi simulator game is back, and it's crazier than ever! In Pick Me Up 3D!, you're the master of the road, driving around to pick up and drop off customers at their dream destinations.
Getting behind the wheel is a breeze! Just tap and hold to accelerate, release to brake, and make sure to avoid those pesky collisions with other vehicles. As you drive, be on the lookout for cash to collect and unlock some seriously sweet cars. And let's not forget the fun part – exploring the virtual world with famous landmarks and competing with other drivers to see who can rack up the most tips.
So, are you ready to hit the road and prove you've got what it takes to be the ultimate ride-sharing superstar? Download this uber driver games for iPhone now and let's see who can make the most cash while having a blast on the streets!
Install Pick Me Up 3D! from the App Store today!
6. Bus & Taxi Driving Simulator

Get ready to kickstart your career in the world of iconic taxis from across the globe and then move up to a remarkable collection of world-famous BIG and LONG buses! No matter what you're driving, your mission is the same – pick up passengers and get them to their destinations swiftly and securely.
Your journey begins with driving easily recognizable taxis that will transport you to iconic locations. Feel like a London cab driver in a famous Black Cab, switch over to a Classic Yellow American Chequer Cab, explore various European favorites, and more!
Once you've honed your skills behind the wheel of taxis, take on the challenge of navigating massive buses through the tightest city corners! Stay on your route and adhere to your timetable, all while ensuring a smooth and safe ride for your passengers. Conquer every mission with vehicles like the New York Bus, Tour Coaches, London Bus, Classic Yellow School Bus, and a massive Bendy Bus!
Install Bus & Taxi Driving Simulator from the App Store today!
To Conclude
So, whether you're an avid gamer looking for a new way to challenge your skills or just someone looking to pass the time on your iPhone or iPad, the world of best taxi driver games 2024 offers a diverse and thrilling landscape waiting to be explored. From the heart-pounding pursuit of high-speed chases to the laid-back charm of managing your very own virtual taxi business, these iPhone taxi driver games 2024 have something for everyone.
So why wait? Grab your mobile device, hit the App Store, and embark on a journey where every fare is an adventure and every street is a new opportunity. It's time to rev up those virtual engines and take the wheel in the best taxi driver games for iPad the App Store has to offer.
Disclosure: iOSHacker may receive a commission if you purchase products through our affiliate links. For more visit our privacy policy page.