In this tutorial we will show you how you can enable Reduce Loud Sounds feature for headphones. This feature is designed to reduce loud sounds when you are listening to audio using headphones.
If you have used iOS 13, you may be aware of a hearing feature Apple had introduced in the Health App. The feature was, in fact, designed to protect users from high levels of sound from their headphones for an extended period of time. Yes, an amazing feature, indeed, and Apple decided to take this feature to a more advanced level in iOS 14. In the new version of iOS, the hearing features have the ability to measure and reduce the volume level of the loud sounds you hear in real-time. 
The main reason for introducing the Reduce Loud Sounds feature is the health hazards of users being exposed to loud sounds. According to health experts, listening to high volume at 80 decibels for more than 40 hours a week puts you at a higher risk of hearing loss. The damage starts at 90 decibels for four hours in a week. And over 100 decibels for just a few minutes causes damage. 
How To Enable Reduce Loud Sounds For Headphones
So, if you care about your health, and want your iPhone or iPad to reduce loud sounds when you are listening to headphones, follow the simple steps below.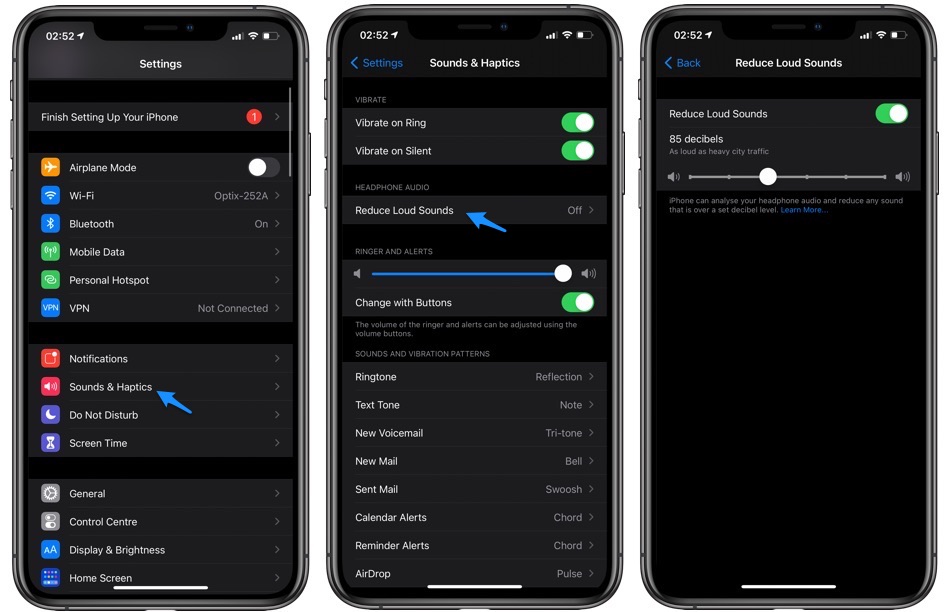 Go to the 'Settings'
Tap 'Sounds & Haptics'
Tap 'Reduce Loud Sounds'
Next to 'Reduce Loud Sounds' turn the switch ON.
Now, use the slider and set the sound level over which your device should automatically reduce the loudness. By increasing it to 5 levels, you can set the level to 75 to 100.

 
Now that you know how to reduce the loudness of the sounds around you on iOS 14, share this post with your friends and family and protect them from health hazards.
Stay tuned to iOShacker.com for more useful posts for your Apple device and stay updated with the new features.