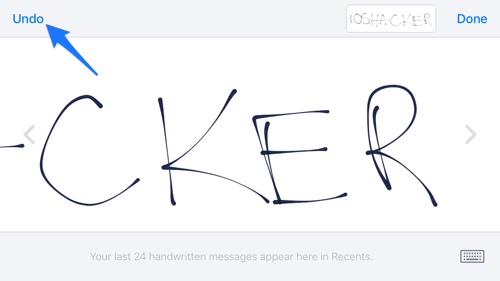 iOS 10 Messages app packs a wide range of new features that also includes ability to send handwritten messages. Using the handwriting feature is simple, to access the writing screen all you need to do is put your device in landscape mode and then start drawing with your fingers. If you use the feature regularly, then you might have noticed that in order to erase handwritten text or shapes you have to tap the undo button repeatedly. This gets very annoying as one tap only erases what you wrote in a single stroke, before you lifted your finger. So to erase the whole thing you have to tap several times.
However recently by accident no less, we discovered that there is an easy and quicker way of erasing the handwritten messages. Instead of repeatedly tapping the 'Undo' button in order to get rid of what you had written previously, you can tap and hold the 'Undo' button. While the button is pressed (meaning held continuously with your finger without you lifting it) all the strokes will get erased one by one. To stop at any point you can simply lift your finger up and start writing again whenever you like.
This provides a much faster way of erasing the handwritten message in iOS 10 or later's Messages app. This technique saves both time and effort for the user.