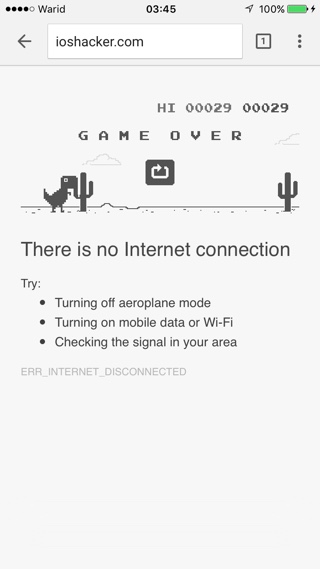 The latest version of Chrome features a hidden game that not many users know about. The popular mobile web browser app allows users to enjoy an endless running game on their devices when their Internet is not working. This is the same game that has been part of Chrome's desktop versions for a while now. If you liked playing it on your computer, you will certainly appreciate the mobile version too. Read on to learn about how to play Chrome for iOS's endless running game.
On your iPhone, iPad or iPod touch open the Chrome browser app.
Turn off its WiFi and make sure the cellular data connection is also turned off from Settings > Mobile Data > Off. Turning on Airplane Mode should also do the trick.
Now tap on the address bar and type in any URL (for example ioshacker.com) and hit the 'Go' button.
When 'There is no Internet connection' screen appears tap on the dinosaur icon on your screen. Right after you do so the game will begin. To play it just tap anywhere on the screen in order to make the dinosaur jump and make it avoid obstacles.