Apple added a lot of new features to the iMessage service in iOS 10. While almost all these new features are focused on the iOS Messages app, it is easy to forget that they also work on macOS Sierra. Although you can't send a message with special effects from your Mac, you can receive them on it. Tapback feature on the other hand works on both platforms, which means you can send as well as receive tapbacks from the Messages app for Mac. In this post we will show you how you can send love, like, dislike, haha, ?? and !! tapbacks from your Mac.
1) First you need a message you want to send tapback on. It can be your own message or the one sent by your friend.
2) On iOS you have to tap and hold on the bubble for the tapback menu to show. On macOS Sierra however you have to right- click the bubble.
3) Once you right-click a menu will appear. Simply click on the 'Tapback…' option from the menu.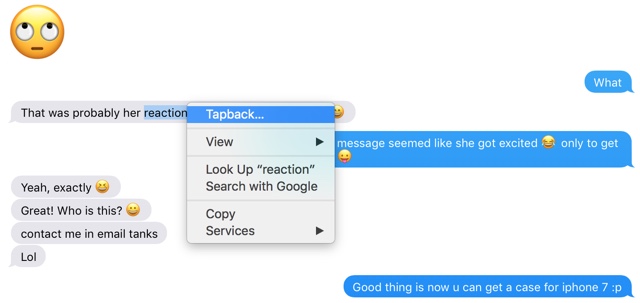 4) Now iMessage will display the tapback menu with heart, thumbs up, thumbs down, Haha, exclamation and question marks. Click on the one you want to send.
That's how you send a tapback response from the Mac. You can not only send the tapbacks but you can also receive them from friends. They will show up right above the message bubbles just like they do on the iPhone or iPad's Messages app.