If you download an application from the App Store that you don't like or want to hide from others, then simply deleting it from your device isn't enough. The app will show up on the purchase history section of your account for eternity, or would it?
Many people don't know that you can hide or remove apps from App Store purchase history page. Once the apps are removed they no longer show up on the purchases page on any of the connected devices. Follow the steps below or watch the video above to see full tutorial on how to remove apps from App Store purchase history page.
Remove Apps From App Store Purchase History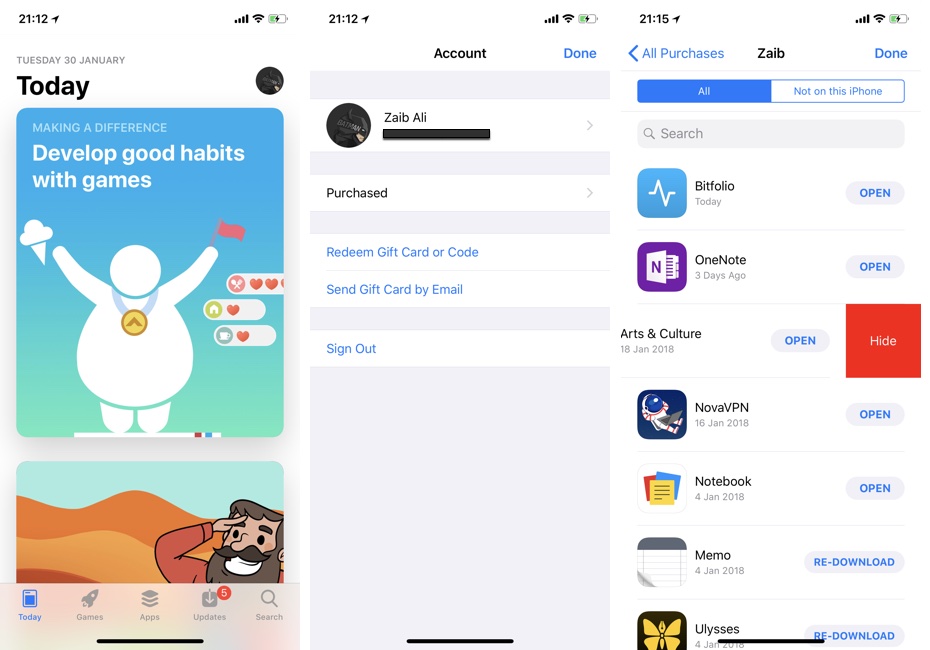 1. On your iPhone or iPad open App Store app's Today page.
2. Tap on the Apple ID profile picture and then on 'Purchases'.
3. From the next page tap on 'My Purchases' and wait for the list of apps to load.
4. Once the list has loaded find the app that you want to remove and slide left on it.
5. Now tap on the 'Hide' button to hide it from the purchase history page. Repeat until you are done hiding apps.
Even though these apps are now hidden they will remain on your devices until you delete them manually. Also, the apps you have paid for can still be downloaded even after you have removed them from the purchase history. To download paid apps simply search for them in the App Store, tap on the price button and enter your password.
The App Store will verify that you have already paid for the app and let you download without any extra charge.
You can view all the apps that you have hidden in one place using iTunes. Follow the steps below.
1. Launch iTunes on your computer and make sure you are signed into your Apple ID.
2. From the menu bar click on the 'Account' option and then on 'View my account'.
3. Under iTunes in the Cloud you will find Hidden purchases option, click on the 'Manage' button located next to it.
4. Now click on the 'Apps' tab from the top right.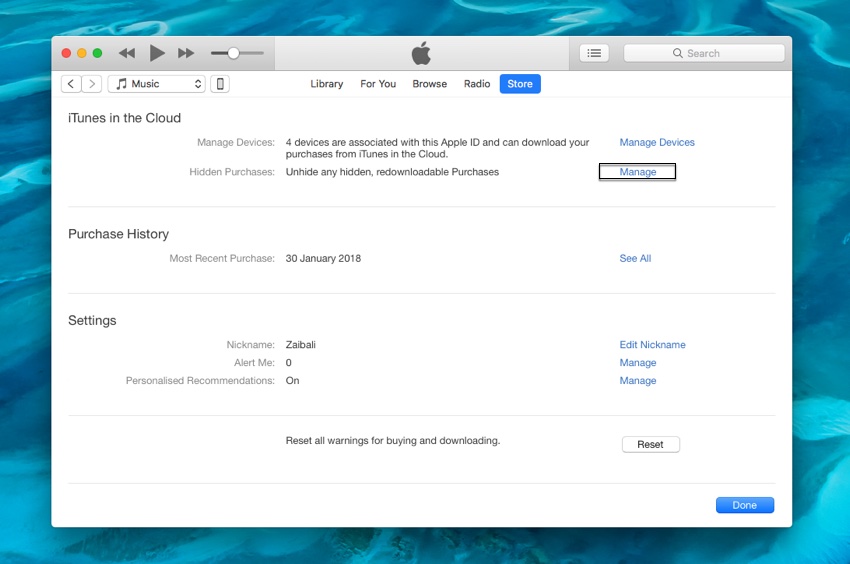 5. On the next page you will see all the apps that you have previously hidden. From here you can unhide individual apps or unhide all by clicking on the button.
That's how you can remove or hide certain apps from your App Store purchase history. If you have any questions, then feel free to leave a comment below.
Disclosure: iOSHacker may receive a commission if you purchase products through our affiliate links. For more visit our privacy policy page.