Doing simple tasks such as selecting multiple photos can be a lengthy process since you have to tap on each and every image when in selection mode. But if you are an iOS user you can minimize the time and effort needed for such tasks by paying more attention and taking advantage of the subtle but useful features of the operating system. A few days ago while selecting photos in the stock Photos app I stumbled upon a simple feature that enables users to quickly select multiple photos in their albums in just a single tap.
The Photos app divides your images based on the the timeline and displays them separately. So this feature is not only useful when you want to select photos in bulk but also when you want to share photos taken on a particular day such as on a trip or a birthday party.
Here's how to select multiple photos with a single tap in Photos app.
1. In the photos app go to the 'Photos' tab. Now look for the group of photos you want to select. Then hit the 'Select' button as highlighted in the screenshot below.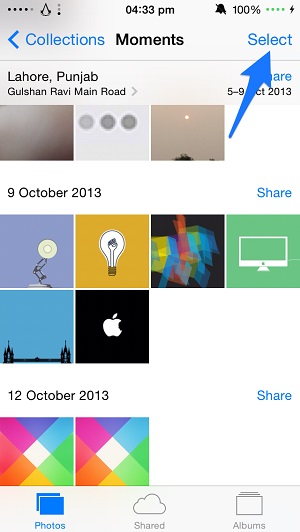 2. Next hit the 'Select' button located on top right side of the group of photos you want to select.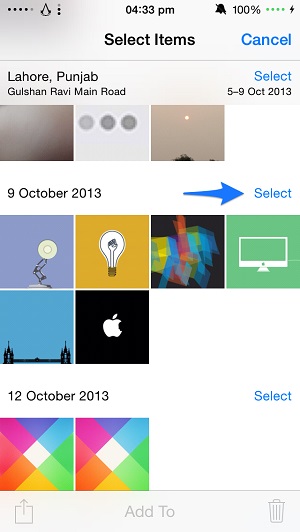 3. That's it! You can tap on the 'Deselect' button if you want to deselect them or tap on the images you don't want to include in your selection. After this you can either share, delete or add these photos to any album you want.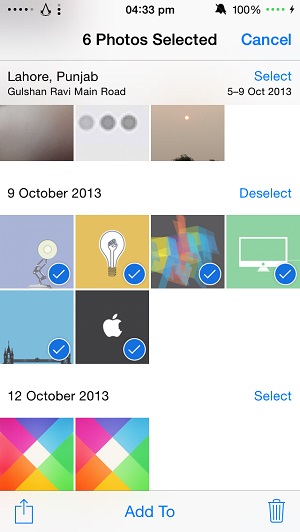 Did you know about this feature of Photos app? If yes do you use it often? Let us know in the comments below.