Facetime is certainly the favorite video and audio calling service for iOS users. It not only allows them to have conversations with other iPhone and iPad users but they can also communicate with family and friends who are using using a Mac. Just like any other video calling service Facetime uses large amount of data. While WiFi users are not normally concerned about the amount of data they are consuming, those using the cellular data are more than interested in knowing it.
There's no way of knowing how much data a call has consumed while you are on the call however you can check this afterwards by going to the stock Phone application. This information can also be found in the dedicated Facetime app for both video and audio calls.
Here's how to check  how much data was used by individual Facetime calls.
1. Open the stock Phone application and tap on the 'Recents' tab. From the list of recent phone calls look for the one you want to check data usage for. Once found, tap on the 'i' button located on the right side of it.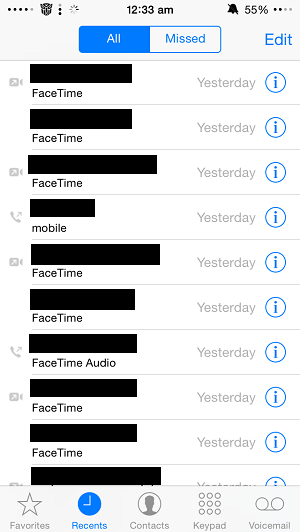 2. On the next screen you will find the data usage info you are looking for. The app will show this useful information along with time you made the call and its duration. It also tells if the call was outgoing or incoming and shows the amount of data the particular instance of the call used in MBs (or possibly GBs based on its length).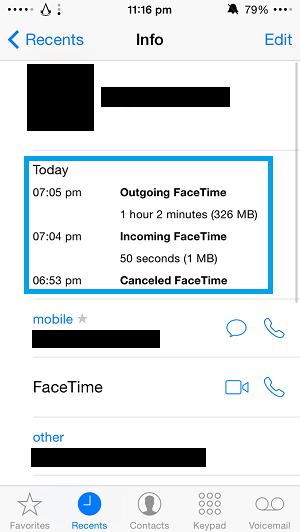 Similarly you can find the very same information in the Facetime app by going to Recents > 'i'.
While this method shows the data usage for calls that have already been made this information is still useful as it will tell you how much cellular data you have consumed with a particular call. It will also help you in knowing how long you can talk without exceeding your data allowance.