Now that Apple has discontinued making leather cases for iPhone 15, these awesome cases are here to add style and protection to your iPhone 15.
We all know that iPhones are not just gadgets; they're a style statement, a pocket-sized powerhouse, and a constant companion in our daily adventures. And what better way to protect and showcase your sleek new device than with a premium leather case?
In 2023, the world of iPhone accessories has evolved, and we're here to guide you through the iPhone 15 leather cases that not only safeguard your prized possession but also add a touch of elegance and personality.
If leather cases are not your style, then you can check out other styles of iPhone 15 cases here.
Best leather cases for iPhone 15
Whether you're a trendsetter, a minimalist, or someone who loves a pop of color, stay tuned as we unveil the crème de la crème of premium leather cases for iPhone 15.
Your next style upgrade is just a scroll away!
1. LONLI Edition Premium European Genuine Leather iPhone 15 Case
Indulge in pure luxury with the LONLI Edition Leather Case. It's more than just a case; it's a tactile masterpiece that elevates your iPhone experience to sheer elegance.
Crafted meticulously from premium European leather, this case is a timeless symbol of sophistication in an age of extravagance. No flashy logos detract from its pure, understated design, allowing the exquisite European leather to seamlessly blend with your personal style.
Made from top-tier European full grain leather, it's incredibly soft and smooth, gaining character and charm as it develops a patina over time. Plus, it's Magsafe compatible, thanks to built-in magnets, and its raised edges shield your camera and screen from life's scratches and drops.
Buy LONLI Edition Premium European Genuine Leather Phone Case for $25.91 here.
2. Mujjo Leather Phone Case for iPhone 15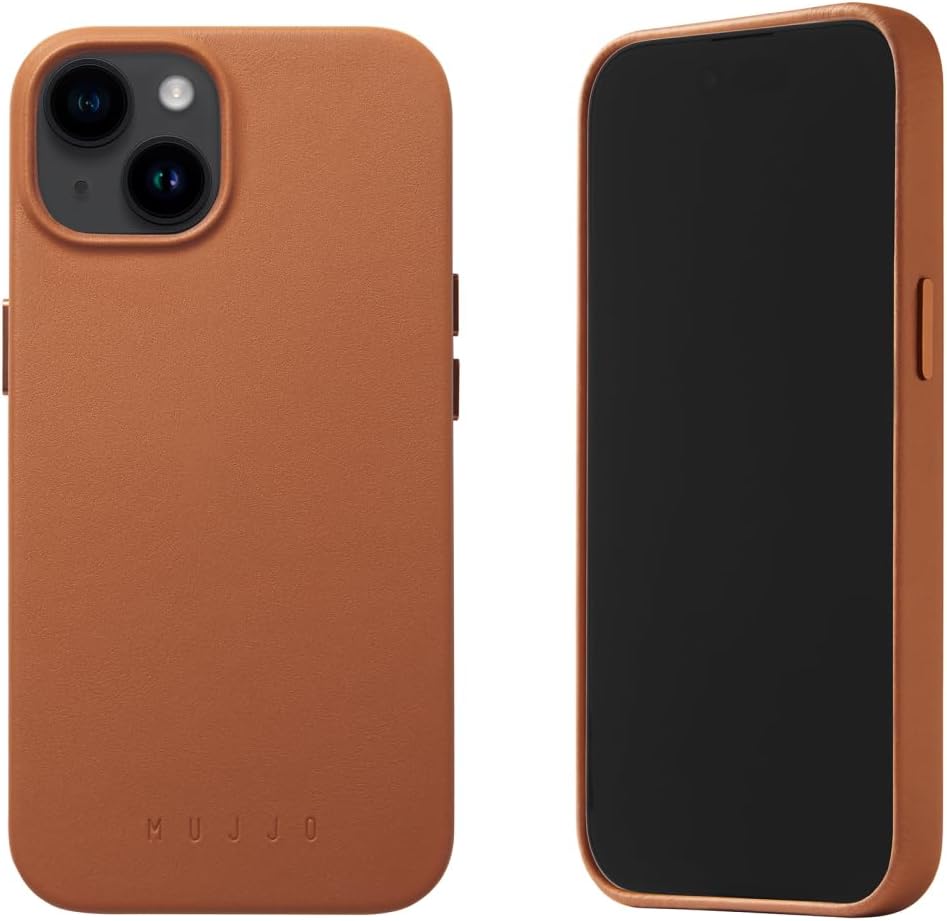 Crafted with precision, Mujjo Leather Phone Case boasts a 1mm raised leather bezel that shields your screen from potential scratches on rough surfaces. The rear-camera bump is no ordinary bump; it's machined from recycled aluminum, ensuring both durability and style. Plus, it fits seamlessly at the base without obstructing your speakers or charging port.
Mujjo has taken care of the little details too. This case features recycled machined-metal buttons, adding an extra dose of clickiness to your device's controls. The result? Optimal responsiveness and a premium feel like no other.
What's more, the case has integrated MagSafe technology, making wireless charging a breeze. It's also fully compatible with all MagSafe accessories, bringing convenience and innovation to your everyday life.
And the leather has been source from northern European hides and tan it using the water-saving DriTan process. This Gold-Rated leather ages gracefully, developing a unique patina over time that tells your story.
Buy Mujjo Leather Phone Case for $49 here.
3. Bellroy Phone Case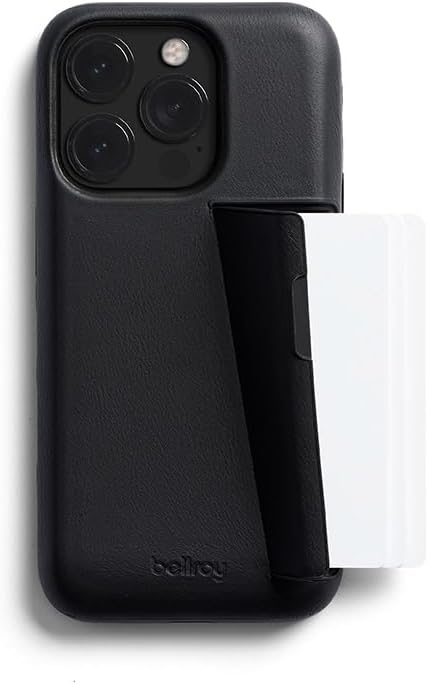 Say goodbye to fumbling for your wallet or rummaging through multiple pockets. This sleek accessory not only shields your phone but also moonlights as a minimalist wallet, ingeniously concealing your cards in a hidden compartment.
Crafted with premium eco-tanned leather, Bellroy Phone Case offers a luxurious tactile experience that extends from edge to edge. The flex polymer bumpers provide robust protection where it counts the most, safeguarding your phone from potential impacts.
Imagine effortlessly stashing your most-used cards behind a discreet trap door and leaving your bulky wallet behind. And for the tech-savvy traveler or covert operative, there's a secret slot inside for a spare SIM card and pin.
But there's more to it than just functionality. Bellroy takes pride in using only top-tier, responsibly sourced, top-grain leather from tanneries awarded a gold rating by the Leather Working Group. This not only guarantees durability but promises an exquisite aging process that only gets better with time.
Buy Bellroy Phone Case for $79 here.
4. Dockem Card Case for iPhone 15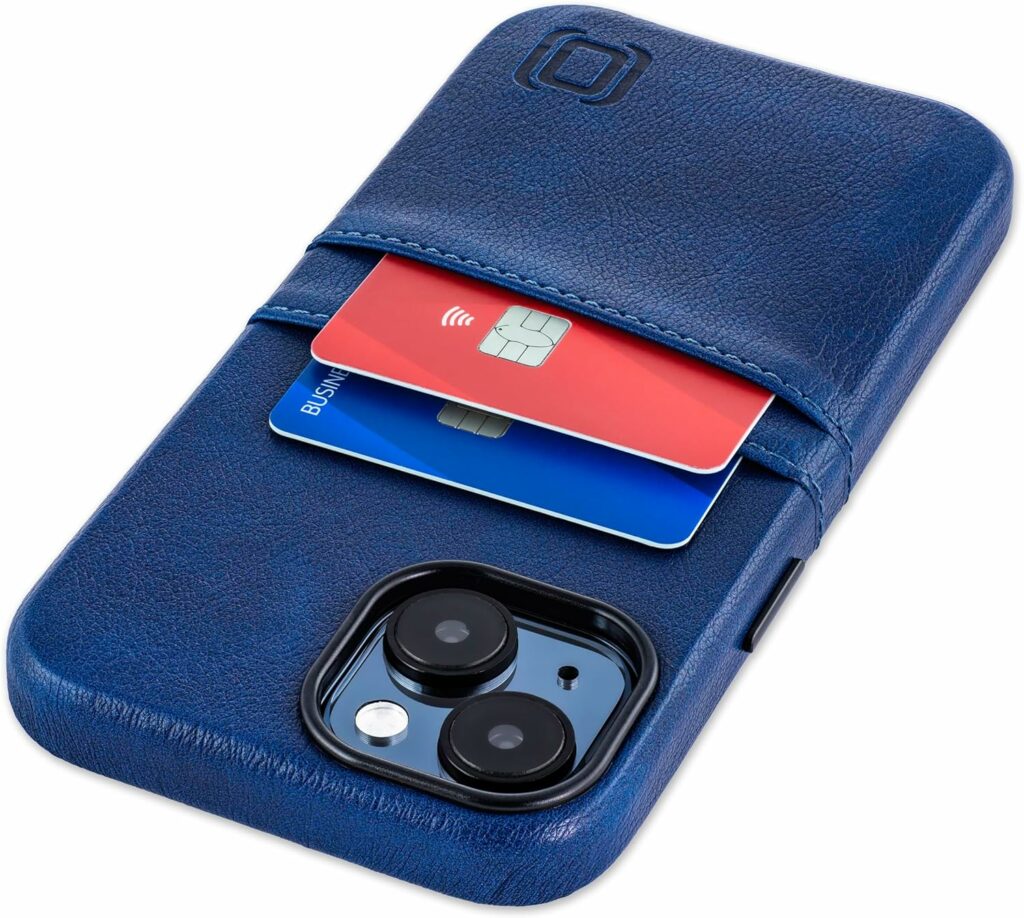 The Dockem case is where style meets functionality effortlessly. Installing it is a breeze, thanks to the easy snap-on shell. You get seamless access to all your ports and buttons.
But here's the real game-changer: an integrated metal plate tucked away discreetly. This bad boy ensures a flawless connection with Dockem's v3 Series Magno Mounts. And the premium synthetic leather giving your phone a suave, professional vibe. It's not just a case; it's a style statement.
Dockem has got your back on the practical front too. At a mere 14 mm thickness with two cards snugly in place, it's slim yet substantial. With two separate slots, you can stash your most important cards or IDs. Who needs a wallet when you've got this sleek companion by your side? Convenience, meet class – that's the Dockem way.
Buy Dockem Card Case for iPhone 15 for $19.99 here.
5. LONLI Classic European Nappa Leather iPhone 15 Case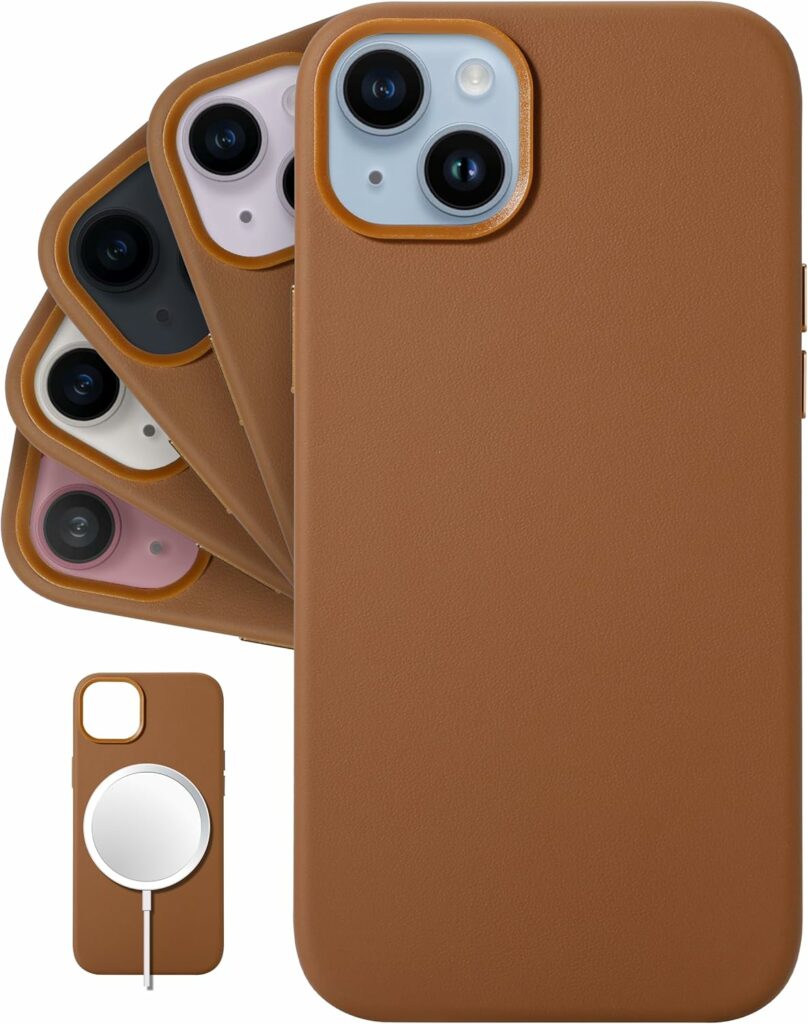 Crafted from exquisite Italian Napa leather, LONLI Classic European Nappa Leather Phone Case ages like a fine wine, gradually softening and smoothing with every touch. Its classic, logo-free design exudes timeless elegance, making it a perfect accessory for any occasion.
Plus, it's not just about style – this iPhone 15 Pro leather case with MagSafe is designed for functionality too. Thanks to its built-in magnets, it's fully compatible with Magsafe accessories, ensuring you can easily snap on your favorite extras.
And when it comes to protection, this case has you covered. Its raised edges provide a shield for your camera and screen, guarding them against the perils of everyday life. Say goodbye to scratches and accidental drops with this sleek and dependable accessory.
Buy LONLI Classic European Nappa Leather Phone Case for $25.91 here.
6. Casus Leather Classic Cover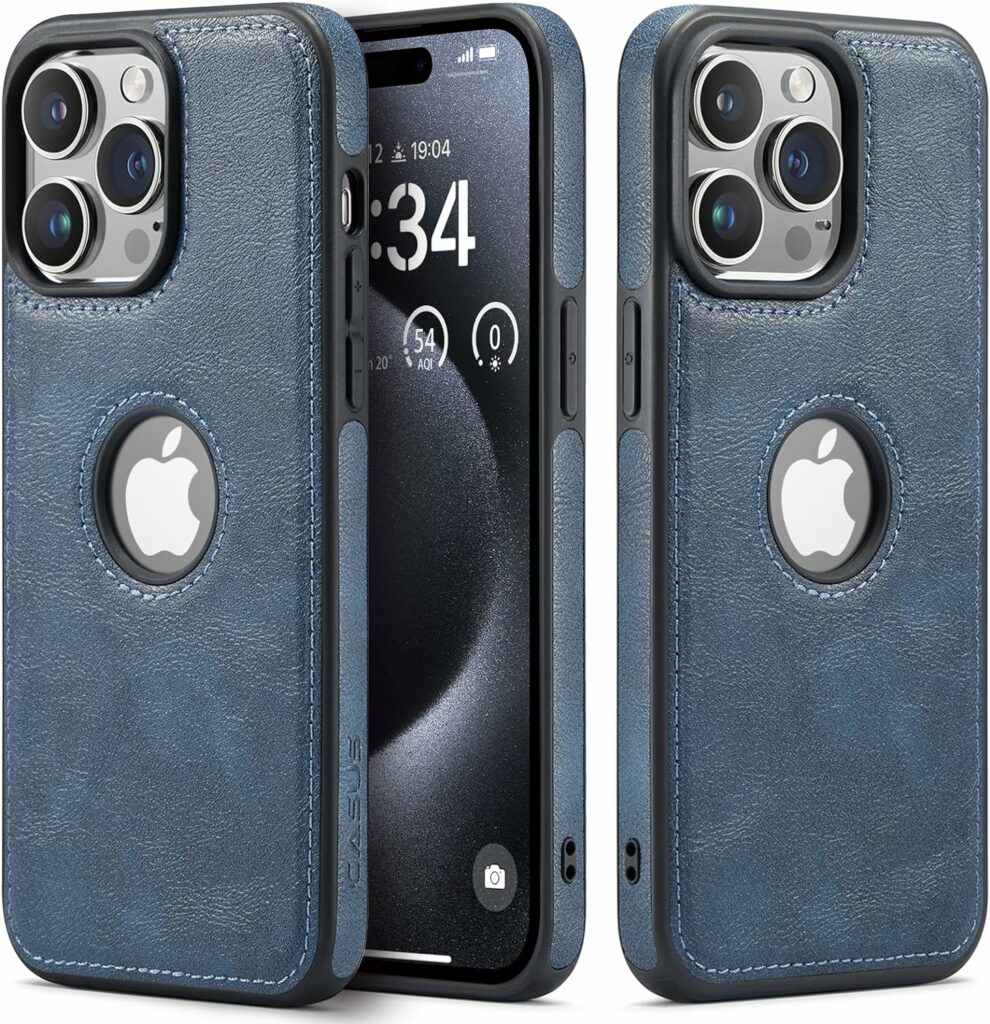 This sleek case is designed to add just a mere 0.1 inch of bulk to your phone, ensuring it stays slim and stylish. It's compatible with all standard wireless chargers, making your charging experience hassle-free.
While it works with Magsafe charging, it's worth noting that the magnetization may be slightly weaker when using this case. However, it more than makes up for it in protection. The corners and sides are cushioned to absorb shocks from accidental drops, safeguarding your phone from harm.
Crafted with precision, this phone case is made from beautiful faux leather that not only feels great but also wears well over time. What's more, it's an environmentally conscious choice as it's crafted from repurposed polyurethane, making it a sustainable and recyclable product. So, you can protect your phone and the environment simultaneously with this stylish and functional case.
Buy Casus Leather Classic Cover for $15.99 here.
7. OCASE Wallet Case
OCASE Wallet Case has been designed to elevate your smartphone experience. With three card slots and a wallet compartment featuring a magnetic closure, this case not only securely holds your cards and cash but does so in style.
But here's the real game-changer: flip the leather case, and it transforms into a sturdy kickstand. Whether you're reading, watching your favorite content, or making Facetime calls, you'll find the perfect angle for a comfortable and immersive visual experience. Plus, OCASE has equipped it with RFID shielding technology, so your card information stays safe from data theft while you travel or shop.
When it comes to protection, this case pulls out all the stops. Crafted from premium PU soft durable leather and featuring a special TPU inner case, it's a powerhouse duo that prevents scratches and fingerprints. The natural surface texture not only looks and feels luxurious but also maintains the strength of the fibers. With raised edges and extra cushioning, it's designed to be shockproof, safeguarding your iPhone from both scratches and drops.
Buy OCASE Wallet Case for $19.99 here.
To Conclude
As we wrap up our exploration of the best l 6.1-inch iPhone 15 leather cases, it's clear that style, protection, and functionality can seamlessly come together. Each case we've delved into isn't just a mere accessory; it's a statement, a safeguard, and a companion to your cutting-edge device. Whether you're drawn to the classic elegance of genuine leather or the modern twists offered by innovative designs, these cases prove that your iPhone 15 can be both a technological marvel and a fashion statement.
So, go ahead, dress up your device in the luxurious embrace of leather, and let your phone not just be a gadget but a reflection of your style.