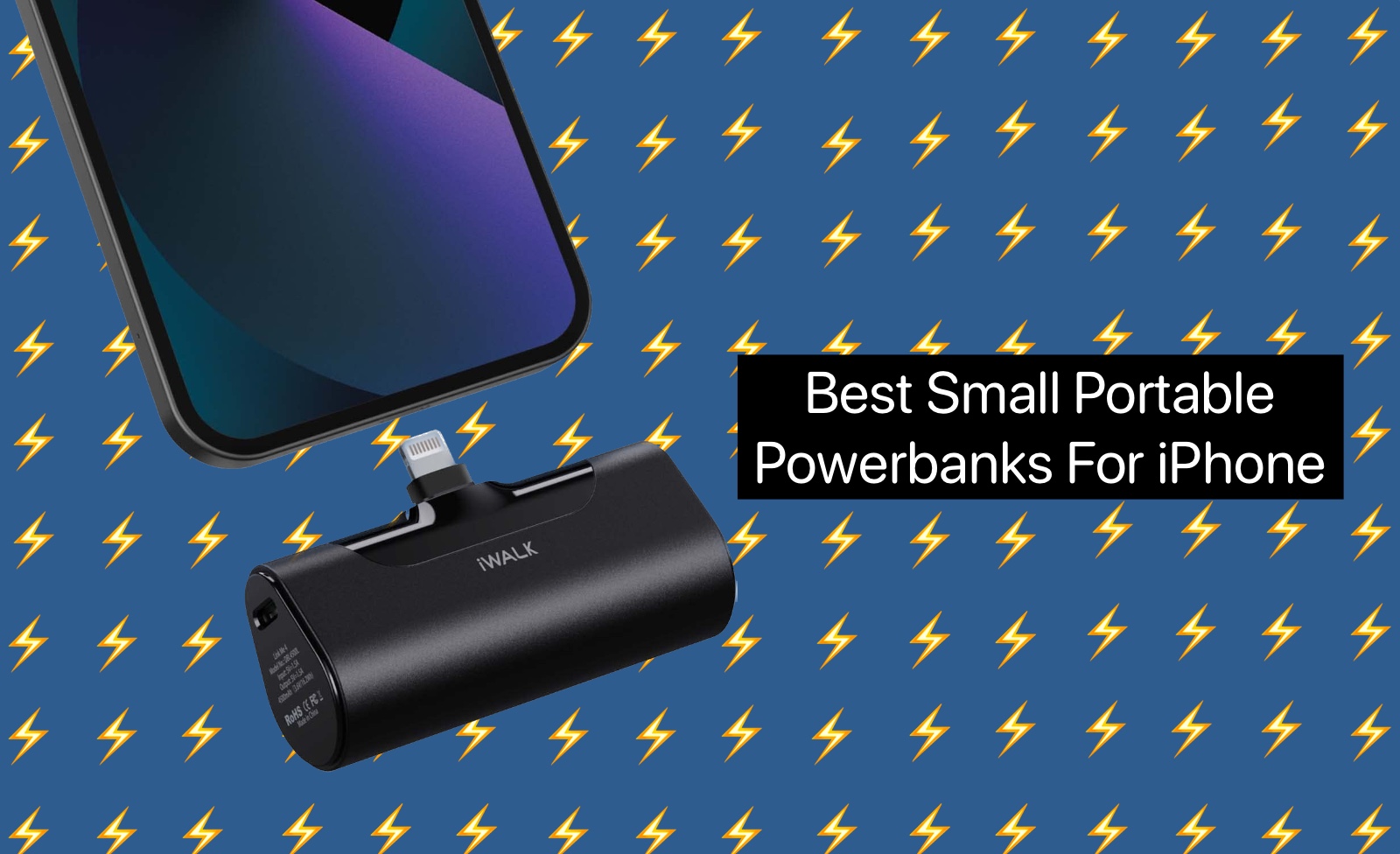 Here we have listed some of the best mini power banks for iPhone. These small-sized power banks give an instant boost of charge to your dying iPhone battery while being extremely easy to carry around.
Seeing your phone or tablet slowly drain its battery while you're far away from an outlet can be stressful. Whenever your battery is close to dying, the best mini chargers for iPhone are an excellent backup. It will keep your iPhone alive so you won't miss an important call, or miss taking a great photo.
You can purchase third-party fast mini chargers for iPhone in any size and capacity you desire. The most popular power banks include features such as fast charging, wireless charging, AC adapters, LED flashlights, and even jump-start capabilities.
You can find a portable charger for any budget that keeps your device charged when the battery icon begins to dim.
It can be confusing to choose between so many options, so how do you decide which one is right for you? Read on to find the best small portable power banks.
Best Mini Power Banks for iPhone in 2023
Most power banks are fairly straightforward to use daily. Most people take these on their way to and from work each day. While we're talking middling capacity, these are easy to carry but not as slim or lightweight as those categories.
Although neither of them excels at any one thing, they are solid all-rounders. While they can be expensive, they usually offer a good value for what they offer. Listed below are our picks for the best iPhone mini power banks. 
1. iWALK Small Portable Charger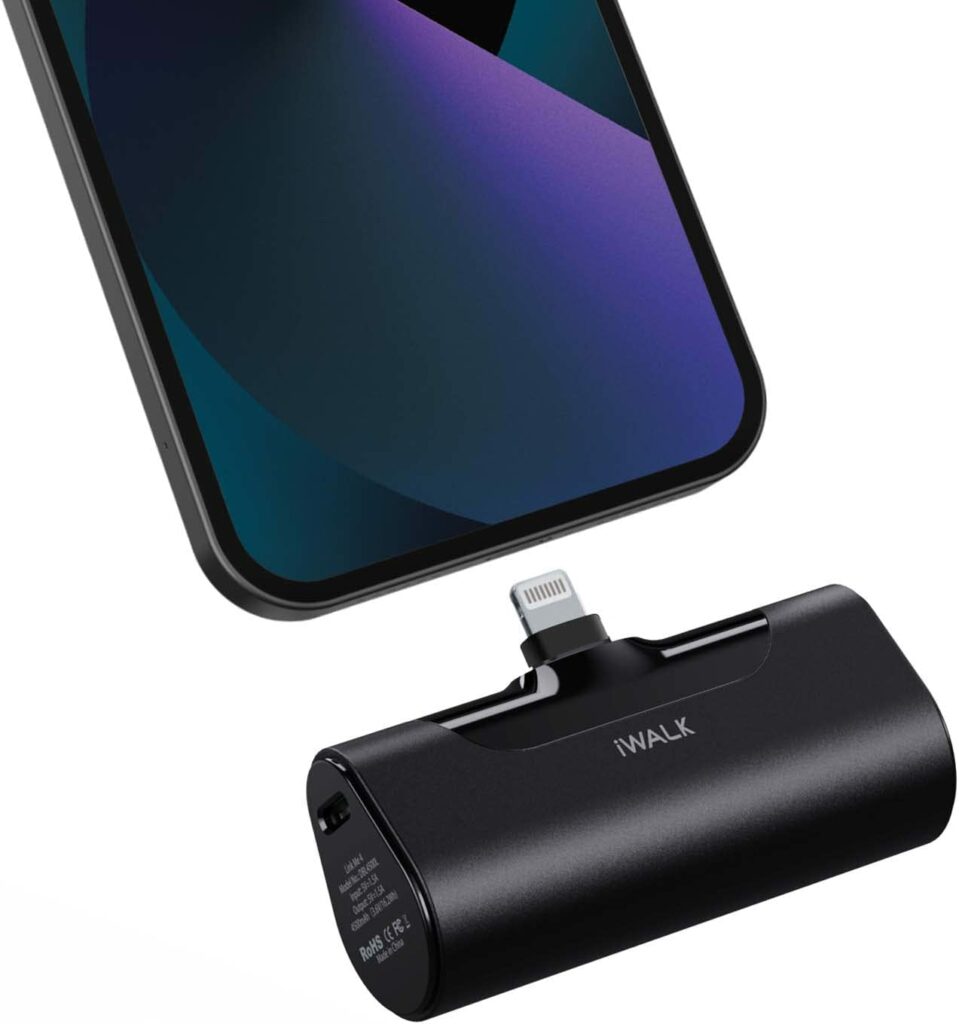 Isn't it great to be able to charge your mobile phone without the need for a cable? You can charge your phone wirelessly, but once you remove it from its charger, the charging stops. For wireless charging, you can simply plug the iWALK Mini Portable Charger 4500mAh Ultra into your phone and start cranking out life-giving energy for it. As big as two fingers and weighing as much as a tube of lipstick, the iWalk is roughly the size of two fingers.
IWalk Mini Portable Charger has a battery capacity of 4,500mAh / 16.2Wh. It won't be able to charge most phones more than once since it is not the largest power bank on the market. Despite its small size, it's a great product. This power bank will keep your phone alive if it has a medium-sized battery or can serve as an addition to your main power bank.
Buy iWALK Small Portable Charger for $34.99 here
2. Pxwaxpy Small Portable Charger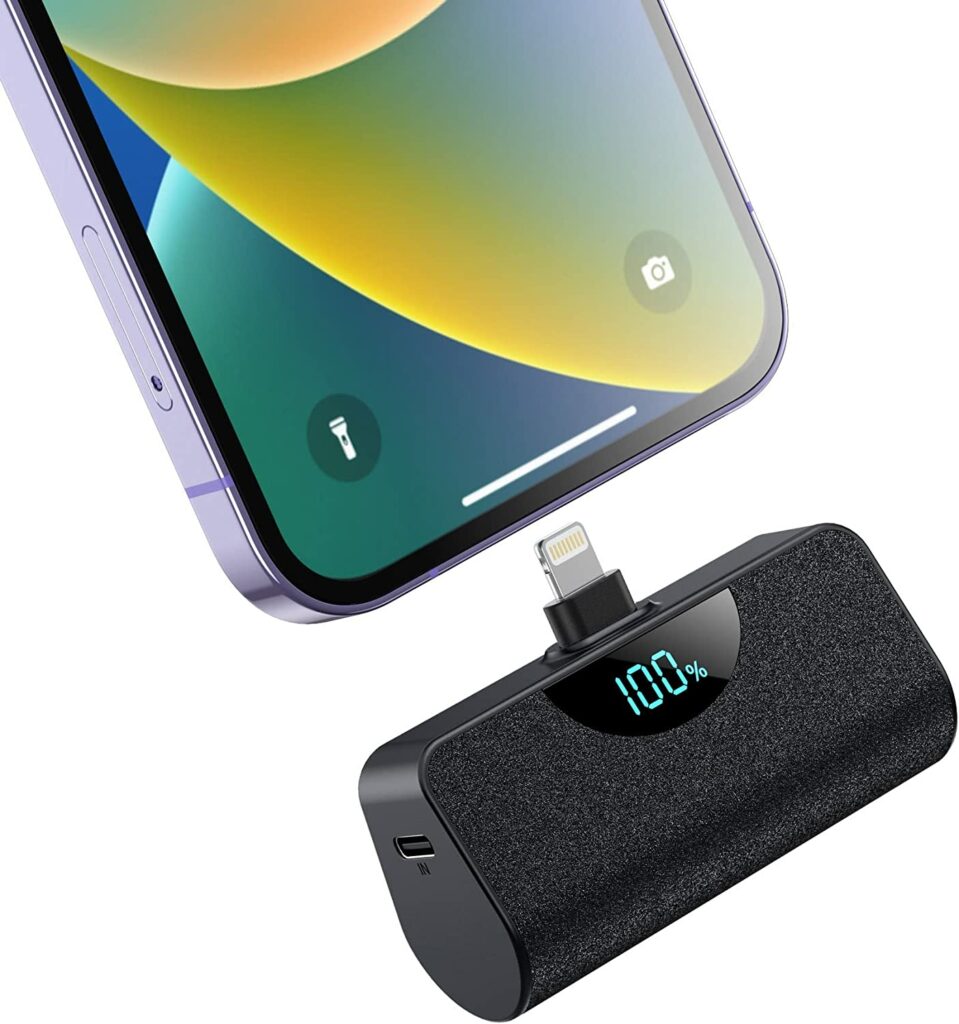 Designed like lipstick, this portable charger weighs 100 grams and is easy to carry in your pocket or bag. Moreover, this small charger won't take up much space.
This portable charger has a capacity of 5200mAh, which is large enough to offer you full charging power for your iPhone 14 and above for 1 time or your iPhone 8 for 2 times.
An intelligent control IC is integrated into this small portable charger so that it prevents your power bank from being overcharged, overvoltage, overcurrent, or shorted. Using this high-quality power bank will bring you more convenience and happiness. The cordless portable charger can be used to charge your phone directly without a cable.
Buy Pxwaxpy Small Portable Charger for $19.95 here
3. Kuulaa iPhone Portable Charger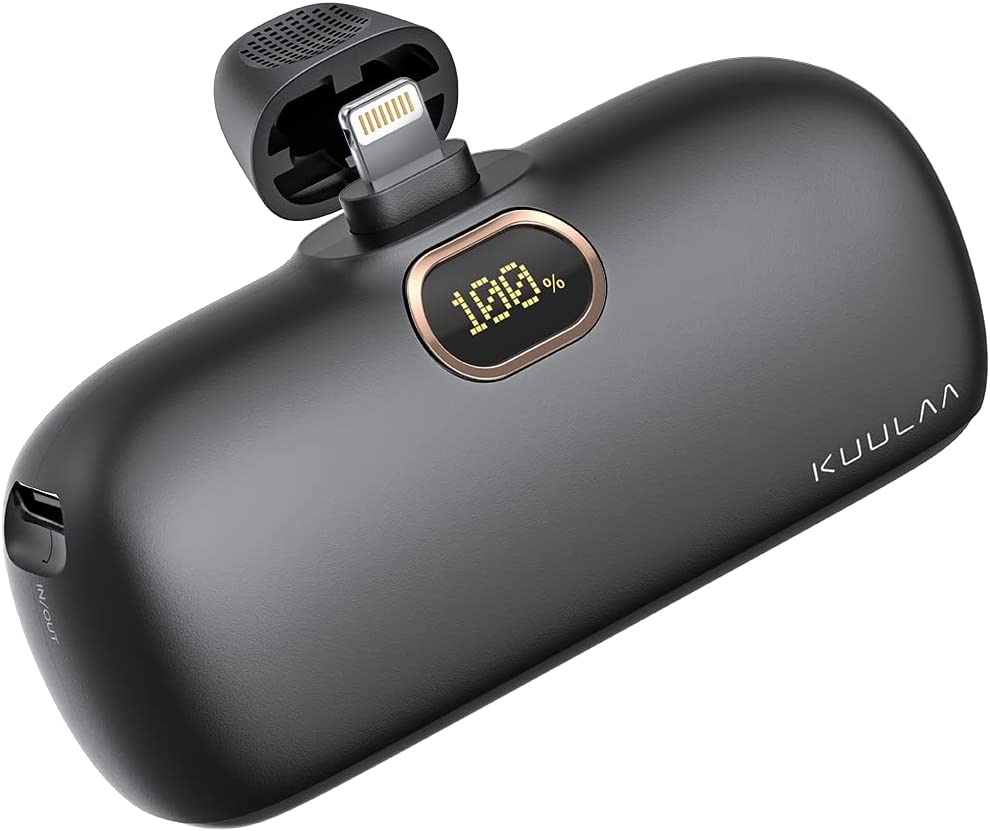 The mini power bank is made specifically for iPhones and supports a maximum of 12W (5V/2.4A) of power delivery. It takes just 30 minutes to charge the iPhone 13 from 20% to 60%. The safety circuit design prevents overcharging, over-discharging, short-circuiting, or overloading.
A variety of fast charging protocols are supported by the USB-C input, including QC 2.0/3.0, FCP, and AFC. A 9V-2A charger can fully charge this portable charger in just 1.5 hours. If you use a 5V-2A charger, it will take three hours. USB-C supports a maximum of 5V/2.4A (Max) for charging your iPhone.
You can charge your iPhone anywhere with the Lightning port, eliminating the need for a charging cable. This device can easily be tucked into your pocket, bag, or handbag, allowing you to save a lot of space.
Featuring a connector cover and LED display, this 3.5-ounce mini battery pack holds 5000mAh of power. A soft LED indicator light shows the remaining power in real-time, and the connector cover is easier to remove and open.
Buy Kuulaa iPhone Portable Charger for $24.99 here
4. UNEUIOR Mini Portable Charger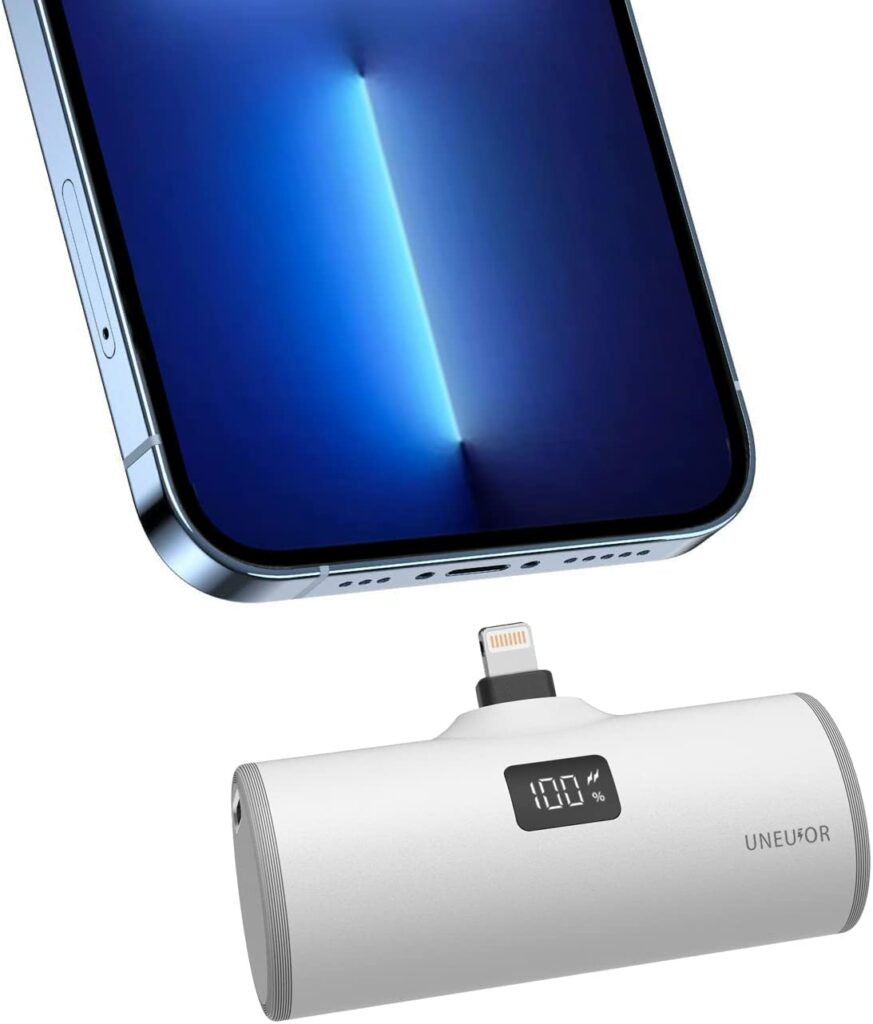 With PD's fast charging capability of 20W, you can charge iPhone 13 from 20% to 70% in only about 30 minutes. No cables are needed to charge your iPhones fast.
With a 9V-2A charger, this power bank can be fully recharged in 1.5 hours, while with a 5V-2A charger, it takes 3 hours to fully recharge.
This cordless iPhone charger is ultra-small and ultra-lightweight, weighing 150g, measuring 3″ in length, and is easy to fit into your purse, pocket, or even backpack. When this portable charger needs to be charged, its LED displays the current battery level, and input and output status.
The Safe of Power Bank has a capacity of 5000mAh. This power bank has an intelligent chip that can protect your devices from overcharging, over-discharge, excessive currents, short circuits, or overheating.
Buy UNEUIOR Mini Portable Charger for $22.99 here
5. KKD Portable Charger for iPhone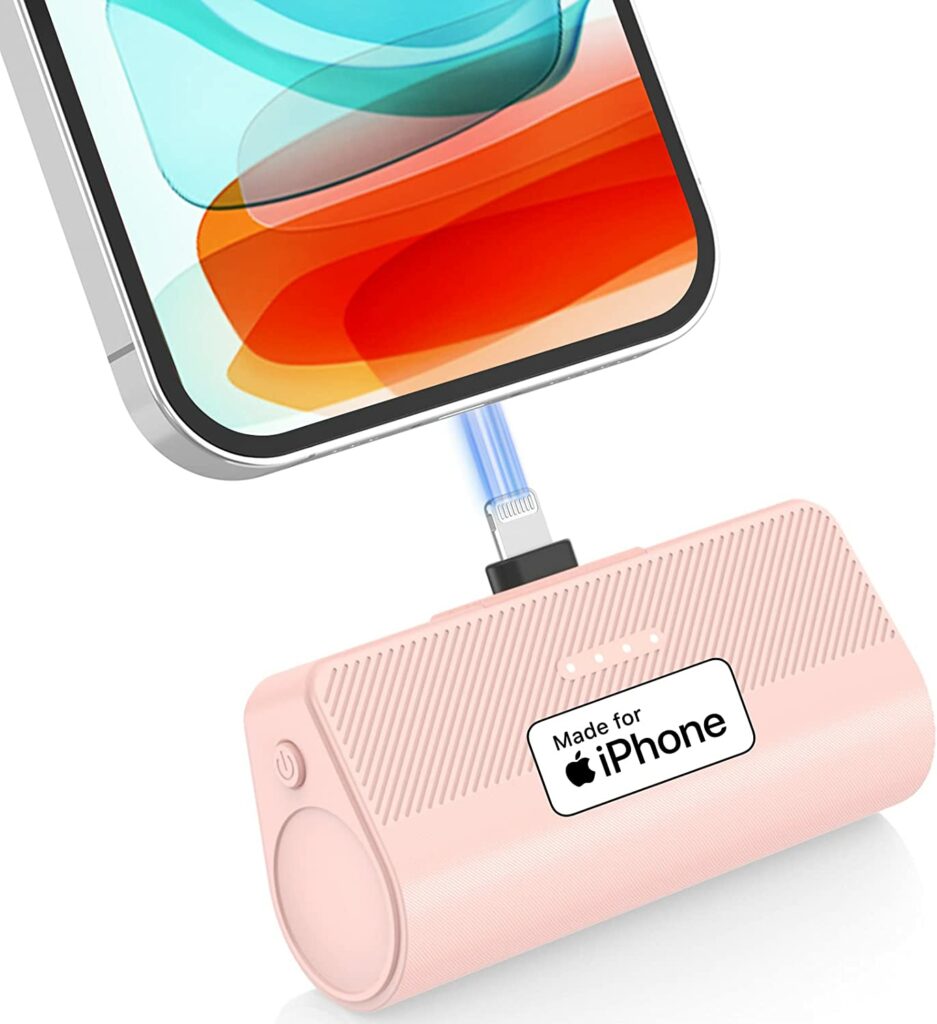 There are no pop-ups on this MFi-certified portable charger, so your iPhone battery will not be damaged. The original connector ensures that your Apple devices are charged safely and quickly at maximum speed. With over 10 years of experience, KKD makes only the highest quality batteries.
This iPhone power bank is very compact, so it can be carried in a purse, pocket, etc. You don't need any cables, just plug and charge. You can count on reliable power anywhere, anytime. The LED indicator indicates the amount of power left.
The power of a portable phone charger is 5000mAh. Design that withstands 30000+ pluggings and unplugging for extra durability and protection. You can think of it as another battery for your iPhone. There will be enough juice to charge an iPhone 12 1.1 times, an iPhone 13 once, and an iPhone 8 1.5 times. This is a great option if you're traveling for a full day or need a backup supply. This battery pack charger has a Pass-Through Function, which allows you to charge your iPhone while charging your portable battery pack.
Buy KKD Portable Charger for iPhone for $29.99 here
6. GIN FOXI Portable Charger for iPhone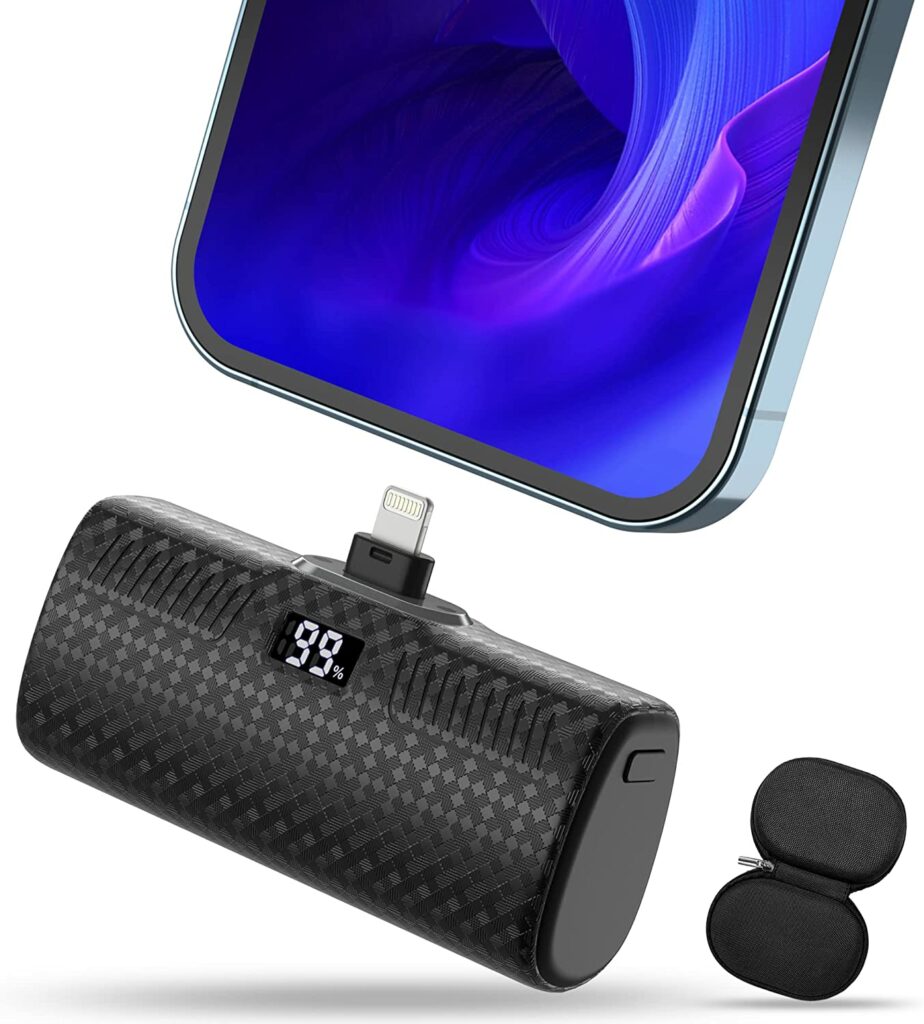 It only takes about 30 minutes for the iPhone 13 to charge from 0% to 55% with 22W PD charging. Put an end to low power immediately! At 80%, the device will switch to smart trickle charging, which ensures a safer fast charging experience. This iPhone portable charger has a 5000mAh capacity and excellent battery performance, which keeps your phone powered all day long.
The ultra-compact and lightweight design gives you plenty of capacity without taking up much space. Whether you keep it in your pocket or purse, it will always be nearby when you need a charger.
An LCD digital display allows you to track your charge status easily. A precise display of the remaining power ranges from 1% to 100%. You don't need to use any extra cables to charge your phone with the built-in interface. With the original charging input port, the device is perfectly compatible with the original lightning cable, ensuring a faster and safer charging experience.
Featuring a premium PC hard-shell design, this adventure-grade hard-shell is highly resistant to pressure and scratches. Having been tested 30000 times in both insertion and withdrawal, the charging port continues to function like new with long-term use. You can add safety assurance to your equipment by obtaining CE, FC, and RoHS certifications. Besides providing comprehensive protection, they also offer ultimate security.
Buy GIN FOXI Portable Charger for $27.99 here
7. TQGX Small Portable Charger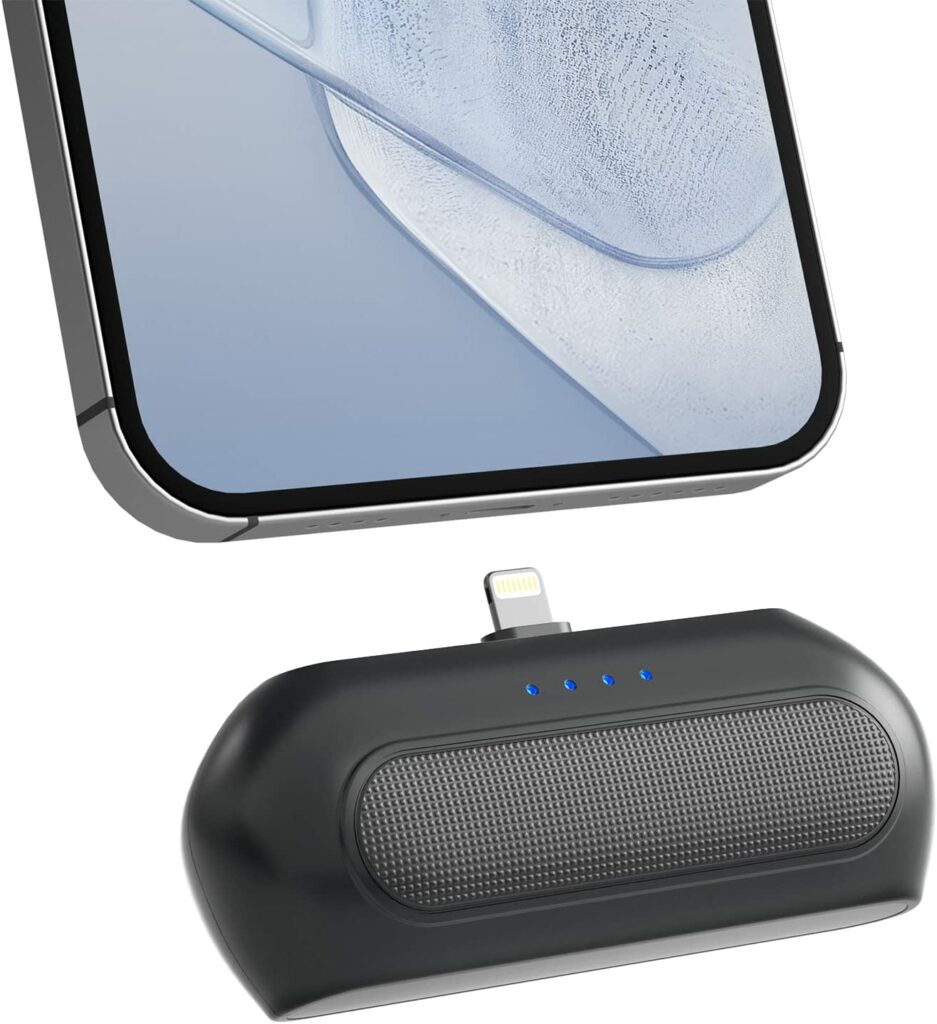 The portable charger iPhone provides Fast-Charging Technology, which provides the fastest possible charge time for your phone and tablet and can be fully charged in only 1.5 hours. When not in use, the connector is protected by a little cap. It takes only 2 hours to fully charge this portable charger, so it can be used as a backup power supply in an emergency or every day.
It is possible for most iPhone models to charge at least once, making them sufficient to be used in emergencies when out. With a compact design and weight of 0.2 pounds, the iPhone portable charger quickly charges without a cord. This makes it easy to carry around and put in your pocket or bag. You will not need much space for this small charger.
Buy TQGX Small Portable Charger for $22.98 here
Conclusion
Choose any of the power banks on the list and charge your iPhone's battery whenever and wherever you want!
So, which of the above-mentioned best small portable chargers would you buy?