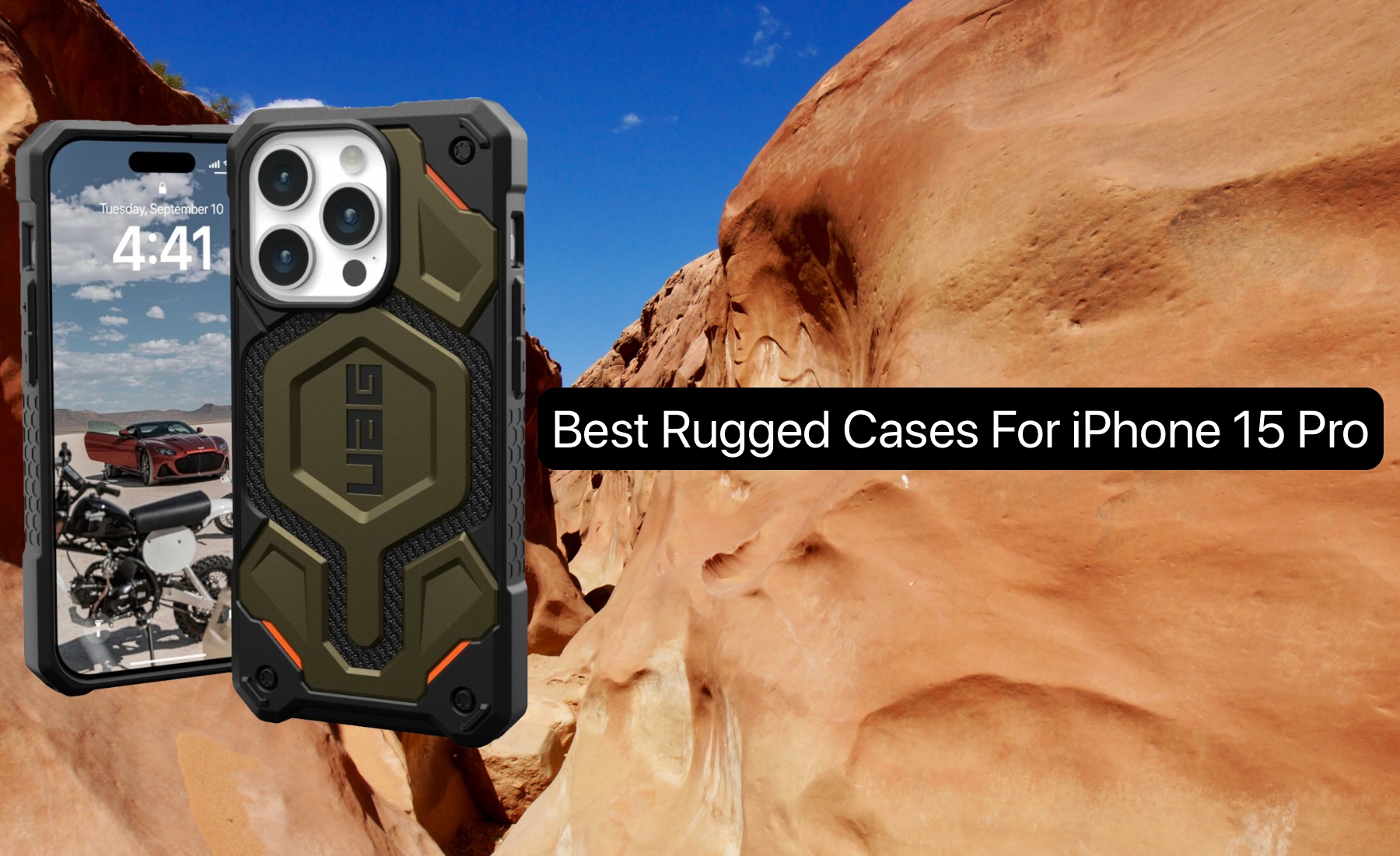 Looking for the best rugged cases for iPhone 15 Pro? Well, look no further as we have got the perfect selection of cases for you.
If you've just gotten your hands on the latest iPhone 15 Pro, congratulations on joining the elite club of cutting-edge tech users. Now, while this phone is a marvel of modern engineering, it's not invincible.
Life can get a bit rough, and your precious device might encounter a few bumps and scrapes along the way. That's where rugged cases come to the rescue! In this article, we're about to dive into the world of the best rugged cases for iPhone 15 Pro, offering not just protection but also style and functionality.
Best iPhone 15 Pro Rugged Cases
So, let's armor up your iPhone 15 Pro and get ready to explore the world without worry!
1. Spigen Magnetic Rugged Armor MagFit Case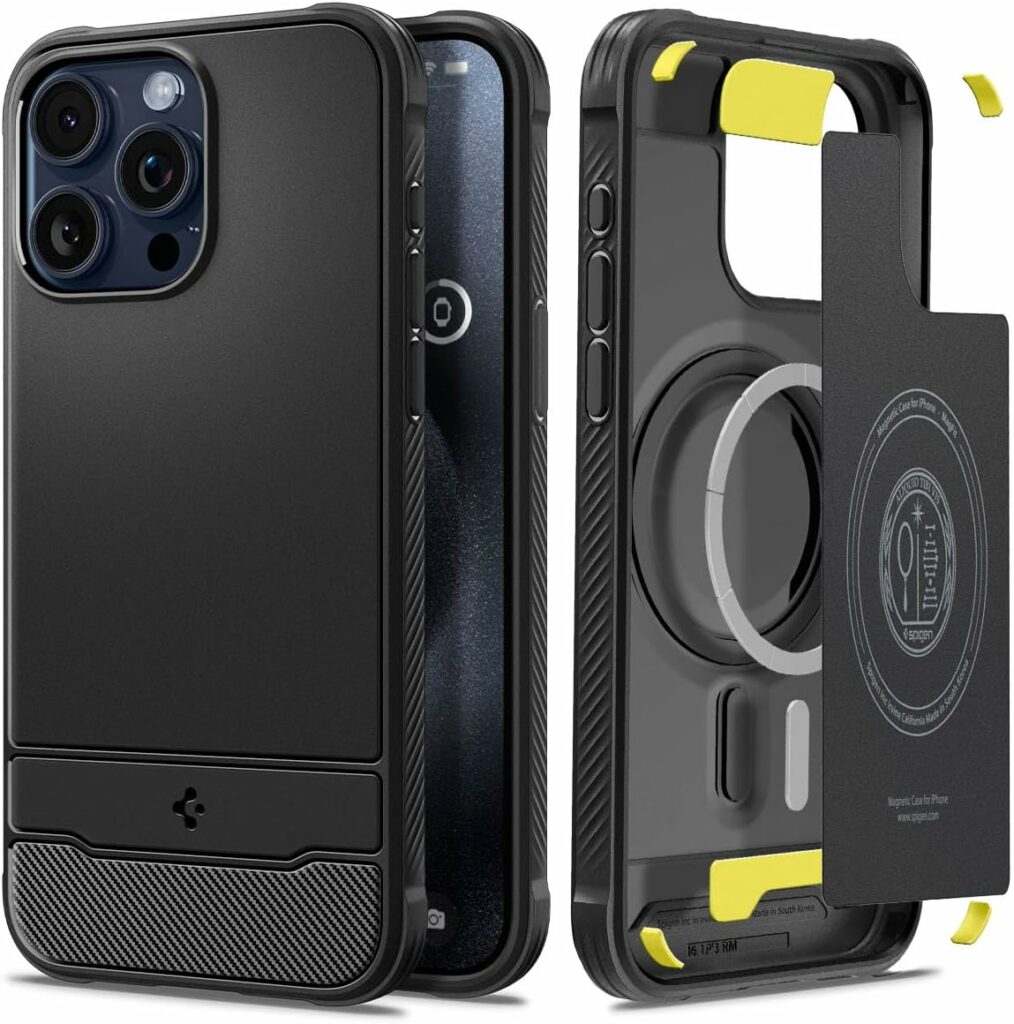 First on our list of the best military-grade cases for iPhone 15 Pro is the Spigen Magnetic Rugged Armor MagFit Case. It is a sleek, slim, and feather-light phone case that not only looks good but also packs a punch when it comes to protection. It's like having a bodyguard for your phone that's dressed to impress.
This case is all about resilience. It's got shock absorption that can handle life's little accidents with ease. Plus, the carbon fiber design adds a touch of sophistication to your device. Its Air Cushion Technology is like a trampoline for your phone, ensuring that any unexpected drops or bumps are absorbed without a hitch.
But it's not all about protection. This case also understands the importance of user experience. The tactile buttons give you that satisfying click, making it a breeze to use your phone.
Buy Spigen Magnetic Rugged Armor MagFit Case for $19.99 here.
2. Lanhiem Magnetic Case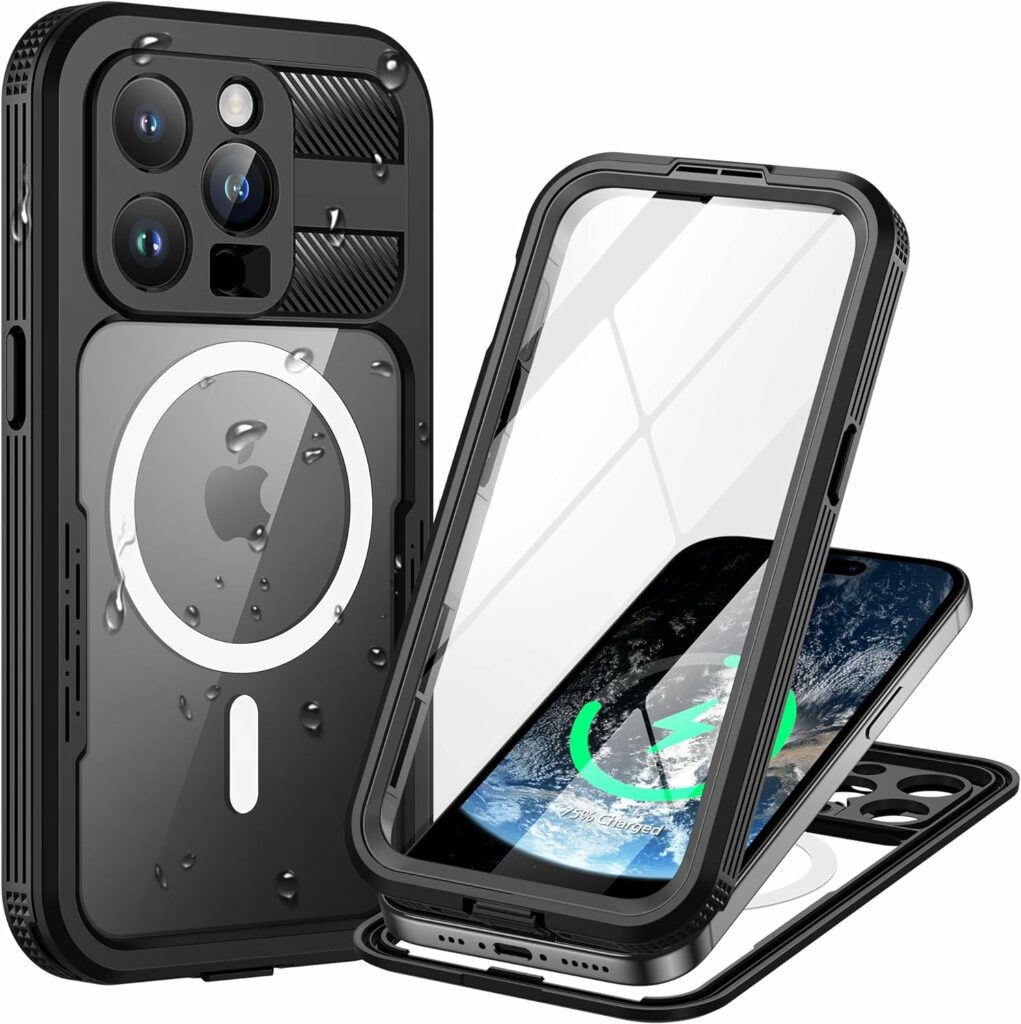 Dive into the Lanhiem waterproof case—an adventure-ready shield for your iPhone 15 Pro. Certified with an impressive IP68 rating, it fearlessly takes on depths up to 6.6ft for a solid hour, making it your ideal companion for aquatic escapades.
But this case isn't just about surviving the elements; it's designed to thrive. Rigorously tested, it ensures maximum durability to keep up with your wildest adventures. Beyond the standard corner and screen protection, the Lanhiem Magnetic Case boasts a specialized design to shield your camera protrusion. No more cringing at the thought of damaging your precious camera module—it's safeguarded in style.
Picture-perfect moments deserve a clear stage, and that's exactly what this case provides. With a built-in HD screen protector and a transparent back cover, it's a show-stopper that lets your vibrant iPhone 15 Pro shine through.
Buy Lanhiem Magnetic Case for $29.99 here.
3. UAG Rugged Dropproof Protective Cover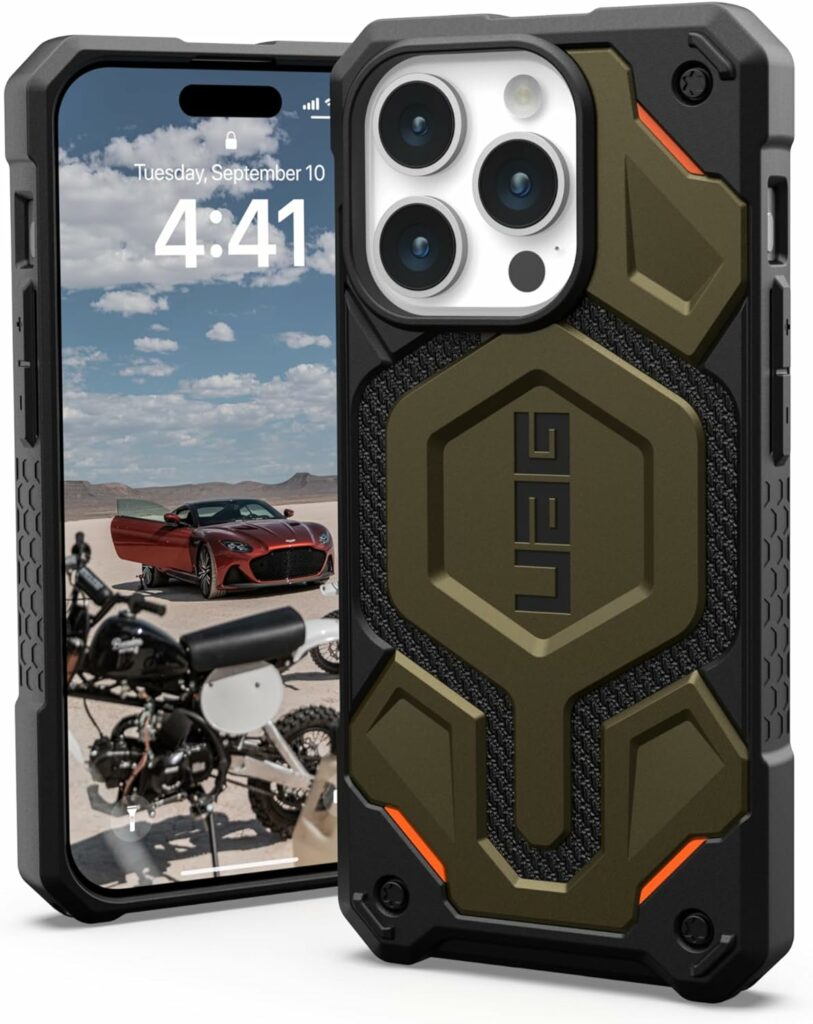 Crafted with the superhero of materials, DuPont Kevlar, the UAG case is one of the best iPhone 15 Pro rugged cases. It's like having a bodyguard made of feathers – light but fiercely protective.
This case doesn't just stop at looking tough; it's got a 5-layer defense system that reads like a tech thriller – an armor frame, a shock-resistant core, the mighty DuPont Kevlar Material, a polycarbonate shear plate, and alloy metal hardware. Oh, and there's more – an impact-resistant rubber surround. It's practically an Avengers lineup for your phone!
Worried about your precious screen and camera? Fear not! The soft raised screen surround and the camera bezel are like VIP sections – protected and elevated. And for the adventurer in you, UAG has lanyard anchor points.
Buy UAG Rugged Dropproof Protective Cover for $99.95 here.
4. OtterBox Defender Series Case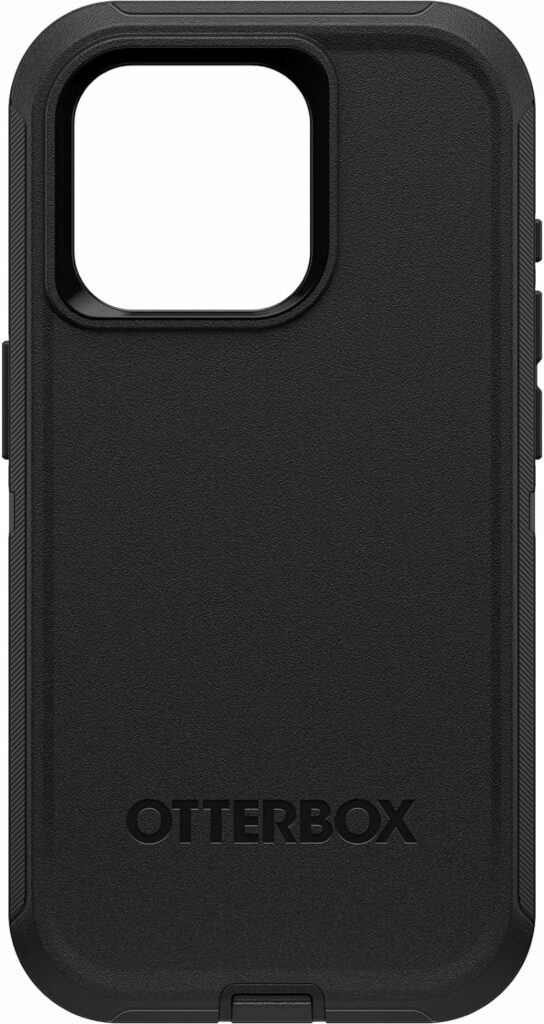 Introducing OtterBox Defender Series eco-friendly phone cover, crafted for the rugged adventurer in you. These multi-layer tough cases don't just protect your phone; they do it sustainably. We're talking about a whopping 50% recycled plastic in every case, so you can feel good about your choice.
But that's not all. Otterbox has put these cases through their paces, dropping them a jaw-dropping 4 times more than the military standard (MIL-STD-810G 516.6). These cases are totally compatible with wireless and MagSafe charging pads, so you can stay powered up hassle-free.
The port covers are your phone's best defense against dust and dirt invading those precious jacks and ports. And for the multitaskers out there, Otterbox has included a holster that moonlights as a kickstand.
Buy OtterBox Defender Series Case for $64.95 here.
5. COOYA Drop Protection Rugged Case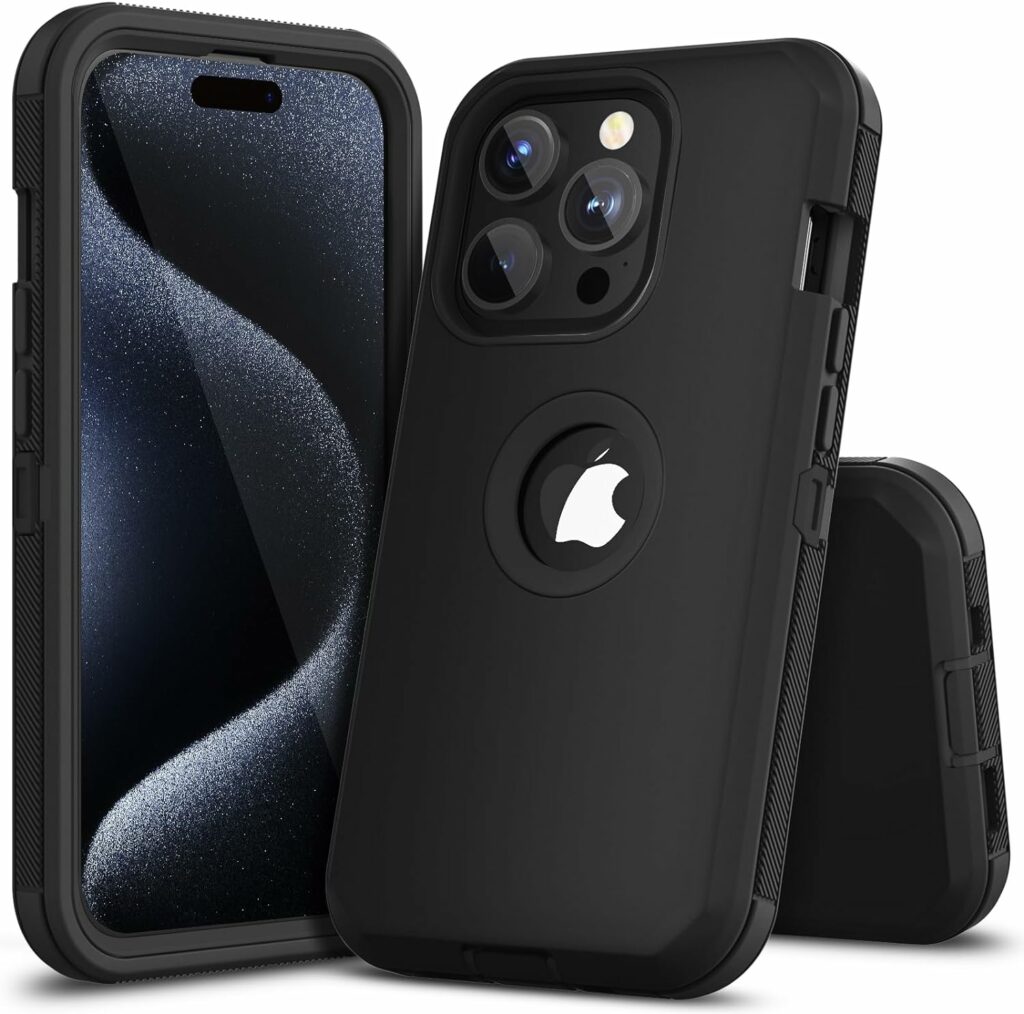 Crafted with care, the COOYA Drop Protection Rugged Case boasts a three-layer construction that's as tough as it gets. It starts with an Otter Rugged TPU rubber cover, followed by a sturdy PC bumper frame that wraps around the front and middle of your phone. Finally, there's an inner PC panel that fully envelops your precious device, providing unrivaled shockproof and impact-resistant protection. The raised bezel for the screen and camera ensures your iPhone 15 Pro stays scratch-free.
This case is designed with precision, ensuring all ports and cutouts align perfectly with your iPhone 15 Pro. There's even a charging port cover to keep dust, sand, moisture, and other nasties at bay, protecting your device's vital components.
And here's the kicker – you can keep this durable case for iPhone 15 Pro on while wirelessly charging your device. No need for constant removal and hassle. It's all about giving you the freedom and convenience you deserve while safeguarding your phone from life's little accidents.
Buy COOYA Drop Protection Rugged Case for $14.99 here.
6. JETech Heavy Duty Dual-Layer Rugged Protection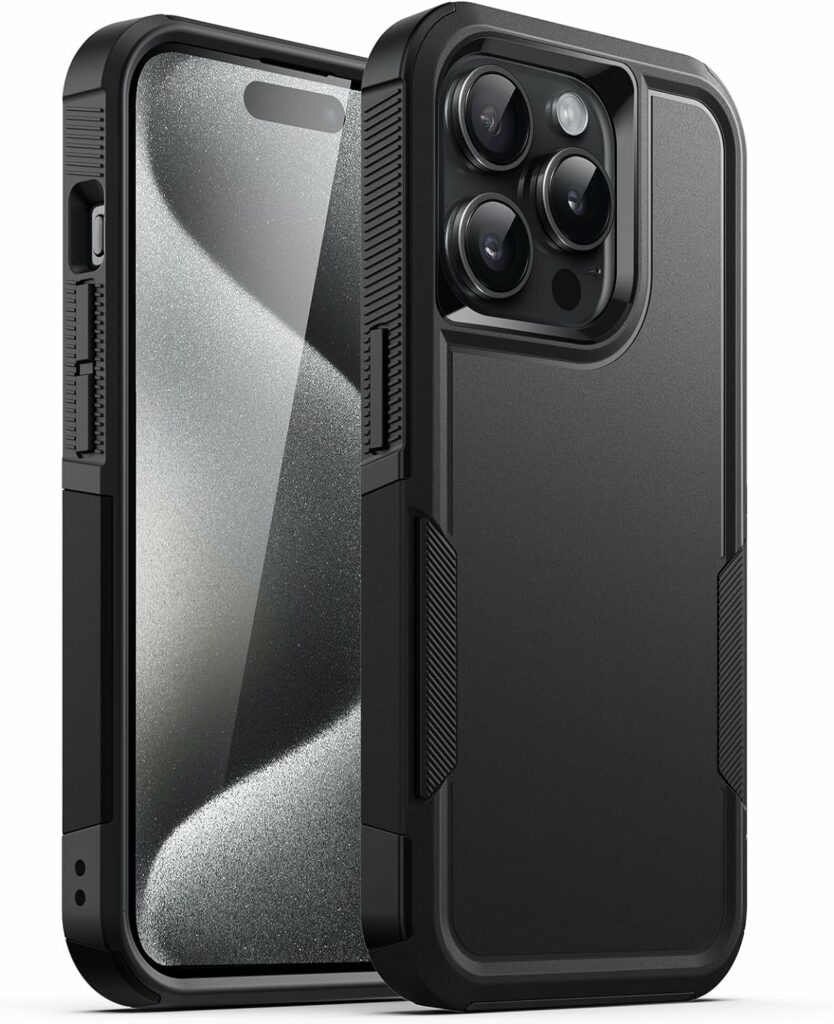 Crafted with a soft TPU inner shell and a tough PC outer back, this JETech dual-layer case offers exceptional shock absorption and anti-drop protection. Say goodbye to those heart-stopping moments when your phone slips from your grasp.
This case features a raised camera and screen bezels, so you can confidently place your phone face-down without a second thought. Plus, the matte back not only feels great to the touch but also resists unsightly fingerprints and scratches.
JETech has even added special textures along the edges for a secure grip, ensuring your phone stays in your hand no matter what adventure you're on.
Buy JETech Heavy Duty Dual-Layer Rugged Protection for $11.99 here.
7. Smartish iPhone 15 Pro Protective Case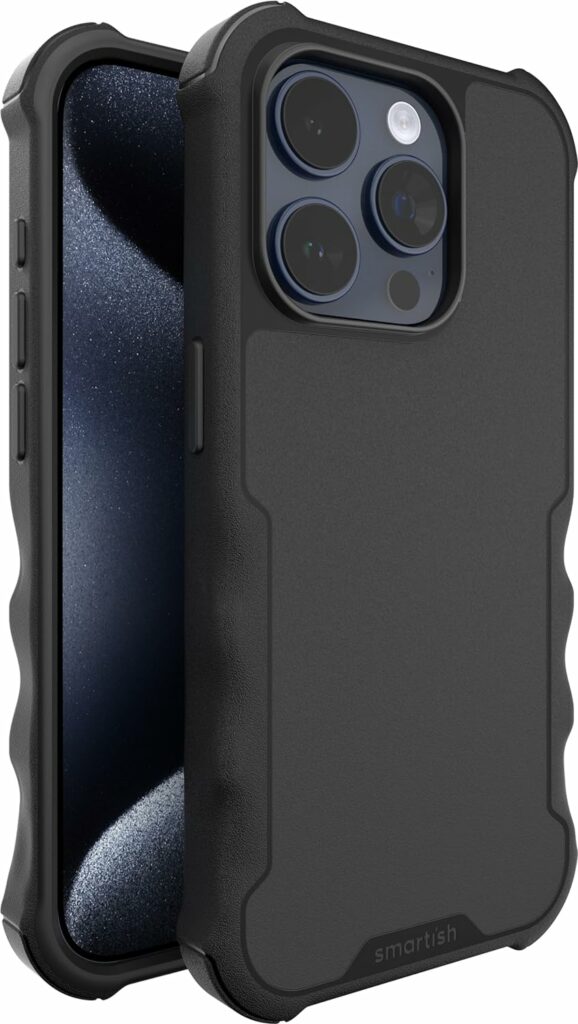 Meet the ultimate guardian for your beloved device – a case that's not just protective but downright mighty! Picture this: grooved sides that feel like they were designed with your grip in mind and textured surfaces that provide that extra layer of security you've been looking for.
But that's not all; Smartish case takes protection to a whole new level. It's got air-cushioned corners that wrap your device in a cocoon of safety. So, even if it decides to take a little tumble out of your hand, you can rest easy knowing it's well-guarded from every angle.
Oh, did we mention it's wireless charging compatible? Yes, you heard that right! You won't need to fumble with removing your case every time you want to power up your device wirelessly. It's all about convenience and safety in one sleek package.
So, if you're looking for a case that's not just protective but absolutely mighty, with grooved sides for the best grip, air pocket corners for top-notch protection, and the added bonus of wireless charging compatibility, this is the one you've been waiting for.
Buy Smartish iPhone 15 Pro Protective Case for $29.99 here.
8. Pelican Shield Series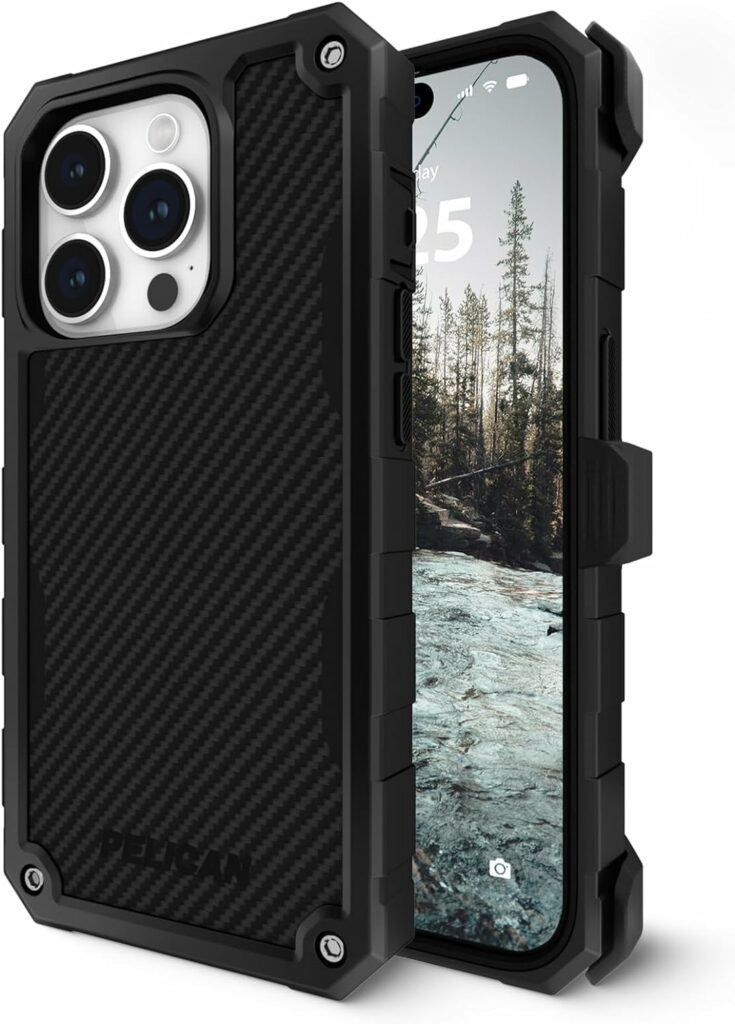 Last but not least, on our list of the best heavy-duty cases for iPhone 15 Pro is the Pelican Case. It has been crafted for perfectionists who demand top-notch quality in both gear and experience. Lock and secure your phone with multiple latches, and take it on your next adventure with the included easy-to-use holster featuring a belt clip and kickstand. The anti-scratch coating ensures your case stays new while raised edges protect your camera and screen.
Step into the realm of ultimate protection with this Shield case! Its innovative action button cover ensures worry-free operation. Made with Kevlar for iPhone 15 Pro, this case boasts 4 layers of hard polymers and soft rubber, fortified by aramid fibers for a 360-degree defense. The shock-absorbing interior shell and cushioned corners provide an outstanding 21FT drop protection, exceeding military standards.
Moreover, the Shield case is made from certified sustainable recycled materials, reducing resource consumption and greenhouse gas emissions. It's a small step for your phone but a giant leap for positive change.
Buy the Pelican Shield Series for $69.99 here.
To Conclude
When it comes to protecting your precious iPhone 15 Pro, a rugged case is your trusty sidekick. These top-notch iPhone 15 Pro Heavy Duty Cases we've explored today are like armor for your device, offering a blend of style, durability, and functionality. With their robust build and impressive features, you can rest assured that your iPhone 15 Pro will stay safe and sound, no matter what life throws your way.
So go ahead, pick the iPhone 15 Pro most rugged case that suits your style and lifestyle, and keep your iPhone 15 Pro ready for action wherever the road takes you.
Disclosure: iOSHacker may receive a commission if you purchase products through our affiliate links. For more visit our privacy policy page.