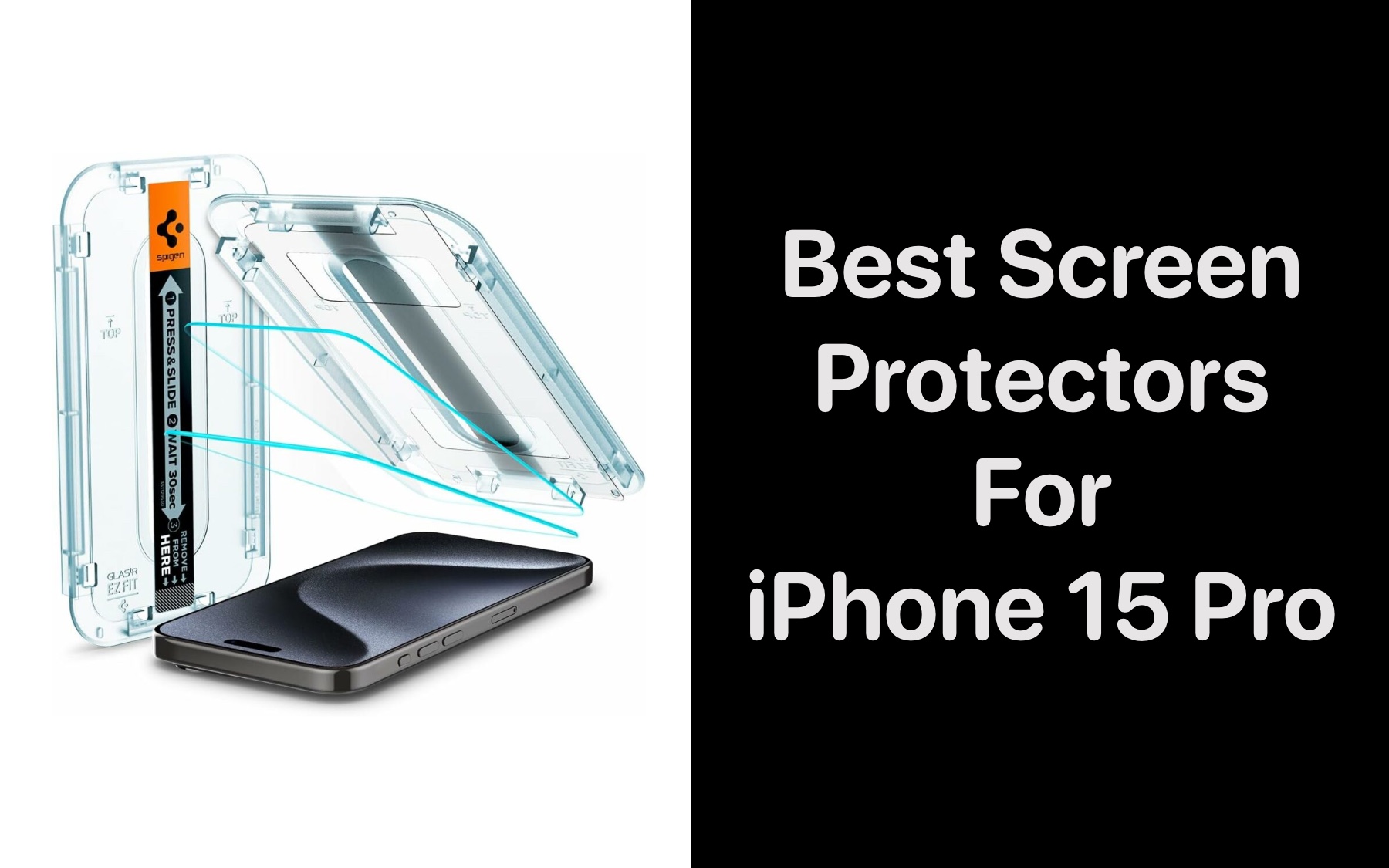 "With great power comes great responsibility," and in 2023, that power resides in the palm of your hand – the iPhone 15 Pro. But let's face it: no matter how careful you are, the universe seems to have a cosmic vendetta against your precious screen. Fear not, for we're about to embark on a quest to find the best screen protectors that can withstand everything from accidental drops to the mysterious gravitational pull of your bag's bottomless pit.
In this comprehensive article, we will explore the best screen protectors available for the iPhone 15 Pro in 2023, highlighting their features and benefits to help you safeguard your device's precious screen and ensure it remains as pristine as the day you unboxed it.
The Best iPhone 15 Pro Screen Protectors
In this ever-evolving era of mobile technology, a screen protector is not merely an accessory; it's a necessity. The fragile glass screens of modern smartphones are susceptible to scratches, cracks, and smudges from daily use, making them vulnerable to damage that can be both unsightly and costly to repair.
So, grab your iPhone 15 Pro and a sense of adventure as we dive headfirst into the world of the best screen protectors for iPhone 15 Pro, where protection meets perfection!
1. Ailun Glass Screen Protector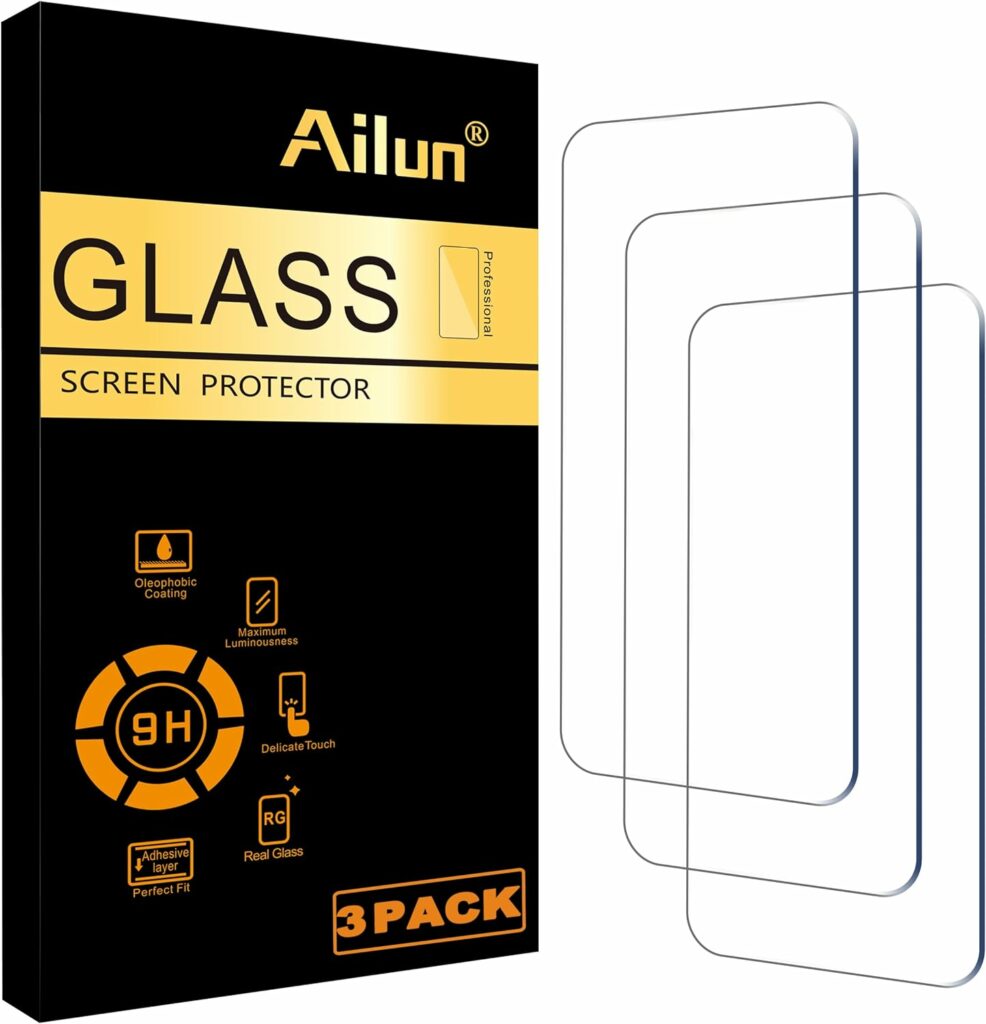 This 0.33mm tempered glass screen protector offers maximum protection without compromising clarity. Thanks to the HD ultra-clear rounded glass that maintains 99.99% touch-screen accuracy, you'll enjoy a crystal-clear view of your screen.
Are you worried about sweat and fingerprints? Don't be! This screen protector comes with a high-definition clear hydrophobic and oleophobic coating that shields against sweat and oil residue, keeping your screen looking pristine.
What's more, it's 100% brand new and precision laser-cut for a perfect fit. The 0.33mm ultra-thin design provides sensor protection while preserving the original response sensitivity and touch, giving you a seamless user experience.
Buy Ailun Glass Screen Protector for $6.98 here.
2. Spigen Tempered Glass Screen Protector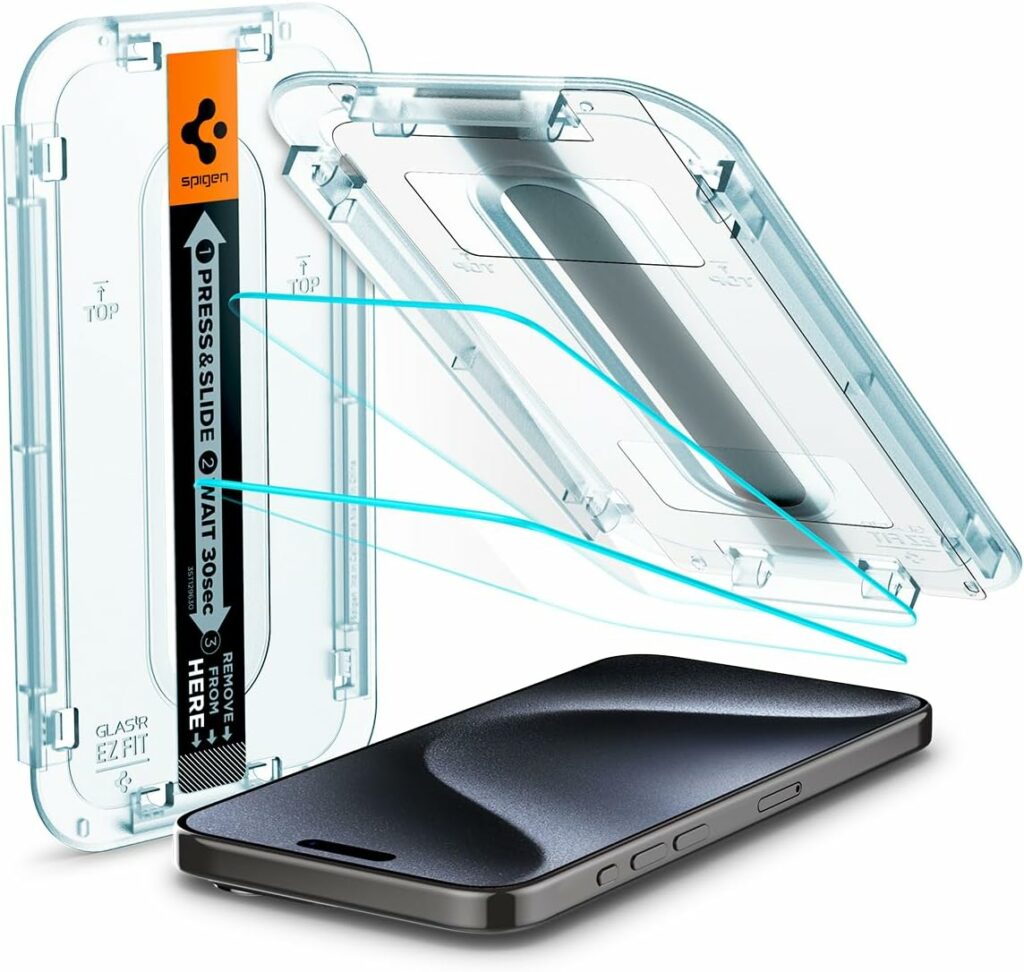 Spigen tempered glass for iPhone 15 Pro is built to last with a rock-solid 9H hardness rating. Plus, when you purchase this 2-pack, you'll also get an ingenious auto-alignment installation kit that makes putting it on a breeze. No more frustrating bubbles or misalignment!
And here's the best part – your screen's clarity won't be compromised at all. This protector lets your iPhone 15 Pro's screen shine through with extreme clarity, preserving that gorgeous original screen brightness you love.
Oh, and don't worry about compatibility. This 6.1-inch screen protector for iPhone 15 Pro is case-friendly, which means it works seamlessly with every iPhone 15 Pro case out there. Your phone will be protected, and it will look sleek in its case.
Buy Spigen Tempered Glass Screen Protector for $16.99 here.
3. amFilm OneTouch iPhone 15 Pro Screen Protector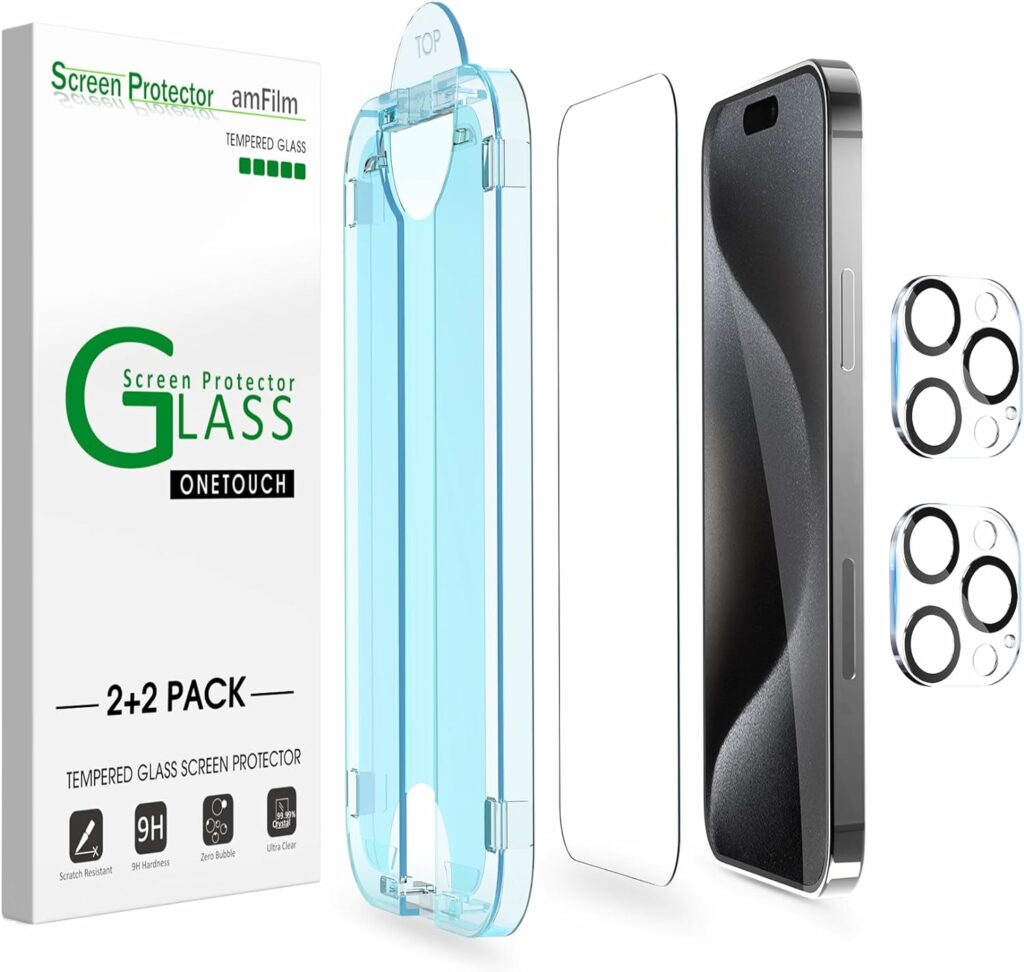 Get your iPhone 15 Pro 6.1″ screen protector perfectly installed in just 30 seconds! It's a breeze with this innovative design. The screen protector comes embedded in a plastic frame that's tailor-made to fit your phone like a glove. All you have to do is place the frame on your phone, swipe down the middle, and voilà – it's done!
The screen protector itself is no slouch either. It's crafted from premium tempered glass that's just 0.33mm thick, offering complete coverage, scratch resistance, and drop protection for your iPhone 15 Pro 6.1″.
But that's not all – the company has also applied an oleophobic coating to reduce those pesky fingerprints and ensure ultra-clear, high-definition viewing. With a remarkable 99.9% transparency, your iPhone's display will look as sharp as ever.
Buy amFilm OneTouch iPhone 15 Pro Screen Protector for $9.99 here.
4. UltraGlass for iPhone 15 Pro Screen Protector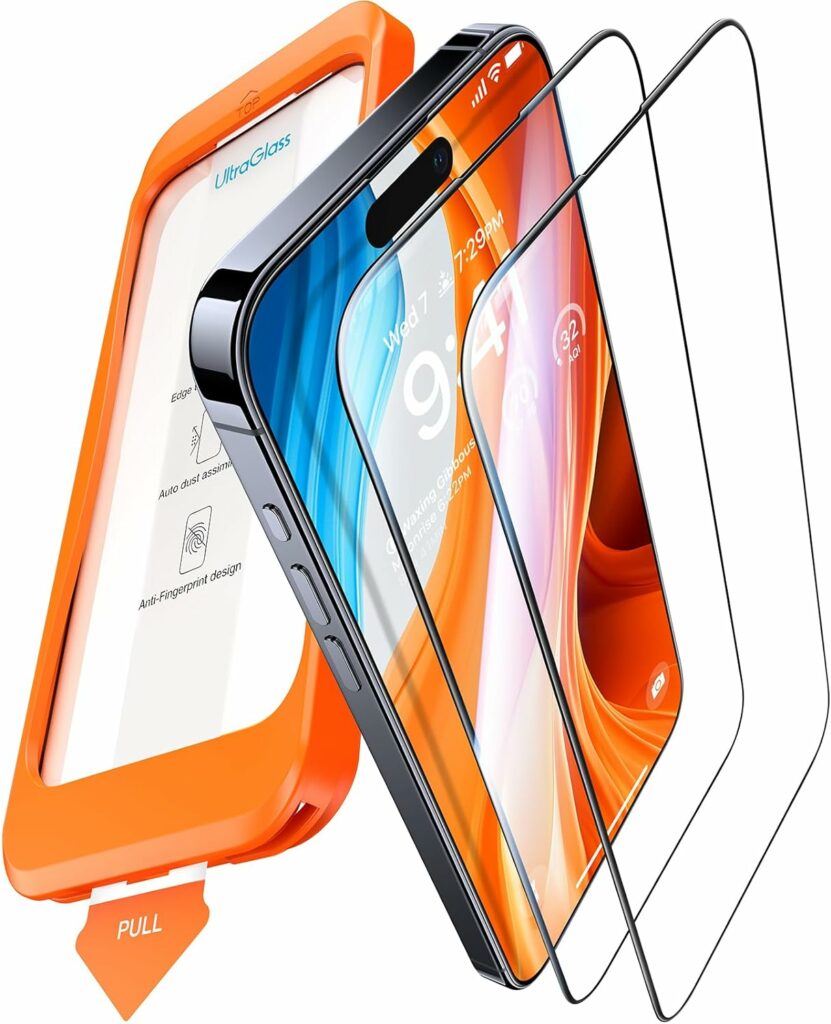 This remarkable screen protector is specifically designed for iPhones and offers unbeatable shatterproofness and durability. Its exceptional performance is attributed to the advanced 9H+ Tempered Glass material, which is commonly used in aerospace and military applications due to its shatterproof properties, high resistance to scratches and wear, and remarkable durability, surpassing competitors by 7-8 times.
In essence, this 9H+ Glass creates an additional tough layer for your iPhone, ensuring superior protection. The UltraGlass is intelligently designed to mimic the iPhone's screen, hugging every curve with a reinforced 1:1 3D curved black edge. This design provides comprehensive coverage for the most vulnerable part of your screen. Additionally, it seamlessly blends with your phone's display, making it virtually invisible.
Buy UltraGlass for iPhone 15 Pro Screen Protector for $25.69 here.
5. QHOHQ 3 Pack Screen Protector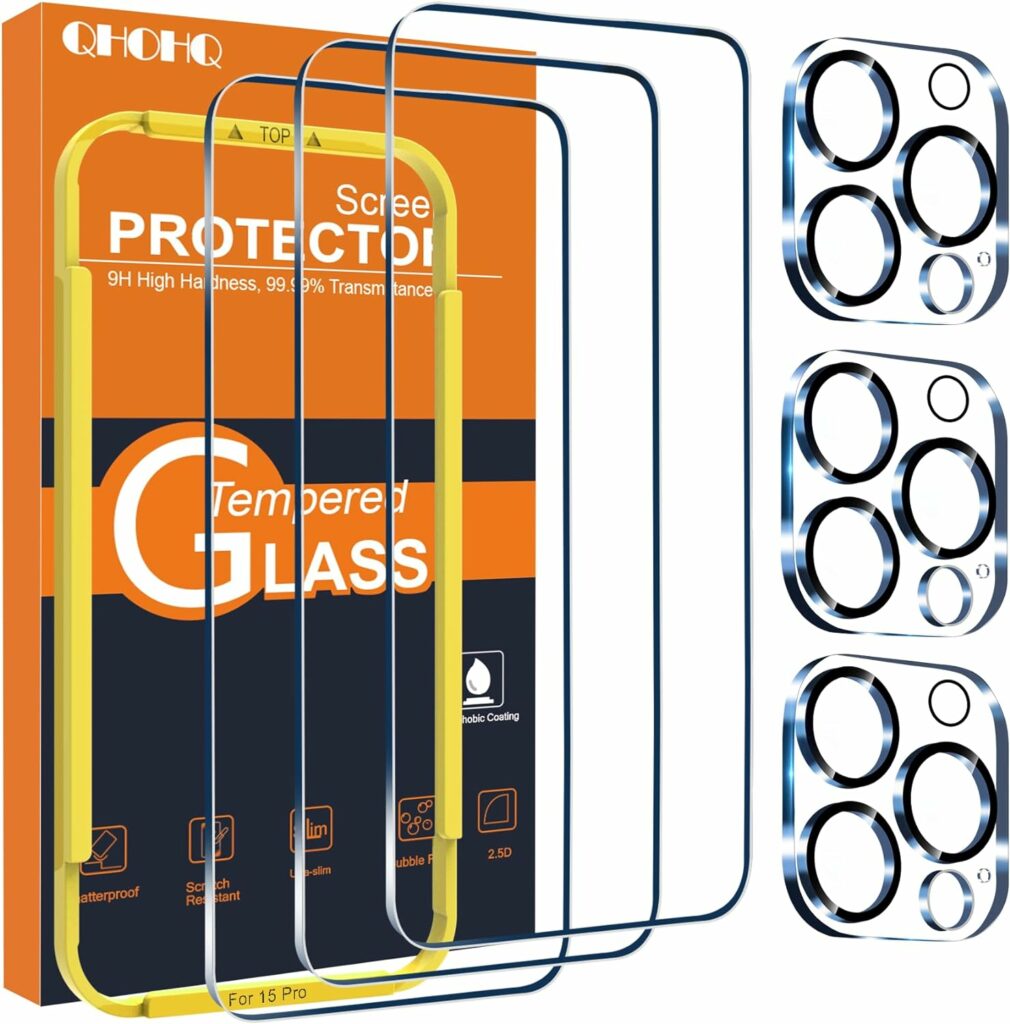 This ultra-thin tempered glass, measuring just 0.33mm, boasts super quick-launch functionality while preserving the responsiveness and touch experience you'd get with a naked phone. Plus, it maintains an impressive 99% retention of the original ultra HD picture quality.
But that's not all! The camera lens protector for the iPhone 15 Pro features cutting-edge AR-enhanced "seamless" fusion technology, enhancing light transmittance and improving photo and video quality. Even when you use the flash at night, our camera cover maintains the original quality of your photos and videos with its upgraded "Night Shot Circle" feature.
Buy QHOHQ 3 Pack Screen Protector for $8.69 here.
6. JETech Screen Protector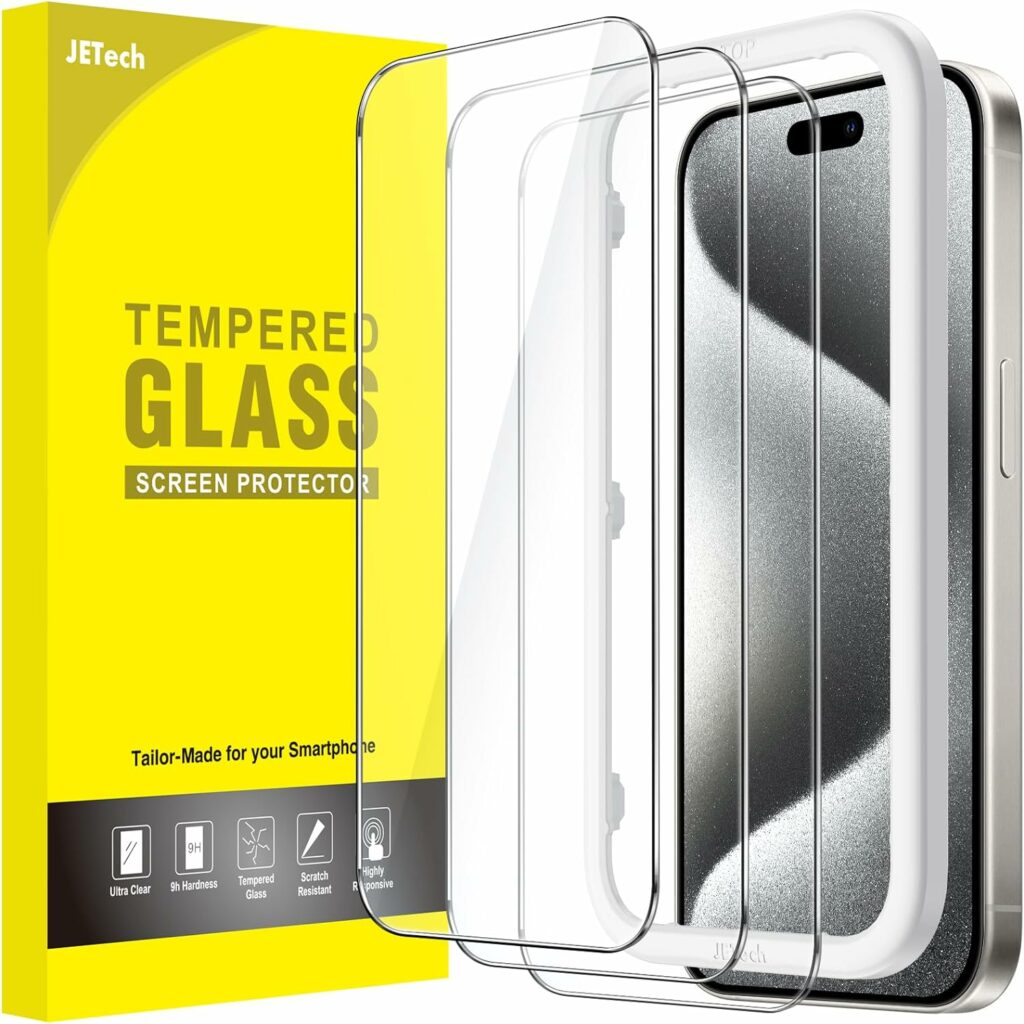 Last on our list of the best glass screen protectors for iPhone 15 Pro is JETech. Designed for top-notch protection JETech protector features 2.5D curved edges, making it compatible with most phone cases. Plus, we've included an easy installation tool to ensure a perfect, bubble-free application.
This screen protector is crafted from 9H high-hardness tempered glass, guaranteeing ultimate protection against scratches and abrasions. Enjoy a seamless touch experience just like using your bare screen – it's super responsive.
Say goodbye to pesky fingerprints, oil smudges, and watermarks. The hydrophobic and oleophobic coating keeps your screen looking pristine at all times.
Buy JETech Screen Protector for $7.99 here.
To Conclude
When it comes to safeguarding your investment in the iPhone 15 Pro, choosing the right screen protector is paramount. The screen protectors for iPhone 15 Pro 2023 available in the market not only diverse but also technologically advanced, offering top-notch protection for your device's display.
Whether you prioritize durability, clarity, or ease of installation, the screen protectors reviewed in this article have something for everyone. With these exceptional choices, you can enjoy peace of mind knowing that your phone's screen will remain pristine, allowing you to fully experience the beauty and functionality of this cutting-edge device.
Disclosure: iOSHacker may receive a commission if you purchase products through our affiliate links. For more visit our privacy policy page.