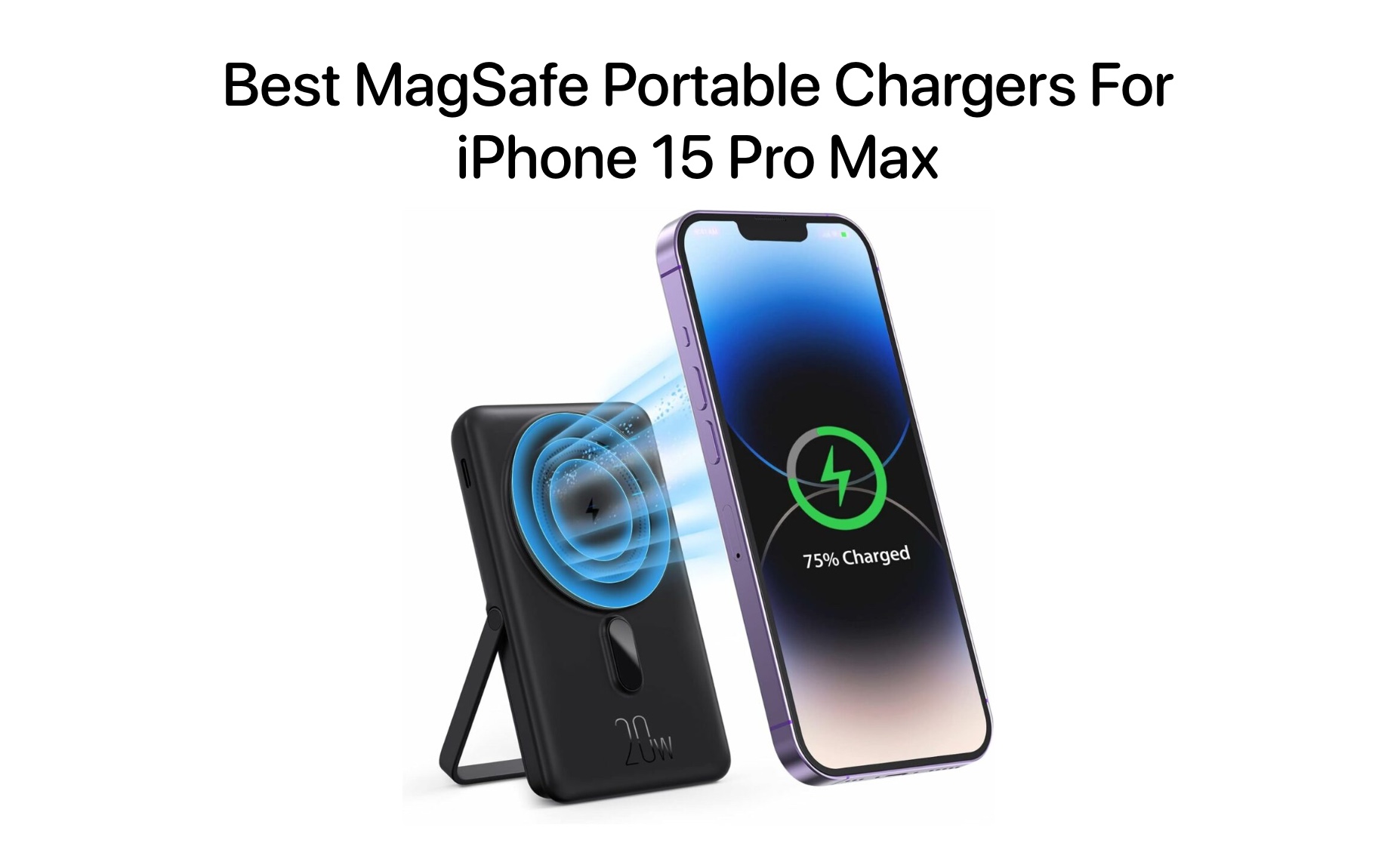 In this roundup, we have listed some of the best MagSafe portable power banks for iPhone 15. These amazing little gadgets allow you to juice up your iPhone on the go, ensuring you never run out of battery.
We all know that our beloved gadgets are our constant companions, but let's face it: they can also be a bit needy regarding battery life.
Enter the heroes of the day: MagSafe power banks for iPhone 15 Pro Max! These nifty devices are here to save the day and keep your iPhone 15 Pro Max juiced up and ready for action.
Whether you're a tech junkie, a social media addict, or just someone who forgets to charge their phone overnight (guilty as charged!), we've got you covered with a roundup of the best MagSafe portable power banks for iPhone 15 Pro Max.
Of course, these MagSafe-compatible power banks are not limited to iPhone 15 Pro Max only, as you can use them with any MagSafe-compatible iPhone including iPhone 15, iPhone 15 Plus, iPhone 15 Pro, iPhone 14 Pro Max, iPhone 14 Pro, iPhone 14, iPhone 14 Plus, or older.
Best MagSafe Portable Power Banks For iPhone 15 Pro Max
Let's dive in and ensure you never run out of battery at the worst possible moment!
1. Apple MagSafe Battery Pack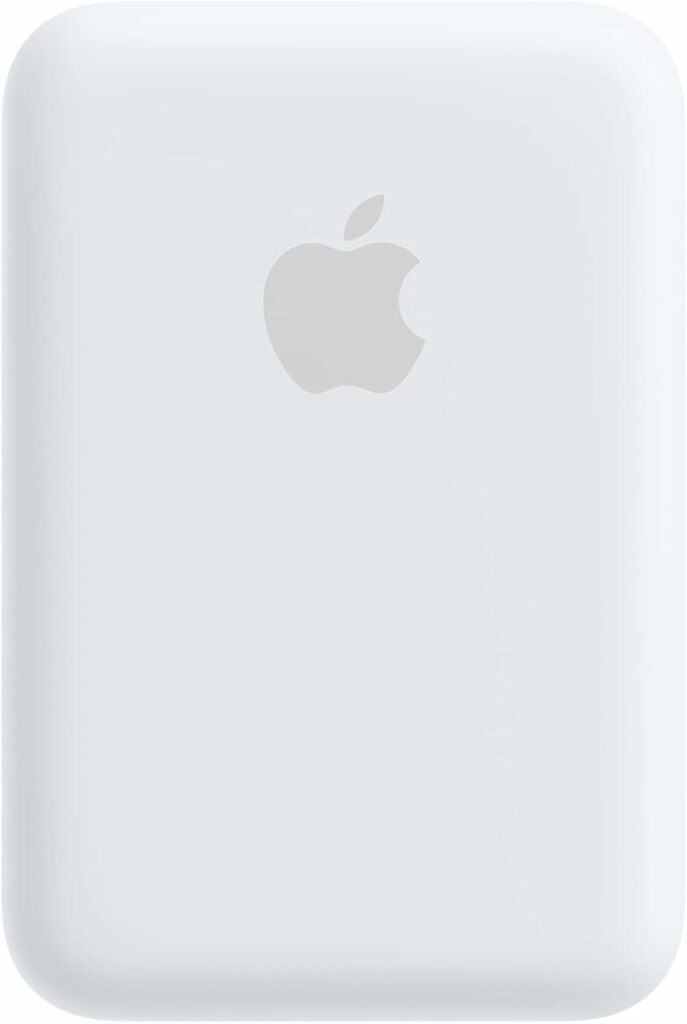 Apple's MagSafe Battery Pack is a breeze to attach. Its smart and compact design makes it super easy to charge on the go. The magnets are perfectly aligned, ensuring a secure connection to your iPhone 15, iPhone 14, iPhone 13, or iPhone 12, delivering safe and reliable wireless charging without fuss.
The best part? You don't have to fiddle with any buttons to power it on or off – it automatically takes care of that for you. Plus, you won't have to worry about any interference with your credit cards or key fobs.
If you find yourself at your desk and in need of a charge, plug in a Lightning cable into the MagSafe Battery Pack, and it'll provide you with up to 15W of wireless charging. And if you're running low on time, grab a power adapter with more than 20W output, and you'll charge both the MagSafe Battery Pack and your iPhone even faster.
Buy the Apple MagSafe Battery Pack for $84.99 here.
2. Yiisonger Slim 10000mAh Magnetic Portable Charger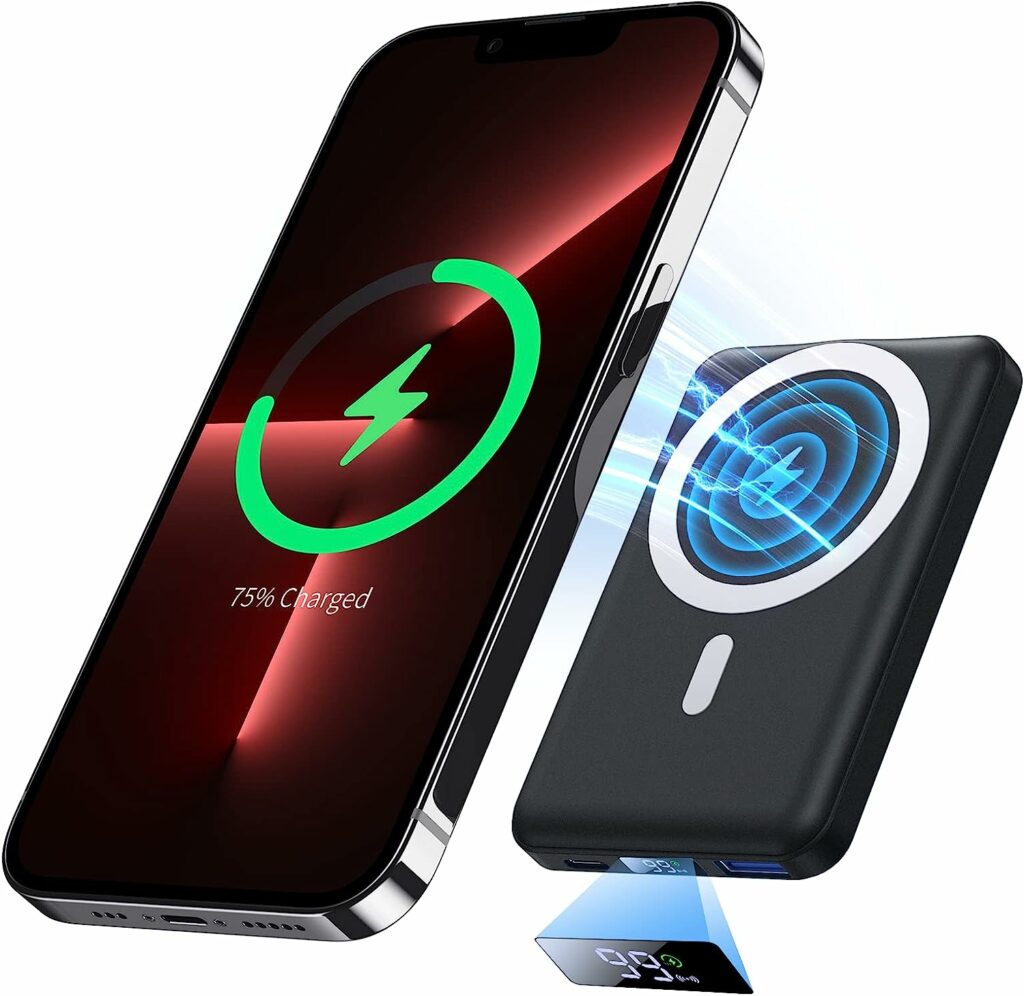 What sets this power bank apart is its cutting-edge MagSafe technology. You can securely attach it directly to the back of your iPhone 15, 14, 13, or 12 series. No more fumbling around with cables or connectors.
And this MagSafe portable charger has you covered when it comes to charging. It supports lightning-fast 22.5W/20W wireless charging and can handle up to three devices simultaneously at 5W, 7.5W, or 15W speeds. Plus, a smart LED display keeps you in the know about the remaining battery capacity, ensuring you'll never run out of power when you need it most.
This magnetic wireless power bank is equipped with smart temperature control, overcharge protection, short-circuit prevention, reset safeguards, and high-temperature security features for added peace of mind. Your phone's safety is a top priority, and this charger has got it covered. So, go ahead and power up your devices with confidence anytime, anywhere.
Buy Yiisonger Slim 10000mAh Magnetic Portable Charger for $35.99 here.
3. podoru Wireless Portable Charger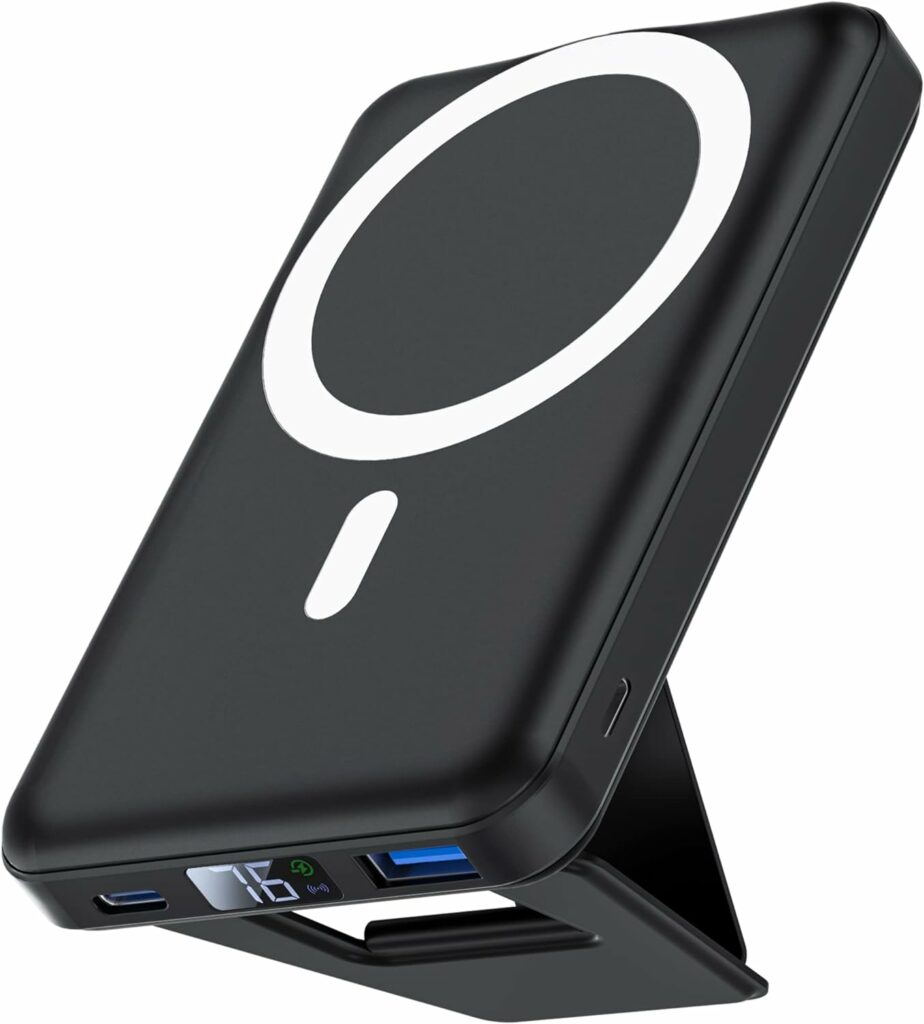 Next on our list of the best MagSafe wireless power banks is Podoru! This MagSafe Power Bank supports wireless charging at 5W, 7.5W, 10W, and 15W Max, making it incredibly versatile. It can deliver up to 22.5W through USB-A PD output and 20W through USB-C output. It's also equipped with fast charging capabilities with a max 18W Lightning input and a max 18W USB-C input. You can charge up to three devices simultaneously; no more waiting in line for your turn. Plus, the soft silicone material ensures your phone stays safe while wirelessly charging, and you'll enjoy faster charging speeds.
For added convenience, this MagSafe Power Bank features a foldable stand that can hold your iPhone in both horizontal and vertical orientations. Now, you can use your iPhone while charging without worrying about the distance or messy wires. Its compact design allows you to slip it into your pocket or backpack effortlessly, and with a lightweight of only 0.42 pounds, it won't weigh you down.
Buy podoru Wireless Portable Charger for $26.60 here.
4. Baseus Magnetic Power Bank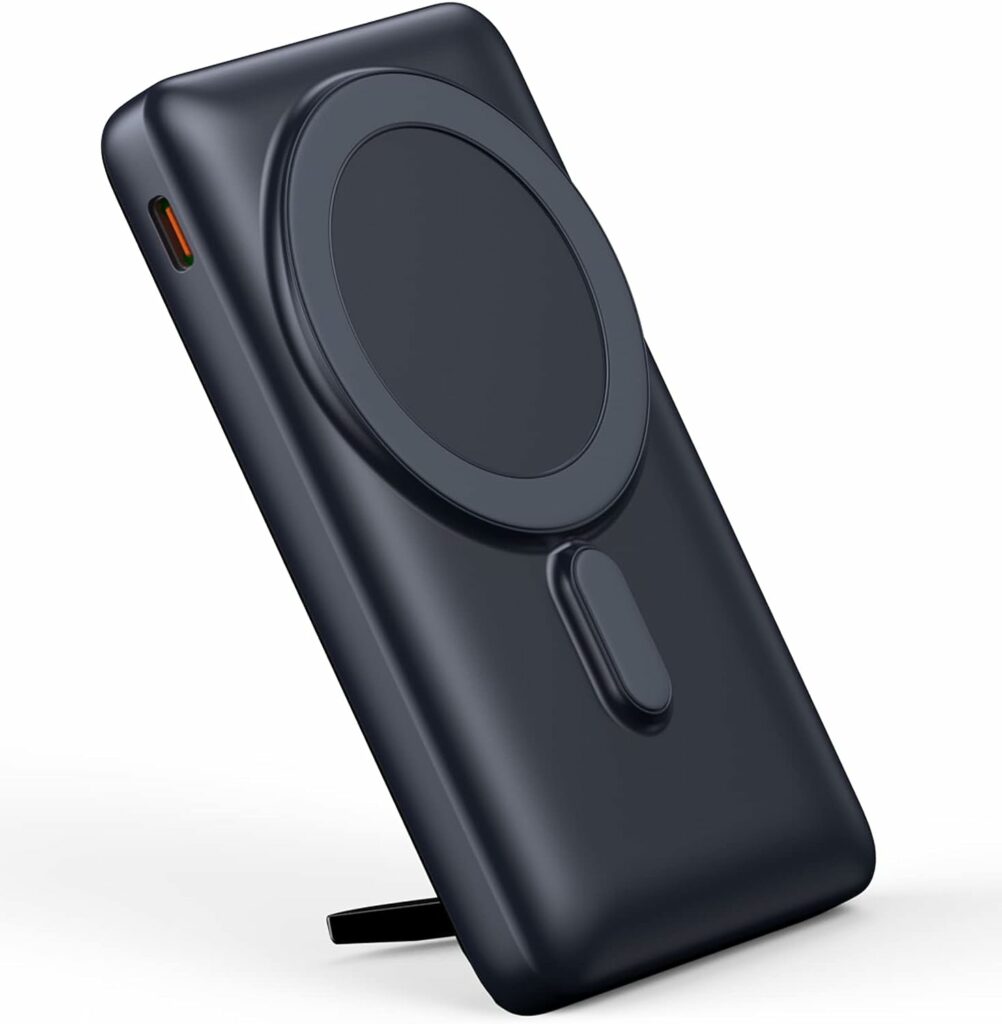 the MagSafe battery pack with a built-in stand, perfect for your in-flight entertainment. Just pop it onto your tray table, adjust your iPhone to portrait or landscape mode for the best viewing experience, and enjoy your movie hands-free. No need to carry an extra phone holder on your trip.
This MagSafe portable powerbank for iPhone 15 Pro Max in 2023 automatically charges your phone when connected, thanks to strong magnets that securely hold your device in place. You can charge two devices simultaneously with 5W MagSafe-style wireless charging and 10W USB-C wired charging. When charging your iPhone alone, it delivers a speedy 7.5W wirelessly and up to 20W through the USB-C cable.
The strong magnetic lock ensures a secure connection and precise alignment, so your charging starts automatically without pressing any buttons. With a magnetic pull force of up to 15N for the iPhone 13 Pro Max, it's more reliable than other brands on the market, which generally offer 10N. No wobbling worries here!
Buy Baseus Magnetic Power Bank for $47.99 here.
5. LISEN Portable Charger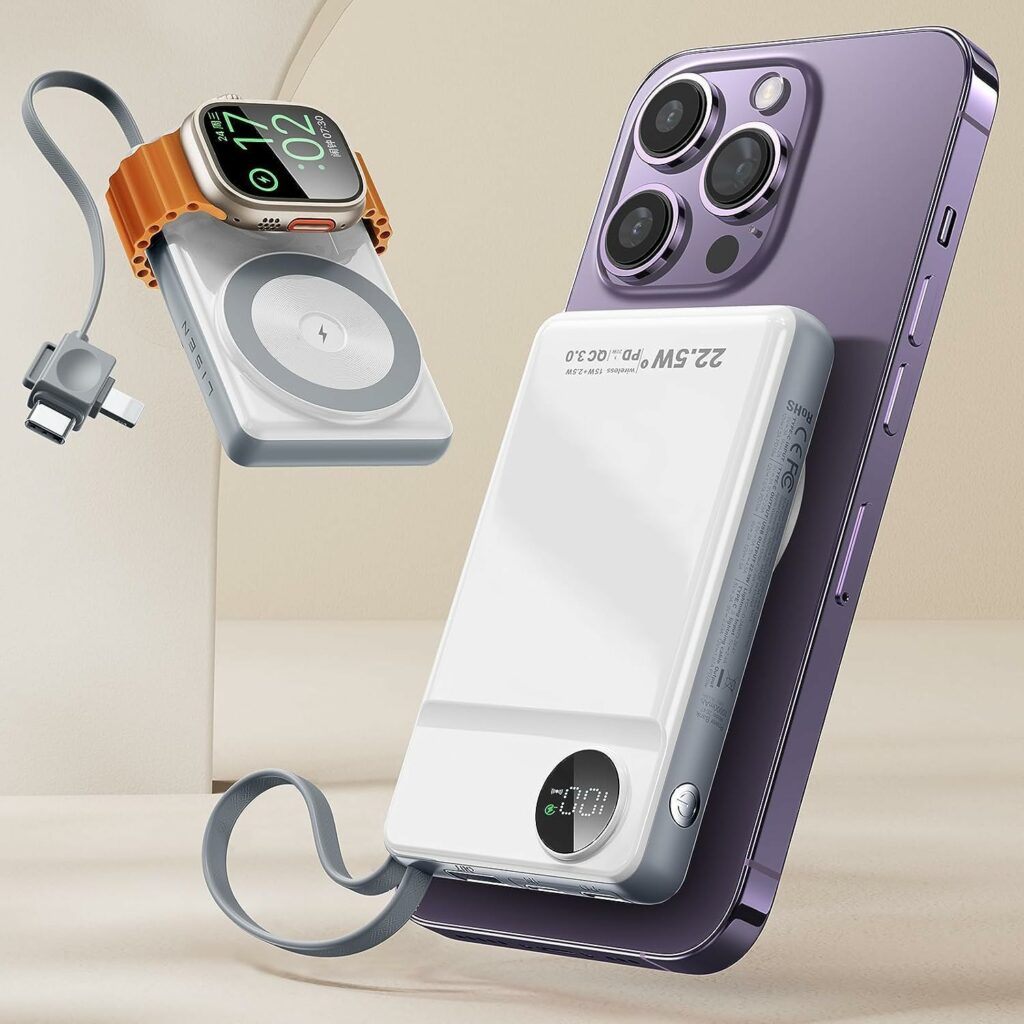 This Magsafe charger is a game-changer with its 22.5W fast charging capability and a built-in cable. It's perfect for those on-the-go moments when you need to power up your Apple Watch and iPhone simultaneously. Plus, it offers more charging options than your typical iPhone battery pack.
Say goodbye to sluggish charging times. Utilize the 20W USB-C Power Delivery port and a 22.5W USB A to Lightning charging cable to supercharge your iPhone, delivering a 3x faster charge. Unlike the standard Apple battery pack MagSafe, the charger has a built-in cable for lightning-fast charging, making it a lifesaver during those emergency power needs.
Despite its compact size (only 0.67 inches thick), this 10000mAh Magsafe battery pack packs a punch. It has enough juice to charge your iPhone 14 twice and your Apple Watch approximately 20 times. Not only is it functional, but it also boasts a sleek and stylish design, providing an excellent grip and easy handling.
Buy LISEN Portable Charger for $49.99 here.
6. Magnetic Wireless Power Bank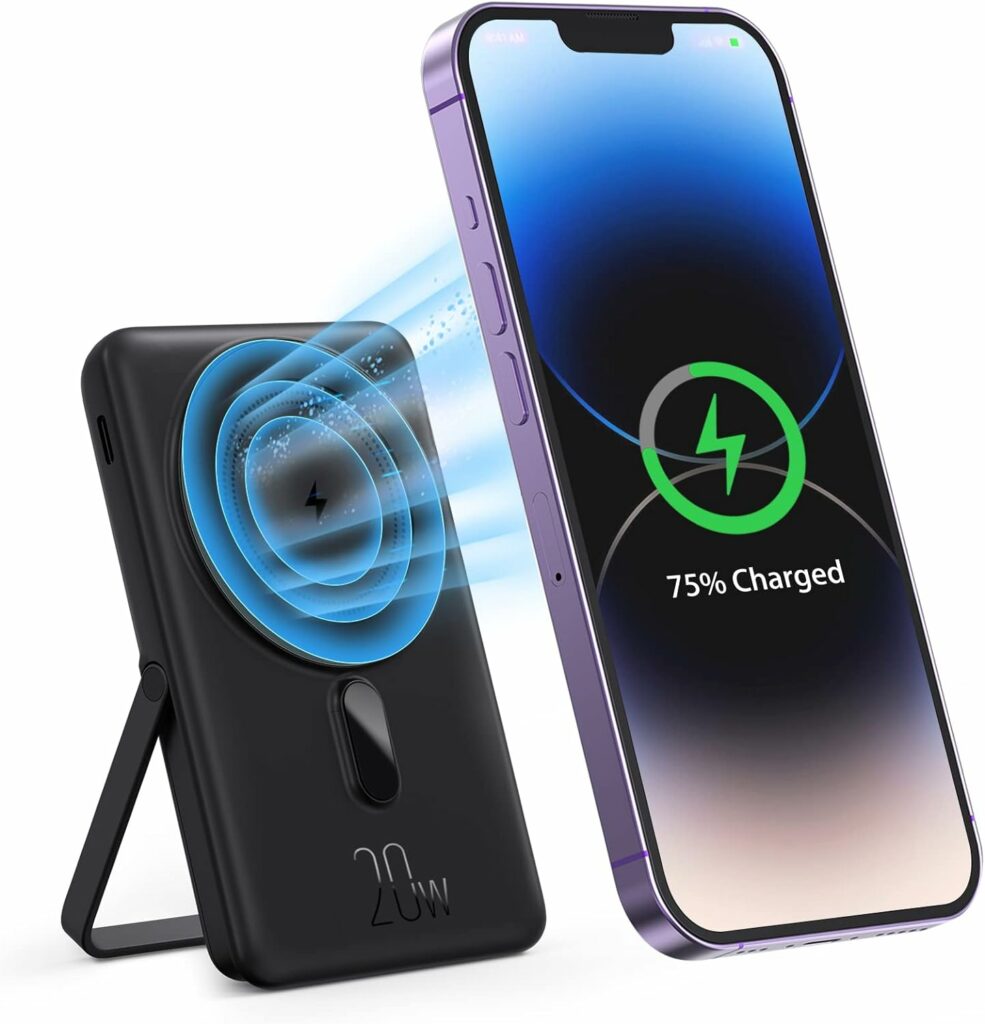 This power bank is a true workhorse with 20W quick charging capabilities. Get your phone to 50% battery in 30 minutes with the PD wired 20W output. Recharge the power bank within 3 hours using the included USB-C cable. And the best part? It can charge two devices simultaneously, albeit a bit slower when charging both simultaneously.
You can even wirelessly charge your devices while the power bank is charging, offering ultimate convenience.
With an actual 10,000mAh capacity, this power bank ensures you'll never suffer from battery anxiety during your daily adventures. It's travel-friendly and even comes with a hidden metal stand. Attach it to your phone, and it starts charging instantly. The strong magnet ensures your device stays in place, allowing you to work or watch movies hands-free, with the flexibility to adjust angles as needed.
Buy Magnetic Wireless Power Bank for $29.99 here.
7. ESR 10,000mAh Wireless Power Bank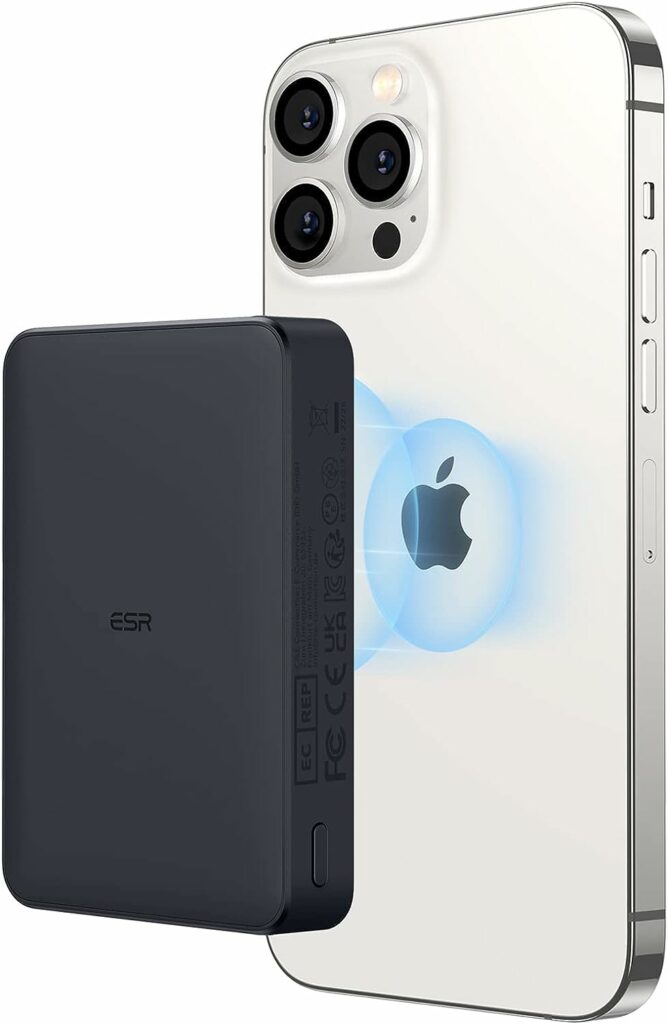 Imagine this: you've got a power bank that's not just any ordinary power bank – it's designed to work seamlessly with your phone, making charging faster and more convenient. How does it do that? Well, it's all thanks to built-in magnets that align your phone with the power bank as soon as you attach it. It's like having MagSafe-style charging at your fingertips without any hassle.
But that's not all; this powerbank iPhone 15 Pro Max for MagSafe packs a punch with its large 10,000mAh battery capacity. That means you can charge your iPhone 13 a whopping 1.6 times before recharging the power bank. Plus, you can choose between 7.5W wireless charging or 20W wired charging to power up your device quickly without any slowdowns.
Are you worried about your power bank slipping off your phone? Don't be. This power bank features powerful magnets with a whopping 1,000 grams of holding force, ensuring it stays securely locked onto your phone.
Buy ESR 10,000mAh Wireless Power Bank for $25.49 here.
To Conclude
When it comes to keeping your iPhone 15 Pro Max juiced up on the go, these MagSafe portable power banks are the real MVPs. With their sleek design, magnetic attachment, and reliable charging, they're the perfect sidekick for your high-tech adventures. So, go ahead, pick your favorite from this lineup, and never worry about running out of battery again. Stay charged, stay connected, and keep rocking that iPhone 15 Pro Max!
Disclosure: iOSHacker may receive a commission if you purchase products through our affiliate links. For more visit our privacy policy page.